Sheldon Myeroff of Chagrin Valley Custom Furniture takes you to a local Amish sawmill where logs are cut into slabs to make tabletops for the epoxy resin furnishings in Episode 2 of our "From Forest to Furnishings" series. After delivery of the logs to the mill, a huge automated saw cuts 15-20 slabs out of 4 foot diameter tree. These are then stacked in piles to be taken to racks where they are air-dried for up to one year.
Wood cut in this manner goes into the furniture designed by our customers and handcrafted by the artisans in our Cleveland, Ohio workshop. These beautiful one-of-a-kind pieces are then shipped to homeowners, restaurants, offices, businesses, and hotels throughout the continental United States. Our furnishings include custom epoxy resin river tables, epoxy resin river beds and headboards, epoxy resin desks, epoxy resin wall art, rustic to modern farmhouse tables, barn doors, benches, countertops, shelves and so much more. "From Forest to Furnishings" is a series of videos by CVCF. Each one shows you a different phase of the custom furniture making process. We start with the business of harvesting timber sustainably in the rich, diverse forests of Northeast Ohio. We take you through all the stages the wood goes through at the sawmill to make the beautiful, smooth live edge slabs that go into our river tables. Then we follow the wood as it is shaped into the finished epoxy resin table and shipped out to our customers.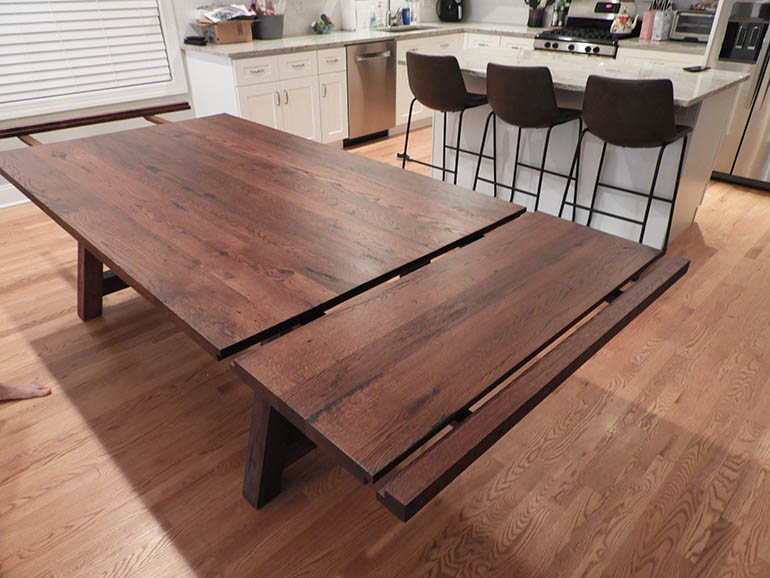 Custom Built Sturdy And Simple Made-To-Order Rustic Farmhouse Dining Table $1,800+ [Extendable]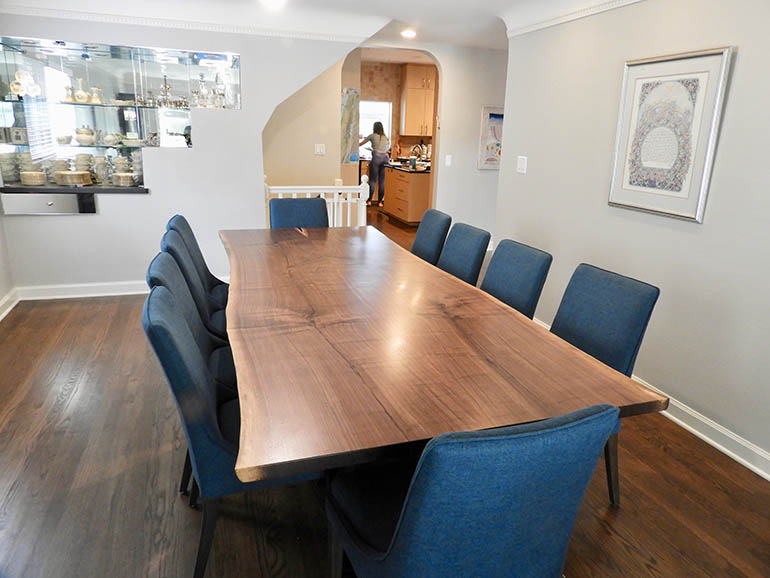 Custom Made Solid Live Edge Wood Slab Dining Table $2,600+ [Kitchen Table That Seats 10]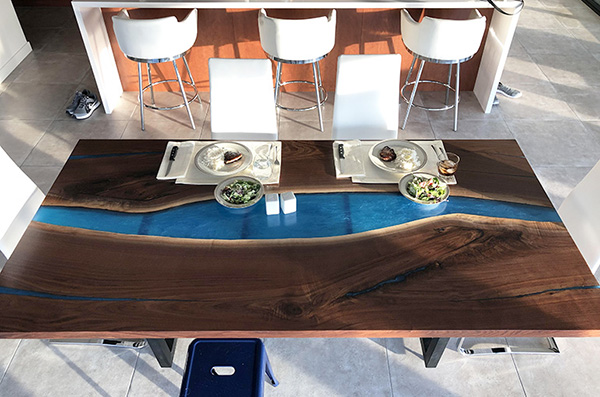 Stylish Modern Blue Epoxy Resin River Live Edge Black Walnut Dining Table $4,200+ [Custom Ordered]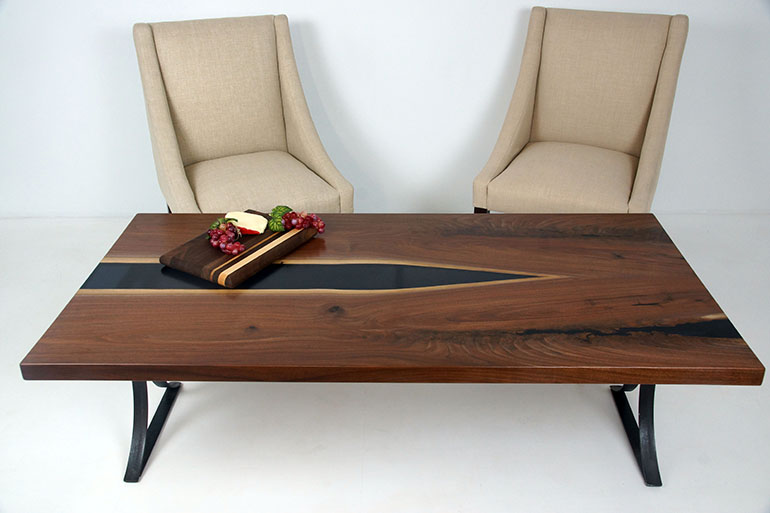 Unique Modern Solid Wood Custom Handmade Coffee Table $800+ [Black Epoxy Resin]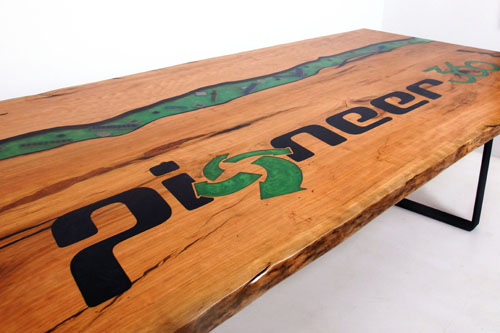 Custom Handcrafted Live Edge Epoxy Logo Conference Table $4,500+ [Any Size Or Shape]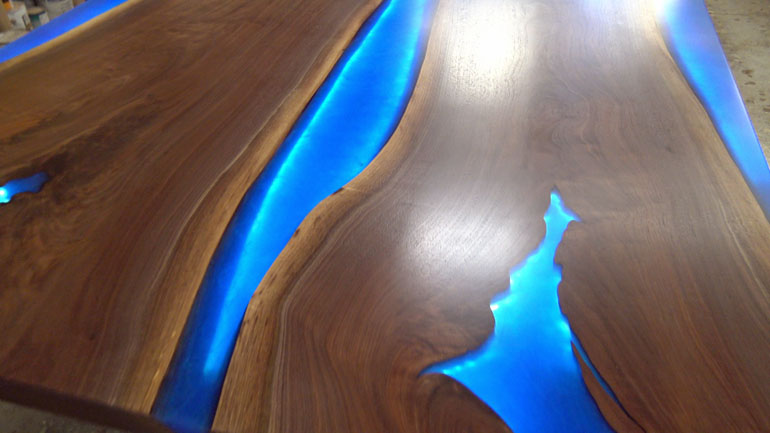 Large High Quality Custom Designed Epoxy Resin River Dining Table $3,000+ [With LED Lights]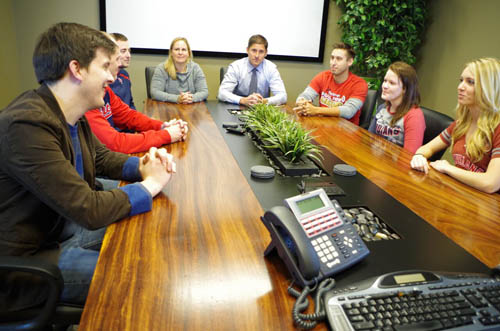 New Long And Wide Modern Handcrafted Custom Conference Room Table $4,500+ [Reclaimed Wood And Steel]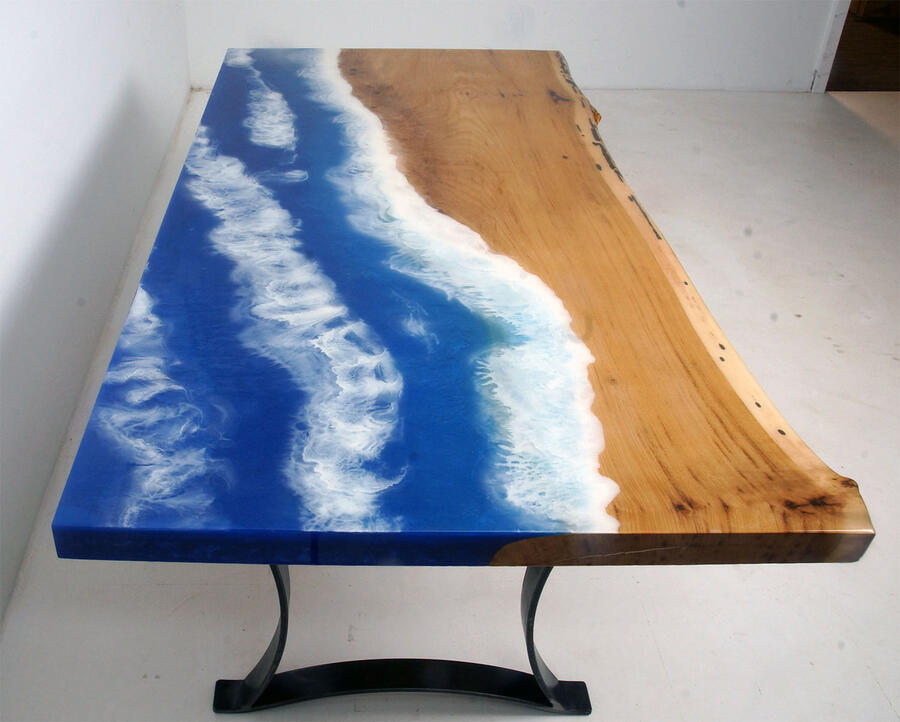 Epoxy Resin "Moving Ocean" Coffee Table $1,000+ [Incredible Ocean Table]
Custom Built Live Edge L-Shaped Desk With Storage & Drawers Sold By CVCF In 2015
The L-shaped corner desk show in this video was custom made with two African mahogany live edge wood slabs. It features hidden storage compartments, a hidden drawer and a hidden shelf for electronics. This handmade solid wood desk was commissioned locally in 2015 from Chagrin Valley Custom Furniture.
Types Of Custom Built Live Edge Furniture For Sale Locally (U.S. Only) And Online By CVCF