Get Ideas From 20+ Unique Farmhouse Tables You Can Buy In 2021 | Customized Contemporary Wood And Epoxy Farmhouse Dining Tables And Farmhouse Kitchen Countertops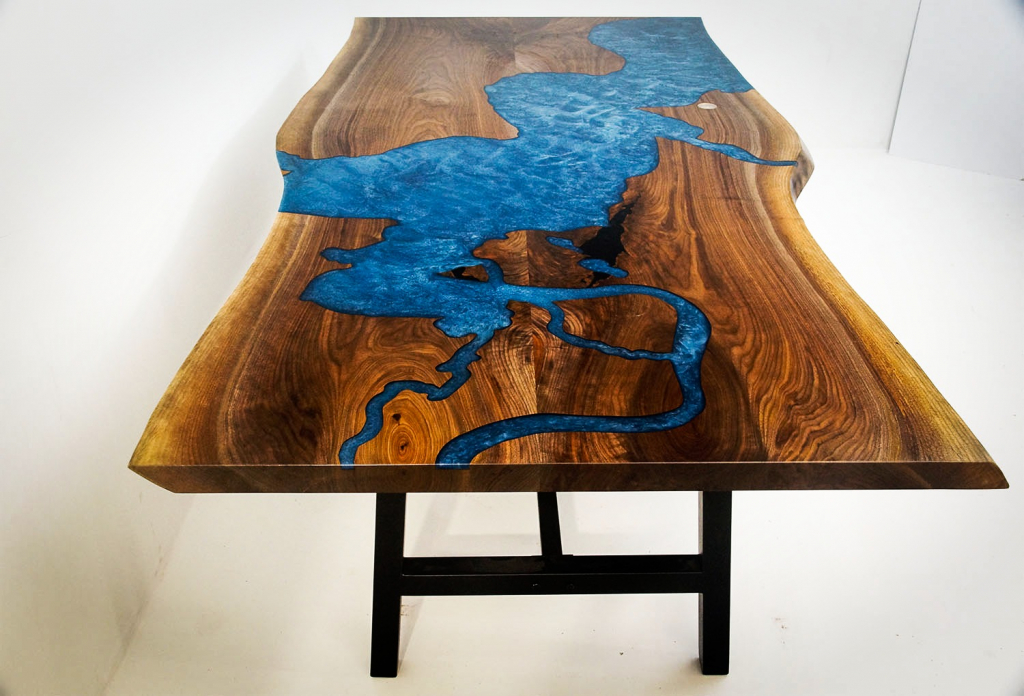 Custom Made CNC Carved And Blue Epoxy Filled Chesapeake Bay Black Walnut Live Edge Dining Table $7,000+
Resin Inlay Table Was Co-Designed Online By Pennsylvania Client And CVCF River Table Makers | Custom Handmade And Shipped In 2020 | Elegant Fluid And Curving Epoxy Resin Water Scene Tables For Your Living Room Or Dining Room
Custom Made Farmhouse Tables For Sale Near You Or Online | Buy A "Handmade In The USA" Rustic Table, Harvest Table, Farm Table Or Farmhouse Table

Prices From $1,800 | You Design And Order The Table From Home | CVCF Ships And Delivers Custom Tables To All 50 States | Read Customer Reviews And Watch Client Testimonial Videos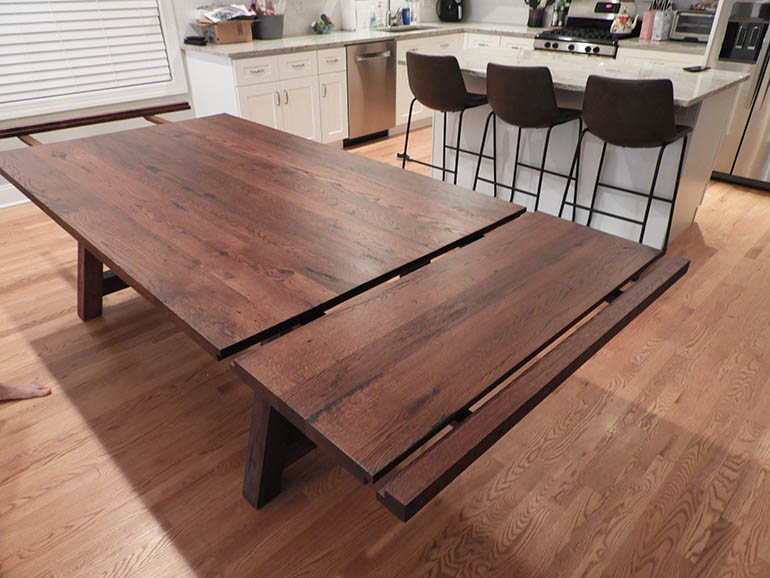 Custom Built Sturdy And Simple Made-To-Order Rustic Farmhouse Dining Table $1,800+ [Extendable]
It Is Easy To Order The Rustic Farmhouse Table You Designed And Conceived Online From CVCF
Buy A Custom Built Rustic Table From Chagrin Valley Custom Furniture Locally Near You (U.S. Only) Or Online Here – It Is Simple To Order And Fun To Co-Design Your Own "Rustic Live Edge Furniture" With Friendly And Professional CVCF Rustic Table Designers
Modern Epoxy Resin And Rustic Live Edge Desks
All Major Credit Cards Are Accepted When You Buy A Truly Custom Handcrafted Dining Room Table Online Or By Phone
To Place An Order Locally Or Online For A Real Custom Made Kitchen Farm Table Call, 440-591-5511 Or Email A CVCF Table Builder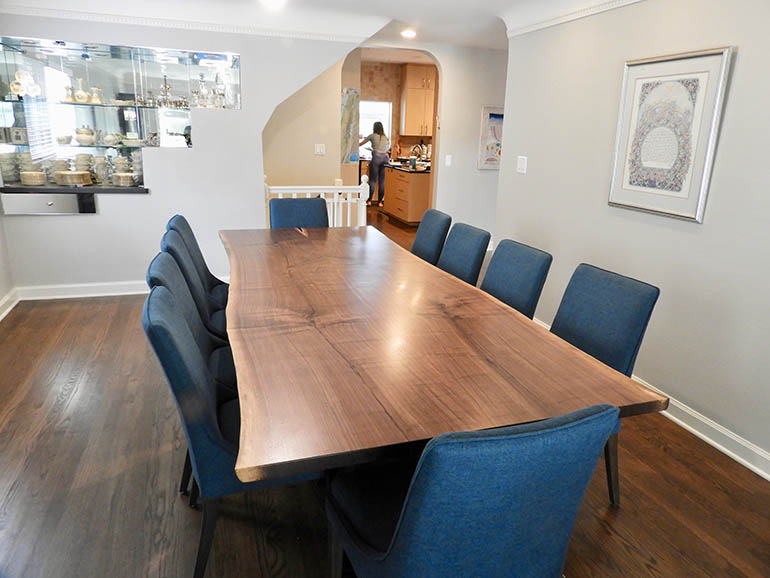 Custom Made Solid Live Edge Wood Slab Dining Table $2,600+ [Kitchen Table That Seats 10]
How To Make A Swirl Effect In An Epoxy Resin River Table [By An Expert]
Brandon, woodworker and expert resin artist at CVCF, shows you how to create the subtle (or not so subtle) "swirl" effects in the resin poured down a river table, here.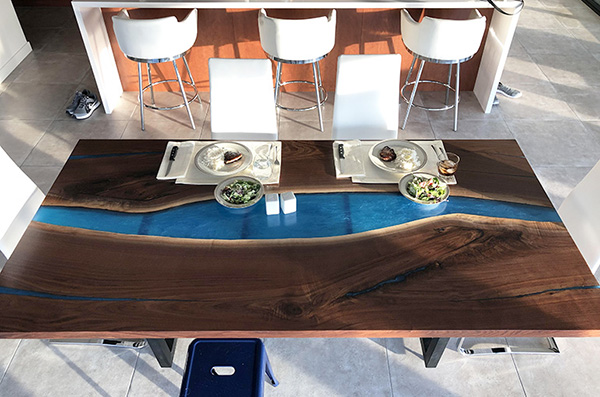 Stylish Modern Blue Epoxy Resin River Live Edge Black Walnut Dining Table $4,200+ [Custom Ordered]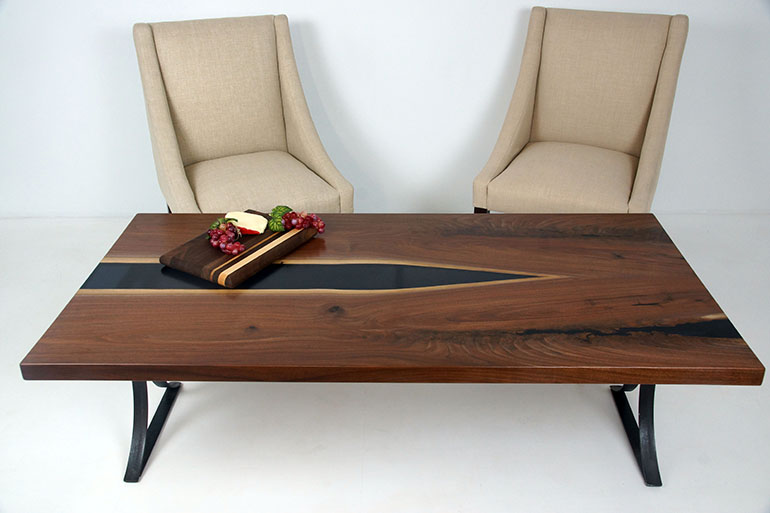 Unique Modern Solid Wood Custom Handmade Coffee Table $800+ [Black Epoxy Resin]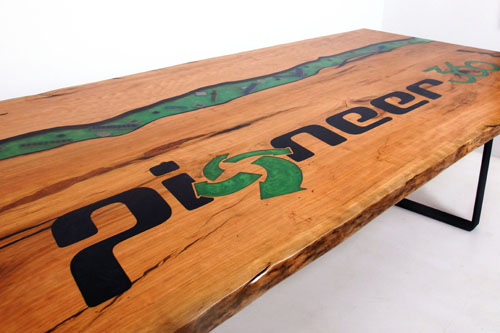 Custom Handcrafted Live Edge Epoxy Logo Conference Table $4,500+ [Any Size Or Shape]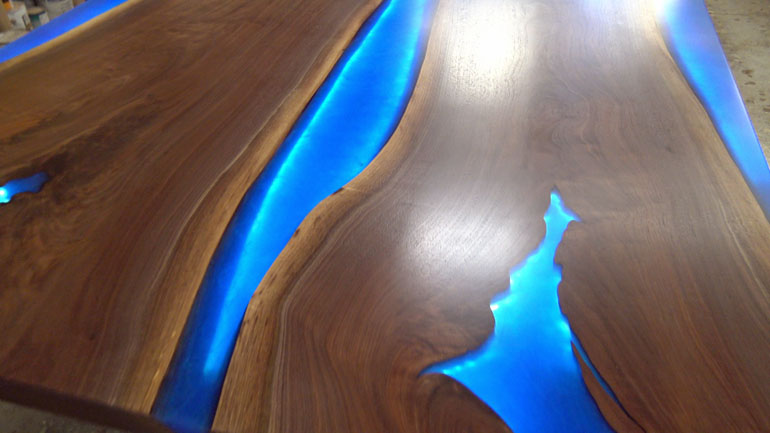 Large High Quality Custom Designed Epoxy Resin River Dining Table $3,000+ [With LED Lights]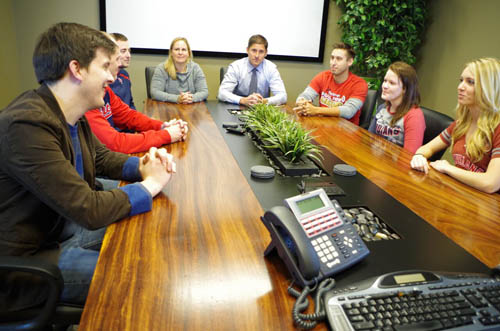 New Long And Wide Modern Handcrafted Custom Conference Room Table $4,500+ [Reclaimed Wood And Steel]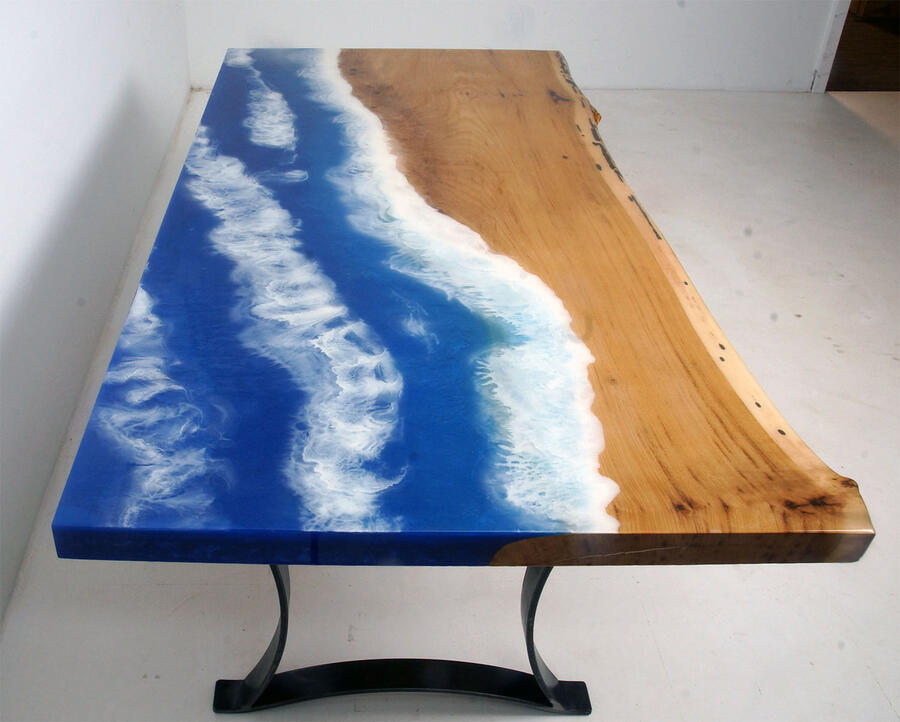 Epoxy Resin "Moving Ocean" Coffee Table $1,000+ [Incredible Ocean Table]
Custom Farmhouse Dining Table Sold Locally [Industrial Base]
In this video, furniture maker Shel Myeroff, owner of Chagrin Valley Custom Furniture, talks with local customers Matt and Molly from Chagrin Falls, Ohio about the high quality made-to-order extendable farmhouse dining room table that CVCF custom built for them.
After an initial furniture design consultation, CVCF furniture builders set off to handcraft the rustic, yet modern and simple, farmhouse dining table from 100-year-old reclaimed oak wood beams, sustainably sourced from a barn in Southern Ohio.
The expert CVCF craftsmen at the Cleveland, Ohio workshop, completely customized the farmhouse dining table by adding a sturdy and durable industrial style metal (steel) base. This video shows all the attention to detail, including the welds and the two pullout inserts. The comfortable farmhouse dining table is 128 inches long when fully extended. Now Matt and Molly are living happily ever after with their new beautiful, and very unique, solid wood farmhouse dining table.
Listen to the couple talk about the exceptional customer service they received from CVCF. Find out how they got helpful design ideas from Shel for their custom table. Get their thoughts on the remarkable workmanship provided by CVCF craftspeople.
Because pine is inexpensive, it is frequently used by America artisans to make farmhouse tables (also know as a farm table or harvest table) tops. For the farmhouse table shown in this video, CVCF used more expensive oak barn beams because they will last for generations (they already lasted over 100 years in a barn) and because the cut beams display a more authentic style and absorb wood stains more effectively.
The country living inspired design style of the charming contemporary farmhouse dining table shown in this video, combines clean sleek lines with a cozy and warm farmhouse feel. This homey style of farmhouse furniture and décor certainly has not gone out of style.
Popular farmhouse style furniture made by CVCF typically incorporates versatile traditional aesthetics and industrial components (legs and bases) to convey a fresher character and a more relaxing appeal than rustic furniture and décor.
Truly custom farmhouse furniture and farmhouse dining tables are handcrafted by CVCF in any design style that the client wants. Exact sizes, dimensions, shapes and wood species are specified by the customers. CVCF ships custom built farmhouse tables to homes, restaurants and businesses in all 50 states.
CVCF creates authentic one-of-a-kind farmhouse tables and a customer experience unlike any other in the furniture industry. Commissioning a farmhouse table from CVCF is fun and rewarding, start to finish. From the table design to the creation, CVCF invite their clients to "get involved". CVCF always strives to exceed customer expectations.
Farm Tables And Harvest Tables For Sale
Buy a handcrafted custom built farmhouse table, rustic dining table, antique harvest table, vintage harvest table, live edge dining table, antique french farm table or farmhouse kitchen table set for sale in the USA. Prices start at $1,800. Delivery and assembly are available in the USA. Order a custom built rustic farmhouse dining table, harvest table, small farmhouse kitchen table, farmhouse trestle table or handmade farmhouse dining set. CVCF sells one-of-a-kind harvest tables with leaves and antique pine farmhouse tables. Learn how the highest quality river tables and custom wood and metal furnishings are handcrafted in America in 2020, here.
If you design your own farmhouse or harvest table, we will build it, install and assemble it for you, assuming you live in the continental USA. To submit your furniture design drawings or CAD drawing, call 440-591-5511, email shel@chagrinvalleycustomfurniture.com or click here. CVCF also sells rustic tables, farmhouse tables and harvest tables that are in stock here.
Live edge furniture is for sale locally near you (U.S. only) and online at Chagrin Valley Custom Furniture. To order a piece of custom made live edge furniture locally in the United States or online, call 440-591-5511 or email shel@chagrinvalleycustomfurniture.com.
CVCF live edge furniture designers, craftspeople, desk makers and table builders enhance and showcase the beauty of the rustic natural edges of the wood slabs. CVCF live edge furniture makers don't touch the edges of the wood slabs in order to preserve the outside of the original harvested tree to show the outer edges of the visible tree trunk.
When CVCF artisans finish building a piece of live edge furniture, it looks "alive". Although live edge wood slabs are somewhat pricey, they are so darn unique, they are worth the extra cost. Live edge tables are trendy because they are a welcome change from the boring contemporary and modern tables currently sold locally in the U.S. and online by traditional retailers.
Live edge furniture is not a fad and is not going away anytime soon. Chagrin Valley Custom Furniture sells sustainably sourced, high quality custom built live edge furniture to homeowners, office managers, restaurant GMs, hotel purchasing agents and retail stores all across the United States.
Some of the best woods used by CVCF to handcraft live edge furniture are chosen because of their ability to endure frequent movement and wear and tear of decades of use. The best woods recommended by CVCF designers for live edge furniture must always be kiln dried. These wood species include black walnut, teak, exotic hardwoods, suar wood (Indonesian Variant of Albizia Saman), elm, hickory, redwood, maple, red oak, white oak, black oak, sycamore, mahogany, cherry and Claro walnut (Northern California Walnut).
CVCF makes custom made live edge wood slab tables in any thickness our customers desire. Most custom built live edge dining tables made by CVCF are 1 3/4″ to 2 1/4″ thick although we often build sturdy farmhouse tables that are 2 1/2″ thick or even 3″ thick.
In this video, Shel Myeroff of Chagrin Valley Custom Furniture tells you how a live edge custom table is made. You'll see examples of the different live edge furniture CVCF designs and makes, including live edge dining room tables, live edge river tables, live edge coffee tables, live edge conference room tables, live edge credenzas and more – each skillfully handcrafted using only authentic live edge slabs. Finally, you'll learn how to order these beautiful custom pieces on the Chagrin Valley Custom Furniture website. CVCF ships, delivers and installs heirloom quality live edge furniture all over the United States.
Custom Built Live Edge L-Shaped Desk With Storage & Drawers Sold By CVCF In 2015
The L-shaped corner desk show in this video was custom made with two African mahogany live edge wood slabs. It features hidden storage compartments, a hidden drawer and a hidden shelf for electronics. This handmade solid wood desk was commissioned locally in 2015 from Chagrin Valley Custom Furniture.
Types Of Custom Built Live Edge Furniture For Sale Locally (U.S. Only) And Online By CVCF
Walnut river tables are awesome.  Rustic black walnut river farmhouse and harvest tables are very popular in the USA in 2019 because the kiln dried dark-colored, straight grained true heartwood contrasts so vividly with a blue epoxy resin river.  The craftsmen at Chagrin Valley Custom Furniture love to make custom designed tables from walnut wood slabs because it so darn beautiful and workable.  CVCF loves to use black walnut wood for woodworking projects. Although it is not as readily available in the USA, CVCF has a few secret sources for this cherished wood.  American Black Walnut is darling of the CVCF craftsmen.  CVCF designs, handcrafts ships, delivers and assembles black walnut river tables, epoxy resin furniture and live edge waterfall benches for customers across the USA. Prices for small walnut river coffee tables start at $825.  Simply provide CVCF with your walnut river table design requirements to receive a quote for your woodworking project.
Rustic harvest dining tables, also referred to as farm, farmhouse, and Amish dining tables, are an extremely popular trend in furniture these days and Chagrin Valley Custom Furniture would be thrilled to create one for your dining room or kitchen. They are a unique combination of modern and rustic styles and look great with any type décor. For the tabletops, we use only authentic barn wood and barn siding that is reclaimed and upcycled from the many aging and abandoned barns in Ohio. The unique bases are also handcrafted and made from wood or metal to your specifications.  Chagrin Valley Custom Furniture manufacturers custom built epoxy resin wood furniture and epoxy resin river tables.
CVCF specializes in rustic furniture—many pieces are made from reclaimed barn wood—and live-edge pieces that incorporate the natural edge of the wood into the look. Many of these pieces also incorporate a waterfall (or riverbed), which is a technique using epoxy resin to create a colorful accent.  CVCF is thriving custom furniture business that serves the public, the hospitality industry, and corporate clients—fulfilling orders from all over the United States.
Our rustic harvest dining table creations take you back to a time and place that was a little simpler, quieter, and certainly slower-paced than what we experience these days. Imagine if dinnertime with the family were like that—now wouldn't that be nice! To see our made-to-order rustic harvest dining tables, click here. Interior designers all across the U.S. also shop for handmade custom built rustic furniture, farm tables, harvest tables and farmhouse tables for their clients at CVCF.
CVCF normally designs rustic tables, farmhouse tables, farm tables and farmhouse tables for our customers, or we collaborate with our clients to design custom furniture, which we then handcraft and assemble.  However, if you design your own furniture, we will build it, install and assemble it for you, assuming you live in the continental USA. To submit your design drawings or CAD drawing for a quote, call 440-591-5511, email shel@chagrinvalleycustomfurniture.com or click here.  If you design your own furniture, you can submit your custom farmhouse table design, harvest table design or rustic table design and get a price for fabrication and assembly.
Want to create your own river table online? Visit our create your own river table page, where you can choose from various colors, wood species, bases, and more. Then, hit submit, and we'll get back to you with a price.
How to Get Started
There are several ways you can learn more about our built-to-order rustic harvest, farm and farmhouse tables:
Furniture Delivery and Installation Available in Northeast Ohio and the USA
When a furniture project is completed, CVCF can deliver it to homes, offices or commercial properties in communities and counties throughout the United States including Northeast Ohio, including Cleveland, Solon, Beachwood, Chagrin Falls, Pepper Pike, Moreland Hills, Strongsville, Westlake, Mentor, Hudson, Akron, Cuyahoga County, Geauga County, Lorain County, Summit County and Portage County. We also assemble and install our furniture. Contact us for details. Our goal is to provide a great product along with unparalleled service to each and every customer. Click here to see customer testimonials and reviews.  To view photos of rustic harvest, farm and harvest tables we build and to learn more about each piece, click on a photo at the top of the page, click on a link below, or visit our project gallery.
Get A Quote For Your Project
Testimonials
"We are in love with our new table – it's everything we wanted."
Tom and Karen, Tremont, Ohio

How Rustic Harvest, Farm, & Farmhouse Dining Tables Are Made
The wood for these beautiful rustic harvest, farm and farmhouse tables comes from the sturdy barn beams that are reclaimed from the many old barns that populate our state. When we slice them into 2" thick planks, you can see the wood is aged and has all sorts of natural cracks and knots. After slowly and carefully drying each piece of barnwood, we cut it to your exact dimensions and preferred shape and style. We then take the tops and enhance them in many different ways, such as; adding different textures, using a blow torch to enhance the knots, filling cracks with clear epoxies, and, most important, staining the wood any color you want. "Voila!", the wood is restored to its original beauty and then some! To finish off the table, we offer both wood and metal bases and can even add trusses. We make a total customer experience of each project, bringing you down to our shop and showing the many tricks we use to make that table meet or exceed your expectations.
Rustic Harvest, Farm, & Farmhouse Dining Table Prices
Because we custom design free form reclaimed wood furniture, no two pieces are exactly the same. Our prices for rustic harvest dining tables start at less than $1,000.00 for small tables and range from $2,000.00 to $6,000.00 and higher for larger pieces.
Here are prices for a few of the tables we recently designed and built:
8' x 3' Table: $2400
8' x 3.5'with two 20" inserts so the table opens to 136": $3800
10' x 46" that opens to 15': $10,000
Our Sources for Reclaimed and Salvaged Barnwood, Timber and Lumber
We save and upcycle reclaimed barnwood and barn siding that we purchase from the Amish in Holmes County, Geauga County, Starks County, Trumbull County and Ashtabula County. These materials are used not only to handcraft our rustic harvest dining tables, but chandeliers, fireplace mantels, desks and other types of custom furniture and interior installations.
We also purchase aged slow-growth timber from farmers in Ohio that want to make some extra money by repurposing the lumber from their old barns. The naturally weathered wood materials from these barns is so unique that our customers tell us that they have never seen anything like it in a furniture store in Northeastern Ohio.
Design Your Own Rustic Furniture For CVCF To Custom Build And Assemble
The carpenters and woodworkers at CVCF uses raw wood, reclaimed wood, recycled lumber, solid oak wood, cherry wood, logs, hickory wood, twigs, driftwood and branches to handcraft distinctive rustic furniture. We custom make simplistic rustic farmhouse furniture, rustic bedroom furniture and rustic cabin furniture for our clients.  Stains and finishes we use highlight the brown, beige and cream colors often associated with custom furniture. Features of high quality custom furniture often showcase thick live edge wood table tops and natural edge countertops.  Our furniture embrace organic aesthetics when making custom build modern rustic furniture for bedrooms, dining rooms, baths and living rooms using distressed wood and materials that have been scavenged from old barns and buildings. Our craftsmen assemble minimalistic and earthy handmade pieces, woodsy decor, rustic tables, platform beds and rustic outdoor chairs for customers in the USA that feature barn beams, repurposed wood, old floor joists, mahogany tree trunks, rocks and stone, old fashioned wrought metal legs and bases, soft leather, canvas and logs. You can design your own warm, primitive and charming rustic wood furniture and CVCF can build and assemble it for you. Get cozy and unrefined furniture design ideas on Instagram. Submit your rustic furniture design ideas to CVCF to see if we can help you reconnect with nature's elements. The rustic furniture design drawings you submit to CVCF can be technical drawings, simple crude sketches or they can be engineering drawings with reference dimensions.  To learn more about designing your own rustic furniture, click here.
Books To Help You Design Your Own Rustic Furniture
Photo Gallery And Prices For Custom Furniture For Sale In The USA
Buy Live Edge Furniture In The USA | Live Edge Dining Tables For Sale | Custom Dining Table Prices Start At $1,800 | Buy A Live Edge Walnut Table And Bench | Buy A Rustic Oak Dining Table For $2,800 On Etsy | Custom Furniture Shipping, Delivery And Assembly Across The USA | Get Live Edge Furniture Ideas | Live Edge Chairs, Outdoor Chairs and Modern Rustic Dining Chairs | Walnut Live Edge Tables For Sale | Order A Walnut Live Edge Table with Brushed Steel Base | Cherry Live Edge Conference Tables For Sale On Etsy For $4,600 | Buy A Live Edge End Table With Custom Steel Legs On Etsy For $2,600 | Wood Slab Tables For Sale | Live Edge Bar Height Tables For Sale | Buy A Live Edge Waterfall Bench Featuring An Epoxy Resin River | Buy A Live Edge Dining Table That Seats 8 People | Rustic Live Edge Dining Tables On Sale | Live Edge Benches For Sale | Kitchen And Dining Benches
How to Order or Purchase Rustic Harvest, Farm & Farmhouse Dining Tables
To order or purchase one of these magnificent tables for your home, simply call owner and furniture maker Shel Myeroff at 440-591-5511, email Sheldon Myeroff or go to the 'Request an Estimate' page. You can also request a free in-home consultation to discuss your project.