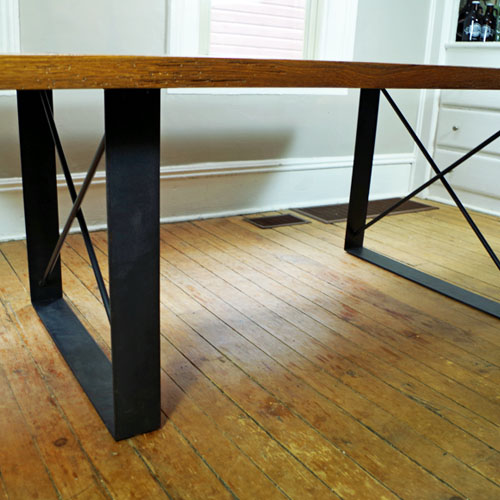 VIDEO TESTIMONIAL: Custom Southwest Epoxy River Table | Rocks, Arrowheads, Fossils & Turquoise [CVCF 2021]
Uploaded to YouTube On December 18, 2021 by Chagrin Valley Custom Furniture
Get Ideas From 20+ Unique River Tables You Can Buy In 2021 | Customized Contemporary Wood And Epoxy Dining Tables And Kitchen Countertops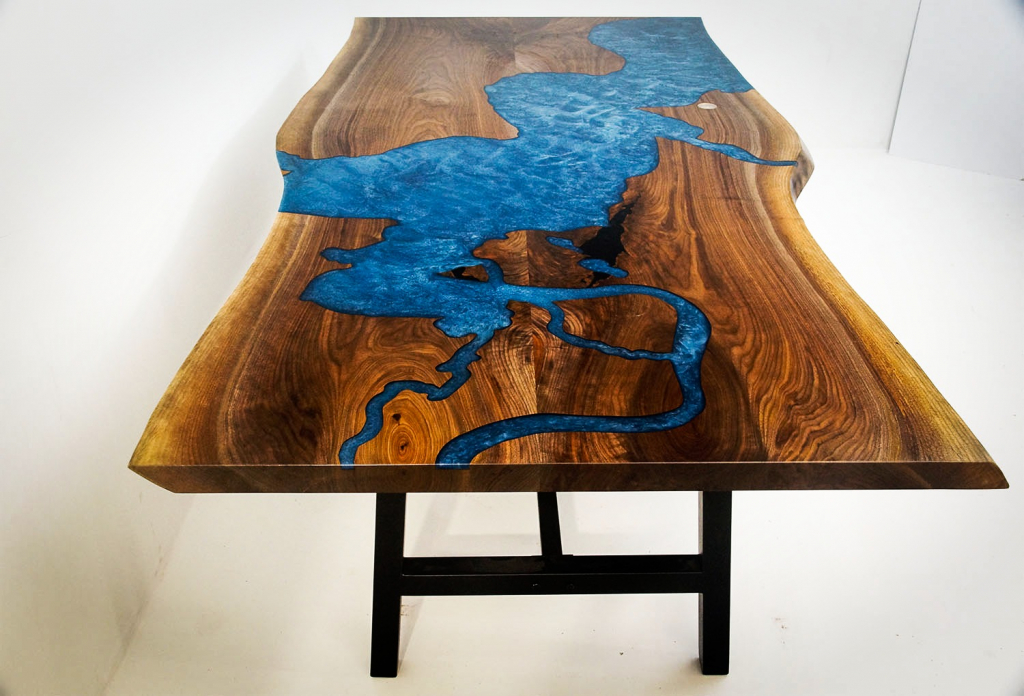 Custom Made CNC Carved And Blue Epoxy Filled Chesapeake Bay Black Walnut Live Edge Dining Table $7,000+
Resin Inlay Table Was Co-Designed Online By Pennsylvania Client And CVCF River Table Makers | Custom Handmade And Shipped In 2020 | Elegant Fluid And Curving Epoxy Resin Water Scene Tables For Your Living Room Or Dining Room
Buy Custom Built Steel Tables Legs And Custom Made Table Bases For Handmade Solid Wood, Steel, Epoxy Resin & Metal Furniture Locally Or Online In The U.S.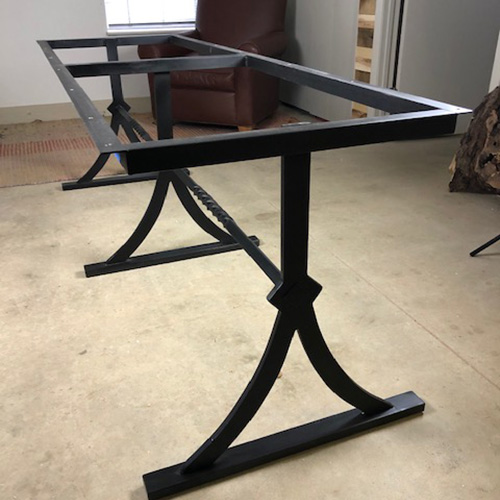 To Get A Quote For Custom Built Table Legs Or Custom Made Table Bases Call 440-591-5511
Get A Quote For Your Project
You can find projects with our custom wood furniture and metal table legs and bases in our
Project Gallery
, combinations designed specifically to complement the
style
, shape, finish and wood type of the top. We proudly work with our metal leg designer and fabricator
Classic Metal Studio
, a "sister company" of ours, to offer our customers the same level of customization in our metal legs and bases as in our other wooden components. Click on an image above to see more information about that particular project.
Handmade Custom Steel Legs & Bases For Sale
In partnership with Classic Metal Studio, you can also buy custom steel legs and bases for your tabletops from Chagrin Valley or elsewhere on our ecommerce platform: Live Edge Furniture Company. Styles range from minimalistic to industrial, and offer several size options for tabletop with dimensions outside of our recommended guidelines. See some of our most popular designs below, and click on the image to learn more about each product or find a base in a variety that matches your sizing needs.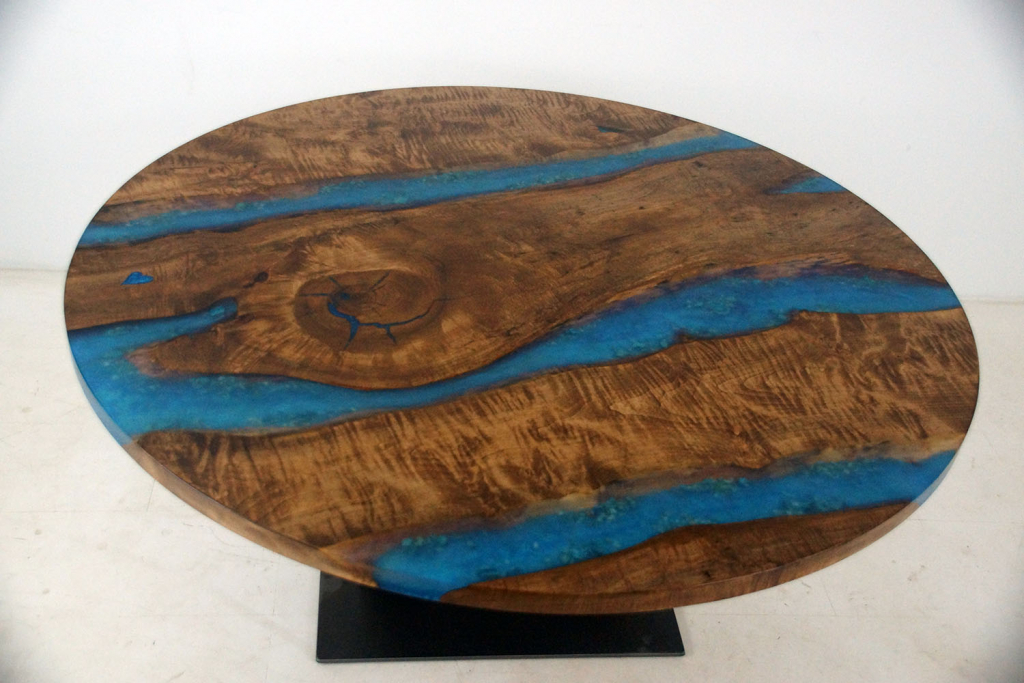 Round Blue Epoxy Resin River And Live Edge Dining Table $6,000+
Information On River Tables And Epoxy Resin From Chagrin Valley Custom Furniture
How Much Does A River Table Cost?
Small river tables range from $800 – $4,000, and larger river tables range from $1,800 – $6,500. Get more river table prices, here.
How Thick Should A River Table Be?
CVCF frequently uses wood slabs that are 2″ thick to custom build sturdy river tables for customers that order locally and online in the U.S. After sanding, these 2″ thick slabs end up being about 1 3/4″ thick.
Are River Tables Strong?
Well built epoxy resin river tables made by CVCF with sturdy natural live edge hardwood slabs are extremely durable and can seat 8, 10, 12 or more people. The surfaces of river table tops made by CVCF, are beautiful, strong and virtually impenetrable. The custom metal river table legs and bases handcrafted by CVCF will last for generations without maintenance.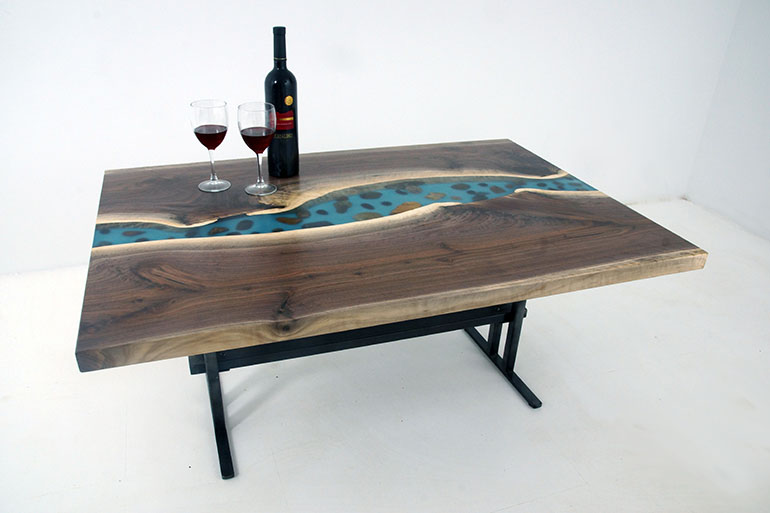 Learn About About Building River Tables And Epoxy Resin And Wood Furniture From Chagrin Valley Custom Furniture
It Is Easy To Order The Custom Wood, Steel, Epoxy And Metal Furniture You Designed Online From CVCF
Buy Custom Built Epoxy Resin And Live Edge Wood Furniture From Chagrin Valley Custom Furniture Locally Near You (U.S. Only) Or Online Here – It Is Simple To Order And Fun To Co-Design Your Own "Dream Furniture" With Friendly And Professional CVCF Furniture Designers
Modern Epoxy Resin And Rustic Epoxy, Metal, Steel And Live Edge Dining Tables, Coffee Tables And Desks
All Major Credit Cards Are Accepted When You Buy Truly Custom Furniture Online Or By Phone
To Place An Order Locally Or Online For Real Custom Made Wood Furniture Call, 440-591-5511 Or Email A CVCF Furniture Builder
How To Make A Swirl Effect In An Epoxy Resin River Table [By An Expert]
Brandon, woodworker and expert resin artist at CVCF, shows you how to create the subtle (or not so subtle) "swirl" effects in the resin poured down a river table, here.
Walnut river tables are awesome.  Black walnut river tables with custom metal legs, bases and components are very popular in the USA in 2019 because the kiln dried dark-colored, straight grained true heartwood contrasts so vividly with a blue epoxy resin river.  The craftsmen at Chagrin Valley Custom Furniture love to make custom designed tables from walnut wood slabs because it so darn beautiful and workable.  CVCF loves to use black walnut wood for woodworking projects. Although it is not as readily available in the USA, CVCF has a few secret sources for this cherished wood.  American Black Walnut is darling of the CVCF craftsmen.  CVCF designs, handcrafts ships, delivers and assembles black walnut river tables, epoxy resin furniture and live edge waterfall benches for customers across the USA. Prices for small walnut river coffee tables start at $825.  Simply provide CVCF with your walnut river table design requirements to receive a quote for your woodworking project.
To Buy A Custom River Table, Submit Your Design Idea And Get A Price Quote
YouTube Video: Custom Wood & Epoxy Dining & Kitchen Tables for Sale Online [Costs, Sizes, Modern Tops, Live Edge]
Custom Epoxy River Tables For Sale Locally & Online
You can buy custom epoxy resin river tables, epoxy resin and wood dining tables and epoxy resin and live edge wood countertops for sale locally or online at ChagrinValleyCustomFurniture.com. Buy a natural live edge wood table. You can call CVCF at 440-591-5511. Get design ideas in the CVCF project gallery before you submit you table design idea and request a quote online. You can even start designing your own custom furniture, desk or table online with this free app.
YouTube Video Uploaded By Chagrin Valley Custom Furniture On July 26, 20221 Titled "CNC Carved Epoxy-Filled Topographic Tables | Mapped River, Lake, Waterway, Ocean Tables [CVCF 2021]"
In this video, you'll see really amazing custom tables with the center of the tabletop carved out to replicate the shapes of bodies of water in the U.S. and then filled with colored epoxy. You'll watch how these CNC carved topographical epoxy tables with ACTUAL mapped rivers, lakes, beaches, oceans, islands, bays, seashores are handmade, one by one, by Chagrin Valley Custom Furniture in our Cleveland, Ohio production facility.
Take a look at pictures of custom made epoxy resin river and solid wood kitchen tables, custom built epoxy resin and natural wood conference tables, made-to-order epoxy resin river and live edge dining tables, custom made epoxy resin and solid wood coffee tables and epoxy resin river tables that have been handcrafted by CVCF to our customer's exact specifications. If you are looking for custom desks, see some of the custom built epoxy resin river and solid wood desks, handmade executive desks, L-shaped desks, custom built home office desks and furniture and handcrafted live edge wood slab desks that CVCF has built, here.
YouTube Video Uploaded By Chagrin Valley Custom Furniture On May 19, 2021 Titled "Lake Sunapee Replicated in a CNC Engraved Epoxy Table (CVCF 2021)"
In this video, furniture designer Sky Ironhorse programs and operates a handheld CNC Router to carve the outline of Lake Sunapee, New Hampshire into the top of a table that is then filled with colored epoxy. Chagrin Valley Custom Furniture fulfilled the request of a couple by making this one-of-a-kind dining table for their luxury lake house. CVCF can use a CNC router to carve any real lake or river into the top of a wood table top.
Prices for custom made river tables start at $1,900+. You can order custom built epoxy and wood dining tables and ocean tables that will be built just the way you want and then shipped to you.
Video Uploaded To YouTube By Chagrin Valley Custom Furniture On May 5, 2021 Titled "The Best Custom Epoxy Resin River Tables [2020 Compilation]"
This video features our best custom furniture (mostly custom river table) projects we've produced and delivered throughout the year 2020. Projects ranged widely, from simple live edge walnut desks, to hickory river tables with LED lights and extendable leafs (with LED light up capabilities), and conference river tables with CNC engraved logos.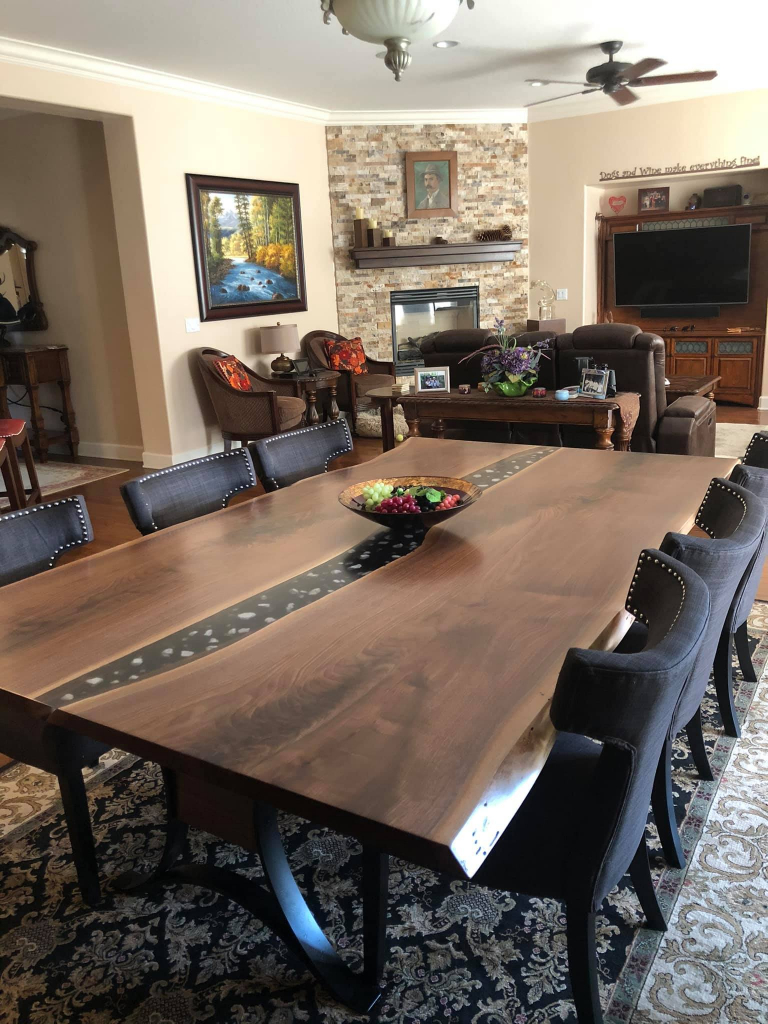 Custom Built Live Edge Black Epoxy River Dining Table $7,000+
Custom Made Live Edge Black Walnut Dining Table With A Black Epoxy Resin River And Embedded Crystals | Sturdy Steel Table Legs Were Also Custom Built For The Client | Sold Online By CVCF In 2020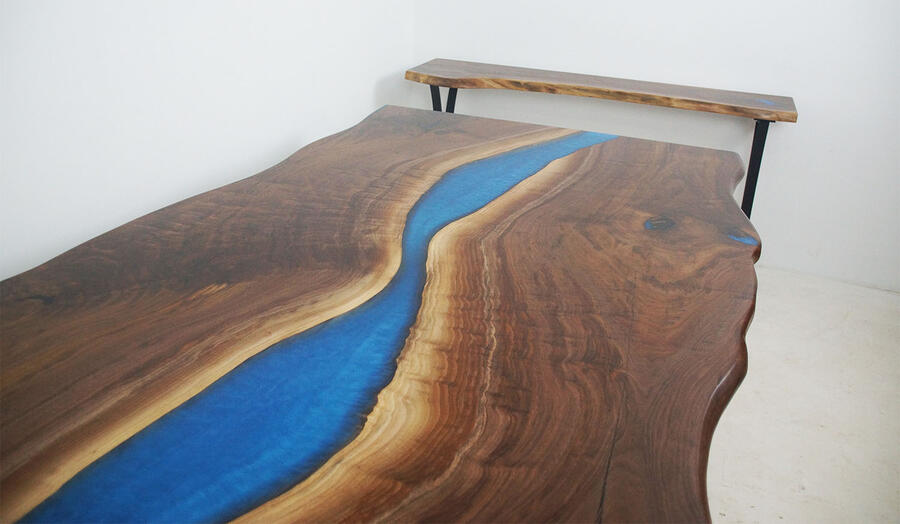 Order Custom Tables, Powder Coated Steel Legs Or Metal Bases
Buy A Resin 'Coral Reef' Coffee Table | $2,400+ | Beach Style End Table And Beach Themed Furniture | Ocean Tables For Sale | Embedded Stones, Sea Shells & Sand Dollars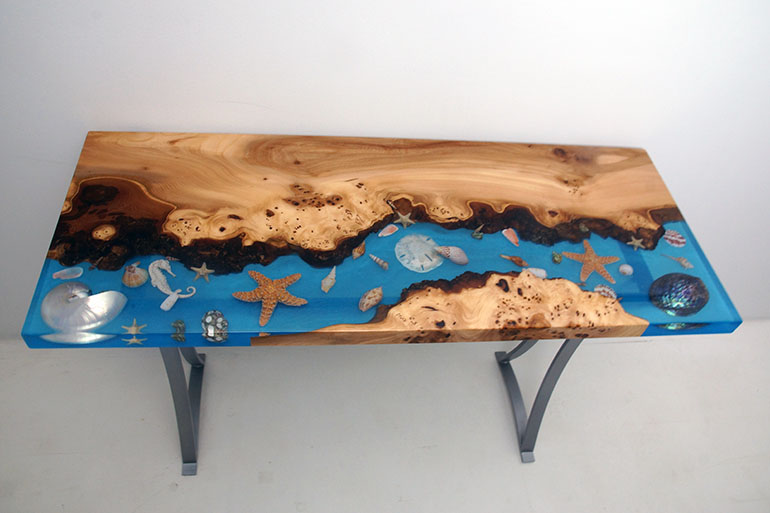 Beach Style Tables And Beach Themed Furniture For Sale Locally Near You (U.S.) And Online | Unique Custom Made Ocean Epoxy Resin Table
Buy A Custom Made Round Conference Table $7,000+ | For Sale Locally Near You (U.S. Only) Or Online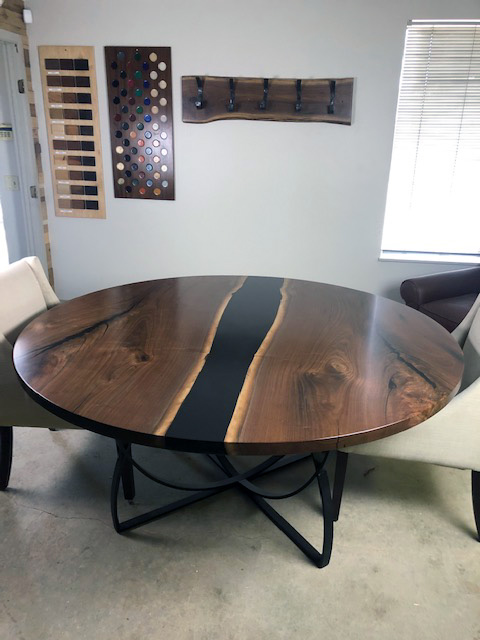 Pictured Here Is Round Black Epoxy Resin River And Black Walnut Live Edge Conference Table That Was Sold Online By CVCF In 2018
Custom Handmade Conference Room Table Material, Size, Shape And Design Options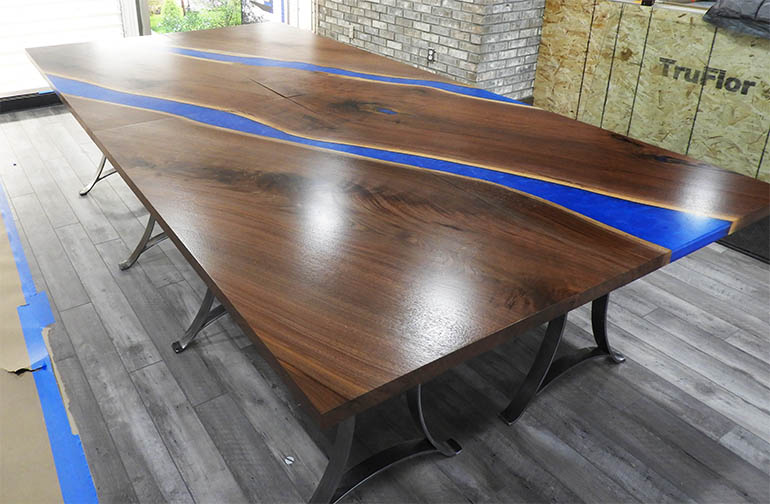 Buy A Custom Built Modern Modular Conference Room Table [System] For Sale Locally Near You (U.S. Only) 12,000+ Any Size, Shape Or Design
Read Customer Reviews And Watch Client Testimonial Videos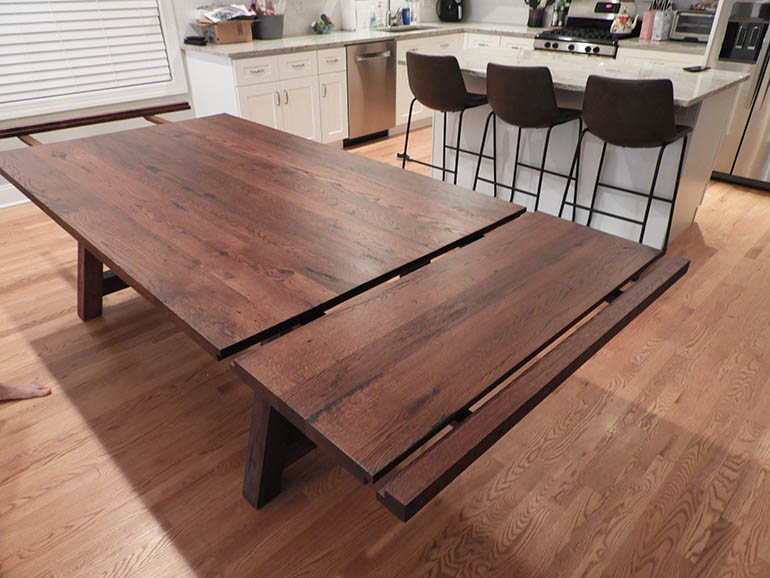 Custom Built Sturdy And Simple Made-To-Order Rustic Farmhouse Dining Table $1,800+ [Extendable]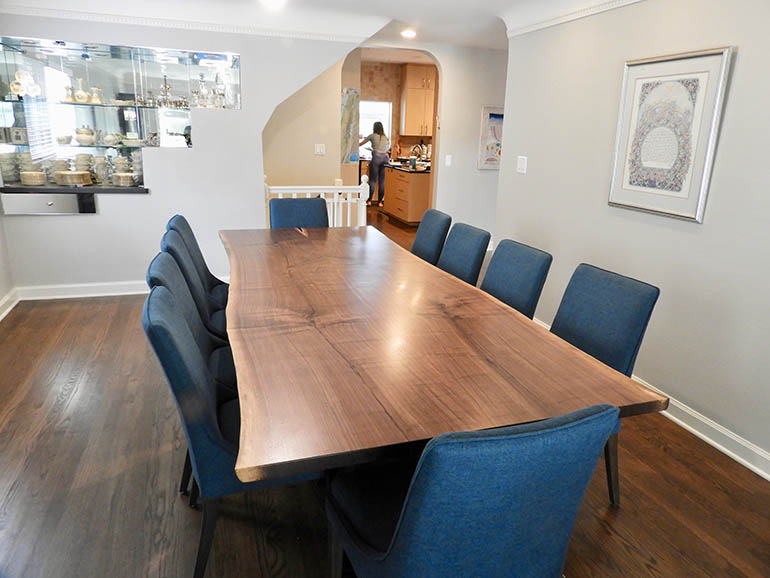 Custom Made Solid Live Edge Wood Slab Dining Table $2,600+ [Kitchen Table That Seats 10]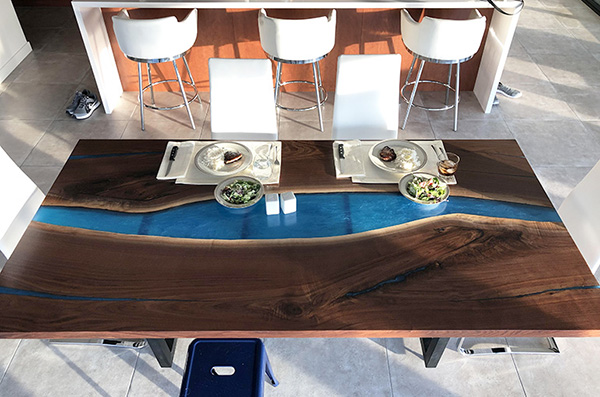 Stylish Modern Blue Epoxy Resin River Live Edge Black Walnut Dining Table $4,200+ [Custom Ordered]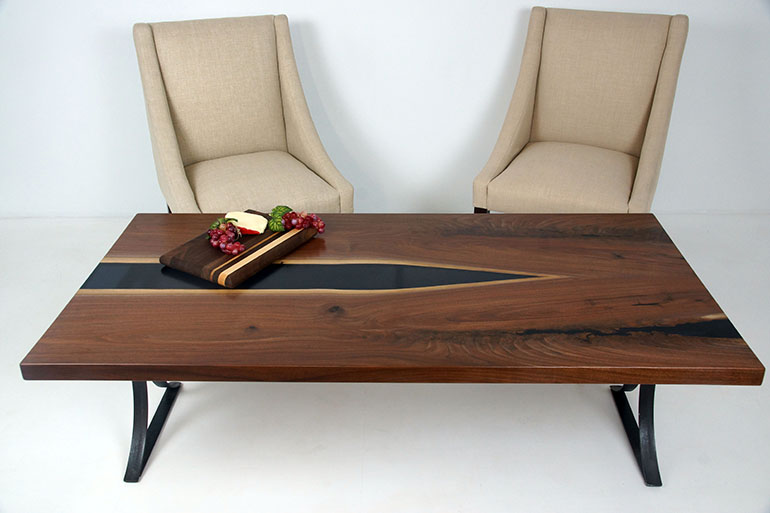 Unique Modern Solid Wood Custom Handmade Coffee Table $800+ [Black Epoxy Resin]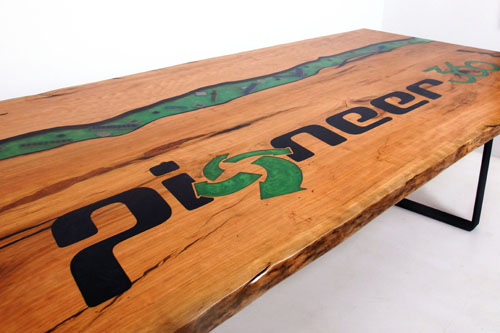 Custom Handcrafted Live Edge Epoxy Logo Conference Table $4,500+ [Any Size Or Shape]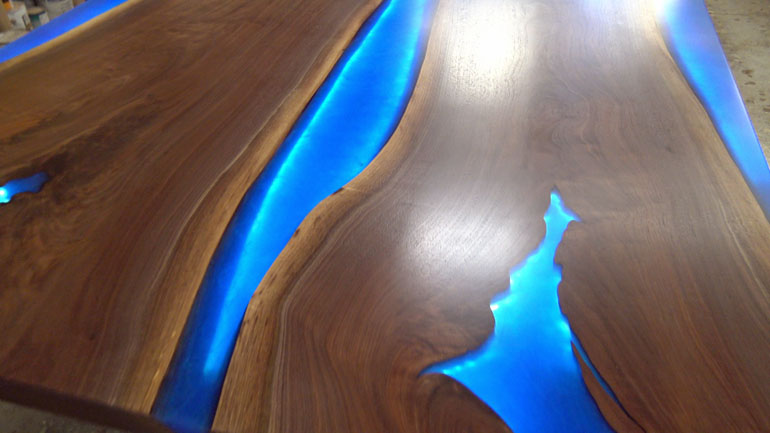 Large High Quality Custom Designed Epoxy Resin River Dining Table $3,000+ [With LED Lights]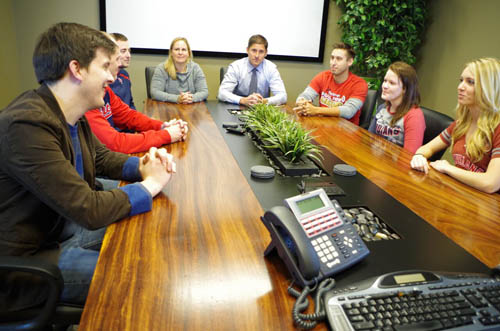 New Long And Wide Modern Handcrafted Custom Conference Room Table $4,500+ [Reclaimed Wood And Steel]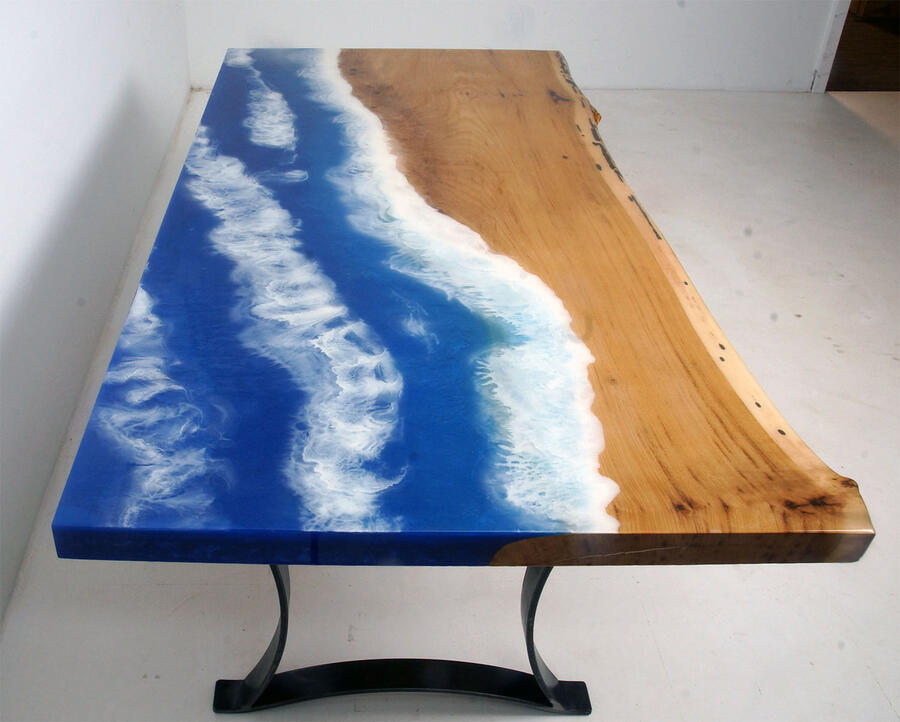 Epoxy Resin "Moving Ocean" Coffee Table $1,000+ [Incredible Ocean Table]
Custom Farmhouse Dining Table Sold Locally [Industrial Base]
In this video, furniture maker Shel Myeroff, owner of Chagrin Valley Custom Furniture, talks with local customers Matt and Molly from Chagrin Falls, Ohio about the high quality made-to-order extendable farmhouse dining room table that CVCF custom built for them.
After an initial furniture design consultation, CVCF furniture builders set off to handcraft the rustic, yet modern and simple, farmhouse dining table from 100-year-old reclaimed oak wood beams, sustainably sourced from a barn in Southern Ohio.
The expert CVCF craftsmen at the Cleveland, Ohio workshop, completely customized the farmhouse dining table by adding a sturdy and durable industrial style metal (steel) base. This video shows all the attention to detail, including the welds and the two pullout inserts. The comfortable farmhouse dining table is 128 inches long when fully extended. Now Matt and Molly are living happily ever after with their new beautiful, and very unique, solid wood farmhouse dining table.
Listen to the couple talk about the exceptional customer service they received from CVCF. Find out how they got helpful design ideas from Shel for their custom table. Get their thoughts on the remarkable workmanship provided by CVCF craftspeople.
Because pine is inexpensive, it is frequently used by America artisans to make farmhouse tables (also know as a farm table or harvest table) tops. For the farmhouse table shown in this video, CVCF used more expensive oak barn beams because they will last for generations (they already lasted over 100 years in a barn) and because the cut beams display a more authentic style and absorb wood stains more effectively.
The country living inspired design style of the charming contemporary farmhouse dining table shown in this video, combines clean sleek lines with a cozy and warm farmhouse feel. This homey style of farmhouse furniture and décor certainly has not gone out of style.
Popular farmhouse style furniture made by CVCF typically incorporates versatile traditional aesthetics and industrial components (legs and bases) to convey a fresher character and a more relaxing appeal than rustic furniture and décor.
Truly custom farmhouse furniture and farmhouse dining tables are handcrafted by CVCF in any design style that the client wants. Exact sizes, dimensions, shapes and wood species are specified by the customers. CVCF ships custom built farmhouse tables to homes, restaurants and businesses in all 50 states.
CVCF creates authentic one-of-a-kind farmhouse tables and a customer experience unlike any other in the furniture industry. Commissioning a farmhouse table from CVCF is fun and rewarding, start to finish. From the table design to the creation, CVCF invite their clients to "get involved". CVCF always strives to exceed customer expectations.
Custom Built Live Edge L-Shaped Desk With Storage & Drawers Sold By CVCF In 2015
The L-shaped corner desk show in this video was custom made with two African mahogany live edge wood slabs. It features hidden storage compartments, a hidden drawer and a hidden shelf for electronics. This handmade solid wood desk was commissioned locally in 2015 from Chagrin Valley Custom Furniture.
Types Of Custom Built Live Edge Furniture For Sale Locally (U.S. Only) And Online By CVCF
Submit Your Design Idea For A Price Quote | Choose The Epoxy Resin Colors | Pick Your Favorite Wood Species | Any Shape – Any Size
Custom Solid Wood Furniture For Sale
Buy Custom Metal And Steel Furniture Locally Or Online
Order Custom Metal Legs For Furniture
Bu, Custom Steel Legs And Custom Wood Legs For Custom Designed Tables, Table Top And Desks
Our A One-Of-A-Kind Dining Table
Order Handmade Epoxy Tables
Chairs, Benches, Vanities And Table Tops
Custom Built Just the Way You Want
Shipped And Delivered To All 50 States
Custom Handcrafted Modern, Industrial, Indoor And Outdoor Furniture
Buy Custom Metal Furniture For Residential, Hospitality, Restaurant, Architectural, Retail And Commercial Uses
Discuss Your Custom Solid Wood, Steel, Metal And Epoxy Furniture Design Ideas With Us
Building Custom Metal and Metal Furniture Is Our Specialty
CVCF specializes in handmade metal and wood rustic furniture and modern furniture – many pieces are made from reclaimed barn wood—and live-edge pieces that incorporate the natural edge of the wood into the look. Many of these pieces also incorporate a waterfall (or riverbed), which is a technique using epoxy resin to create a colorful accent.  Chagrin Valley Custom Furniture manufacturers custom built epoxy resin wood furniture and epoxy resin river tables.
View pictures of river tables that CVCF recently designed, built and delivered to customers in the U.S in 2020. Watch a video showing how we created a 19′ CNC engraved Mississippi River conference table from wood, epoxy resin and steel, here. This black walnut river table was handcrafted for the corporate conference room of the Crescent River Port Pilots' Association, which is located in Louisiana. 
Submit Your Metal Furniture Design Idea Or Plan
You can submit your custom wood and metal furniture design and get a price for fabrication and assembly.  Buy custom made wood and metal furniture for sale in the USA from Chagrin Valley Custom Furniture.  Handmade furniture prices start at $800.
CVCF normally designs wood and metal furniture for our customers, or we collaborate with our clients to design a piece or suite of furniture, which we then handcraft and assemble.  However, if you design your own furniture, we will build it, install and assemble it for you, assuming you live in the continental USA. To submit your wood and metal furniture design drawings, ideas, pictures or CAD drawing for a free consultation and a quote, call 440-591-5511, email shel@chagrinvalleycustomfurniture.com or click here.
How to Get Started
There are several ways you can learn more about our built-to-order tables with custom wood and metal legs and bases:
Wood legs and bases are crafted in our woodworking shop by the skilled artisans here at CVCF. They are experts at turned and carved wood table legs as well as sculpted wood bases in a variety of shapes and styles, including: rustic legs and bases, live edge legs and bases, and modern legs and bases. We'll help you select the perfect paint, stain, or finish. The detail and originality of our decorations and embellishments is unmatched in the industry. In other words, we've got you covered from the big idea to the smallest detail! We use a variety of woods to create either a harmonious or contrasting look to the tabletop. Also, the different styles can create a unique look. Modern bases with a rustic tabletop is awesome! The types of wood we use in our legs and bases include:
Teak

Barn Wood

Cherry

Ash

Maple

Walnut

Oak

Pine

Spruce

Mahogany

Exotic Species

Repurposed

Live Edge

Rustic

Reclaimed
Our custom-made iron, wrought iron, steel, aluminum and metal bases are designed at our CVCF studio in partnership with veteran metal craftsman Paul Hadley and fabricated at his shop, CMS Studios in Bedford Heights, Ohio. Metal legs generally incorporate a modern or industrial design and, in combination with the wood tabletop, fit in with any décor from rustic to traditional to modern. Choose your color, finish, style, shape, dimension, decorations and embellishments to complete your piece just the way you want it.
Furniture Delivery and Installation Available in Northeast Ohio And The USA
When a furniture project is completed, CVCF can deliver it to homes, offices or commercial properties in communities and counties throughout Northeast Ohio and the United States.  Many of our customers are located in Cleveland, Solon, Beachwood, Chagrin Falls, Pepper Pike, Moreland Hills, Strongsville, Westlake, Mentor, Hudson, Akron, Cuyahoga County, Geauga County, Lorain County, Summit County and Portage County. We also assemble and install our furniture. Contact us for details. Our goal is to provide a great product along with unparalleled service to each and every customer. Click here to see customer testimonials and reviews.  To view photos of the custom tables with custom legs and bases we build and to learn more about each piece, click on a photo on this or visit our Project Gallery.
How to Order or Purchase Custom Wood and Metal Table Legs and Bases
To order or purchase a custom, handcrafted table with custom wood or metal legs for your home or office, simply call owner and furniture maker Shel Myeroff at 440-591-5511, email Shel, or go to the 'Request an Estimate' page. You can also request a free in-home consultation to discuss your project.
Prices for custom metal furniture start at $800. Custom metal working services start at $75.00 per hour. Learn about CVCF's custom metal furniture fabricator, Paul Hadley by clicking here.  He is one of the best metal furniture makers in the United States. Types of custom metal furniture you can buy from CVCF in the USA are listed below.
Custom Metal Tables For Private Clients
Custom Wood And Metal Furniture
Modern Steel Furniture For Business Clients
Metal Furniture Legs
Custom Iron Furniture
Custom Metal Desks
Custom Metal End Tables And Cocktail Tables
Queen, King And Canopy Beds
High Quality, Steel, Wood, And Leather Furniture
Custom Metal Counterstools And Barstools
Custom Metal Bar Height Tables
Custom Rectangular Metal Dining Tables
Handmade Metal Furniture
Vintage Metal Furniture
Recycled Steel Furniture
Indoor Metal Furniture
Custom Wrought Iron Furniture
Modern Metal Furniture
Rustic Metal Furniture
Industrial Metal Furniture
Custom Metal Furnishings
Custom Metal And Glass Tables
Metal, Wood and Stone Furniture
Interior And Exterior Railings
Concrete And Metal Furniture
Butterfly Chairs
Fireplace Screens
Custom Welded Furniture
Custom Metal Light Fixtures
Custom Metal Architectural Elements
Custom Fire Pits
Custom Metal Bar Stools
Custom Metal and Steel Side Tables
Custom Metal And Steel Mirrors
Custom Metal And Steel Nesting Tables
Custom Metal And Steel Drink Tables
Custom Metal and Steel Console Tables
Custom Metal And Steel Dining Room Tables
Custom Metal And Steel Bed Frames
Custom Metal Sculptures
Custom Metal Furniture Feet
Custom Metal Benches
Custom Metal Garden Art
Custom Metal Furniture For Artists And Designers
Types Of Metal We Use To Make Custom Metal Furniture
Normal Carbon Steel
Steel Alloys
Stainless Steel
Abrasion Resistant (AR) Steel
Stainless Steel
Brass
Bronze
Aluminum
Recycled Metals
Buy Metal Legs and Bases For Tables and Table Tops
When it comes to innovations in custom metal furniture and table designs, Chagrin Valley Custom Furniture doesn't stop with the top. We recognize that the legs and bases are an integral feature of every table we make, including: coffee tables, end tables, side tables, hallway tables, harvest, farm and farmhouse dining tables, rustic and live edge dining tables, traditional dining tables, and conference tables. So when we work with you to design a special table for your home or office, we make our wood and metal bases as unique as the rest of the piece. Not only are they sturdy and reliable, they are works of art in their own right. Other furniture stores and websites may have unique tabletops, but the legs and bases are usually standard stock. Not at Chagrin Valley Custom Furniture.  CVCF designs, fabricates and builds wood furniture with metal components such as tables with custom legs and bases.
See Examples Of Styles Of Custom Made Metal And Wood Table Legs And Bases
CVCF builds custom made and handcrafted legs and bases for custom river tables, custom conference tables, custom kitchen tables, custom dining tables, custom harvest tables, custom farmhouse tables, custom live edge tables, custom live edge desks and  custom epoxy resin desks. Click on the links below to see pictures for custom table legs and custom table bases for sale. To see design options for custom river tables, click here.
Epoxy Resin Ocean Tables For Sale
In this video, Chagrin Valley Custom Furniture shows you multi-colored epoxy resin being poured and shaped into an epoxy resin and wood ocean table ordered by a family in New York. We sell custom made epoxy resin ocean conference tables, ocean resin desks (desktops) and moving ocean coffee tables made with stunning epoxy resins, custom steel legs, glass and natural woods such as black walnut and live edge wood slabs to customers all across the United States. These unique blue epoxy resin tables with moving ocean waves are cool pieces of furniture that looking like seashores with moving tides.
Photo Gallery And Prices For Custom Furniture For Sale In The USA
Buy Live Edge Furniture In The USA | Live Edge Dining Tables For Sale | Custom Dining Table Prices Start At $1,800 | Buy A Live Edge Walnut Table And Bench | Buy A Rustic Oak Dining Table For $2,800 On Etsy | Custom Furniture Shipping, Delivery And Assembly Across The USA | Get Live Edge Furniture Ideas | Live Edge Chairs, Outdoor Chairs and Modern Rustic Dining Chairs | Walnut Live Edge Tables For Sale | Order A Walnut Live Edge Table with Brushed Steel Base | Cherry Live Edge Conference Tables For Sale On Etsy For $4,600 | Buy A Live Edge End Table With Custom Steel Legs On Etsy For $2,600 | Wood Slab Tables For Sale | Live Edge Bar Height Tables For Sale | Buy A Live Edge Waterfall Bench Featuring An Epoxy Resin River | Buy A Live Edge Dining Table That Seats 8 People | Rustic Live Edge Dining Tables On Sale | Live Edge Benches For Sale | Kitchen And Dining Benches