YouTube Video: Custom Wood & Epoxy Dining & Kitchen Tables for Sale Online [Costs, Sizes, Modern Tops, Live Edge]
Get Ideas From 20+ Unique River Tables You Can Buy In 2021 | Customized Contemporary Wood And Epoxy Dining Tables And Kitchen Countertops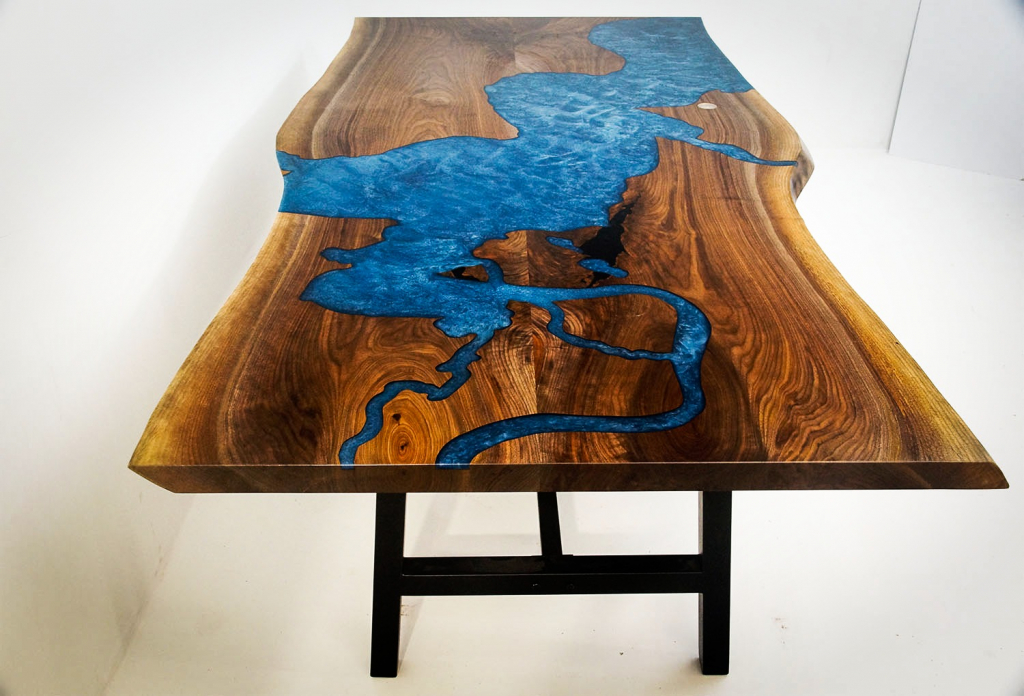 Custom Made CNC Carved And Blue Epoxy Filled Chesapeake Bay Black Walnut Live Edge Dining Table $7,000+
Resin Inlay Table Was Co-Designed Online By Pennsylvania Client And CVCF River Table Makers | Custom Handmade And Shipped In 2020 | Elegant Fluid And Curving Epoxy Resin Water Scene Tables For Your Living Room Or Dining Room
How To Make A Swirl Effect In An Epoxy Resin River Table [By An Expert]
Brandon, woodworker and expert resin artist at CVCF, shows you how to create the subtle (or not so subtle) "swirl" effects in the resin poured down a river table,
here
.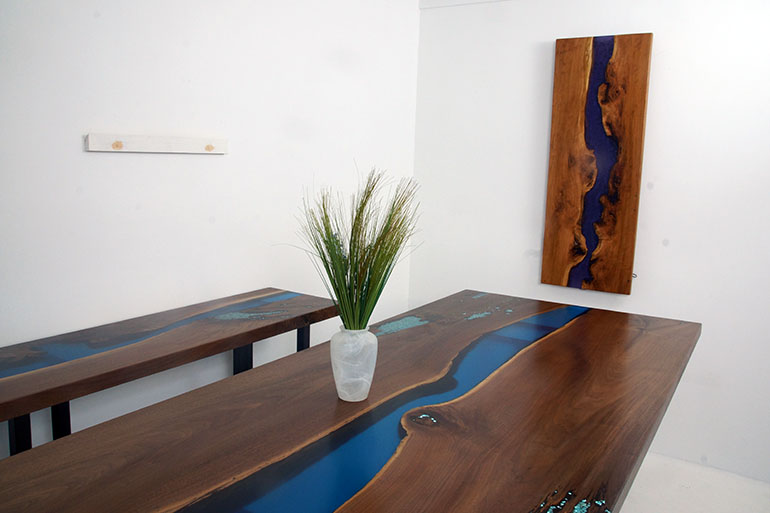 Although We Wish We Could – CVCF Does Not Yet Ship River Tables To Customers In The U.S. For Free
CVCF Shipping Managers Have Simply Not Figured Out How To Ship River Tables For Free
River Table Crating Fees And Shipping Costs Are NOT Included In The River Table Prices Listed Here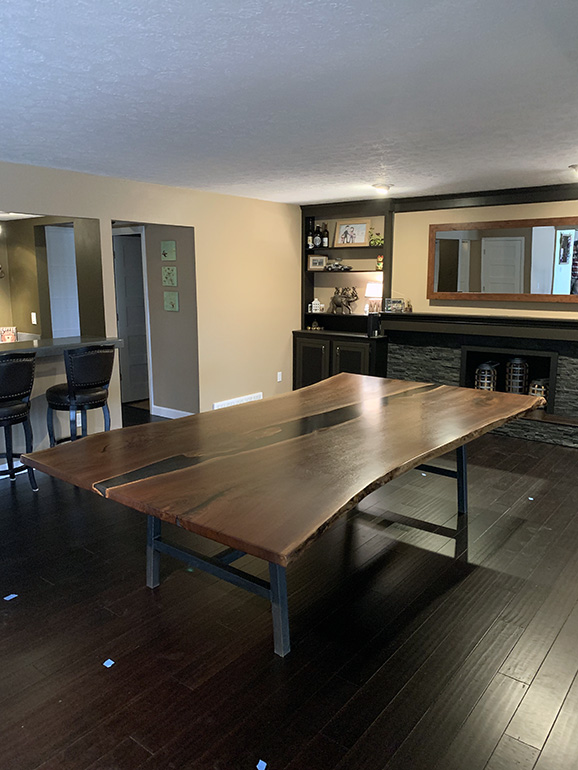 Order A Custom Built Extra Wide High Quality Live Edge Dining Table With A Black Epoxy Resin River Online Here For $6,500+
To Buy A Custom Built Live Edge Epoxy Resin River Dining Table Call 440-591-5511 To Place Your Order Or Submit Your Design Idea And Get A Price Quote
To Buy A Custom River Table, Submit Your Design Idea And Get A Price Quote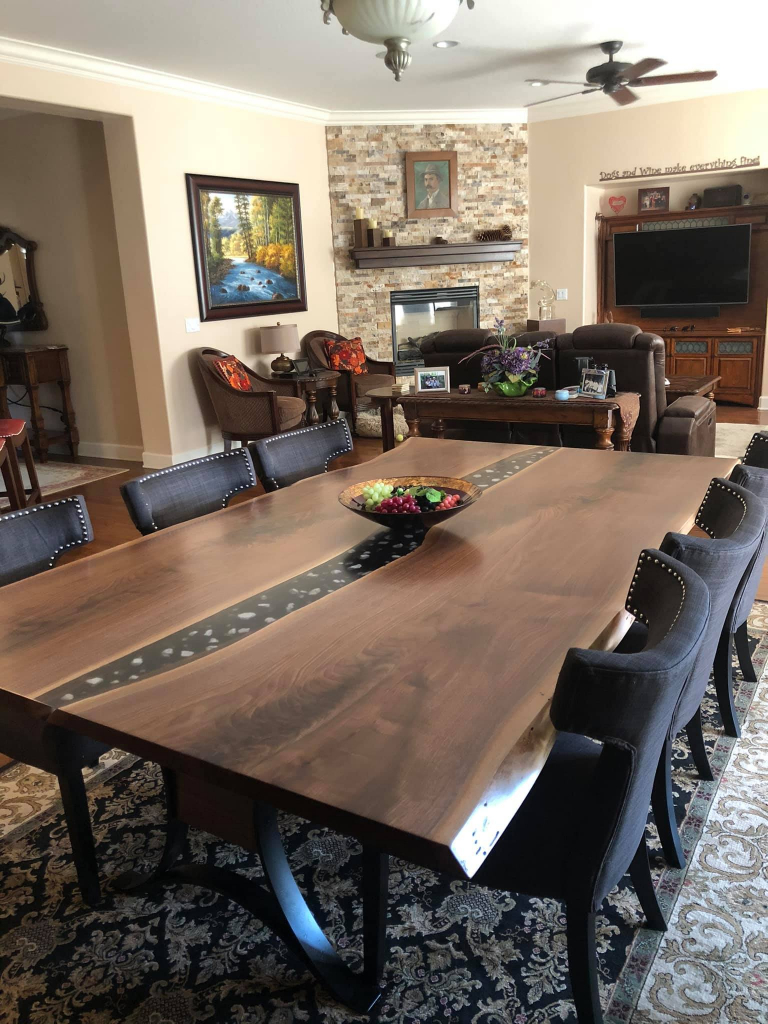 Custom Built Live Edge Black Epoxy River Dining Table $7,000+
Custom Made Live Edge Black Walnut Dining Table With A Black Epoxy Resin River And Embedded Crystals | Sturdy Steel Table Legs Were Also Custom Built For The Client | Sold Online By CVCF In 2020
Brandon, woodworker and expert resin artist at CVCF, shows you how to create the subtle (or not so subtle) "swirl" effects in the resin poured down a river table, here.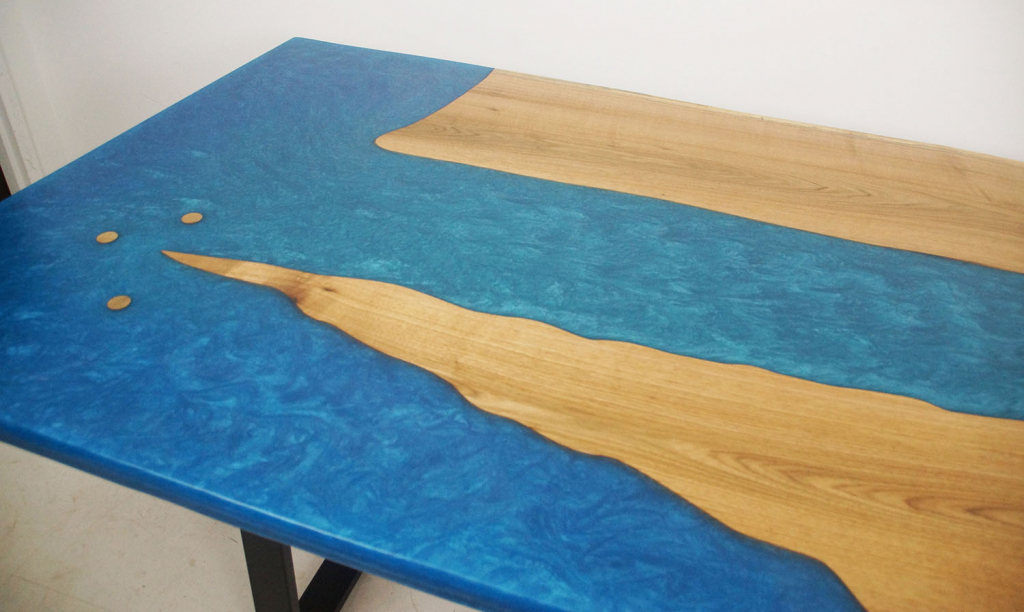 Custom Built Epoxy Resin "Intercoastal Waterway Design" And Live Edge Wood Conference Table And Occasional Dining Table $10,000+ | Sold Online By Chagrin Valley Custom Furniture In 2020
Buy A Black Walnut Wood Dining Table, Ocean Resin Coffee Table, Table Top Or Custom Conference Table | Walnut Countertops For Sale
It Is Easy To Order The Live Edge Black Walnut Epoxy Resin River Dining Table  You Designed Online From CVCF
Buy A Custom Built Walnut Dining Table From Chagrin Valley Custom Furniture Locally Near You (U.S. Only) Or Online Here – It Is Simple To Order And Fun To Co-Design Your Own "Dream Walnut Kitchen Table" With Friendly And Professional CVCF Walnut Table Designers
Modern Epoxy Resin And Rustic Live Edge Black Walnut Table Tops
All Major Credit Cards Are Accepted When You Buy A Truly Custom Handcrafted Walnut Kitchen Island Top Online Or By Phone
To Place An Order Locally Or Online For A Real Custom Made Walnut Live Edge Table Top Call, 440-591-5511 Or Email A CVCF Walnut Countertop Builder
Choose Your Epoxy Resin River Color | Custom Built Just For You | Prices From $825+ | Delivery In USA | Read Customer Reviews And Watch Client Testimonial Videos
Walnut river tables are awesome.  In 2020, CVCF started making "Canyon River Tables" using black walnut and cherry wood. Black walnut river tables are very popular in the USA in 2020 because the kiln dried dark-colored, straight grained true heartwood contrasts so vividly with a blue epoxy resin river. Learn how the highest quality river tables and custom wood and metal furnishings are handcrafted in America in 2020, here. Watch a video showing how we created a 19′ CNC engraved Mississippi River conference table from wood, epoxy resin and steel, here.
This black walnut river conference table was handcrafted for the corporate conference room of the Crescent River Port Pilots' Association, which is located in Louisiana. View pictures of river tables that CVCF recently designed, built and delivered to customers in the U.S in 2020. CVCF sells live edge black walnut conference tables. Get information on black walnut epoxy resin river table options here.
Buy A Custom Made Round Conference Table $7,000+ | For Sale Locally Near You (U.S. Only) Or Online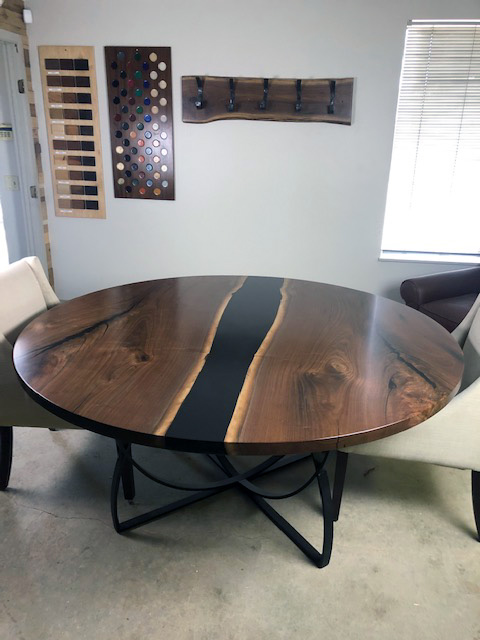 Pictured Here Is Round Black Epoxy Resin River And Black Walnut Live Edge Conference Table That Was Sold Online By CVCF In 2018
Custom Handmade Conference Room Table Material, Size, Shape And Design Options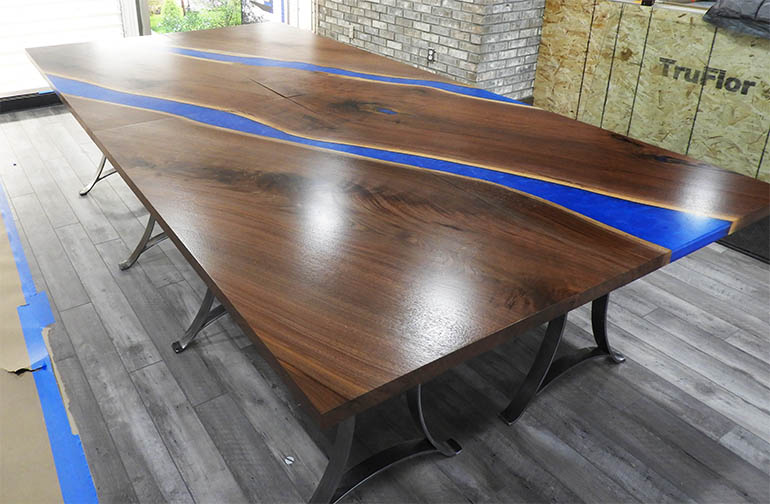 Buy A Custom Built Modern Modular Conference Room Table [System] For Sale Locally Near You (U.S. Only) 12,000+ Any Size, Shape Or Design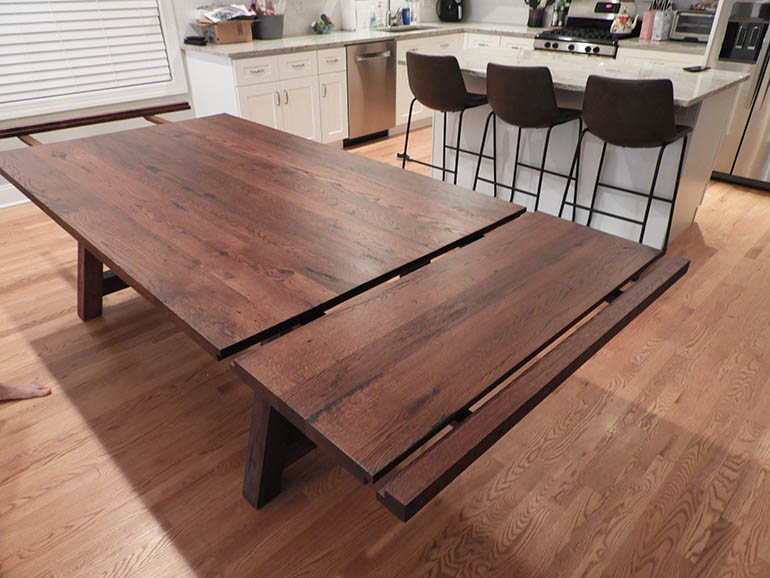 Custom Built Sturdy And Simple Made-To-Order Rustic Farmhouse Dining Table $1,800+ [Extendable]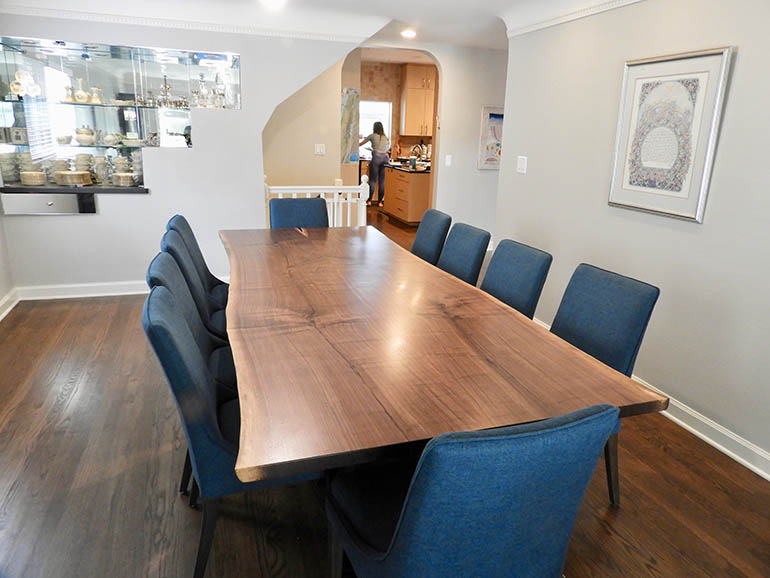 Custom Made Solid Live Edge Wood Slab Dining Table $2,600+ [Kitchen Table That Seats 10]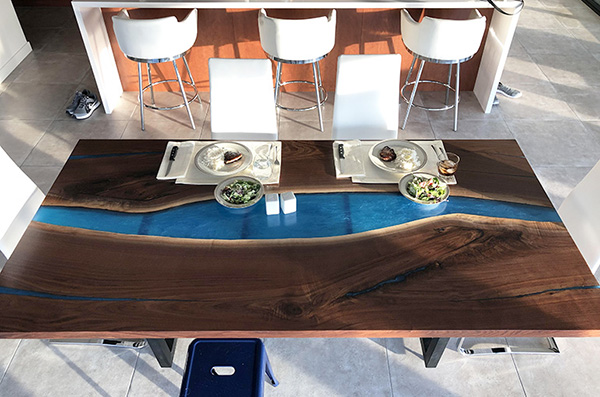 Stylish Modern Blue Epoxy Resin River Live Edge Black Walnut Dining Table $4,200+ [Custom Ordered]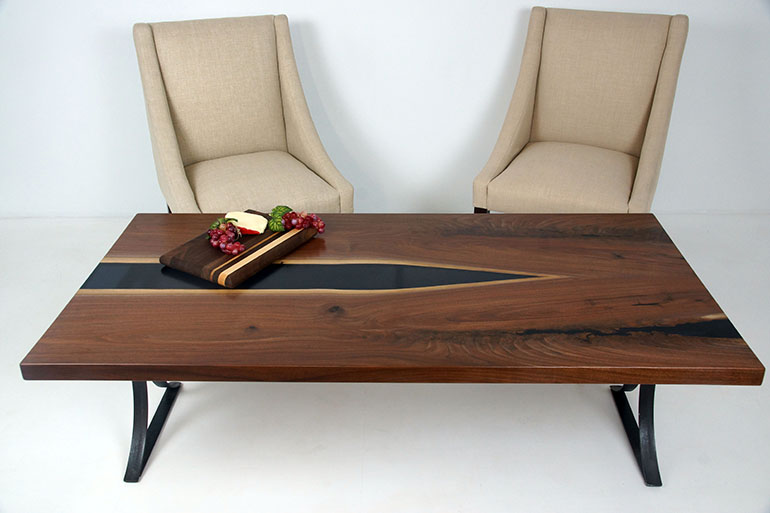 Unique Modern Solid Wood Custom Handmade Coffee Table $800+ [Black Epoxy Resin]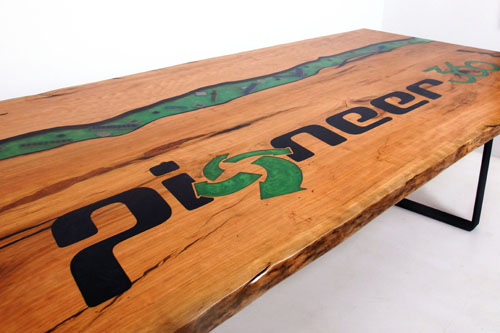 Custom Handcrafted Live Edge Epoxy Logo Conference Table $4,500+ [Any Size Or Shape]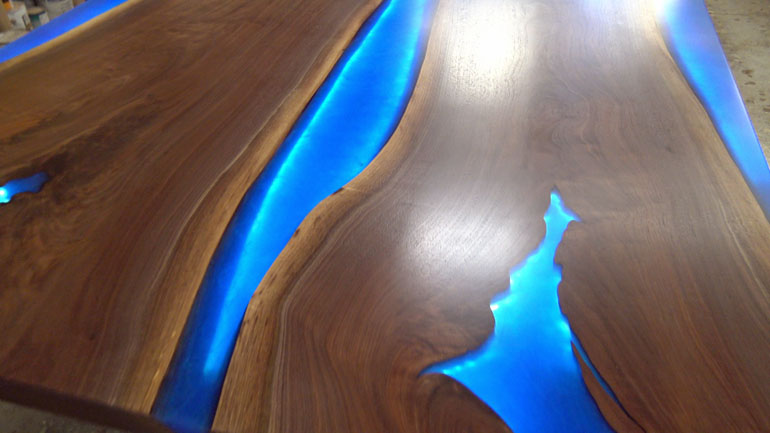 Large High Quality Custom Designed Epoxy Resin River Dining Table $3,000+ [With LED Lights]
Resin River Tables For Sale At CVCF River Table Online Store $800+ Epoxy Live Edge Dining Tables | Buy A Custom Built River Table | River Table Prices From $800+ | Submit Your Own River Table Design Idea | Request A Quote For A River Table | Large Handcrafted River Tables For Sale $1,800+ | Custom Built Epoxy Resin Live Edge Dining Tables And Kitchen Countertops | Handmade Rustic And Modern River Tables | Shipped To All 50 States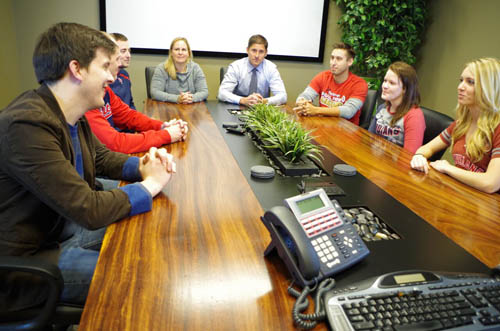 New Long And Wide Modern Handcrafted Custom Conference Room Table $4,500+ [Reclaimed Wood And Steel]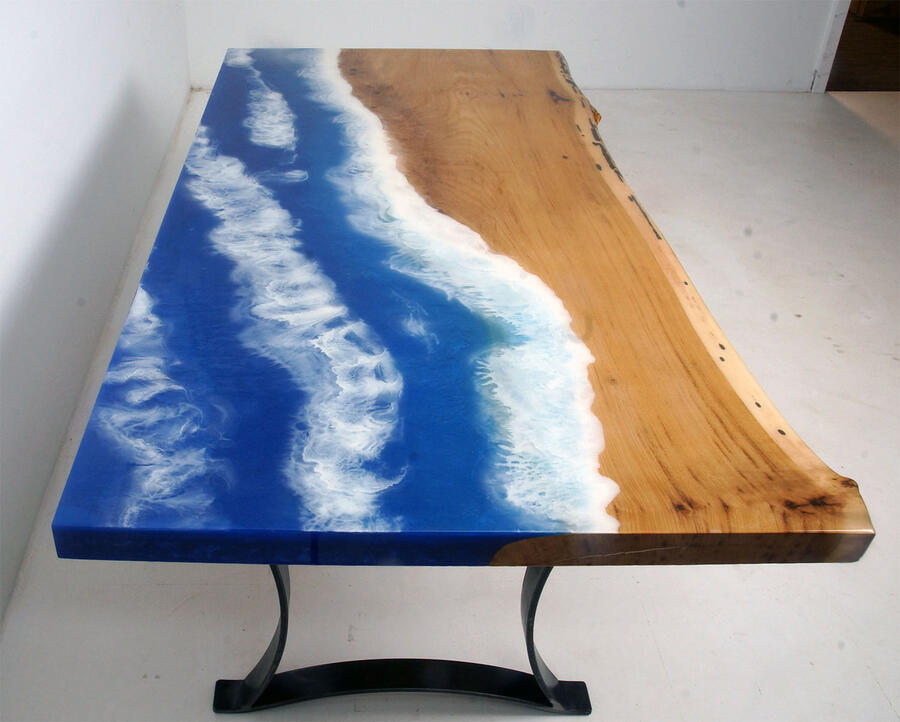 Epoxy Resin "Moving Ocean" Coffee Table $1,000+ [Incredible Ocean Table]
Custom Handmade Walnut Tables For Sale Locally (U.S. Only) And Online
In 2020, CVCF perfected the art of making custom tables with epoxy inlays, CNC river tables, 'Ocean Tables', CNC machined river tables with epoxy resin and 'Canyon River Tables'. In this video, Chagrin Valley Custom Furniture shows you multi-colored epoxy resin being poured and shaped into an epoxy resin and wood ocean table ordered by a family in New York. We sell custom made ocean tables and moving ocean coffee tables made with stunning epoxy resins, custom steel legs, glass and natural woods such as black walnut and live edge wood slabs to customers all across the United States.
2021 Price Ranges (U.S.) For Custom Built Handmade Epoxy Resin And Wood Furniture
Styles Of Walnut Tables For Sale In The USA In 2020
Square Walnut Dining Tables
Walnut Round Dining Tables For 6
Walnut Tables With Epoxy Resin Rivers Or CNC Epoxy Resin Inlays For Sale
The craftsmen at Chagrin Valley Custom Furniture love to make custom designed tables from vibrantly colored black walnut wood slabs because it so darn beautiful and workable. When a blue, red or turquoise epoxy resin river or inlay is created in a slab of black walnut, it creates a very pretty and colorful accent.  CVCF loves to use black walnut wood for woodworking projects. Although it is not as readily available in the USA now as in the past, CVCF has a few secret sources for this cherished species.  American Black Walnut is the darling of the CVCF craftsmen.  CVCF designs, handcrafts, ships, delivers and assembles black walnut river tables, rustic farmhouse tables, live edge tables, black walnut beds, epoxy resin furniture and live edge waterfall benches for customers across the USA. Prices for small walnut river coffee tables start at $825.  Simply provide CVCF with your walnut river table design requirements to receive a quote for your woodworking project. CVCF also sells walnut river tables that are in stock here. View pictures of river tables that CVCF recently designed, built and delivered to customers in the U.S in 2020.
CVCF builds live edge dining and conference tables using 2″ thick black walnut slabs. Black walnut wood is a very hard strong and straight dark brown wood that is shock resistant. Black walnut timber is popular because the fine-grained heartwood is excellent for making fine furniture.  Cambia wood, (thermally modified to increase durability) is another dark wood that CVCF uses to make custom live edge conference tables. CVCF uses black walnut and cambia wood (poplar and red oak) to craft handmade live edge conference tables that can be 10′, 11′, 12′, 16′ or 32′ in length. A common width for a black walnut conference table is 4′.
The Japanese-American architect George Nakashima, winner of the Institute of Architects' Gold Craftsmanship Medal, favored black walnut slabs and used the natural edges of the wood as part of his finished pieces of furniture to emphasize and celebrate nature's imperfections.
Woodworkers at CVCF enjoy working with walnut for a variety of reasons. Black Walnut, also know as Eastern Black Walnut, is great for river tables because it is classy, rich, handsome, and warm. Walnut is beautiful, it holds it shape well after seasoning and it finishes well. The black walnut tree is native to eastern North America and it is a species of deciduous tree in the walnut family.  Black walnut slabs are some of the most durable, strong and versatile hardwoods available on the U.S. market. CVCF purchases cedar, bur and pin oak, ash, elm, maple, red elm burl, cherry, sassafras, black locust, sycamore and American chestnut slabs in Ohio to fabricate one-of-a-kind epoxy resin furniture and epoxy resin river tables.  The woodworkers at CVCF don't mind the sap rings and knots in walnut wood. The furniture makers at CVCF love to custom build walnut epoxy resin river conference tables, countertops and dining tables out of walnut because it is so much fun to cut, shape, sand and finish.
CVCF normally uses kiln dried live edge black walnut or American walnut purchased in Northeast Ohio to custom build epoxy resin river tables. Walnut colors are spectacular, ranging from chocolate brown,  dark brown and purple in the heartwood – to light creamy browns and straw tones in the sapwood.  There are 21 species in the walnut family although CVCF normally designs and builds furniture using black walnut. Check out our walnut river tables on Pinterest.
The custom furniture makers at CVCF excel at building small walnut river coffee/sofa/end/side/entryway tables, live edge black walnut river dining tables, walnut river conference tables, walnut river interior doors and barn doors, walnut river shelves, walnut river table tops, walnut river waterfall benches, walnut river countertops, walnut river bar tops, black walnut wood headboards with blue epoxy resin rivers and river tables with rocks.
Types Of Unique Handmade Walnut Tables Custom Black Walnut Tables For Sale At CVCF
CVCF furnishes dining rooms, living rooms, bedrooms, office spaces and kitchens with small and large walnut tables. We also make the best walnut countertops, round walnut table tops and rectangular walnut kitchen islands. Shop for a solid walnut dining table at Chagrin Valley Custom Furniture. We craft walnut tables using many styles to create stunning rustic walnut farmhouse tables, stylish mid-century modern walnut tables, live edge walnut tables and epoxy resin river walnut dining tables. Walnut tables are handcrafted by American artisans and a shipped to homes and businesses anywhere in the U.S. Many of these statement pieces of office furniture, kitchen or dining room furniture showcase a company's or family's extraordinary character and style. The walnut woodworkers at CVCV know how to build and create Black American Walnut dining room tables from start to finish using 17th century interlocking joinery techniques. CVCF offers a variety of leg and base options such as wood legs, modern sleek brushed steel bases and industrial style cast iron table legs.
Walnut Wood Tables
Black Walnut Tables
Solid Wood Furniture
Vintage Walnut Dining Tables
Round Walnut Dining Tables
Walnut River Tables
Walnut Dining Table Sets
Live Edge Black Walnut Dining Tables
Extendable Walnut Dining Tables
Walnut Ocean Tables
Reclaimed Walnut Dining Tables
Walnut Trestle Tables
Walnut Dining Tables With Benches
Modern-ish Live Edge Walnut Dining Tables
Walnut Dining Tables With Epoxy Inlays
Large Modern Walnut Dining Tables
Walnut End Tables
Walnut Waterfall Tables
Black Walnut Farmhouse Tables
Extending Walnut Farm Style Tables
Cast Walnut Tables
Dark Walnut Dining Tables
Walnut Slab Coffee Tables
Black Walnut Coffee Tables
Walnut Slab Dining Tables
Walnut Night Tables
Black Walnut Table Tops
Discuss Your Design Idea For A Custom Built Walnut River Table With Us
Mesmerizing Walnut River Tables
Chagrin Valley Custom Furniture manufacturers mesmerizing resin tables , custom built epoxy resin black walnut wood furniture and black walnut epoxy resin river tables.  CVCF makes really cool walnut wood and resin river cutting boards.  You can design your walnut river river table and submit your walnut river table design ideas from home.  CVCF will custom build the walnut river table or walnut river furniture to suit your design, deliver and assemble your table in your home or business.   We also make glow-in-the-dark walnut slab tables with blue epoxy resin infills. CVCF handcrafts resin river wall art.  To learn how to build your own gorgeous waterfall table, click here.  Give us a call to talk about your black walnut river table ideas at 440-591-5511.  If you design your own black walnut epoxy resin river table or have an interesting design concept in mind, you can submit your black walnut epoxy resin river table design or plan and get a price for fabrication and assembly.
CVCF specializes in rustic furniture—many pieces are made from reclaimed barn wood—and live-edge pieces that incorporate the natural edge of the wood into the look. Many of these pieces also incorporate a waterfall (or riverbed), which is a technique using epoxy resin to create a colorful accent.
View Related Projects In The Gallery
The Process
When creating a river table, a clear epoxy resin is poured into a rectangular or custom mold with the target live-edge slabs in place. Additional resin mixed with the chosen color or colors is then added to meet the specifications of the project, and then any other objects are set- such as gold flakes or crystals. Between pours, the epoxy is stirred within the form to prevent any settling of color or the creation of bubbles.
Then, we let the epoxy cure and harden and remove the mold, then sand down any imperfections. The wood is finally sprayed or finished with the desired top coating for durability, aesthetics, and/or longevity.
You can see the process in action in the video on the right, filmed right here in our workshop.
Non-Tabletop Furniture With Epoxy Resin "River" Designs
We also sell types of furniture with epoxy resin designs that utilize live edge wood, but are not to be used as a tabletop or to attach a steel base. Seen below, we built this live edge headboard for a client looking for a matching frame and end tables with our signature blue river design. Any kind of luxury, live edge or rustic furniture with a natural edge can be fitted into a mold and poured with the color of epoxy resin you're looking for. This can include live edge headboards, chairs, benches, cabinets, buffets, cabinet doors, display cases, entertainment centers, mantels, shelves and more. Seen below are two examples of a live edge walnut headboard and bedroom set, as well as a live edge walnut bench with epoxy resin poured and cured in the final product. You can contract pieces like these from anywhere in the United States through our customer service-oriented remote design process. Start by contacting us.
River Table Prices
Pricing a river table design varies widely, depending on wood type, size, the chosen legs/base, and the overall complexity of the project. River tables can be made for tables of any purpose, including coffee tables, side tables, dining room tables, and conference room tables.
Small river tables range from $800 – $4,000, and larger river tables range from $1,800 – $6,500. For more specific pricing relevant to your needs, contact us for a free design consultation and quote.
How To Get Started
To get custom river table prices or to contract your own river dining table, live edge river table, or other live edge project using colored epoxy resin, you can contact us using one of the links below.
Call 440-591-5511 To Discuss Your Project
Visit Our Showroom

ADDRESS: 26309 Miles Rd., Suite 6, Warrensville Heights, OH 44128, (Corner of Miles Rd. and Commerce Pkwy., just east of Richmond Rd.)
HOURS: 8-4:30 Monday-Friday. Weekends by Appointment. Please call and let us know you are coming.
More About Our Epoxy Resin Coffee River Tables, Epoxy River Tables With Waterfalls, Epoxy Resin River Dining Tables, Epoxy Resin River Conference Tables And Epoxy Resin River Headboards For Sale In The USA
You can submit your epoxy resin river table design and get a price for fabrication and assembly.  Chagrin Valley Custom Furniture is a custom rustic, live edge, and modern furniture company in Cleveland that specializes in manufacturing epoxy resin river tables made from live edge slabs. We sell some of the most unique custom epoxy resin river tables made with live edge wood to families and businesses throughout the USA.  Watch our YouTube video title "The Making of a Custom Designed Live Edge River Table" to see how we do it.  We also sell live edge epoxy resin river headboards, epoxy resin wood wall hangings, epoxy resin wall art, live edge resin doors and live edge river bar tops. Buy an epoxy resin river table, ocean resin table or piece of wall art from CVCF and we will make it just the way you want.  Prices for epoxy resin wood tables and epoxy resin wall art start at $800.00.  Modern epoxy resin river coffee tables are for sale and live edge epoxy resin river tables made from walnut slabs are for sale. We use a blue epoxy resin for most tables we sell, although we can use any color resin a customer requests. We are experts at handcrafting epoxy resin river tables and are always working on new designs for customers throughout the USA. We recently sold a really cool custom made epoxy resin waterfall coffee table from live edge wood to a customer in Ohio.  The woodworkers at CVCF recently built a custom Senna Siamea wood (Siamese cassia or Pheasantwood) table top for a client in Michigan that featured a blue epoxy river inlay.
Wood and resin dining tables are for sale. Live edge river dining table prices start at $1,800.  We specialize in utilizing an artistic mindset and cutting-edge technology to create high quality, unique resin furniture designs that meet our customer's exact needs. Give us a call to talk about your epoxy table top ideas at 440-591-5511.  Interior designers all across the U.S. also shop for epoxy resin river tables, epoxy river headboards, epoxy resin wall art and epoxy river live edge tables for their clients at CVCF.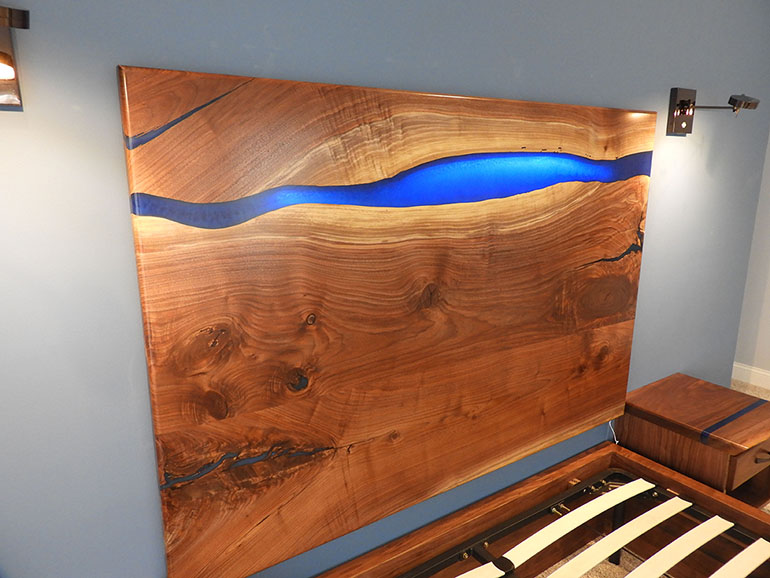 Our most recently conquered frontier is the building and delivery of handmade epoxy resin river tables to homes throughout the USA. We are now delivering and shipping epoxy resin river tables to customers in all 50 states.  We deliver and assemble epoxy resin tables in homes and businesses for our customers in Ohio, Pennsylvania, Indiana, Illinois, Michigan, West Virginia, New York, Kentucky and other states in the Midwest and Northeast regions of the continental United States.
Popular on the West coast, a "river table" is a live edge table that uses colored epoxy resin to fill the gap between two opposing live edge pieces- thus creating the appearance of a small "river." This technique of using resin to create a more perfectly rectangular design can also be used to fill cracks or natural imperfections in wood, and offers endless customization options. You can get started on a colored epoxy resin river table of your own by scrolling down to "How To Get Started" below.
Our live edge river tables are for sale right now to customers in the United States. Buy an epoxy river live edge coffee table or a river slab table from CVCF by calling 440-591-5511. We will provide you a price for the exact type of table you want manufactured. Families around the country have contracted projects using river table epoxy variations from semi-transparent green epoxy resin set with quartz crystals to fully opaque black resin. Our capabilities are limited only by your imagination. In Cleveland, Columbus, Pittsburgh, and Detroit, our branded delivery van and expert wood craftsmen will personally hand deliver your project into your home, ready to take on any tactics necessary for installation. For other parts of the United States, our closely-held third party freight vendor will deliver your project with the same white glove delivery standards guaranteed by our in-house team.

Custom Built Handmade Epoxy Resin River Furniture USA Price Ranges
Prices Ranges Vary Depending Upon The Size Of The Furniture, Fabrication Complexity, Types of Metal Legs Or Bases and Species Of Wood Slabs | Discounted Pricing Is Available for Epoxy Resin Furniture Contract Manufacturing Of Multiple Tables Or Pieces Of Furniture For Restaurants, Bars, Hotels, Hospitality and Commercial Firms | Shipping, Delivery and Assembly Prices Are Not Included Below | CVCF Also Owns And Operates The Live Edge Furniture Company | Buy A Made To Order Live Edge River Table Or Walnut River Table Online
Custom Built Live Edge L-Shaped Desk With Storage & Drawers Sold By CVCF In 2015
The L-shaped corner desk show in this video was custom made with two African mahogany live edge wood slabs. It features hidden storage compartments, a hidden drawer and a hidden shelf for electronics. This handmade solid wood desk was commissioned locally in 2015 from Chagrin Valley Custom Furniture.
Types Of Custom Built Live Edge Furniture For Sale Locally (U.S. Only) And Online By CVCF
Types Of Custom Made Epoxy Resin River Tables And Epoxy Resin River Furniture Sold By CVCF
Small Epoxy Resin Coffee, Side, Entryway, Sofa and End Tables
Epoxy Resin Kitchen Tables
Epoxy Resin River Dining Tables
Epoxy Resin River Conference Tables
Live Edge Epoxy Resin Rive Tables
Epoxy River Tables With Waterfalls
Epoxy Resin River Benches
Epoxy Resin River Headboards
Epoxy Resin River Adjustable Height Office Workstation And Ergonomic Desk
Cypress River Table
Lighted River Table
River Table With Rocks
Walnut River Table
Black Walnut River Table
River Table With Glass Inserts
River Table That Glows
Glow in the Dark River Table
Epoxy Resin River Bar Top
Epoxy Resin River Tabletop
Epoxy Resin River Countertop
Epoxy Resin River Kitchen Island
Camphor Laurel and Blue Gum Coffee Table
Cypress Pine Slice Coffee Table
Epoxy Resin River Picnic Table
Blue River Sinker Cypress Coffee Table
Live Edge Wood Slab Coffee Table With An Epoxy Resin River
Rectangular Fractal River Dinning Table Made With A Live Edge Wood Slab
Epoxy Resin Door Made From A Live Edge Wood Slab
Epoxy River Table Handmade From Elmwood
Live Edge Sofa Table Made With Butternut Wood
Cedar Epoxy Resin River Console Table
Epoxy River table Set Made From Spalted Hickory
River Table With Custom Metal Legs
Oak Resin River Dining Table
Teak Wood Coffee Table With Resin River
Yew Wood Epoxy Resin Coffee Table
Elm Slab Dining Table with Resin River
Resin River Butcher Block Coffee Table
Reclaimed Wood Resin River Table
Camphor Laurel and Transparent Green Resin Dining Table
Camphor Laurel and Purple Resin Desk
Galaxy Themed "Cosmic Rift" Resin River Coffee Table
Epoxy Resin River Cutting Boards
Big Leaf Maple Resin River Dining Table
Trout Stream Coffee Table
Waterfall River Table With Crayons
Resin River Table Made With Glass and Tiger Maple Wood
River Dining Table Made With Clear Epoxy
River Rock Dining Table
River Rock Coffee Table
Resin River Table Made From A Live Edge Slab of Acacia Wood
Live Edge Side Table With Tinted Resin Fill
Resin River Dining Table Made With Suar Wood
Ash Coffee Table With River Rocks In Black Transparent Epoxy Resin
Walnut And Ash Epoxy Resin River Table With Fish Painted In
Resin River Dining Table Made With Bigleaf Maple Burl
Resin River Kitchen Table Made With Mesquite Wood Slab
Resin River Side Table Made With Live Edge Mappa Burl Wood
Resin River Entryway Table Made With Oak Burl Wood
Resin River Sofa Table Made With Weeping Willow Burl Wood
Camphor Laurel and Blue Resin Desk
Burl and Transparent Resin Dining Table
Maple and Black Resin Desk
Electric Green River Console Table
Camphor Laurel Dining and Coffee Table Set
Camphor Laurel and Blue Gum Coffee Table
Cypress Pine Slice Coffee Table
Black Wattle, Stone and Resin Dining Table
Redgum and Resin Hallway Table
Blue Gum Coffee Table
Photo Gallery And Prices For Custom Furniture For Sale In The USA
Buy Live Edge Furniture In The USA | Live Edge Dining Tables For Sale | Custom Dining Table Prices Start At $1,800 | Buy A Live Edge Walnut Table And Bench | Buy A Rustic Oak Dining Table For $2,800 On Etsy | Custom Furniture Shipping, Delivery And Assembly Across The USA | Get Live Edge Furniture Ideas | Live Edge Chairs, Outdoor Chairs and Modern Rustic Dining Chairs | Walnut Live Edge Tables For Sale | Order A Walnut Live Edge Table with Brushed Steel Base | Cherry Live Edge Conference Tables For Sale On Etsy For $4,600 | Buy A Live Edge End Table With Custom Steel Legs On Etsy For $2,600 | Wood Slab Tables For Sale | Live Edge Bar Height Tables For Sale | Buy A Live Edge Waterfall Bench Featuring An Epoxy Resin River | Buy A Live Edge Dining Table That Seats 8 People | Rustic Live Edge Dining Tables On Sale | Live Edge Benches For Sale | Kitchen And Dining Benches