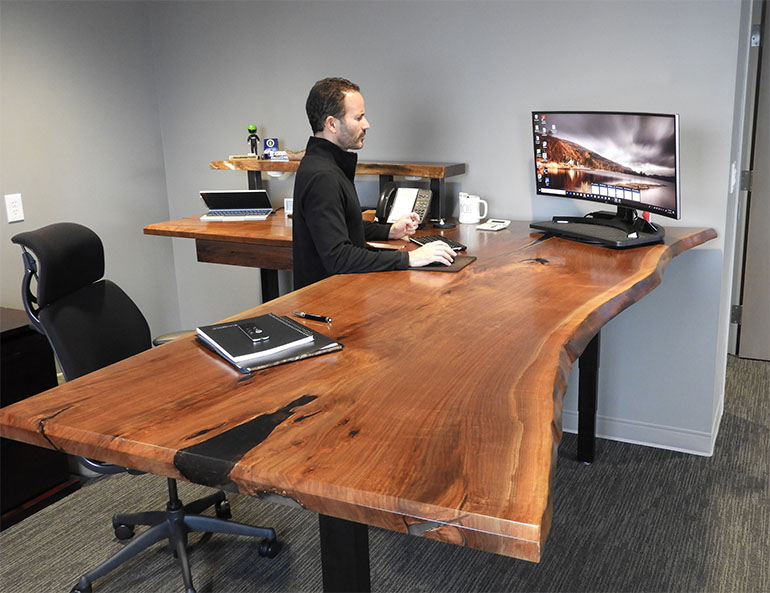 Custom Made Black Epoxy Resin Black Walnut Live Edge Adjustable Height Sit Stand Desk For An Office | Sold Locally [Ohio] In 2019 | $5,300+
Design Options For Custom Desks & Desk Tops For Sale Near You Or Online In The U.S. | Submit Your Design Idea To Receive A Quote | Made To Orders Desks In Any Height, Width And Length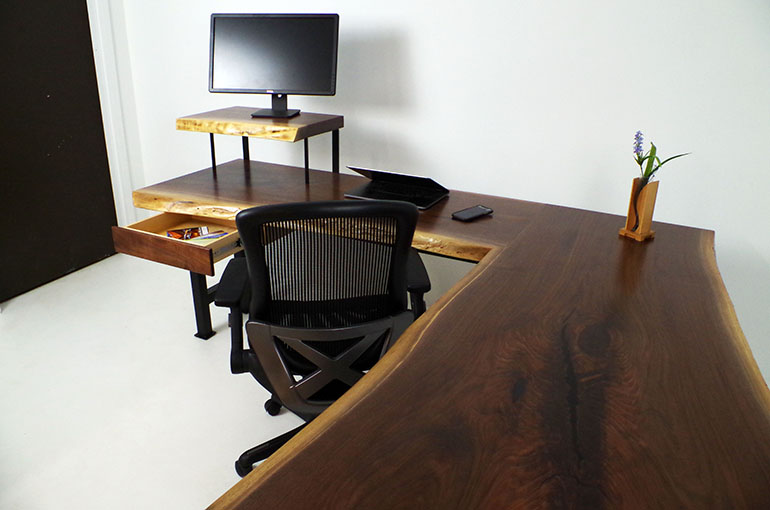 High-End Custom Built L-Shaped Live Edge Walnut Wood Home Office Desk Sold Online In 2020 $6,400+ [With Storage Drawer And Monitor Stand]
Get Ideas From 20+ Unique Epoxy Resin And Live Edge Wood Desk And Desk Tops You Can Buy In 2021 | Customized Contemporary Wood And Epoxy Desks And Desk Tops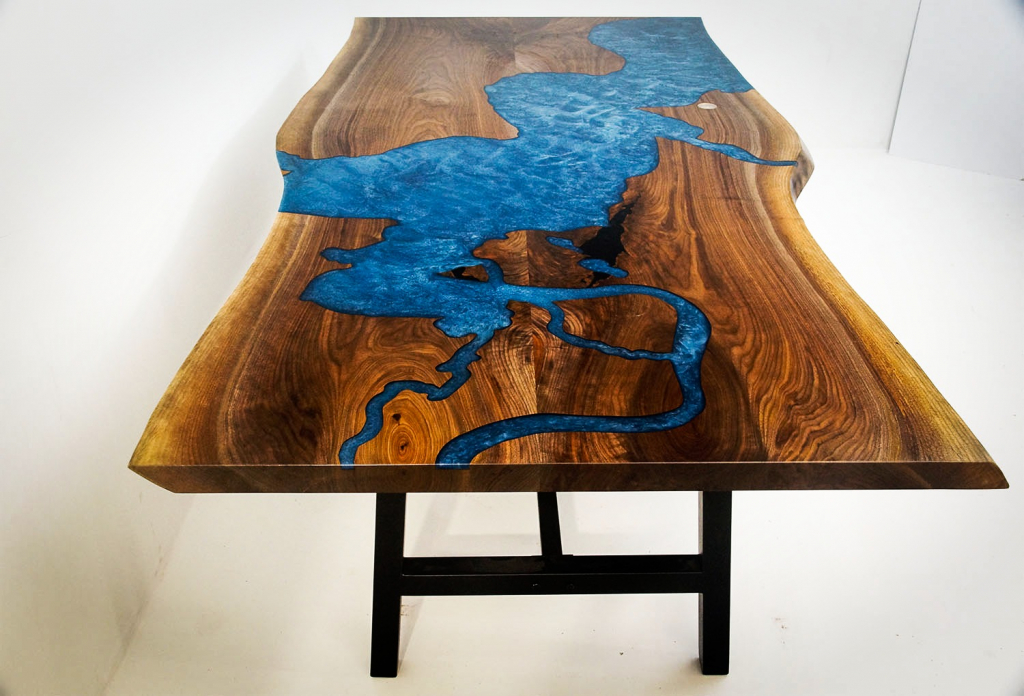 Custom Made CNC Carved And Blue Epoxy Filled Chesapeake Bay Black Walnut Live Edge Dining Table $7,000+
Resin Inlay Table Was Co-Designed Online By Pennsylvania Client And CVCF River Table Makers | Custom Handmade And Shipped In 2020 | Elegant Fluid And Curving Epoxy Resin Water Scene Tables For Your Living Room Or Dining Room
It Is Easy To Order The Desk You Designed Online From CVCF
Buy A Custom Built Desk From Chagrin Valley Custom Furniture Locally Near You (U.S. Only) Or Online Here – It Is Simple To Order And Fun To Co-Design Your Own "Dream Furniture" With Friendly And Professional CVCF Furniture Designers
Modern Epoxy Resin And Rustic Live Edge Desks
All Major Credit Cards Are Accepted When You Buy Truly Custom Desk Online Or By Phone
To Place An Order Locally Or Online For A Real Custom Made Desk Call, 440-591-5511 Or Email A CVCF Furniture Builder
Buy Custom Built Epoxy Resin And Live Edge Wood Furniture For Sale Locally Near You (U.S. Only) And Online From Chagrin Valley Custom Furniture | See Some Great Pictures Of Custom Handmade Epoxy Resin River Dining Tables Here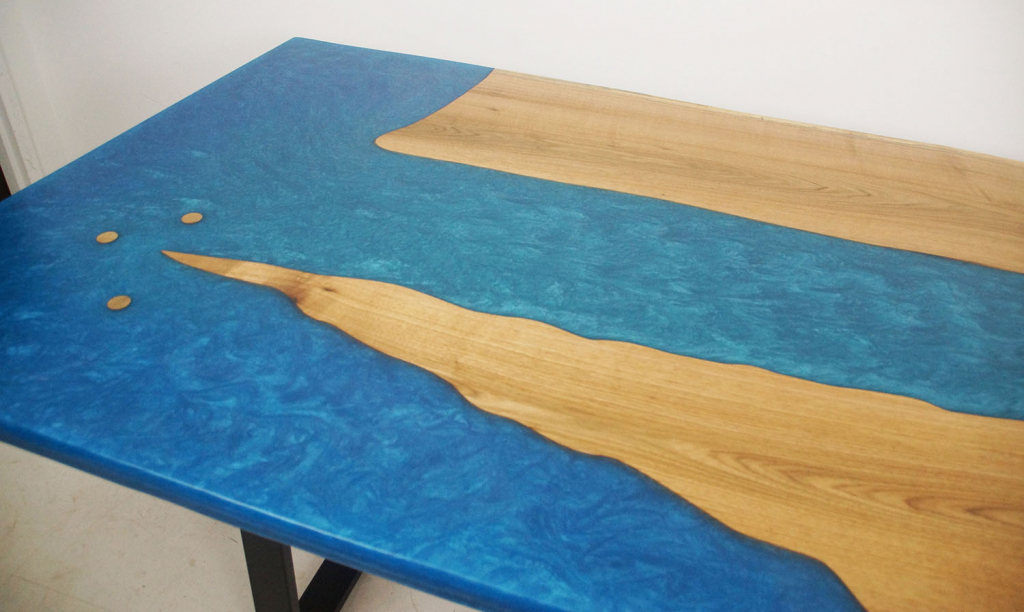 Custom Built Epoxy Resin "Intercoastal Waterway Design" And Live Edge Wood Desk Top For A Conference Table And Occasional Dining Table $10,000+ | Sold Online By Chagrin Valley Custom Furniture In 2020
How To Make A Swirl Effect In An Epoxy Resin River Table [By An Expert]
Brandon, woodworker and expert resin artist at CVCF, shows you how to create the subtle (or not so subtle) "swirl" effects in the resin poured down a river table, here.
Custom Built Epoxy Resin River Studio Desk Made For A Music Producer In 2020
The custom desk seen here was made for a New York music producer as an upgrade for his home studio. Epoxy resin adorns everything, from the tabletop and legs to the detachable monitor stands. The entire piece can be illuminated through the resin via a switch connected to LED lights.
Live Edge Wood, Epoxy Resin Colors, Steel Legs & Bases | Handmade Desks For Home Offices & Gaming | Prices From $1,200 | Shipped To All 50 U.S. States
Custom Made Custom Desks For Sale In The U.S. | Read Customer Reviews And Watch Client Testimonial Videos
If you want to showcase your work room with a unique custom made wood desk for you computer (s) and paperwork contact CVCF to discuss your design idea and get a price quote. CVCF craftspeople are experts at designing and building custom desks for gaming, epoxy resin and wood  'river desks', epoxy resin computer desks, epoxy resin office desks, custom L-shaped desks, custom executive desks and custom desks for home offices.
CVCF sells one-of-a-kind custom made desks for home offices, gaming and bay windows. We handcraft custom desks and custom desk tops for personal computers (PCs), custom desks with shelves, custom desks with keyboard trays, custom desks with drawers, custom desks with bookshelves and custom desks with hutches.
View High-Resolution Desk Design Pictures And Fun Videos Of CVCF Building Custom Handmade Desks
Custom Handmade Wood Home Office Computer Desk Sold By CVCF
See how CVCF built an epic all wood custom handmade desk with a display cabinet and cable management. The "Murphy style" desk top give this modern home office computer and work desk a rustic feel. Chagrin Valley Custom Furniture sold this custom designed desk to a local (U.S.) customer in 2015.
Select From The Following Options For A Custom Desk Made To Order Just For You | Custom Desks And Desk Tops For Sale Locally Near You And Online In The U.S.
Desk Length
Desk Width
Desk Height
Desk Shape (Rectangular, Square, Round, Oval, Boat, Circular, U-Shaped, Racetrack Oval, Rounded Corners, Etc.)
Desk Top Thickness (1″, 1.5″, 1 3/4″, 2″, 2.5″, Etc.)
Desk Seating Capacity
Desk Type
Desk Design Style (Farmhouse, Industrial, Modern, Rustic, Live Edge, Lift Top, Shaker, Hospitality, Contemporary, Epoxy Resin River, Harvest, Drop Leaf, Folding, For Small Spaces, Antique, French Country, Queen Anne, Vintage, Artistic, Mid-Century Modern, Pennsylvania Dutch, Traditional, Etc.)
Wood Species & Type Of Desk Top (Walnut, Natural Wood Slab, Live Edge, Figured Maple, Brown Maple,  Hard Maple, Logs, White Or Red Oak, Hickory, Elm, Solid Wood, American Hardwoods, Alder, Mahogany, Cherry, Birch, Ash, Fir, Teak, Rosewood, Reclaimed Wood, Pine, Exotic, Etc.)
Desk Legs & Base (Trestle, Trapezoid, Single Pedestal, Double Pedestal, Wood, Metal, Steel, Cross, Bold Down, Bar Height, Single Solid Leg, Tree Stump/Trunk, Turned Legs, Post, Etc.)
Desk Top Coating, Sheen, Finish, Paint Or Stain (Epoxy Resin Topcoat, Urethane Topcoat, Polyurethane, High-End Clear Coat, Tung Oil Satin Finish, Semi-Gloss Varnish, Water-Based Finish, Oil-Based Finish, Urethane Varnish, Etc.)
Desk Hardware And Parts (Leaf Supports, Table Locks, Fasteners, Drop Leaf Supports, Nailhead Trim, Surface Mount Corner Brackets, Pins, Braces, Table Lift Mechanisms, Slides, Blanks, Table Leg Brackets, Sockets, Lever Locks, Extension Hardware, Hinges, Knobs, Pulls, Bumpers, Casters, Connectors, Wheels, Edge Covers, Feet, Decorative Hardware, Folding Hardware, Etc.)
Desk Materials (Wood, Epoxy Resin, Glass, Natural, Steel, Brass, Laminates, Formica, Synthetic, Cast Iron, Marble, Granite, Plastic, Plywood, Stainless Steel, Quartz, Leg Feet, Etc.)
Custom Desks With Power Outlets, USB Ports, Adjustable Height Adjustment And Cable Management
Specialized CVCF desks come with anything you could want for your space and you can always customize the size, materials, shape, premium specialty woods, wood slabs, legs, type of base, features, finishes, electrical and power equipment, wood and color. Unique desks are designed and built by local artisans in a furniture shop in Cleveland, Ohio.
Custom Modern Conference Desks With Chairs
Custom Made Industrial Desks With Power Outlets
Custom Live Edge Desks With Wheels
Custom Reclaimed Wood Deks With Storage
Solid Wood Hand-Crafted Custom Desks
Custom Natural Wood Rectangular Desks With Plugs
Custom Modular Desks With Drawers
Custom Traditional Oval Desks With USB Ports
Custom High-Tech Executive Desks With Glass
To Order A Custom Desk Please Submit Your Design Idea, Sketch, Drawing, Photo Or Design File
To commission a custom made table in the United States, please submit your design concept and dimensions to receive a price quote by emailing customerservice@charginvalleycustomfurniture or calling 440-591-5511. CVCF ships and delivers custom tables to customers in all 50 states.
You can submit your custom desk design and get a price for fabrication, delivery and assembly.  Handcrafted, custom designed furniture is special. Chagrin Valley Custom Furniture is one of the leading custom desk manufacturers and wood resin computer desk makers in the United States.
We specialize in designing and building unique and special furniture for your home, including one-of-a-kind desks for sale. Give us your thoughts on your dream office desk, computer desk, executive desk, gaming desk, writing desk, reading desk, or rolltop desk! We'll design it based on your unique wants and needs. Select the type of wood you want from cherry, maple, elm, ash, hickory, walnut, mahogany, and reclaimed and repurposed.
Types Of Custom Made Desks CVCF Ships To U.S. Customers
Custom Desk Tops
Modern Custom Desks
Styles, Shapes and Features Of Custom Built Desks
Choose the style, the size, the shape, the features and the finish – it's your desk and these are your decisions! Then, if you like, give us a hand in building it. We welcome customers to our woodworking shop in Chagrin Falls, Ohio to participate however they like in the creation of the finished piece – a stunningly unique desk unlike anything you'll find in a furniture store, home improvement store, or Amish furniture shop. 
Learn where and how to order a real custom built desk furniture handmade from 100% solid wood. Chagrin Valley Custom Furniture is a Cleveland, OH, custom luxury furniture company that specializes in designing, building and installing exceptional custom handmade wood and epoxy resin desks for homeowners, businesses, restaurants and hotels throughout the United States.
Nothing CVCF makes is mass-produced. Every desk is a one-of-a-kind original built just for you….and just the way you want! That makes it a little more of a challenge to sell on a national scale. But we've figured it out. CVCF developed a system that makes it ridiculously easy for you, no matter where you live in the continental USA, to remotely order exactly the piece you want – and just as easy for CVCF to fulfill your custom order down to the finest detail.
This video shows how we select the wood and how you can follow the progress of your project from start to finish by phone, pictures, videos, or video chats. It also shows how we provide white glove delivery, assembly and installation no matter where you live: Los Angeles, New York, San Francisco, Denver, Phoenix, Houston, Minneapolis, Detroit, Chicago, St. Louis, Miami, Atlanta, Columbus, Pittsburgh, Washington DC metro, Boston, Buffalo, Raleigh, and other cities and counties where people appreciate furniture that is a cut above the rest.
To buy REAL solid wood custom furniture for sale in the USA you have to talk to a REAL designer. If you are considering ordering real custom made-in-the-USA wood and metal furniture that combines high-end quality, style, function and durability, call us at 440-591-5511 and ask to speak with Sheldon or Zach, or email shel@chagrinvalleycustomfurniture.com.
Other Types Of Custom Furniture Handcrafted By CVCF
Chagrin Valley Custom Furniture manufacturers custom built epoxy resin wood furniture and epoxy resin river tables. CVCF also sells rustic furniture, live edge dining tables, epoxy resin headboards and river tables that are in stock here. Learn how the highest quality river tables, desks and custom wood and metal furnishings are handcrafted in America in 2020, here.
Custom Office Furniture Sold By CVCV
CVCF also sells custom conference tables and custom office furniture to U.S. companies, private citizens, hotels, restaurants, resorts, convention centers, the U.S. military, U.S. government agencies, law enforcement agencies and academic institutions that feature engraved business logos and epoxy resin rivers. CVCF also builds lecterns, managerial desks, bureaus, drawers tables, cabinets, office shelves, office chairs, high-back chairs, credenzas, executive desks, reception desks, floating desk, office tables, partially enclosed office workspaces, communal work desks, adjustable height ergonomic desks, sit-stand desks, cubicles, writing desks, office storage units, corner desks, L-shaped desks, height adjustable desks and other custom built office furniture.
YouTube Video: Custom Wood & Epoxy Dining & Kitchen Tables for Sale Online [Costs, Sizes, Modern Tops, Live Edge]
Custom Epoxy River Tables For Sale Locally & Online
You can buy custom epoxy resin river tables, epoxy resin and wood dining tables and epoxy resin and live edge wood countertops for sale locally or online at ChagrinValleyCustomFurniture.com. Buy a natural live edge wood table. You can call CVCF at 440-591-5511. Get design ideas in the CVCF project gallery before you submit you table design idea and request a quote online. You can even start designing your own custom furniture, desk or table online with this free app.
YouTube Video Uploaded By Chagrin Valley Custom Furniture On July 26, 20221 Titled "CNC Carved Epoxy-Filled Topographic Tables | Mapped River, Lake, Waterway, Ocean Tables [CVCF 2021]"
In this video, you'll see really amazing custom tables with the center of the tabletop carved out to replicate the shapes of bodies of water in the U.S. and then filled with colored epoxy. You'll watch how these CNC carved topographical epoxy tables with ACTUAL mapped rivers, lakes, beaches, oceans, islands, bays, seashores are handmade, one by one, by Chagrin Valley Custom Furniture in our Cleveland, Ohio production facility.
Take a look at pictures of custom made epoxy resin river and solid wood kitchen tables, custom built epoxy resin and natural wood conference tables, made-to-order epoxy resin river and live edge dining tables, custom made epoxy resin and solid wood coffee tables and epoxy resin river tables that have been handcrafted by CVCF to our customer's exact specifications. If you are looking for custom desks, see some of the custom built epoxy resin river and solid wood desks, handmade executive desks, L-shaped desks, custom built home office desks and furniture and handcrafted live edge wood slab desks that CVCF has built, here.
YouTube Video Uploaded By Chagrin Valley Custom Furniture On May 19, 2021 Titled "Lake Sunapee Replicated in a CNC Engraved Epoxy Table (CVCF 2021)"
In this video, furniture designer Sky Ironhorse programs and operates a handheld CNC Router to carve the outline of Lake Sunapee, New Hampshire into the top of a table that is then filled with colored epoxy. Chagrin Valley Custom Furniture fulfilled the request of a couple by making this one-of-a-kind dining table for their luxury lake house. CVCF can use a CNC router to carve any real lake or river into the top of a wood table top.
Prices for custom made river tables start at $1,900+. You can order custom built epoxy and wood dining tables and ocean tables that will be built just the way you want and then shipped to you.
Video Uploaded To YouTube By Chagrin Valley Custom Furniture On May 5, 2021 Titled "The Best Custom Epoxy Resin River Tables [2020 Compilation]"
This video features our best custom furniture (mostly custom river table) projects we've produced and delivered throughout the year 2020. Projects ranged widely, from simple live edge walnut desks, to hickory river tables with LED lights and extendable leafs (with LED light up capabilities), and conference river tables with CNC engraved logos.
A Very Interesting Custom Furniture Project We Completed In 2020
View pictures of river tables that CVCF recently designed, built and delivered to customers in the U.S in 2020. Watch a video showing how we created a 19′ CNC engraved Mississippi River conference table from wood, epoxy resin and steel, here. This black walnut river table was handcrafted for the corporate conference room of the Crescent River Port Pilots' Association, which is located in Louisiana. In 2020, CVCF perfected the art of making custom tables with epoxy inlays, CNC river tables, 'Ocean Tables', CNC machined river tables with epoxy resin and 'Canyon River Tables'.
Ocean Resin Tables, Ocean Desks And Moving Ocean Desktops For Sale [Moving Ocean Coffee Tables]
In this video, Chagrin Valley Custom Furniture shows you multi-colored epoxy resin being poured and shaped into an epoxy resin and wood ocean table ordered by a family in New York. We sell custom made ocean tables and ocean resin desks (desktops) and moving ocean coffee tables made with stunning epoxy resins, custom steel legs, glass and natural woods such as black walnut and live edge wood slabs to customers all across the United States. These unique blue epoxy resin tables with moving ocean waves are cool pieces of furniture that looking like seashores with moving tides.
Prices For Custom Made Epoxy Resin Desks And Custom Made Live Edge Desks
Order Your Custom Desk
To order or purchase custom beds and headboards from Chagrin Valley Custom Furniture, call Shel Myeroff at 440-591-5511, email him at shel@chagrinvalleycustomfurniture.com or go to the 'Request an Estimate' page of this web site and fill out and submit the form. Prices for our custom built desks range from $3,000.00 to $6,000.00 based on the type of wood, desk features and desk size. For more information on custom desk pricing, visit our pricing page.
CVCF normally designs custom desks for our customers, or we collaborate with our clients to design custom office furniture, which we then handcraft and assemble.  However, if you design your own furniture, we will build it, install and assemble it for you, assuming you live in the continental USA. To submit your design drawings or CAD drawing for a quote, call 440-591-5511, email shel@chagrinvalleycustomfurniture.com or click here.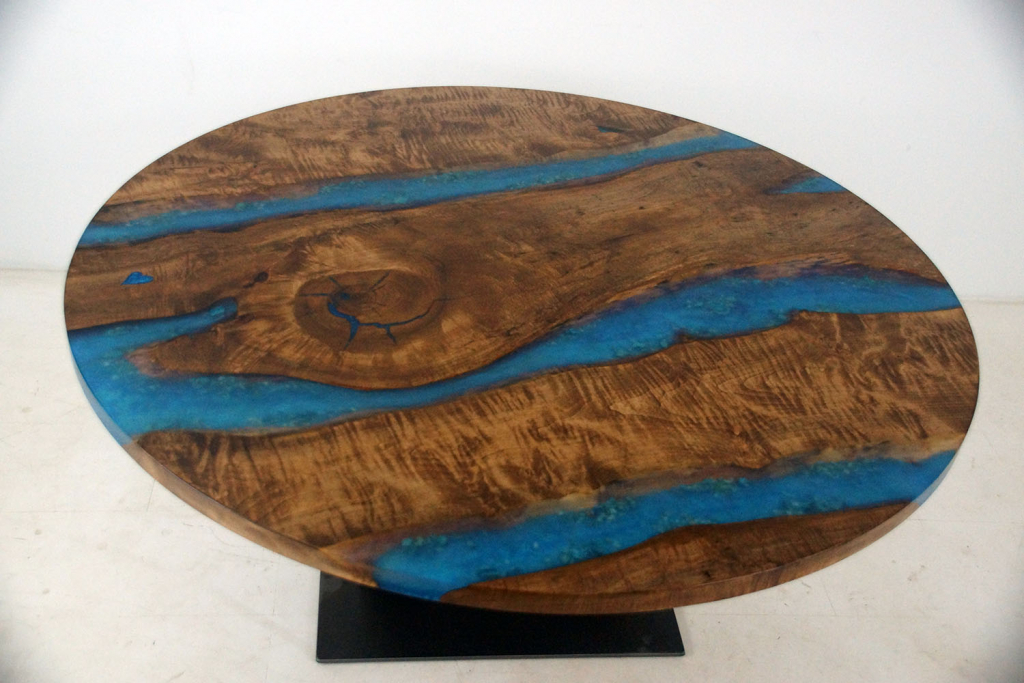 Round Blue Epoxy Resin River And Live Edge Dining Table $6,000+
Information On River Tables And Epoxy Resin From Chagrin Valley Custom Furniture
How Much Does A River Table Cost?
Small river tables range from $800 – $4,000, and larger river tables range from $1,800 – $6,500. Get more river table prices, here.
How Thick Should A River Table Be?
CVCF frequently uses wood slabs that are 2″ thick to custom build sturdy river tables for customers that order locally and online in the U.S. After sanding, these 2″ thick slabs end up being about 1 3/4″ thick.
Are River Tables Strong?
Well built epoxy resin river tables made by CVCF with sturdy natural live edge hardwood slabs are extremely durable and can seat 8, 10, 12 or more people. The surfaces of river table tops made by CVCF, are beautiful, strong and virtually impenetrable. The custom metal river table legs and bases handcrafted by CVCF will last for generations without maintenance.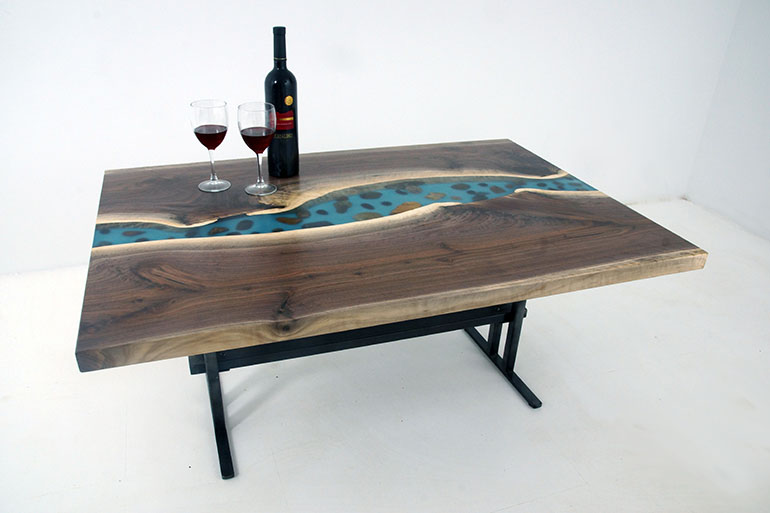 Learn About Building River Tables And Epoxy Resin And Wood Furniture From Chagrin Valley Custom Furniture
Buy A Custom Made Round Conference Table $7,000+ | For Sale Locally Near You (U.S. Only) Or Online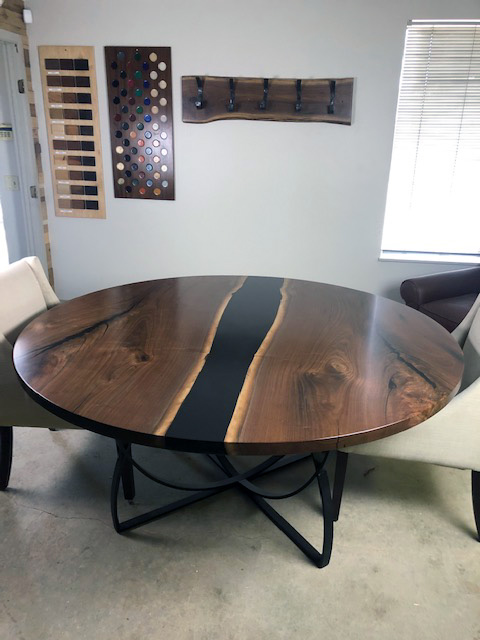 Pictured Here Is Round Black Epoxy Resin River And Black Walnut Live Edge Conference Table That Was Sold Online By CVCF In 2018
Custom Handmade Conference Room Table Material, Size, Shape And Design Options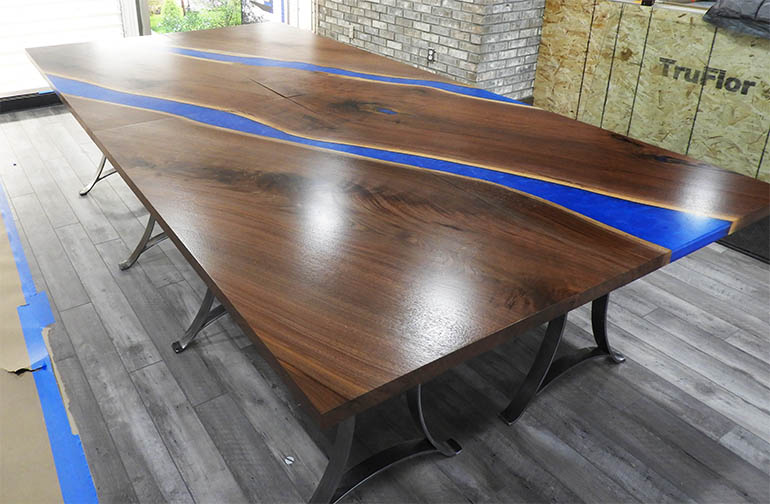 Buy A Custom Built Modern Modular Conference Room Table [System] For Sale Locally Near You (U.S. Only) 12,000+ Any Size, Shape Or Design
View Handcrafted Custom Desks by Chagrin Valley Custom Furniture
Pictured below are some of the custom desks that we have designed, built, delivered and assembled for our clients in the Cleveland, Cuyahoga County, Geauga County, and Northeast Ohio areas. Click on a picture for more information on that particular custom made piece of furniture, or check out our custom desks in the gallery.