Buy High Quality Custom Made Barn Doors Locally Near You (U.S. Only) Or Online | Epoxy Resin Designs Available | Modern, Industrial, Traditional And Double Barn Doors For Sale | Read Customer Reviews And Watch Client Testimonial Videos
Chagrin Valley Custom Furniture is a manufacturer of custom barn doors located in Cleveland, Ohio. The company sells custom barn doors to residential and commercial clients throughout the United States. To order a custom made barn door in the U.S., call 440-591-5511 or email customerservice@chagrinvalleycustomfurniture.com.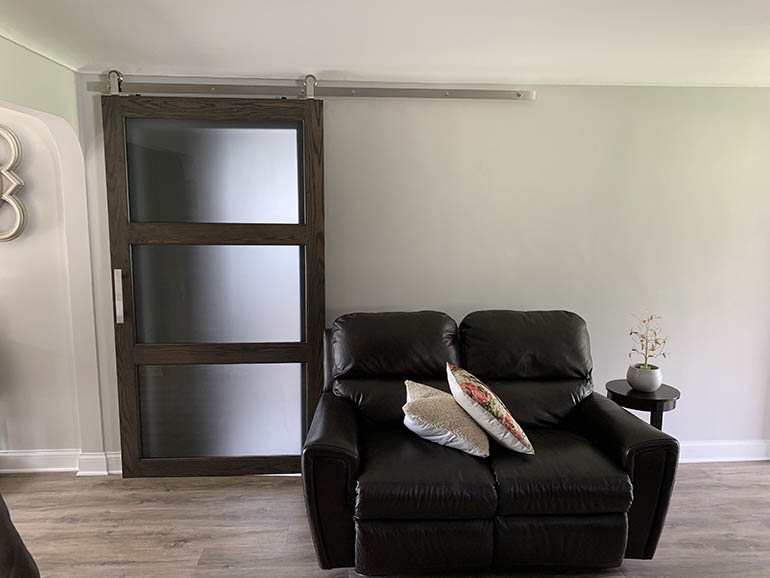 Custom Built Rustic And Modern Interior Barn Doors For Sale Locally (U.S. Only) And Online
Buy A Custom Interior Barn Door
Custom Barn Doors With Family Names (CNC Engraved)
Handmade Custom Sliding Barn Doors For Sale
Custom Barndoors Handmade With Windows
Custom Size Barn Doors With Glass
Custom Barn Doors With Mirrors
Custom Barn Doors For Bathrooms
Custom Barn Doors For Closets, Basements & Homes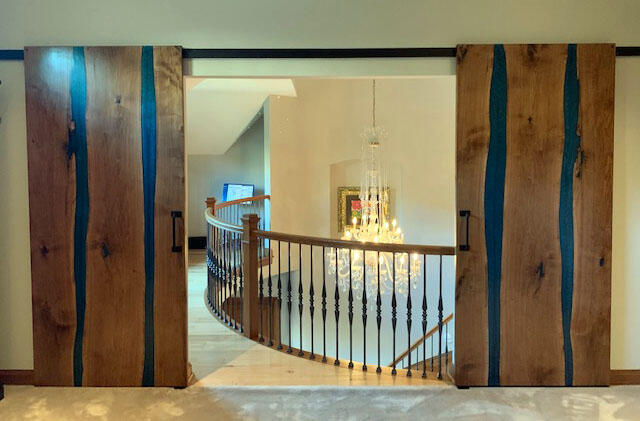 Custom Built Barn Doors With Blue Epoxy Resin River And Live Edge Wood Slabs Sold Online In 2020
CVCF Ships Custom Barn Doors To All 50 States
Chagrin Valley Custom Furniture handcrafts custom barn doors for customers all over the United States. CVCF custom builds customer interior barn doors and custom sliding barn doors for closets, basements and home all across the county.
We ship custom barn doors to all 50 states. CVCF sells custom wood barn doors made with glass, windows, metal mirrors, hardware and epoxy resin. We recently shipped a customer barn door to Fort Lauderdale and another to Atlanta. CVCF specializes in epoxy resin and wood barn doors. CVCF also can use CNC machining to engrave family names into custom barn doors.
Rustic And Modern Barn Doors For Sale
Custom barn doors can be designed in any style from rustic to modern, and are one-of-a-kind solid wood doors designed and built to your exact specifications for your own unique space and décor. We make bypass, single track and double track interior sliding doors with or without windows for your living room, bedroom, office, bathroom—any room where you desire a beautiful door for function or for fashion. At Chagrin Valley Custom Furniture, we specialize in the design and construction of authentic custom sliding interior barn doors, modern interior sliding doors as well as hinged pantry or French doors for customers.
Buy Any Size High Quality Custom Built Modern Or Rustic Barn Door Locally Near You Or Online
Order A Custom Built Solid Wood Interior Barn Door
Purchase A Custom Milled Barn Door With Stury Barn Door Hardware
Reclaimed Barn Wood Sliding Doors With Epoxy Resin Rivers Are For Sale Here
You Can Custom Size Double Barn Doors With Glass From Chagrin Valley Custom Furniture
Hinged doors like pantry doors or French doors open another world of creativity, where a flair of rustic of farmhouse atmosphere can fill a space that is otherwise bland or barren. Click here to view our past sliding interior door projects in the gallery. If you're interested in ordering or purchasing a custom interior door project from Chagrin Valley Custom Furniture, call owner and craftsman Shel Myeroff at 440-591-5511, Contact Us, go to the 'Request an Estimate' page of this web site and fill out and submit the form, or set up a consultation with a designer.
Get A Quote For Your Project
View Related Projects In The Gallery
Interior sliding doors typically serve as dividers between rooms in your home – bedrooms, office, living room, bathroom, etc. – although they are also used to hide TV's, electronics, appliances or to give a little more modesty to a master bath. In addition, they have become popular as artistic additions to many rooms in a home or office with no apparent function other than to be a beautiful wall addition and conversation piece.
Interior sliding doors such as rustic barndoors have also been increasingly popular for restaurants in the Cleveland area. The right barn door or modern sliding door can help separate sections of a dining room to both preserve an intimate dining experience, and add a rustic or modern ambience to the room. Chagrin Valley Custom Furniture has a long history working with bars and restaurants to deliver the right interior sliding doors and decorative shutter doors for their establishments.
Our sliding doors are carefully crafted from rustic materials like barn siding or from new woods like knotty pine that are distressed with many different techniques including unique paint or stain finishes. They can also be modern style with clear or frosted glass and unique and creative finishes.
Many factors go into designing and building our custom sliding doors and barn doors. We use the highest quality hardware, authentic solid natural woods, a well thought out, detailed design, and builders and installers with the talent, expertise and experience you'll only find at Chagrin Valley Custom Furniture. Our team has the exceptional skills it takes to sand, plane, refinish, paint, and outfit the door with special hardware so it look beautiful and hang safely and slide smoothly. We also have dependable down-on-the-farm connections that supply us with reclaimed barn wood to repurpose as a custom sliding interior barn door. You won't find authentic sliding barn doors of this quality and beauty in any home improvement or furniture store including Lowe's, Home Depot, lumberyards, Amish furniture shops, or online!
Buy a custom made epoxy resin and wood door made with your vinyl decal, favorite sports team emblem, logo, stickers, college mascot or personal family pictures embedded under the epoxy in the door. Get more information about epoxy resin and wood doors that are custom made with your favorite emblems, decals, stickers and logos here.
Custom Designed Rustic Interior Sliding Pine Barn Doors Including Hardware From $1,249.00
Custom Designed Authentic Sliding Interior Barn Wood Doors Including Hardware From $1,499.00
Custom Designed Rustic Interior Sliding Barn Wood Doors Including Hardware From $1,699.00
Custom Reclaimed Oak Interior Sliding Barn Doors with Designer Hardware From $1,799.00
Custom Modern Interior Sliding Barn Doors with Hardwoods and Hardware From $1,899.00
Delivery and Installation of Interior Sliding Doors
We'll deliver your interior sliding door virtually anywhere in Northeast Ohio, including: Chagrin Falls, Cleveland, Cuyahoga County, Solon, Moreland Hills, Pepper Pike, Beachwood, Avon Lake, Strongsville, Geauga County, Akron, Summit County, Portage County, and Western Pennsylvania. And don't worry about the challenging installation. We'll take care of that, too! We're proud to say that our customers are thrilled with the high quality and exceptional beauty of our furniture, as well as the great service we always provide.
Click here to see customer testimonials and reviews
. To view photos of the custom interior sliding doors we build and to learn more about each piece, visit our
Project Gallery
or click on a photo on this page.
Hinged Doors & Decorative Or Pantry Doors
Chagrin Valley Custom Furniture specializes in interior sliding doors, but interior hinged doors, decorative doors, French doors or pantry doors are other beautiful options available to our customers. Many homes have inherent limitations that will prevent sliding doors from fitting into the space, and bypass doors may not be of interest. Other times, replacing an interior door with one that better complements the interior design of the home. Whatever the case may be, we can design the perfect doors for your space. Reach out to start the conversation.
Ordering and Purchasing Custom Interior Sliding Doors from CVCF
Watch Our Video On How to Order a Custom Sliding Interior Barn Door!
There are several ways you can learn more about and order and purchase our built-to-order sliding interior barn doors:
Call 440-591-5511 to Discuss Your Project
Email Us at shel@chagrinvalleycustomfurniture.com
Visit Our Showroom
ADDRESS: 26309 Miles Road, Suite 4, Warrensville Heights, OH 44128, (Corner of Miles Rd. and Commerce Pkwy., just east of Richmond Rd.)
HOURS: 8-4:30 Monday-Friday. Weekends by Appointment. Please call and let us know you are coming.
How I Built a Booming Custom Furniture Business Online
Posted On YouTube On December 31, 2020 By Chagrin Valley Custom Furniture [ChagrinValleyCustomFurniture.com]
This video shows you how Sheldon Myeroff turned his custom furniture making hobby into a profitable international custom furniture making company – all after retirement! Success came primarily from specialization with a focus on designing, building and selling custom-made river (epoxy) tables and rustic and modern custom made barn doors. A "river table" is two pieces of natural wood with a river of epoxy resin flowing down the middle. That's become 80% of his furniture making business.
Sheldon started Chagrin Valley Custom Furniture from his home in 2013, but only became serious about growing the company after moving into a large high-end furniture manufacturing facility in 2017. CVCF has become a manufacturer of high quality, handcrafted, custom designed furniture, specializing in custom live edge epoxy tables and desks for sale online to individuals and businesses throughout the continental United States and Canada. Sheldon's innovative ideas for furniture and his furniture business have become a hallmark of his success.
The audio for this video is comprised of extracts from Andy Levine's Second Act Stories podcast on December 7, 2020, and titled "Goodbye Executive Recruiting…Hello Furniture Marking". Andy interviewed Sheldon and CVCF VP of Operations Zach Schulte for this podcast – which Adam wrote and voiced. The full podcast is only 20 minutes long and we hope you'll give it a listen. You can find it at https://www.secondactstories.org.
The Chagrin Valley process is different from other custom furniture makers (builders) because we only make true custom furniture. That means you don't go online to order and pay at the start of the process. With CVCF, you are part of the custom furniture-making process every step of the way as together we create a completely new, one-of-a-kind piece of epoxy resin furniture, specific to your unique needs and desires. You give us your design idea, choose the epoxy color, wood slab, make tweaks in the design, all remotely through video technology. You can even have an emblem or your company logo machined into the wood and filled with epoxy, or embed items in the epoxy such as school and college logos, rocks, crystals, and other sentimental memorabilia.
We harvest our wood sustainably, often under the direction of the U.S. Forest Service. This ensures the long term health of the forest. We spend up to 2 years removing moisture from the logs before starting to work with them. This helps prevent warping and cracking of the wood. Our 6,000 sq. ft. workshop is fully equipped to handle all the challenges of making a beautiful epoxy resin river table, which includes a temperature controlled, clean spray room for a smoother, scratch-resistant coat. We also offer a large variety of metal and wood legs, plus you can design your own legs if you wish.
Our furnishings include custom epoxy resin river tables, epoxy resin river beds and headboards, epoxy resin desks, epoxy resin wall art, rustic to modern farmhouse tables, barn doors, benches, countertops, shelves and so much more. Prices for our conference tables are based on such factors as size, wood species, live edge/not live edge, conference table components, epoxy resin, engraved company names, engraved logos, embedded objects in epoxy resin rivers, etc. Prices for our solid wood and live edge conference tables start at about $4,500, average about $9,000, and top off at about $18,000. Prices for conference tables with epoxy resin rivers and epoxy-filled CNC logos or scenes will cost more.
For a quote on handcrafting your epoxy resin river furniture design and shipping it to your home or place of business anywhere in the USA, call Sheldon Myeroff at 440-591-551, scan or take a photo of your design and text it to us at 440-591-5511, or email to shel@chagrinvalleycustomfurniture.com.
Buy A Custom Made Round Conference Table $7,000+ | For Sale Locally Near You (U.S. Only) Or Online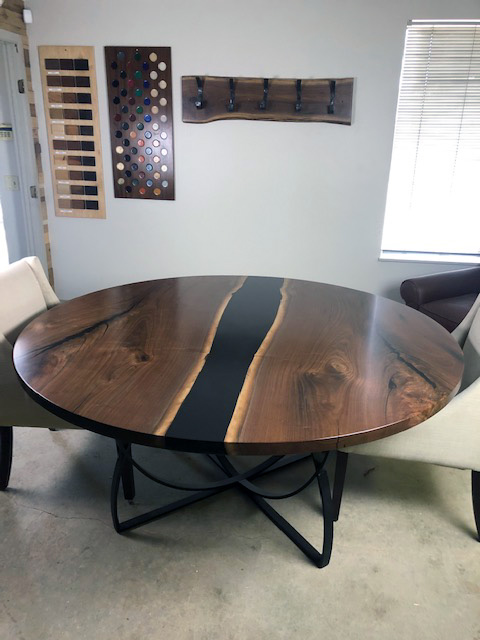 Pictured Here Is Round Black Epoxy Resin River And Black Walnut Live Edge Conference Table That Was Sold Online By CVCF In 2018
Custom Handmade Conference Room Table Material, Size, Shape And Design Options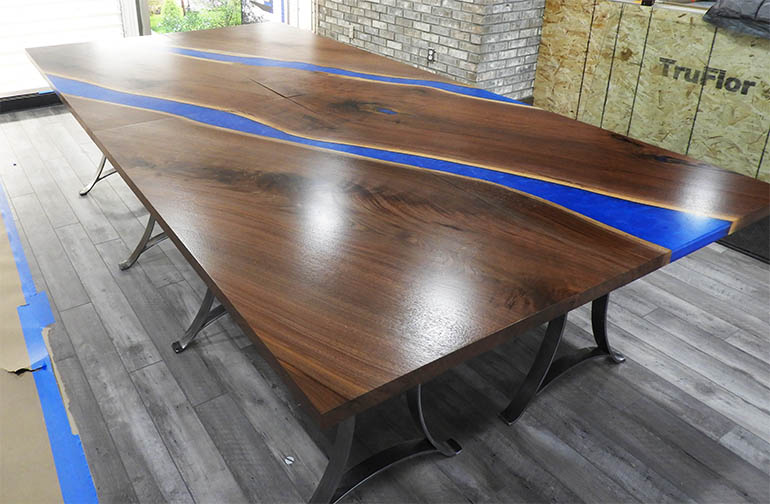 Buy A Custom Built Modern Modular Conference Room Table [System] For Sale Locally Near You (U.S. Only) 12,000+ Any Size, Shape Or Design