VIDEO TESTIMONIAL: Custom Southwest Epoxy River Table | Rocks, Arrowheads, Fossils & Turquoise [CVCF 2021]
Uploaded to YouTube On December 18, 2021 by Chagrin Valley Custom Furniture
In this video, a homeowner from New Mexico talks about the made-to-order epoxy river dining table he and his wife co-designed online remotely with Chagrin Valley Custom Furniture. The Black Walnut tabletop has a teal blue river running through it and epoxy-filled indents, imperfections, knotholes, and cracks. Suspended in the epoxy are turquoise crystals,  river rocks, pebbles, fossils, and arrowheads to go along the Southwestern theme of their home.
Every dining table is unique and an expression of the people who order it. We use Zoom, Facetime, phone calls, emails and texts to keep you fully involved in the design and construction of your custom dining table. We make our dining tables from locally-sourced, sustainably-harvested natural wood, reclaimed wood and live edge wood. You choose your own wood slabs – any species – plus the materials and epoxy resin color. Tell us what style you want – industrial, modern, rustic – you name it, we'll build it.
You'll also see dozens of other custom-made one-of-a-kind dining tables we've co-designed online with homeowners, businesses, restaurants, hotels, interior designers, and architects, and built in our 6,000 sq. ft. workshop in Cleveland. Chagrin Valley offers many epoxy resin table options – different types, styles, designs, shapes, seating, legs and bases, epoxy colors and more.
We pride ourselves on having what we feel are the highest quality river tables built in America. With our CNC machine, we are able to engrave names, logos, topographic waterway features, and other artwork into our epoxy river dining tables and custom conference tables. We have built 100% customized tables for businesses and homeowners all across America.
We build completely custom epoxy resin river tables for families and businesses across the United States that order them online. River tables are on the cutting edge of trendy furniture design today- they offer a unique blend of rustic, through the live edge slabs, and modern, in the dyed epoxy resin that is filled and cured within the gaps of wood.
YouTube Video: Custom Wood & Epoxy Dining & Kitchen Tables for Sale Online [Costs, Sizes, Modern Tops, Live Edge]
Custom Epoxy River Tables For Sale Locally & Online
You can buy custom epoxy resin river tables, epoxy resin and wood dining tables and epoxy resin and live edge wood countertops for sale locally or online at ChagrinValleyCustomFurniture.com. Buy a natural live edge wood table. You can call CVCF at 440-591-5511. Get design ideas in the CVCF project gallery before you submit you table design idea and request a quote online. You can even start designing your own custom furniture, desk or table online with this free app.
YouTube Video Uploaded By Chagrin Valley Custom Furniture On July 26, 20221 Titled "CNC Carved Epoxy-Filled Topographic Tables | Mapped River, Lake, Waterway, Ocean Tables [CVCF 2021]"
In this video, you'll see really amazing custom tables with the center of the tabletop carved out to replicate the shapes of bodies of water in the U.S. and then filled with colored epoxy. You'll watch how these CNC carved topographical epoxy tables with ACTUAL mapped rivers, lakes, beaches, oceans, islands, bays, seashores are handmade, one by one, by Chagrin Valley Custom Furniture in our Cleveland, Ohio production facility.
Take a look at pictures of custom made epoxy resin river and solid wood kitchen tables, custom built epoxy resin and natural wood conference tables, made-to-order epoxy resin river and live edge dining tables, custom made epoxy resin and solid wood coffee tables and epoxy resin river tables that have been handcrafted by CVCF to our customer's exact specifications. If you are looking for custom desks, see some of the custom built epoxy resin river and solid wood desks, handmade executive desks, L-shaped desks, custom built home office desks and furniture and handcrafted live edge wood slab desks that CVCF has built, here.
YouTube Video Uploaded By Chagrin Valley Custom Furniture On May 19, 2021 Titled "Lake Sunapee Replicated in a CNC Engraved Epoxy Table (CVCF 2021)"
In this video, furniture designer Sky Ironhorse programs and operates a handheld CNC Router to carve the outline of Lake Sunapee, New Hampshire into the top of a table that is then filled with colored epoxy. Chagrin Valley Custom Furniture fulfilled the request of a couple by making this one-of-a-kind dining table for their luxury lake house. CVCF can use a CNC router to carve any real lake or river into the top of a wood table top.
Prices for custom made river tables start at $1,900+. You can order custom built epoxy and wood dining tables and ocean tables that will be built just the way you want and then shipped to you.
Video Uploaded To YouTube By Chagrin Valley Custom Furniture On May 5, 2021 Titled "The Best Custom Epoxy Resin River Tables [2020 Compilation]"
This video features our best custom furniture (mostly custom river table) projects we've produced and delivered throughout the year 2020. Projects ranged widely, from simple live edge walnut desks, to hickory river tables with LED lights and extendable leafs (with LED light up capabilities), and conference river tables with CNC engraved logos.
We take custom seriously. Your table is not simply customized. We select a slab specific to your tastes – you can even FaceTime with your representative to choose which slab you want for the tabletop of your project. Epoxy resin and wood layouts can be as simple or complicated as you desire. When your epoxy resin river table is finished, we can ship anywhere within the continental U.S., or install by-hand if you are local to Cleveland, OH.
You can submit your furniture design, or request a build based on one of our customer's past designs – some of which can be found below, or you can explore our gallery.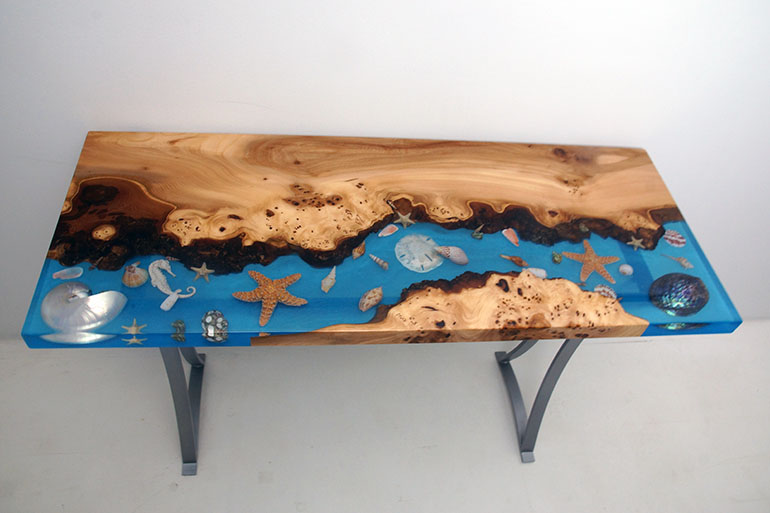 Let's start building for you.
We've built custom furniture for folks from all walks of life – including both celebrity artists from Southern California and retired couples in quaint suburban Ohio towns. River tables can take shape as a wide variety of furniture, from coffee tables, nightstands, kitchen tables, and conference tables, to kitchen islands and desks. Rivers can also be custom made into other types of furniture, like wall art and headboards.
We start with your choice of slab. Then, we flatten the piece, and securely fasten the piece to our working table. Layer by layer, we fill the gaps between each edge of the form, or within the gap(s) of the slab with dyed epoxy resin. Afterwards, the piece is once again flattened and sanded, and then finished with a varnish spray that will make your piece resistant to moisture, most household wear, and most everyday trauma.
Check out a small selection of custom design options below. Then, check out recent river table designs made for businesses and customers across the U.S.
See pricing near the bottom of this page.
Most Popular River Table Wood Choices
Most Popular River Table Epoxy Resin Colors
Example Pre-Built Bases And Custom Bases Selected By Customers
River Tables We've Built Recently
Make your way to the gallery and see what customers have been creating with us lately.
Custom River Tables Price Ranges
Prices vary based on a vast number of factors surrounding the complexity and requirements of your custom table. Factors involving your tabletop include: your species of wood, the amount of epoxy, the thickness of your chosen slab, the length of your table, what kind of embedded items you choose in your table, and if you want the piece to light up with custom LED light installation beneath the resin.
The legs or base you choose can also greatly impact pricing. Tier I bases are cheaper than Tier II, and Tier II bases will usually be cheaper than completely custom legs or bases. Choosing a custom option with ergonomic functions, or the ability to electronically control the height of the tabletop (making it into a standing table/desk) will increase the net price of your project.
Includes: Coffee Tables, Sofa Tables, End Tables, Nightstands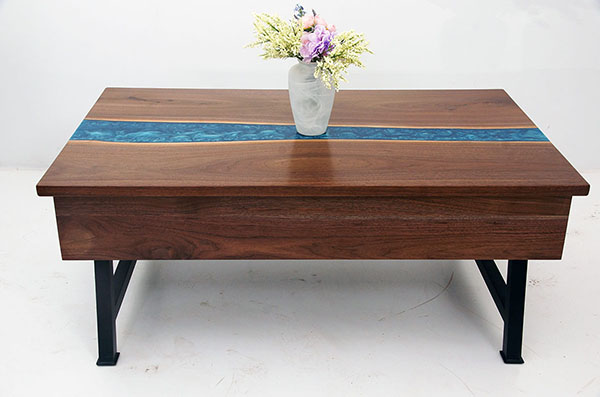 Includes: Kitchen Tables, Dining Tables, Small Conference Tables, Desks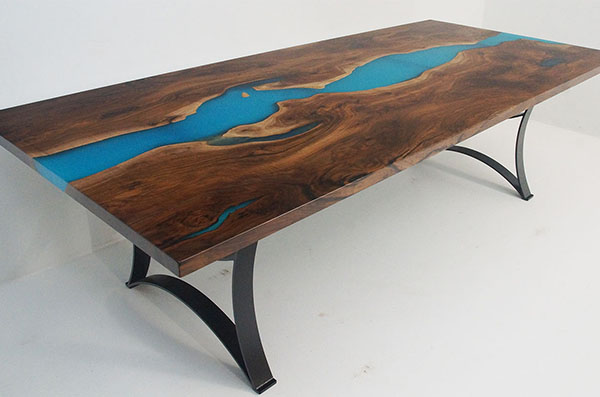 Includes: Medium Conference Tables, Large Office Tables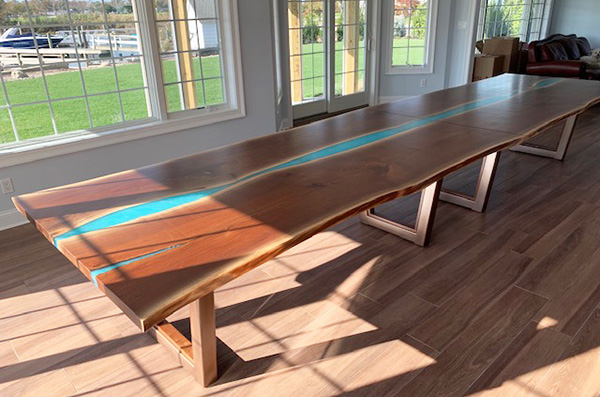 Learn How We Make The Highest Quality River Tables In The US
See How To Order Your Custom River Table From Our Craftsmen