Custom Built Wood Tables Handmade In The USA
High Quality Sturdy Farmhouse Tables, Modern Dining Tables And Live Edge Epoxy Resin River Tables For Sale Locally And Online
VIDEO TESTIMONIAL: Custom Southwest Epoxy River Table | Rocks, Arrowheads, Fossils & Turquoise [CVCF 2021]
Uploaded to YouTube On December 18, 2021 by Chagrin Valley Custom Furniture
In this video, a homeowner from New Mexico talks about the made-to-order epoxy river dining table he and his wife co-designed online remotely with Chagrin Valley Custom Furniture. The Black Walnut tabletop has a teal blue river running through it and epoxy-filled indents, imperfections, knotholes, and cracks. Suspended in the epoxy are turquoise crystals,  river rocks, pebbles, fossils, and arrowheads to go along the Southwestern theme of their home.
Every dining table is unique and an expression of the people who order it. We use Zoom, Facetime, phone calls, emails and texts to keep you fully involved in the design and construction of your custom dining table. We make our dining tables from locally-sourced, sustainably-harvested natural wood, reclaimed wood and live edge wood. You choose your own wood slabs – any species – plus the materials and epoxy resin color. Tell us what style you want – industrial, modern, rustic – you name it, we'll build it.
You'll also see dozens of other custom-made one-of-a-kind dining tables we've co-designed online with homeowners, businesses, restaurants, hotels, interior designers, and architects, and built in our 6,000 sq. ft. workshop in Cleveland. Chagrin Valley offers many epoxy resin table options – different types, styles, designs, shapes, seating, legs and bases, epoxy colors and more.
We pride ourselves on having what we feel are the highest quality river tables built in America. With our CNC machine, we are able to engrave names, logos, topographic waterway features, and other artwork into our epoxy river dining tables and custom conference tables. We have built 100% customized tables for businesses and homeowners all across America.
Get Ideas From 20+ Unique River Tables You Can Buy In 2021 | Customized Contemporary Wood And Epoxy Dining Tables And Kitchen Countertops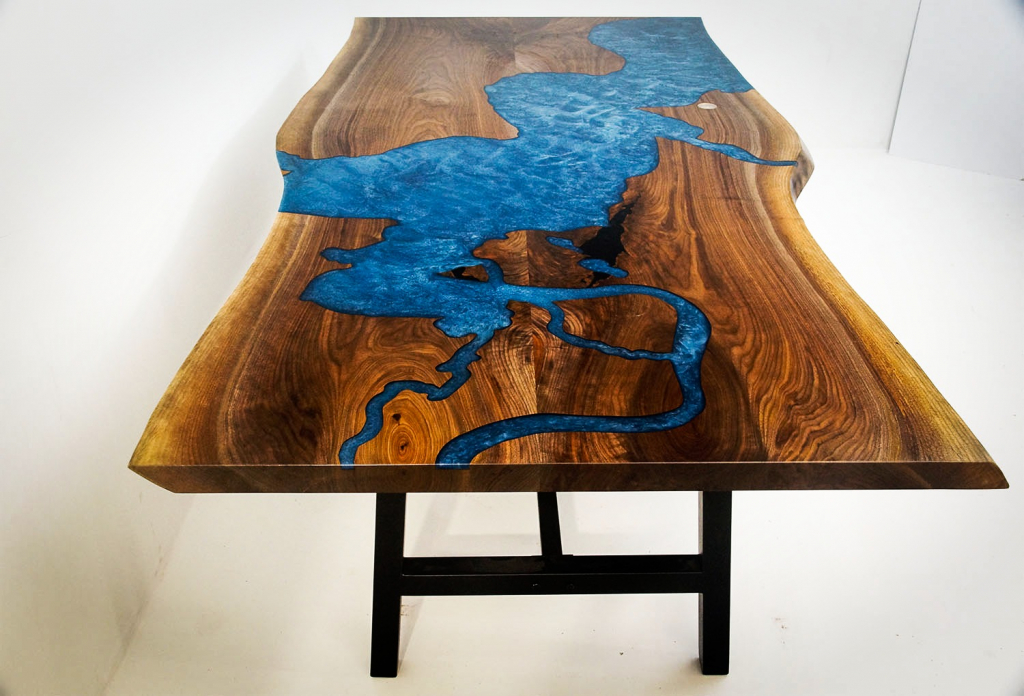 Custom Made CNC Carved And Blue Epoxy Filled Chesapeake Bay Black Walnut Live Edge Dining Table $7,000+
Resin Inlay Table Was Co-Designed Online By Pennsylvania Client And CVCF River Table Makers | Custom Handmade And Shipped In 2020 | Elegant Fluid And Curving Epoxy Resin Water Scene Tables For Your Living Room Or Dining Room
YouTube Video: Custom Wood & Epoxy Dining & Kitchen Tables for Sale Online [Costs, Sizes, Modern Tops, Live Edge]
Submit Your Table Design Idea Here To Get A Quote

You can buy custom epoxy resin river tables, epoxy resin and wood dining tables and epoxy resin and live edge wood countertops for sale locally or online at ChagrinValleyCustomFurniture.com. Buy a natural live edge wood table. You can call CVCF at 440-591-5511. Get design ideas in the CVCF project gallery before you submit you table design idea and request a quote online. You can even start designing your own custom furniture, desk or table online with this free app.
YouTube Video Uploaded By Chagrin Valley Custom Furniture On July 26, 20221 Titled "CNC Carved Epoxy-Filled Topographic Tables | Mapped River, Lake, Waterway, Ocean Tables [CVCF 2021]"
In this video, you'll see really amazing custom tables with the center of the tabletop carved out to replicate the shapes of bodies of water in the U.S. and then filled with colored epoxy. You'll watch how these CNC carved topographical epoxy tables with ACTUAL mapped rivers, lakes, beaches, oceans, islands, bays, seashores are handmade, one by one, by Chagrin Valley Custom Furniture in our Cleveland, Ohio production facility.
Take a look at pictures of custom made epoxy resin river and solid wood kitchen tables, custom built epoxy resin and natural wood conference tables, made-to-order epoxy resin river and live edge dining tables, custom made epoxy resin and solid wood coffee tables and epoxy resin river tables that have been handcrafted by CVCF to our customer's exact specifications. If you are looking for custom desks, see some of the custom built epoxy resin river and solid wood desks, handmade executive desks, L-shaped desks, custom built home office desks and furniture and handcrafted live edge wood slab desks that CVCF has built, here.
YouTube Video Uploaded By Chagrin Valley Custom Furniture On May 19, 2021 Titled "Lake Sunapee Replicated in a CNC Engraved Epoxy Table (CVCF 2021)"
In this video, furniture designer Sky Ironhorse programs and operates a handheld CNC Router to carve the outline of Lake Sunapee, New Hampshire into the top of a table that is then filled with colored epoxy. Chagrin Valley Custom Furniture fulfilled the request of a couple by making this one-of-a-kind dining table for their luxury lake house. CVCF can use a CNC router to carve any real lake or river into the top of a wood table top.
Prices for custom made river tables start at $1,900+. You can order custom built epoxy and wood dining tables and ocean tables that will be built just the way you want and then shipped to you.
Video Uploaded To YouTube By Chagrin Valley Custom Furniture On May 5, 2021 Titled "The Best Custom Epoxy Resin River Tables [2020 Compilation]"
This video features our best custom furniture (mostly custom river table) projects we've produced and delivered throughout the year 2020. Projects ranged widely, from simple live edge walnut desks, to hickory river tables with LED lights and extendable leafs (with LED light up capabilities), and conference river tables with CNC engraved logos.
Order A Custom Built Solid Wood Table Handmade In The USA By Chagrin Valley Custom Furniture

Epoxy Resin And Live Edge Wood Designs

Dining Tables, River Tables, Conference Tables, Farmhouse Tables, Kitchen Tables And Coffee Tables
To Buy A Custom River Table, Submit Your Design Idea And Get A Price Quote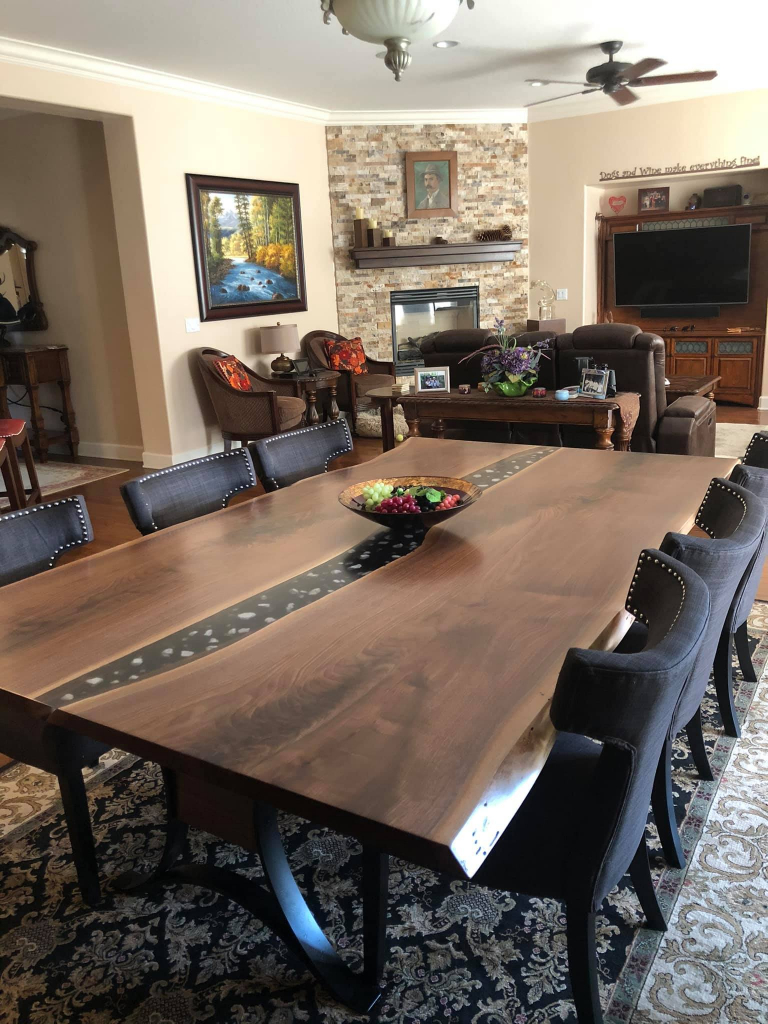 Custom Built Live Edge Black Epoxy River Dining Table $7,000+
Custom Made Live Edge Black Walnut Dining Table With A Black Epoxy Resin River And Embedded Crystals | Sturdy Steel Table Legs Were Also Custom Built For The Client | Sold Online By CVCF In 2020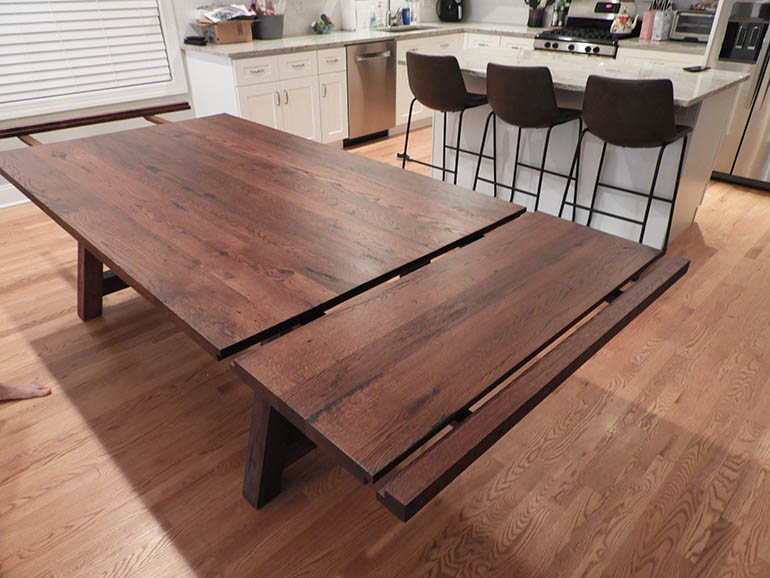 Custom Built Sturdy And Simple Made-To-Order Rustic Farmhouse Dining Table $1,800+ [Extendable]
It Is Easy To Order The Farmhouse Table Or Kitchen You Designed Online From CVCF
Buy A Custom Built Farmhouse Table, Harvest Table, Live Edge Dining Table Or Handmade Kitchen Table From Chagrin Valley Custom Furniture Locally Near You (U.S. Only) Or Online Here – It Is Simple To Order And Fun To Co-Design Your Own "Dream Farmhouse Table" With Friendly And Professional CVCF Farmhouse Table Designers
Modern Epoxy Resin And Rustic Live Edge Farm Tables
All Major Credit Cards Are Accepted When You Buy Truly Custom Rustic Farmhouse Table Online Or By Phone
To Place An Order Locally Or Online For A Real Custom Made Farmhouse Table Call, 440-591-5511 Or Email A CVCF Farmhouse Table Builder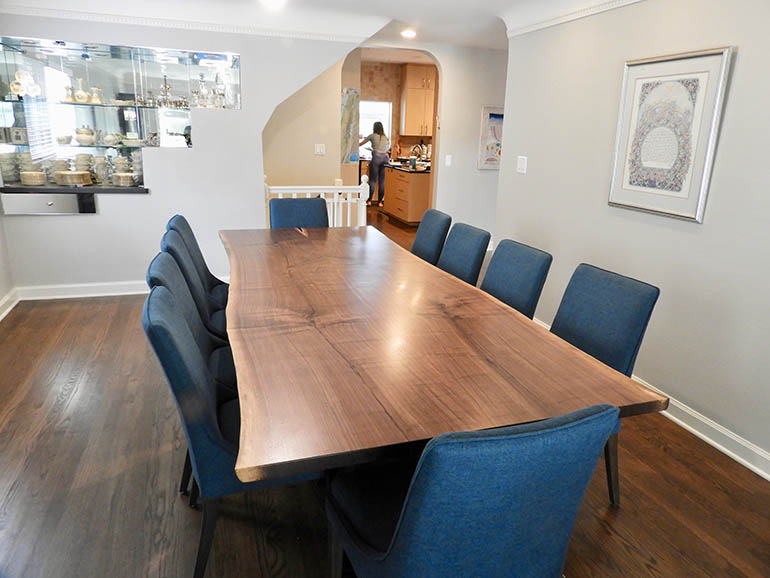 Custom Made Solid Live Edge Wood Slab Dining Table $2,600+ [Kitchen Table That Seats 10]
Buy A Custom Built Solid Wood Table Handmade In The USA | High Quality Sturdy Farmhouse Tables, Modern Dining Tables & Live Edge Epoxy Resin River Tables For Sale Locally & Online | Prices From $800+ | Custom Made Coffee Tables & Conference Tables | Shipped To All 50 States
Buy A Custom Made Round Conference Table $7,000+ | For Sale Locally Near You (U.S. Only) Or Online
How To Make A Swirl Effect In An Epoxy Resin River Table [By An Expert]
Brandon, woodworker and expert resin artist at CVCF, shows you how to create the subtle (or not so subtle) "swirl" effects in the resin poured down a river table, here.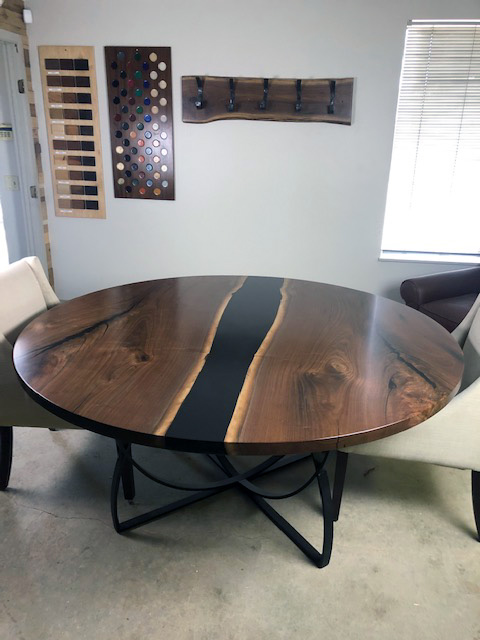 Pictured Here Is Round Black Epoxy Resin River And Black Walnut Live Edge Conference Table That Was Sold Online By CVCF In 2018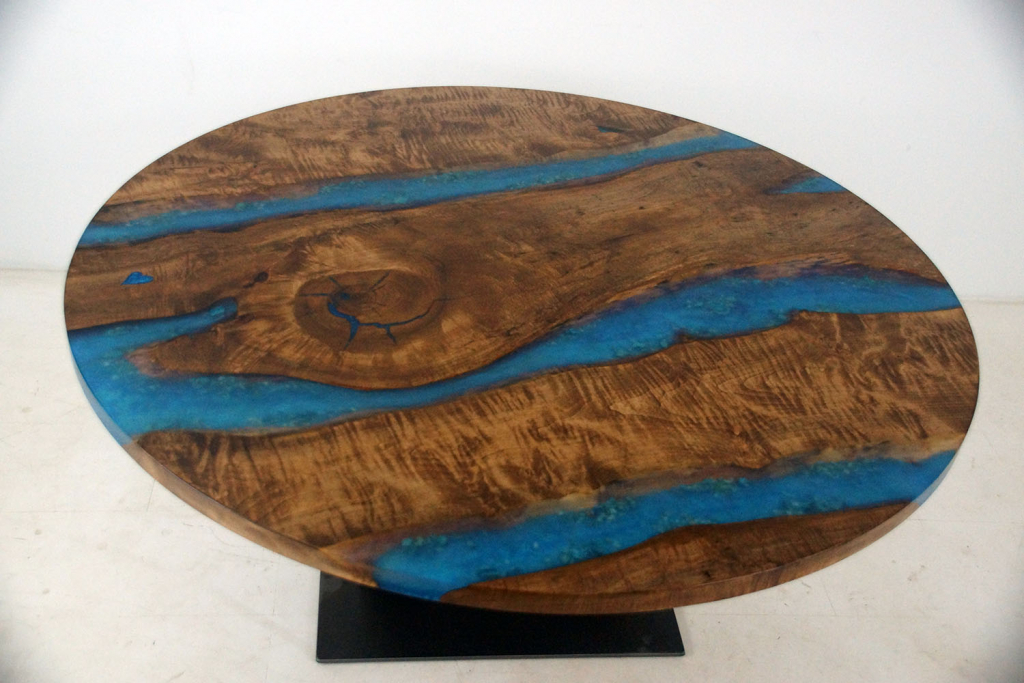 Round Blue Epoxy Resin River And Live Edge Dining Table $6,000+
Information On River Dining Tables And Epoxy Resin Tables From Chagrin Valley Custom Furniture
How Much Does A River Table Cost?
Small river tables range from $1,900 – $4,000, and larger river tables range from $1,900 – $6,500. Get more river table prices, here.
How Thick Should A River Table Be?
CVCF frequently uses wood slabs that are 2″ thick to custom build sturdy river tables for customers that order locally and online in the U.S. After sanding, these 2″ thick slabs end up being about 1 3/4″ thick.
Are River Tables Strong?
Well built epoxy resin river tables made by CVCF with sturdy natural live edge hardwood slabs are extremely durable and can seat 8, 10, 12 or more people. The surfaces of river table tops made by CVCF, are beautiful, strong and virtually impenetrable. The custom metal river table legs and bases handcrafted by CVCF will last for generations without maintenance.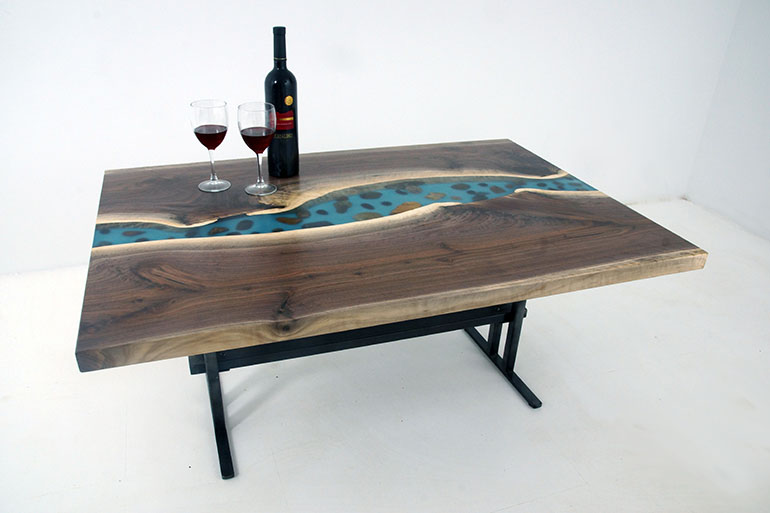 Learn About About Building River Tables And Epoxy Resin And Wood Furniture From Chagrin Valley Custom Furniture
Custom Handmade Conference Room Table Material, Size, Shape And Design Options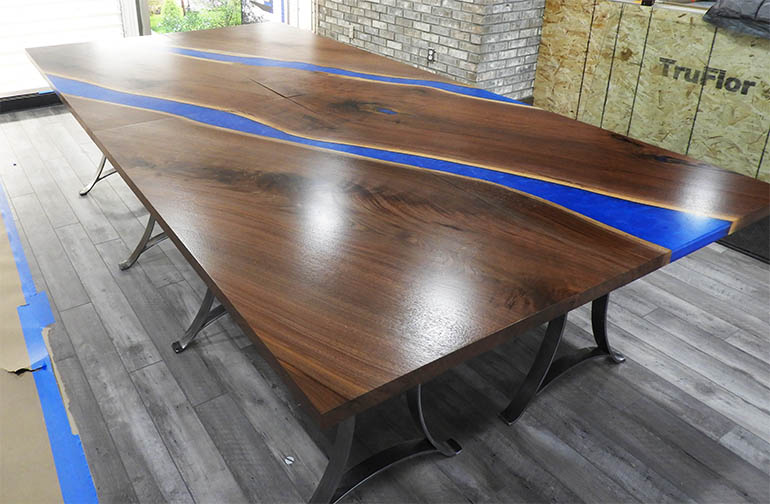 Buy A Custom Built Modern Modular Conference Room Table [System] For Sale Locally Near You (U.S. Only) 12,000+ Any Size, Shape Or Design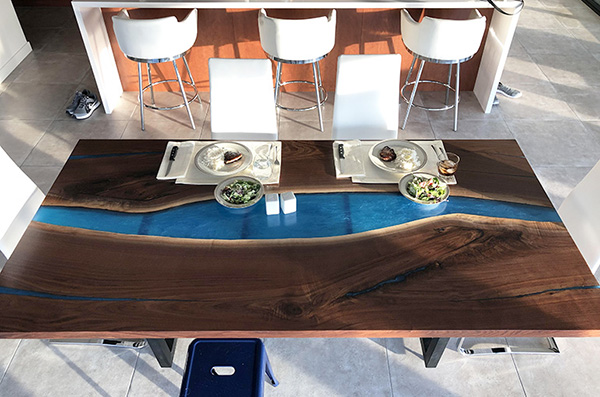 Stylish Modern Blue Epoxy Resin River Live Edge Black Walnut Dining Table $4,200+ [Custom Ordered]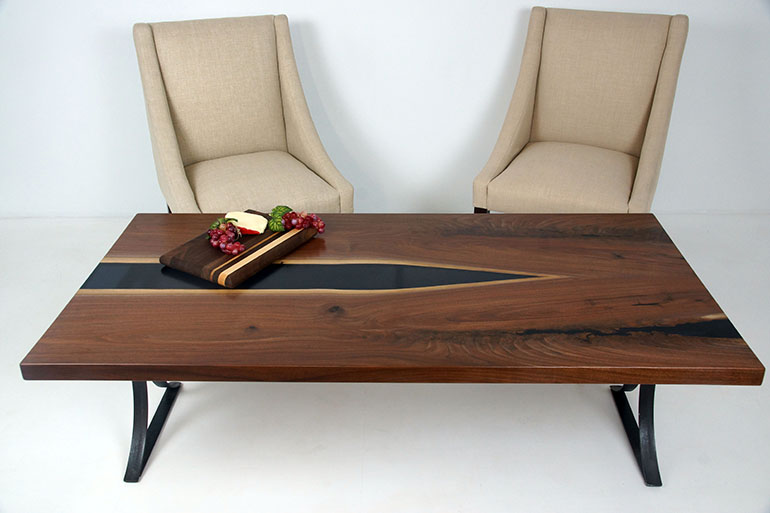 Unique Modern Solid Wood Custom Handmade Coffee Table $800+ [Black Epoxy Resin]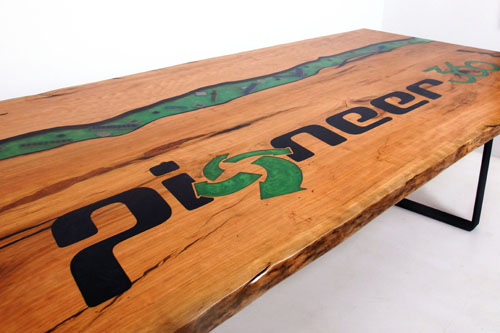 Custom Handcrafted Live Edge Epoxy Logo Conference Table $4,500+ [Any Size Or Shape]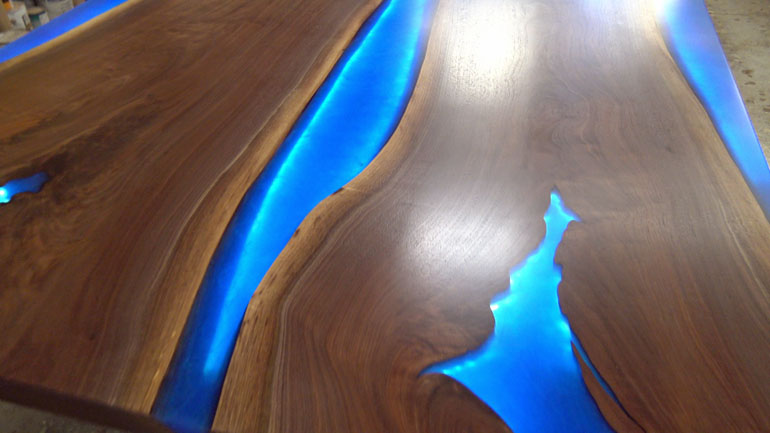 Large High Quality Custom Designed Epoxy Resin River Dining Table $3,000+ [With LED Lights]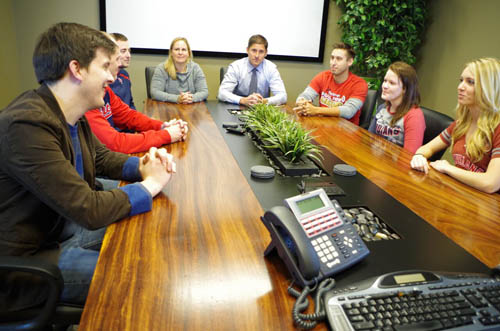 New Long And Wide Modern Handcrafted Custom Conference Room Table $4,500+ [Reclaimed Wood And Steel]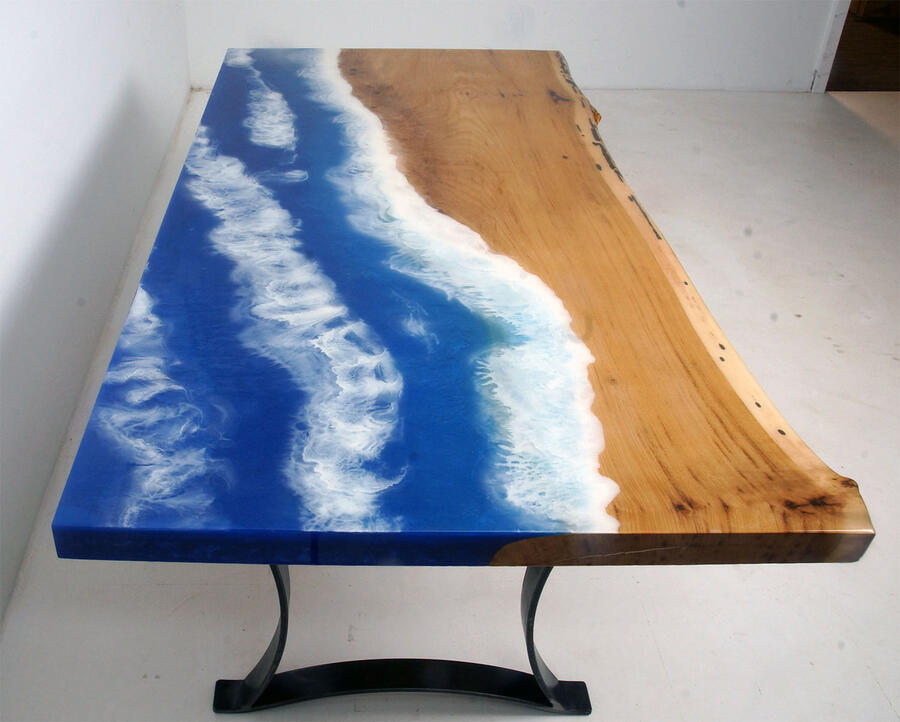 Epoxy Resin "Moving Ocean" Coffee Table $1,000+ [Incredible Ocean Table]
Read Customer Reviews And Watch Client Testimonial Videos
You'll be amazed at the beauty and quality of handcrafted custom built tables for sale from the designers and craftspeople at Chagrin Valley Custom Furniture! Why would you purchase furniture anywhere else? After all, tables serve both an extremely important functional and aesthetic role in your home or office. Their size and placement make them a focal point in your dining room, great room, living room, rec room, den, or conference room. Whether it's a dining room table, conference room table, coffee table, end table, or even a poker table – you want it to be distinctive and you need it to be indestructible. Let us help you design the table of your dreams. Then we'll build to last for generations and generations! Select the type of wood you want from cherry, maple, elm, ash, hickory, walnut, mahogany, and reclaimed and repurposed.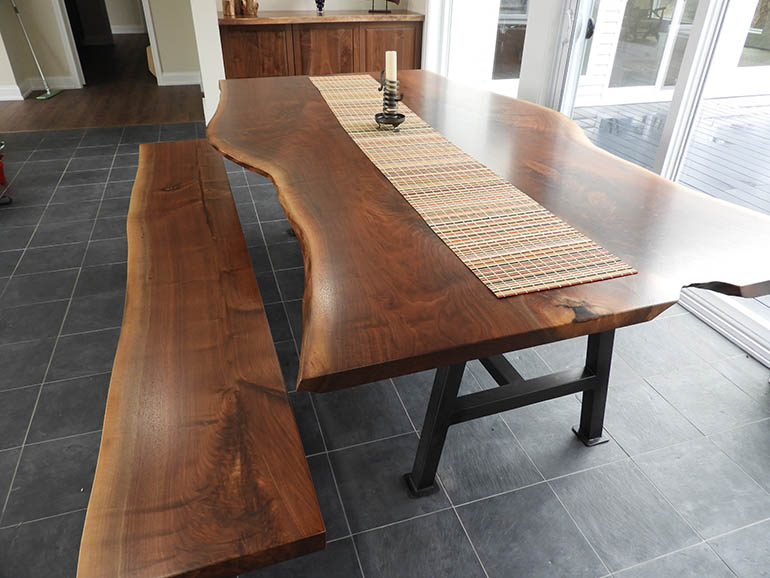 Choose the style, the size, the shape, the features and the finish – it's your table and these are your decisions! Then, if you like, give us a hand in building it. We welcome customers to our woodworking shop in Chagrin Falls, Ohio to participate however they like in the creation of the finished piece – a stunningly unique table unlike anything you'll find in a furniture store, home improvement store, or Amish furniture shop. Prices start at $1,900. Buy a handmade custom wood table for sale in the USA.  We sell high quality, high-end luxury dining tables, custom coffee and sofa tables, epoxy resin river tables, epoxy resin live edge wood dining tables and one-of-a-kind conference tables.
Custom Dining Room Tables
Let us cook up something incredible for your new dining room table! Probably more than any other piece of furniture in your home, a dining room table has the capacity to be a beautiful work of art that is distinctively you. In fact, a dining room table can be the focal of the home, not just the room. Especially when designed and built by the craftspeople at Chagrin Valley Custom Furniture.  
Custom Conference Room Tables
The table is the focal point of any conference room or board room. Imagine one that perfectly reflects your unique business style and one that impresses your clients more than you can ever imagine! Choose from a wide range of woods and styles – built to your exact specs with precision accuracy.
Custom Farmhouse Dining Table Sold Locally [Industrial Base]
In this video, furniture maker Shel Myeroff, owner of Chagrin Valley Custom Furniture, talks with local customers Matt and Molly from Chagrin Falls, Ohio about the high quality made-to-order extendable farmhouse dining room table that CVCF custom built for them.
After an initial furniture design consultation, CVCF furniture builders set off to handcraft the rustic, yet modern and simple, farmhouse dining table from 100-year-old reclaimed oak wood beams, sustainably sourced from a barn in Southern Ohio.
The expert CVCF craftsmen at the Cleveland, Ohio workshop, completely customized the farmhouse dining table by adding a sturdy and durable industrial style metal (steel) base. This video shows all the attention to detail, including the welds and the two pullout inserts. The comfortable farmhouse dining table is 128 inches long when fully extended. Now Matt and Molly are living happily ever after with their new beautiful, and very unique, solid wood farmhouse dining table.
Listen to the couple talk about the exceptional customer service they received from CVCF. Find out how they got helpful design ideas from Shel for their custom table. Get their thoughts on the remarkable workmanship provided by CVCF craftspeople.
Because pine is inexpensive, it is frequently used by America artisans to make farmhouse tables (also know as a farm table or harvest table) tops. For the farmhouse table shown in this video, CVCF used more expensive oak barn beams because they will last for generations (they already lasted over 100 years in a barn) and because the cut beams display a more authentic style and absorb wood stains more effectively.
The country living inspired design style of the charming contemporary farmhouse dining table shown in this video, combines clean sleek lines with a cozy and warm farmhouse feel. This homey style of farmhouse furniture and décor certainly has not gone out of style.
Popular farmhouse style furniture made by CVCF typically incorporates versatile traditional aesthetics and industrial components (legs and bases) to convey a fresher character and a more relaxing appeal than rustic furniture and décor.
Truly custom farmhouse furniture and farmhouse dining tables are handcrafted by CVCF in any design style that the client wants. Exact sizes, dimensions, shapes and wood species are specified by the customers. CVCF ships custom built farmhouse tables to homes, restaurants and businesses in all 50 states.
CVCF creates authentic one-of-a-kind farmhouse tables and a customer experience unlike any other in the furniture industry. Commissioning a farmhouse table from CVCF is fun and rewarding, start to finish. From the table design to the creation, CVCF invite their clients to "get involved". CVCF always strives to exceed customer expectations.
Buy A Custom Dining Table, Kitchen Table Or Conference Table
To order or purchase a custom table from Chagrin Valley Custom Furniture anywhere in the USA, call Shel Myeroff at 440-591-5511, email him at shel@chagrinvalleycustomfurniture.com or go to the 'Request an Estimate' page of this web site and fill out and submit the form. In general, prices for our custom built dining room tables range from $1,900 to $4,000 based on the type of wood, features and table size. Coffee tables range from $1500 to $3500. 
How I Built a Booming Custom Furniture Business Online
Posted On YouTube On December 31, 2020 By Chagrin Valley Custom Furniture [ChagrinValleyCustomFurniture.com]
This video shows you how Sheldon Myeroff turned his custom furniture making hobby into a profitable international custom furniture making company – all after retirement! Success came primarily from specialization with a focus on designing, building and selling custom-made river (epoxy) tables and rustic and modern custom made barn doors. A "river table" is two pieces of natural wood with a river of epoxy resin flowing down the middle. That's become 80% of his furniture making business.
Sheldon started Chagrin Valley Custom Furniture from his home in 2013, but only became serious about growing the company after moving into a large high-end furniture manufacturing facility in 2017. CVCF has become a manufacturer of high quality, handcrafted, custom designed furniture, specializing in custom live edge epoxy tables and desks for sale online to individuals and businesses throughout the continental United States and Canada. Sheldon's innovative ideas for furniture and his furniture business have become a hallmark of his success.
The audio for this video is comprised of extracts from Andy Levine's Second Act Stories podcast on December 7, 2020, and titled "Goodbye Executive Recruiting…Hello Furniture Marking". Andy interviewed Sheldon and CVCF VP of Operations Zach Schulte for this podcast – which Adam wrote and voiced. The full podcast is only 20 minutes long and we hope you'll give it a listen. You can find it at https://www.secondactstories.org.
The Chagrin Valley process is different from other custom furniture makers (builders) because we only make true custom furniture. That means you don't go online to order and pay at the start of the process. With CVCF, you are part of the custom furniture-making process every step of the way as together we create a completely new, one-of-a-kind piece of epoxy resin furniture, specific to your unique needs and desires. You give us your design idea, choose the epoxy color, wood slab, make tweaks in the design, all remotely through video technology. You can even have an emblem or your company logo machined into the wood and filled with epoxy, or embed items in the epoxy such as school and college logos, rocks, crystals, and other sentimental memorabilia.
We harvest our wood sustainably, often under the direction of the U.S. Forest Service. This ensures the long term health of the forest. We spend up to 2 years removing moisture from the logs before starting to work with them. This helps prevent warping and cracking of the wood. Our 6,000 sq. ft. workshop is fully equipped to handle all the challenges of making a beautiful epoxy resin river table, which includes a temperature controlled, clean spray room for a smoother, scratch-resistant coat. We also offer a large variety of metal and wood legs, plus you can design your own legs if you wish.
Our furnishings include custom epoxy resin river tables, epoxy resin river beds and headboards, epoxy resin desks, epoxy resin wall art, rustic to modern farmhouse tables, barn doors, benches, countertops, shelves and so much more. Prices for our conference tables are based on such factors as size, wood species, live edge/not live edge, conference table components, epoxy resin, engraved company names, engraved logos, embedded objects in epoxy resin rivers, etc. Prices for our solid wood and live edge conference tables start at about $4,500, average about $9,000, and top off at about $18,000. Prices for conference tables with epoxy resin rivers and epoxy-filled CNC logos or scenes will cost more.
For a quote on handcrafting your epoxy resin river furniture design and shipping it to your home or place of business anywhere in the USA, call Sheldon Myeroff at 440-591-551, scan or take a photo of your design and text it to us at 440-591-5511, or email to shel@chagrinvalleycustomfurniture.com.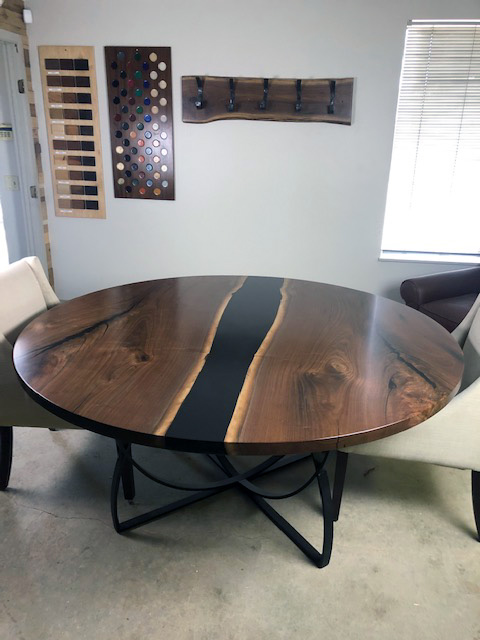 Buy A Custom Made Round Conference Table $7,000+ | For Sale Locally Near You (U.S. Only) Or Online | Pictured Here Is Round Black Epoxy Resin River And Black Walnut Live Edge Conference Table That Was Sold Online By CVCF In 2018
Custom Built Live Edge L-Shaped Desk With Storage & Drawers Sold By CVCF In 2015
The L-shaped corner desk show in this video was custom made with two African mahogany live edge wood slabs. It features hidden storage compartments, a hidden drawer and a hidden shelf for electronics. This handmade solid wood desk was commissioned locally in 2015 from Chagrin Valley Custom Furniture.
Types Of Custom Built Live Edge Furniture For Sale Locally (U.S. Only) And Online By CVCF
View Handcrafted Custom Tables by Chagrin Valley Custom Furniture
Pictured below are some of the custom tables that we have designed, built, delivered and assembled for our clients all across the United States. Click on a picture for more information on that particular custom made piece of furniture.