Get Ideas From 20+ Unique River Tables You Can Buy In 2021 | Customized Contemporary Wood And Epoxy Dining Tables And Kitchen Countertops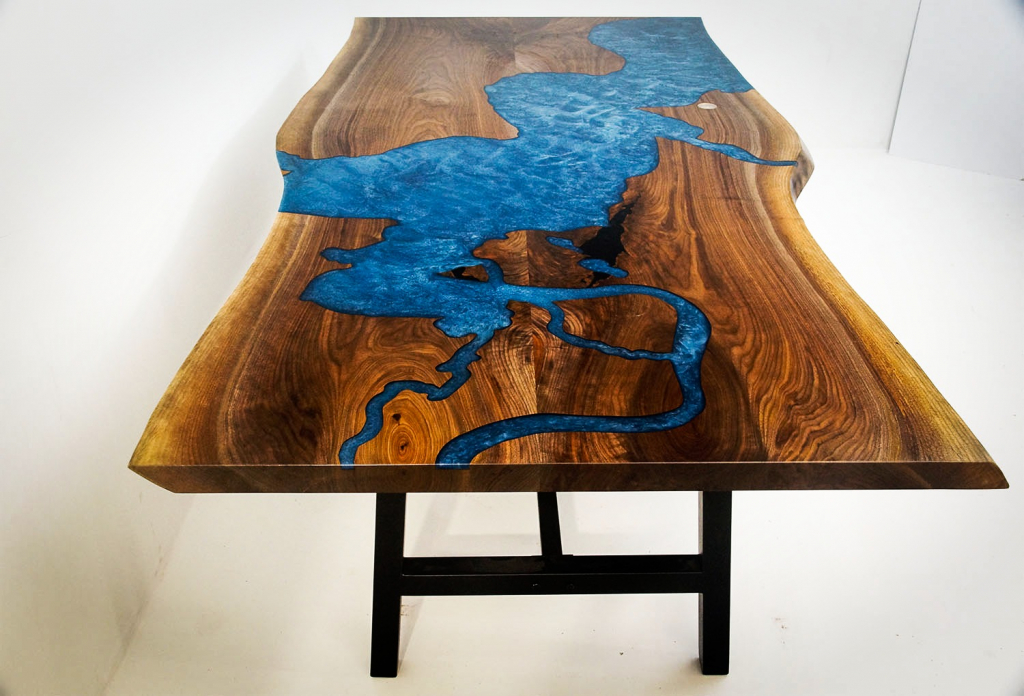 Custom Made CNC Carved And Blue Epoxy Filled Chesapeake Bay Black Walnut Live Edge Dining Table $7,000+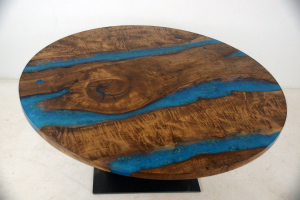 Round Blue Epoxy Resin River And Live Edge Dining Table $6,000+
Information On River Tables And Epoxy Resin From Chagrin Valley Custom Furniture
How Much Does A River Table Cost?
Small river tables range from $800 – $4,000, and larger river tables range from $1,800 – $6,500. Get more river table prices, here.
How Thick Should A River Table Be?
CVCF frequently uses wood slabs that are 2″ thick to custom build sturdy river tables for customers that order locally and online in the U.S. After sanding, these 2″ thick slabs end up being about 1 3/4″ thick.
Are River Tables Strong?
Well built epoxy resin river tables made by CVCF with sturdy natural live edge hardwood slabs are extremely durable and can seat 8, 10, 12 or more people. The surfaces of river table tops made by CVCF, are beautiful, strong and virtually impenetrable. The custom metal river table legs and bases handcrafted by CVCF will last for generations without maintenance.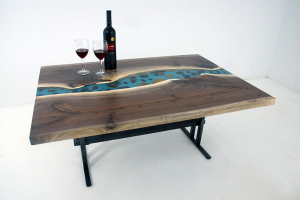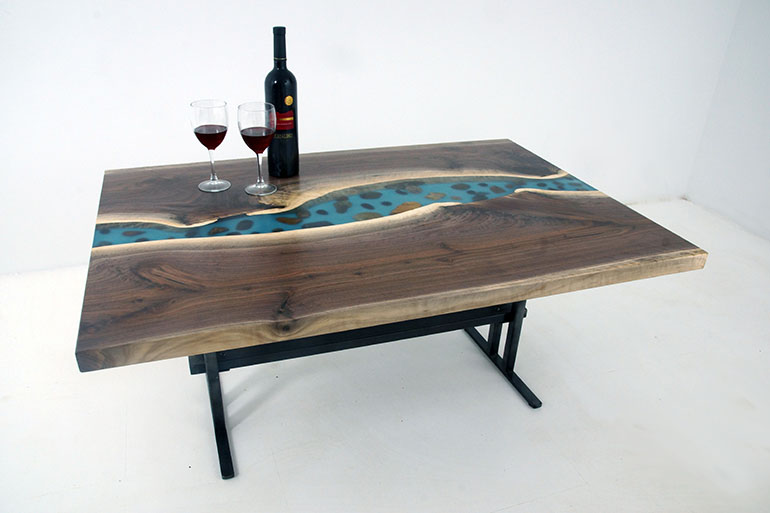 Learn About Building River Tables And Epoxy Resin And Wood Furniture From Chagrin Valley Custom Furniture
Resin Inlay Table Was Co-Designed Online By Pennsylvania Client And CVCF River Table Makers | Custom Handmade And Shipped In 2020 | Elegant Fluid And Curving Epoxy Resin Water Scene Tables For Your Living Room Or Dining Room
Custom Epoxy Resin Wall Art For Sale Locally (U.S. Only) Or Online | Buy One-Of-A-Kind Epoxy Resin Wall Hangings, Geode Resin Wall Art, Epoxy Wood Wall Art, Resin Wall Art Panels, Resin Wall Art Décor And Large Resin Wall Art From CVCF
CVCF sells custom designed epoxy resin and wood wall art to local customers throughout the United States. Get a price for custom made epoxy wood wall art, here. Contact CVCF if you are interested in buying geode resin wall art, an epoxy resin wall hanging or resin wall art panels. CVCF also sells custom built epoxy resin and live edge wood "river tables" and handmade epoxy resin "moving ocean" tables.
Epoxy Resin Geode Wall Art – DIY – So FUN!
Creating A 3 Panel Triptych Resin Art – Creating Flow Across 3 Panels
GOLDEN ILLUMINATIONS Epoxy Resin Painting Demo
How Do You Make A River Table?
100+ River Tables ideas | How To Build A Massive Epoxy Resin River Table | John Malecki
Check out my building of a MASSIVE epoxy resin river table, complete with a hot-to for building it yourself!
100+ River Tables! Ideas | Pinterest Collection by Homecrux
This live edge river dining table has stones along the banks. Live edge tables have become one of the most sought after furniture styles in the last few years. They can be a focal element in any space.
20+ River Tables You Can Buy in 2020 [Homecrux July 20, 2020]
Want elegance of rivers in your living room? Here're 20+ unique river tables that bring fluidity & curves of water bodies to your home.
Read Customer Reviews And Watch Client Testimonial Videos
CVCF is a custom wall art and wall hanging company, capable of designing live edge and epoxy resin wall art that incorporates the natural shape of a wood slab, your company logo, local geography, and more. Each piece is custom to your desires, is made completely in the USA and is shipped nationwide.