Get Ideas From 20+ Unique River Tables You Can Buy In 2021 | Customized Contemporary Wood And Epoxy Dining Tables And Kitchen Countertops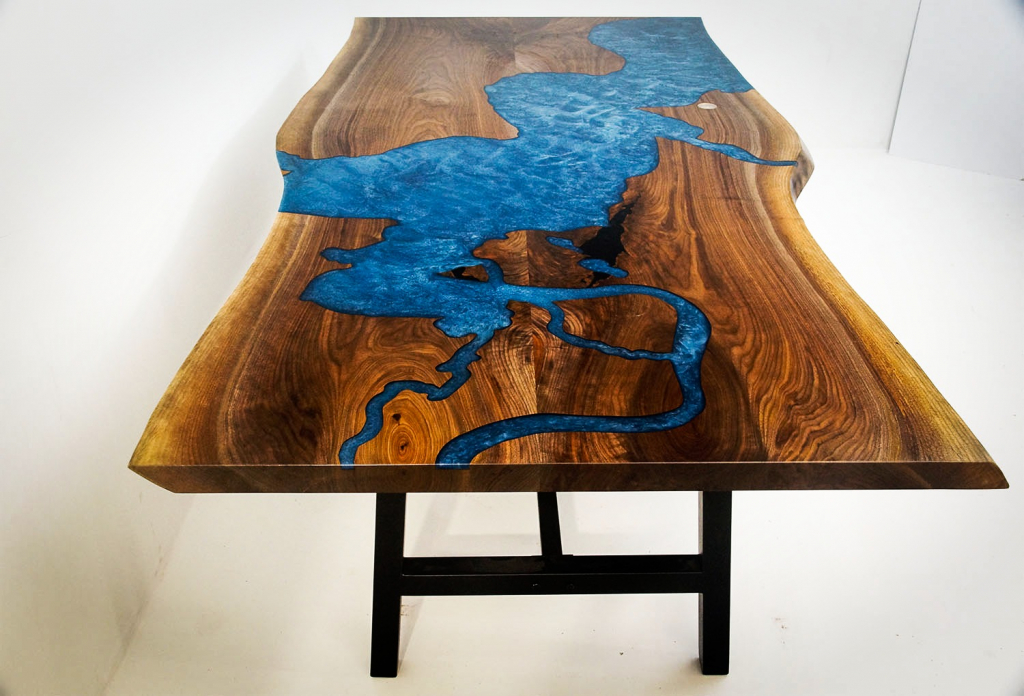 Custom Made CNC Carved And Blue Epoxy Filled Chesapeake Bay Black Walnut Live Edge Dining Table $7,000+
Resin Inlay Table Was Co-Designed Online By Pennsylvania Client And CVCF River Table Makers | Custom Handmade And Shipped In 2020 | Elegant Fluid And Curving Epoxy Resin Water Scene Tables For Your Living Room Or Dining Room
YouTube Video: Custom Wood & Epoxy Dining & Kitchen Tables for Sale Online [Costs, Sizes, Modern Tops, Live Edge]
To Buy A Custom River Table, Submit Your Design Idea And Get A Price Quote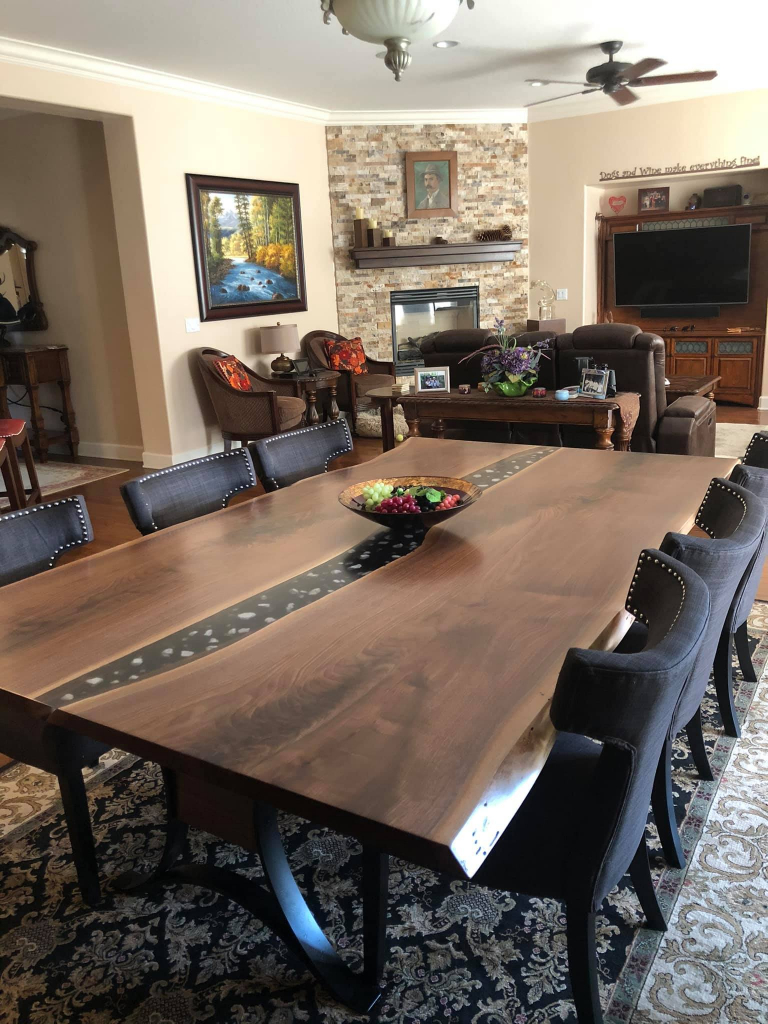 Custom Built Live Edge Black Epoxy River Dining Table $7,000+
Custom Made Live Edge Black Walnut Dining Table With A Black Epoxy Resin River And Embedded Crystals | Sturdy Steel Table Legs Were Also Custom Built For The Client | Sold Online By CVCF In 2020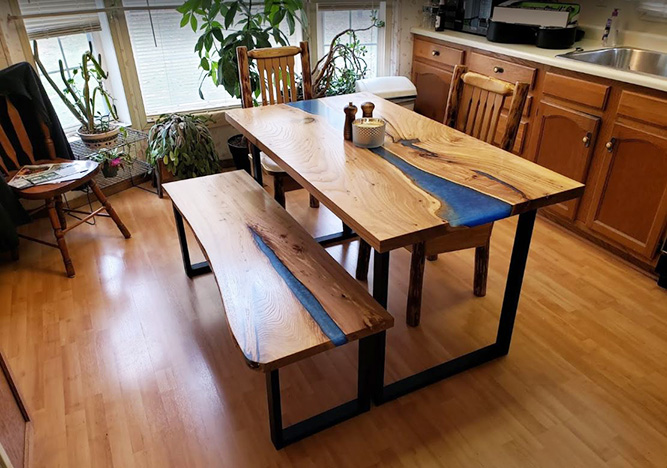 Custom Made Epoxy Resin River Live Edge Kitchen Table With Matching Bench $6,500+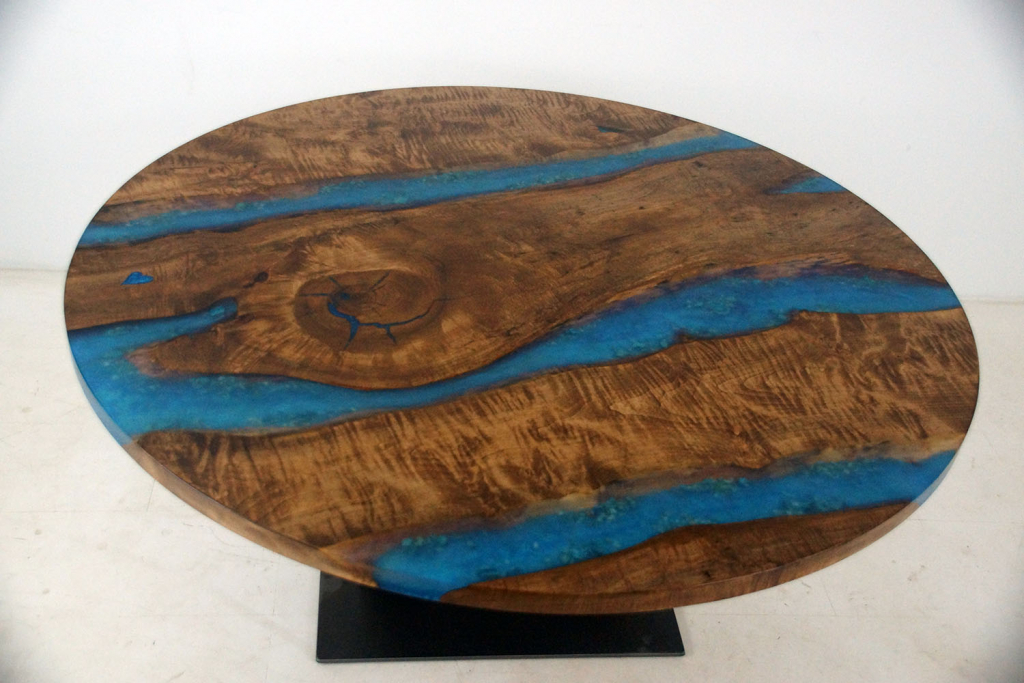 Round Blue Epoxy Resin River And Live Edge Dining Table $6,000+
Information On River Tables And Epoxy Resin From Chagrin Valley Custom Furniture
How Much Does A River Table Cost?
Small river tables range from $800 – $4,000, and larger river tables range from $1,800 – $6,500. Get more river table prices, here.
How Thick Should A River Table Be?
CVCF frequently uses wood slabs that are 2″ thick to custom build sturdy river tables for customers that order locally and online in the U.S. After sanding, these 2″ thick slabs end up being about 1 3/4″ thick.
Are River Tables Strong?
Well built epoxy resin river tables made by CVCF with sturdy natural live edge hardwood slabs are extremely durable and can seat 8, 10, 12 or more people. The surfaces of river table tops made by CVCF, are beautiful, strong and virtually impenetrable. The custom metal river table legs and bases handcrafted by CVCF will last for generations without maintenance.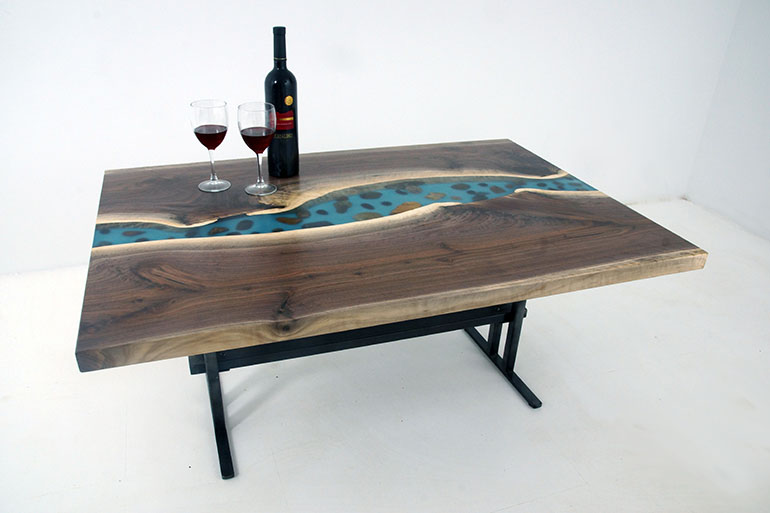 Learn About Building River Tables And Epoxy Resin And Wood Furniture From Chagrin Valley Custom Furniture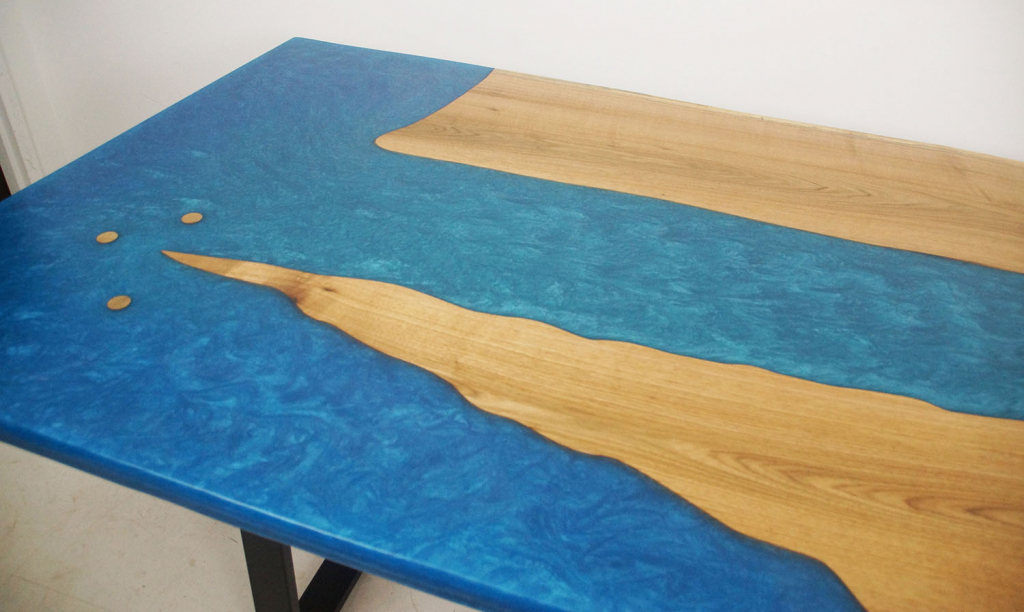 Custom Built Epoxy Resin "Intercoastal Waterway Design" And Live Edge Wood Dining Table $10,000+ | Sold Online By Chagrin Valley Custom Furniture In 2020
Order A Custom Built Dining Room Table Online From Chagrin Valley Custom Furniture
Buy A Modern Epoxy Table Or Rustic Live Edge Table Locally Near You (U.S. Only) Or Online | Custom Live Edge Wood Dining Tables & Epoxy Tables For Sale | Place An Order For A Handmade Farmhouse Table, Kitchen Table Or Conference Table | Commission A Custom Built Epoxy Resin & Live Edge Wood Table, Table Top, Desk, Countertop, Desk Top Or Bed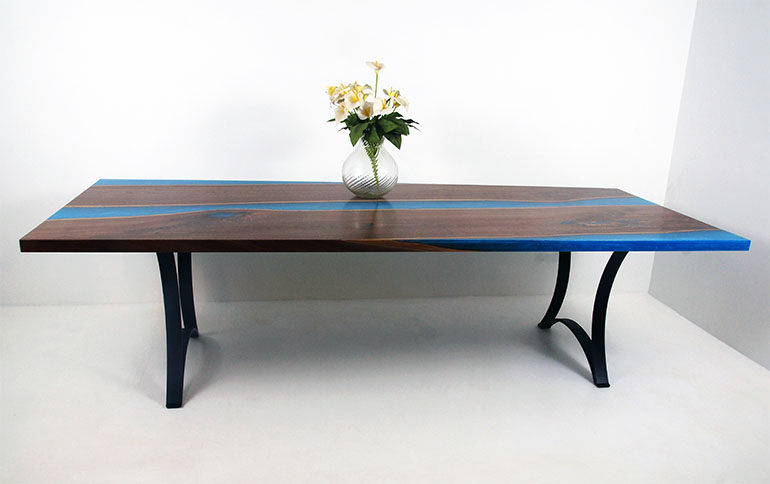 Blue Epoxy Resin River Dining Table Sold Online To California Customer $8,600+
Live Edge Wood Tables | Live Edge Coffee Tables | Live Edge Dining Tables | Epoxy Live Edge Tables | Live Edge Table Tops | Live Edge Tables With Extension Leaves | Live Edge Tables With Wood, Metal, Pipe & Hairpin Legs | With Blue Epoxy | Live Edge Tables With Resin | For 2, 4, 6, 8, 10, 12 Or 20 People | Live Edge Tables For Outdoors
Order Custom Built Solid Wood, Epoxy Resin, Steel & Metal Furniture Handmade In The USA | Shipped To All 50 States | For Sale Locally (U.S. Only) And Online | Epoxy Tables, River Dining Tables, Live Edge Desks & Custom Size Beds (And Frames) | Read Customer Reviews And Watch Client Testimonial Videos
Custom Designed Furniture Photo Galleries
More Custom Built Furniture Photo Galleries
How Do You Make A River Table?
100+ River Tables ideas | How To Build A Massive Epoxy Resin River Table | John Malecki
Check out my building of a MASSIVE epoxy resin river table, complete with a hot-to for building it yourself!
100+ River Tables! Ideas | Pinterest Collection by Homecrux
This live edge river dining table has stones along the banks. Live edge tables have become one of the most sought after furniture styles in the last few years. They can be a focal element in any space.
20+ River Tables You Can Buy in 2020 [Homecrux July 20, 2020]
Want elegance of rivers in your living room? Here're 20+ unique river tables that bring fluidity & curves of water bodies to your home.
Browse Through Pictures Of The Best Custom Made Wood Dining Tables And Kitchen Tables Sold Locally And Online In The U.S | See Examples Of Epoxy Resin And Wood River Dining Tables, Farmhouse Dining Tables, Industrial Dining Tables And Modern Dining Tables
Chagrin Valley Custom Furniture custom builds and personally delivers dining room tables for families and restaurants throughout the Unites States, Cleveland, Akron, Mentor, Canton, Youngstown, Columbus, and Pittsburgh metropolitan areas. CVCF uses trucking companies to deliver handmade dining tables to customers throughout the United States.
Dining room tables can utilize a variety of woods: from walnut, cherry, or maple to mahogany, teak or wenge- and can come with a live edge, or natural edge, and/or include an epoxy resin "river" design throughout the design. Our expert designers can also make round or rectangular designs. See prices on our pricing page, and check out more photos in the gallery below. In 2020, CVCF perfected the art of making custom tables with epoxy inlays, CNC river tables, 'Ocean Tables', CNC machined river tables with epoxy resin and 'Canyon River Tables'.
Custom Tables For Sale Online [Dining And Farmhouse $1,500+] | Buy A Custom Conference Table Locally Near You (U.S. Only) Or Online | Epoxy Resin & Live Edge Wood Conference Tables | Large & Modern | Prices | Read Customer Reviews And Watch Client Testimonial Videos
Learn how to buy a custom conference table here. Find out how to design and buy your own "made-to-measure" table for sale locally near you (U.S. only) or online. This video shows you how to get a price for a durable custom size handmade conference room table.
Find out how to order a beautiful solid wood conference table for your own home, office or business in the U.S. You choose the width and height of your table and the thickness of the table top, here.
Visit https://archive.chagrinvalleycustomfurniture.com
Call CVCF At 440-591-5511 To Speak To A Custom Furniture Designer
Email: customerservice@chagrinvalleycustomfurniture.com
Chagrin Valley Custom Furniture builds and sells large and modern conference room tables, custom wood dining tables, rustic live edge tables, drop leaf tables, kitchen tables with walnut table tops, and simple sturdy farmhouse tables.
Stylish and practical custom tables are proudly made-to-order with epoxy resin water-themed decorations (rivers, oceans, waterfalls, canyons), live edge table tops, sustainably sourced premium specialty woods, recycled or reclaimed barn wood and one-of-a-kind steel legs and metal bases.
CVCF's furniture builders co-design the very best custom built tables with customers, in any style, shape or size requested. The CVCF warehouse ships unique tables, that seat any number of people, to homes and firms all across America, from Los Angeles to New York City.
Local CVCF's expert furniture makers in Cleveland, Ohio craft high quality epoxy resin river tables, farm tables, small and large boardroom tables and coffee tables.
Tables are made from walnut, oak, maple, mahogany, elm and cherry wood. Company logos and corporate branded elements are inlaid into table top surfaces or CNC carved and filled with colorful epoxy resin pours. Clients choose their favorite items to be embedded into epoxy resin.
LED lights, cable management systems, power outlets, cabinets, drawers, wheels, lamps, benches and data ports can be integrated into custom tables, desks or office furniture made by CVCF.
Walnut river dining tables are awesome.  Black walnut river dining tables are very popular in the USA in 2020 because the kiln dried dark-colored, straight grained true heartwood contrasts so vividly with a blue epoxy resin river.
CVCF builds live edge dining and conference tables using 2″ thick black walnut slabs. Black walnut wood is a very hard strong and straight dark brown wood that is shock resistant. Black walnut timber is popular because the fine-grained heartwood is excellent for making fine furniture.  Cambia wood, (thermally modified to increase durability) is another dark wood that CVCF uses to make custom live edge conference tables. CVCF uses black walnut and cambia wood (poplar and red oak) to craft handmade live edge conference tables that can be 10′, 11′, 12′, 16′ or 32′ in length. A common width for a black walnut conference table is 4′.
The Japanese-American architect George Nakashima, winner of the Institute of Architects' Gold Craftsmanship Medal, favored black walnut slabs and used the natural edges of the wood as part of his finished pieces of furniture to emphasize and celebrate nature's imperfections.
The craftsmen at Chagrin Valley Custom Furniture love to make custom designed dining room tables from walnut wood slabs because it so darn beautiful and workable.  CVCF loves to use black walnut wood for woodworking projects. Although it is not as readily available in the USA, CVCF has a few secret sources for this cherished wood.  American Black Walnut is darling of the CVCF craftsmen.  CVCF designs, handcrafts ships, delivers and assembles black walnut river tables, epoxy resin furniture and live edge waterfall benches for customers across the USA. Prices for small walnut river coffee tables start at $825.  Simply provide CVCF with your walnut river table design requirements to receive a quote for your woodworking project.
Custom Built Live Edge L-Shaped Desk With Storage & Drawers Sold By CVCF In 2015
The L-shaped corner desk show in this video was custom made with two African mahogany live edge wood slabs. It features hidden storage compartments, a hidden drawer and a hidden shelf for electronics. This handmade solid wood desk was commissioned locally in 2015 from Chagrin Valley Custom Furniture.
Types Of Custom Built Live Edge Furniture For Sale Locally (U.S. Only) And Online By CVCF