Indoor, Outdoor And Garden Benches [Live Edge] Sold By CVCF In 2020 | Read Customer Reviews And Watch Client Testimonial Videos
CVCF custom builds short and long rustic and modern benches that seat from 1 to 4 people using natural woods, epoxy resins, powder-coated steel, specialty metals, synthetic materials, hooks and sturdy hardware.
CVCF collaborates with our customers to build them the perfect bench to provide a versatile seating option for their home or business. Custom indoor benches benches handcrafted by CVCF are sturdy and practical and are designed and built to suit our client's existing décor. Outdoor and garden benches are custom built by CVCF using durable and weather resistant woods such as live edge wood slabs, teak, cedar, ipe, cypress, white oak, acacia and redwood.
Types And Styles Of Custom Benches CVCF Sells In The United States
Custom Wood Benches
Custom Benches With Storage
Epoxy River Benches
Custom Benches With Shoe Storage
Modern Custom Benches
Live Edge Benches
Custom Wooden Seats
Custom Benches With Backs
Handmade Garden Benches
Custom Benches For Bay Windows
Rustic Handmade Benches
Custom Benches For Kitchens
Custom Made Dining Benches With Backs
Oak Benches And Southern Yellow Pine Benches
Custom Benches With Arm Rests
Benches With Small Plaques For Public Memorials
Custom Picnic Tables With Benches
Custom Made Benches For Parks
Handmade Benches And Seating
Benches Made From Specialty Metals (Aluminum)
Custom Benches For Schools
Custom Built In Bench Seating
Mudroom Benches With Storage And Hooks
Wood Benches Coated With Polyurethane.
Scenic Benches
Mudroom Benches With Cubbies
Mudroom Built In Benches
Personalized Benches With CNC Engravings And Epoxy Resin Fills
Piano Benches
Church Benches
Custom Metal Benches
Backless Benches
Made-To-Order Benches
Custom Upholstered Benches
Curved Garden Benches
Custom Made Hall Trees With Benches
Cherry, Oak, Mahogany And Walnut Benches
Custom Sauna Benches
Custom Black Walnut Live Edge Benches With Black Epoxy Resin
Handmade Wood Benches
Custom Benches For Dining Rooms
Custom Benches And Chairs
Live Edge River Dining Tables With Benches And Glowing Resin Fills
Wooden Outdoor Benches
Small Solid Wood Benches
Live Edge Black Walnut Benches With Blue Epoxy Resin
Custom Window Benches With Storage
Resin Benches Made From Clear Epoxy Resin Top Coats And Old Growth Teak
Epoxy Workbenches
Epoxy Resin Waterfall Benches
Engraved Benches
Farmhouse Benches
Natural And Reclaimed Wood Benches
Custom Dining Benches With Backs
Walnut Entryway Benches
Wood Slab Benches
Modern Walnut Benches
Live Edge Walnut Benches
Walnut Benches With Storage And Backs
YouTube Video: Custom Wood & Epoxy Dining & Kitchen Tables for Sale Online [Costs, Sizes, Modern Tops, Live Edge]
Custom Epoxy River Tables For Sale Locally & Online
You can buy custom epoxy resin river tables, epoxy resin and wood dining tables and epoxy resin and live edge wood countertops for sale locally or online at ChagrinValleyCustomFurniture.com. Buy a natural live edge wood table. You can call CVCF at 440-591-5511. Get design ideas in the CVCF project gallery before you submit you table design idea and request a quote online. You can even start designing your own custom furniture, desk or table online with this free app.
YouTube Video Uploaded By Chagrin Valley Custom Furniture On July 26, 20221 Titled "CNC Carved Epoxy-Filled Topographic Tables | Mapped River, Lake, Waterway, Ocean Tables [CVCF 2021]"
In this video, you'll see really amazing custom tables with the center of the tabletop carved out to replicate the shapes of bodies of water in the U.S. and then filled with colored epoxy. You'll watch how these CNC carved topographical epoxy tables with ACTUAL mapped rivers, lakes, beaches, oceans, islands, bays, seashores are handmade, one by one, by Chagrin Valley Custom Furniture in our Cleveland, Ohio production facility.
Take a look at pictures of custom made epoxy resin river and solid wood kitchen tables, custom built epoxy resin and natural wood conference tables, made-to-order epoxy resin river and live edge dining tables, custom made epoxy resin and solid wood coffee tables and epoxy resin river tables that have been handcrafted by CVCF to our customer's exact specifications. If you are looking for custom desks, see some of the custom built epoxy resin river and solid wood desks, handmade executive desks, L-shaped desks, custom built home office desks and furniture and handcrafted live edge wood slab desks that CVCF has built, here.
YouTube Video Uploaded By Chagrin Valley Custom Furniture On May 19, 2021 Titled "Lake Sunapee Replicated in a CNC Engraved Epoxy Table (CVCF 2021)"
In this video, furniture designer Sky Ironhorse programs and operates a handheld CNC Router to carve the outline of Lake Sunapee, New Hampshire into the top of a table that is then filled with colored epoxy. Chagrin Valley Custom Furniture fulfilled the request of a couple by making this one-of-a-kind dining table for their luxury lake house. CVCF can use a CNC router to carve any real lake or river into the top of a wood table top.
Prices for custom made river tables start at $1,900+. You can order custom built epoxy and wood dining tables and ocean tables that will be built just the way you want and then shipped to you.
Video Uploaded To YouTube By Chagrin Valley Custom Furniture On May 5, 2021 Titled "The Best Custom Epoxy Resin River Tables [2020 Compilation]"
This video features our best custom furniture (mostly custom river table) projects we've produced and delivered throughout the year 2020. Projects ranged widely, from simple live edge walnut desks, to hickory river tables with LED lights and extendable leafs (with LED light up capabilities), and conference river tables with CNC engraved logos.
How Do You Make A River Table?
100+ River Tables ideas | How To Build A Massive Epoxy Resin River Table | John Malecki
Check out my building of a MASSIVE epoxy resin river table, complete with a hot-to for building it yourself!
100+ River Tables! Ideas | Pinterest Collection by Homecrux
This live edge river dining table has stones along the banks. Live edge tables have become one of the most sought after furniture styles in the last few years. They can be a focal element in any space.
20+ River Tables You Can Buy in 2020 [Homecrux July 20, 2020]
Want elegance of rivers in your living room? Here're 20+ unique river tables that bring fluidity & curves of water bodies to your home.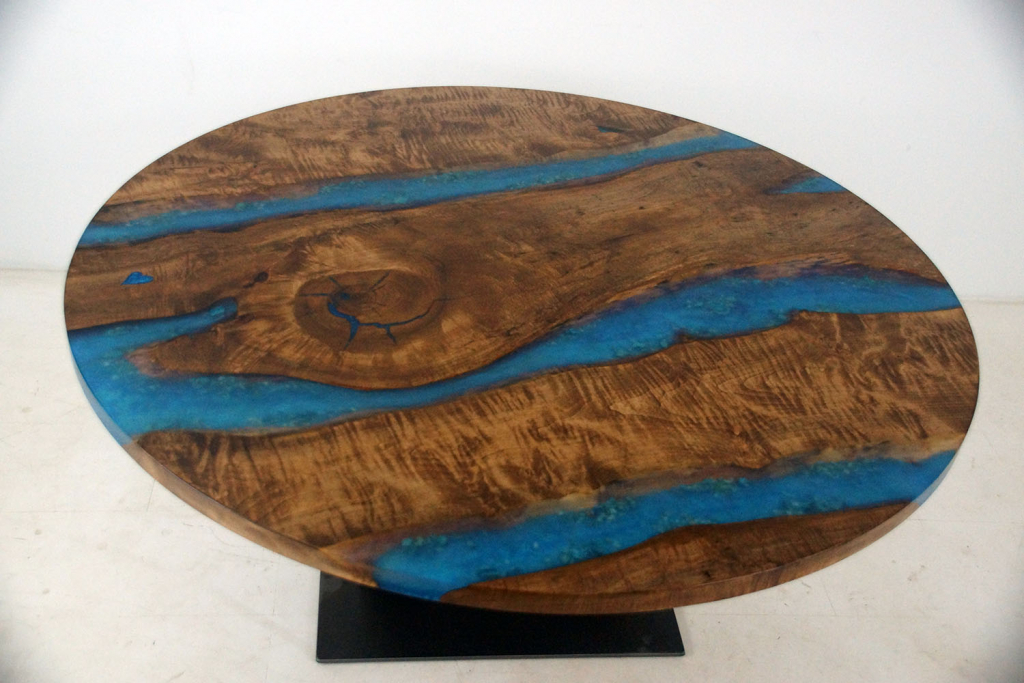 Round Blue Epoxy Resin River And Live Edge Dining Table $6,000+
Information On River Tables And Epoxy Resin From Chagrin Valley Custom Furniture
How Much Does A River Table Cost?
Small river tables range from $800 – $4,000, and larger river tables range from $1,800 – $6,500. Get more river table prices, here.
How Thick Should A River Table Be?
CVCF frequently uses wood slabs that are 2″ thick to custom build sturdy river tables for customers that order locally and online in the U.S. After sanding, these 2″ thick slabs end up being about 1 3/4″ thick.
Are River Tables Strong?
Well built epoxy resin river tables made by CVCF with sturdy natural live edge hardwood slabs are extremely durable and can seat 8, 10, 12 or more people. The surfaces of river table tops made by CVCF, are beautiful, strong and virtually impenetrable. The custom metal river table legs and bases handcrafted by CVCF will last for generations without maintenance.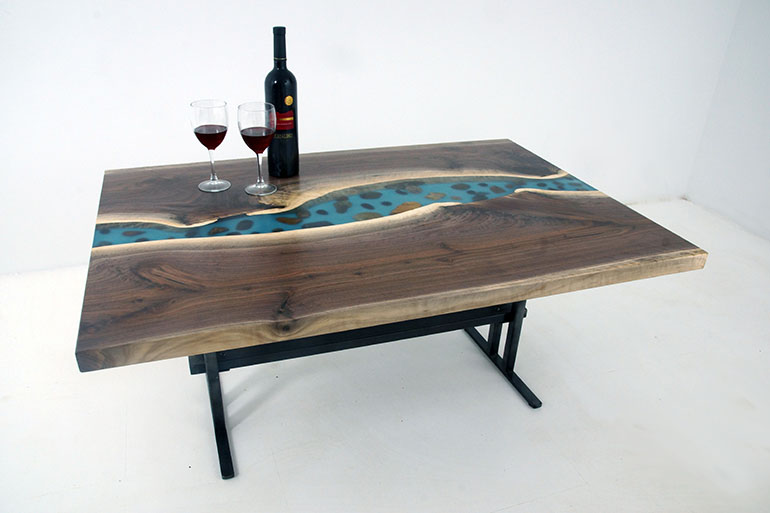 Learn About About Building River Tables And Epoxy Resin And Wood Furniture From Chagrin Valley Custom Furniture
CVCF Ships Custom Benches To All 50 States In The U.S.
CVCF sells custom handmade live edge wood benches to customers throughout the USA. Prices start at $950. You can buy benches with storage, walnut dining table benches, entryway benches, handcrafted restaurant benches, mahogany benches for apartment lobbies, live edge cherry benches with metal legs and benches with metal or hairpin legs.
We specialize in manufacturing live edge waterfall benches that feature a blue epoxy resin "river" and "waterfall" in the design. CVCV designs and manufactures custom mission style benches, craftsman style outdoor benches and Shaker style benches.  We also sell kitchen, farmhouse and dining benches with backs and storage. You can buy upholstered dining banquette bench and farmhouse dining benches from CVCF.
Chagrin Valley Custom Furniture designs custom indoor window benches, kitchen benches, dining room benches, and any other variety of wooden bench seating for homes, businesses and restaurants all across the county.  Bench seating in a home kitchen is a charming rustic trend in 21st century interior design. For the hardcore rustic fans, we've created benches using reclaimed barnwood siding or barn beams from authentic century-old barns in rural Ohio. See examples of benches we've created for our clients in below.
Custom Built Live Edge L-Shaped Desk With Storage & Drawers Sold By CVCF In 2015
The L-shaped corner desk show in this video was custom made with two African mahogany live edge wood slabs. It features hidden storage compartments, a hidden drawer and a hidden shelf for electronics. This handmade solid wood desk was commissioned locally in 2015 from Chagrin Valley Custom Furniture.
Types Of Custom Built Live Edge Furniture For Sale Locally (U.S. Only) And Online By CVCF