View Our Most Popular Custom Furniture Categories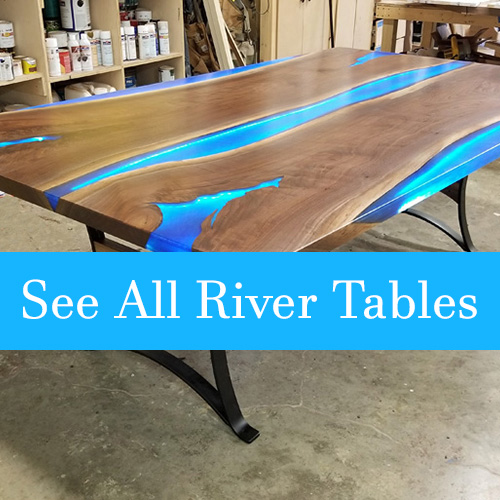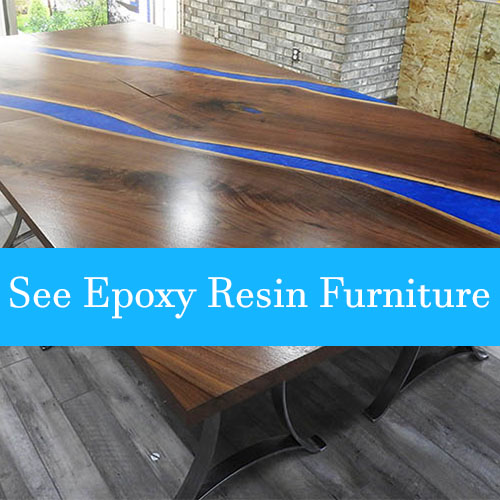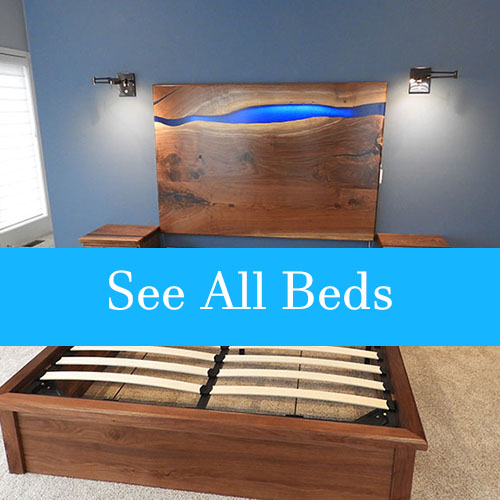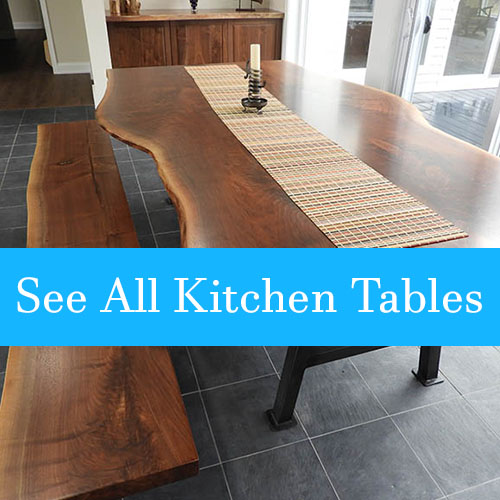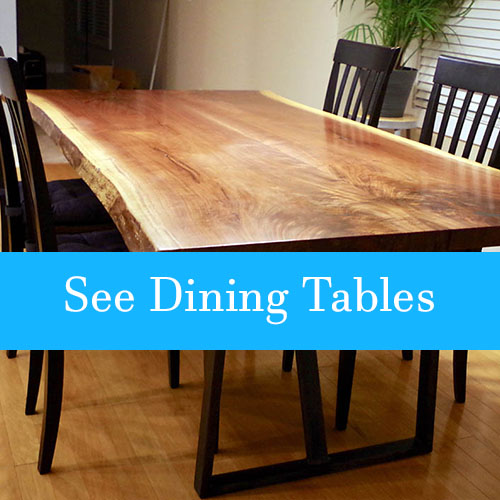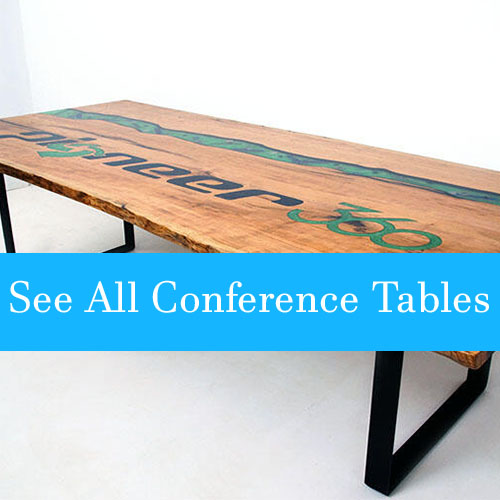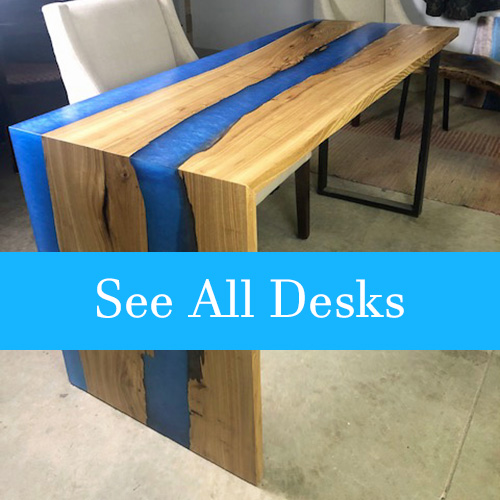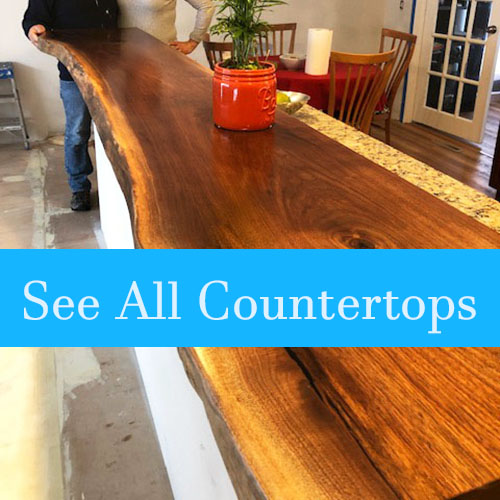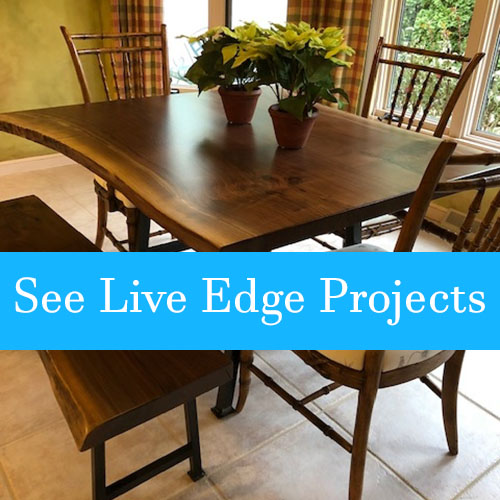 Custom Built Epoxy Resin And Live Edge Wood Furniture Sold In The United States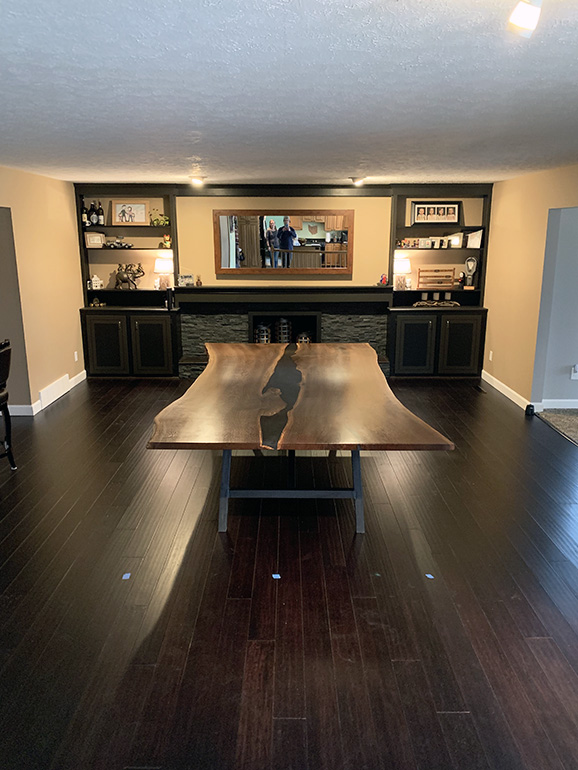 Black Epoxy Resin River Live Edge Dining Table $6,500+ Sold Locally In 2020
How To Design A Modern Custom Built Epoxy Resin River Table For Your Home To Fit Your Personal Style
Approve The Quote And Pay A Deposit By Check Or Credit Card
Approve The Completed River Table Design/Build Project By Reviewing Pictures Online And Pay The Balance Due Online
It Is Easy To Order The Furniture You Designed Online From CVCF
Buy Custom Built Furniture From Chagrin Valley Custom Furniture Locally Near You (U.S. Only) Or Online Here – It Is Simple To Order And Fun To Co-Design Your Own "Dream Furniture" With Friendly And Professional CVCF Furniture Designers
Custom Made Epoxy Tables And Live Edge Dining Tables For Sale Online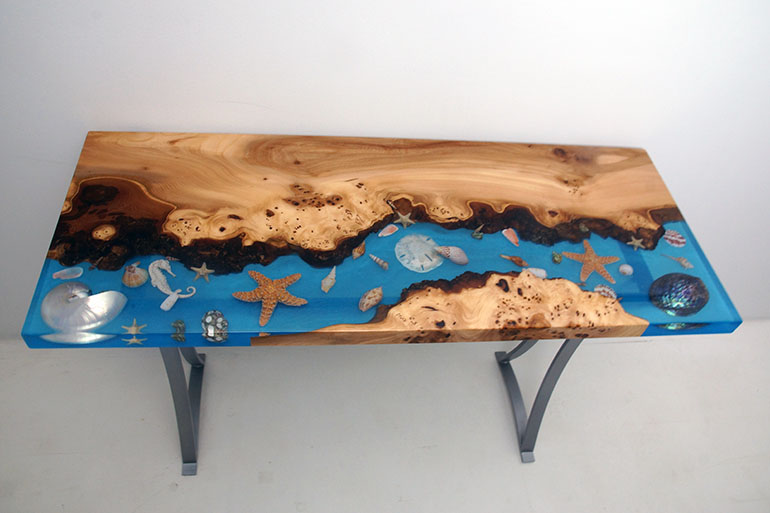 Buy A Resin 'Coral Reef' Coffee Table | $2,400+ | Beach Style End Table And Beach Themed Furniture | Ocean Tables For Sale | Embedded Stones, Sea Shells & Sand Dollars | Beach Style Furniture | Unique Custom Made Ocean Epoxy Resin Table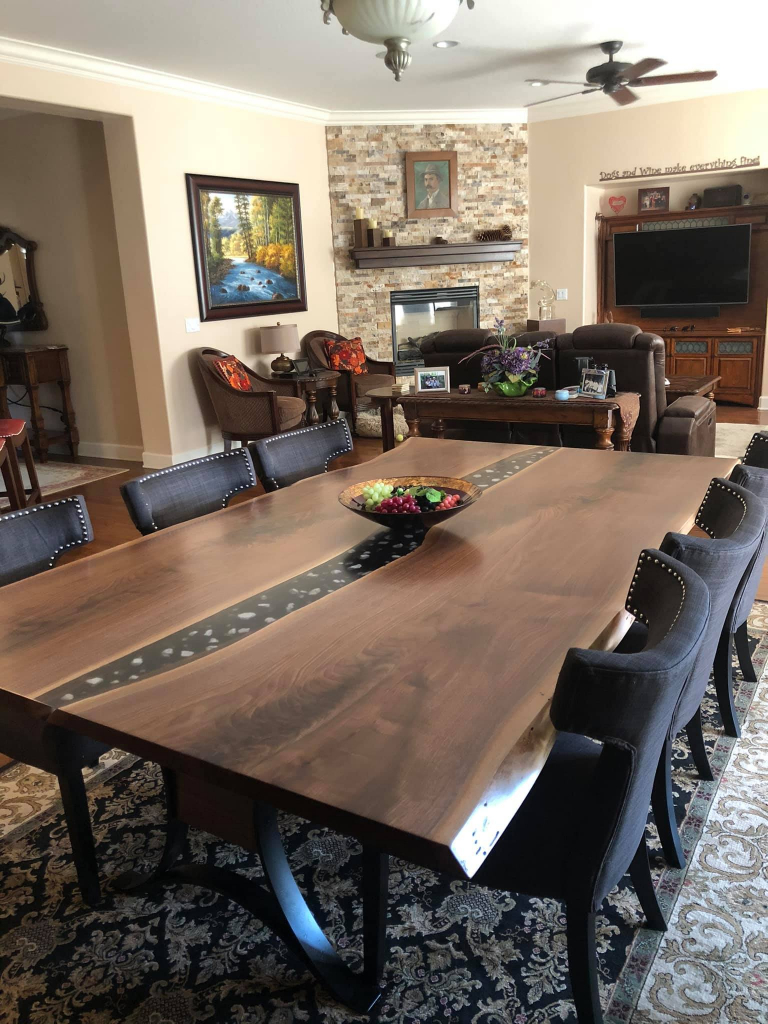 Custom Built Live Edge Black Epoxy River Dining Table $7,000+
Custom Made Live Edge Black Walnut Dining Table With A Black Epoxy Resin River And Embedded Crystals | Sturdy Steel Table Legs Were Also Custom Built For The Client | Sold Online By CVCF In 2020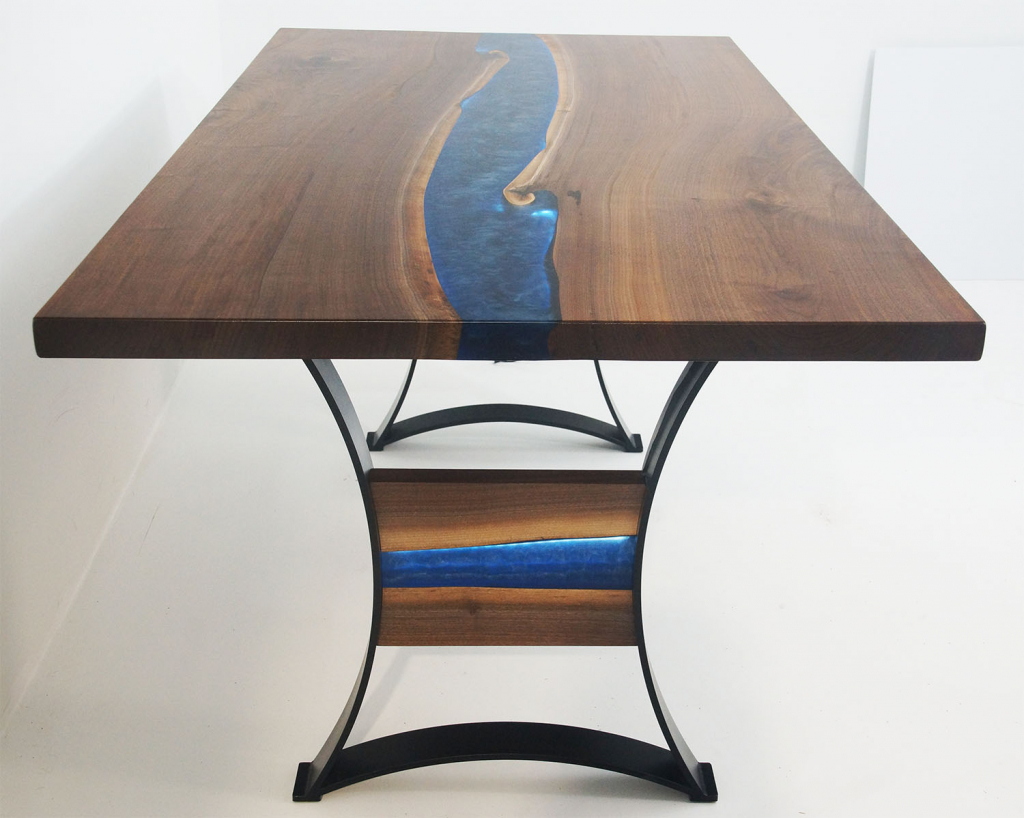 LED Strip Lights In A Blue Epoxy Resin River Live Edge Dining Table Top | Custom Built LED River Dining Table Sold Online By CVCF In 2020 | Price $6,000+ | Custom Table Top Base Made With Metal, Wood And Led Lights | Shipped To Customer In 2021 | Use Your Credit Card To Order A Custom Built River Table Online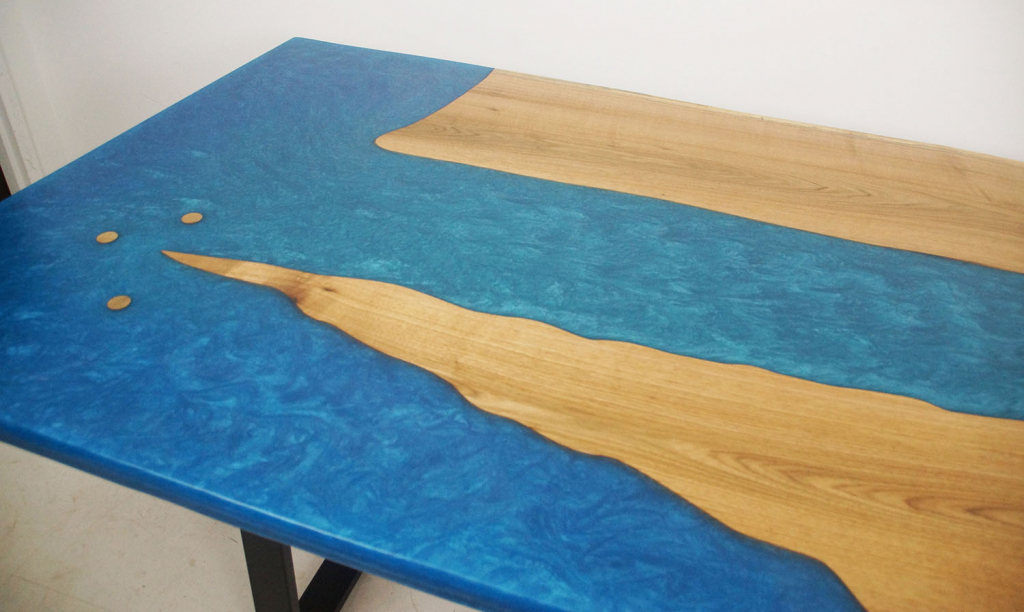 Custom Built Epoxy Resin "Intercoastal Waterway Design" And Live Edge Wood Dining Table $10,000+ | Sold Online By Chagrin Valley Custom Furniture In 2020
How Do You Make A River Table?
100+ River Tables ideas | How To Build A Massive Epoxy Resin River Table | John Malecki
Check out my building of a MASSIVE epoxy resin river table, complete with a hot-to for building it yourself!
100+ River Tables! Ideas | Pinterest Collection by Homecrux
This live edge river dining table has stones along the banks. Live edge tables have become one of the most sought after furniture styles in the last few years. They can be a focal element in any space.
20+ River Tables You Can Buy in 2020 [Homecrux July 20, 2020]
Want elegance of rivers in your living room? Here're 20+ unique river tables that bring fluidity & curves of water bodies to your home.
To Order A Custom Made Epoxy Table Or Live Edge Table, Call 440-591-5511 For Information Or Email Shel@ChagrinValleyCustomFurniture.com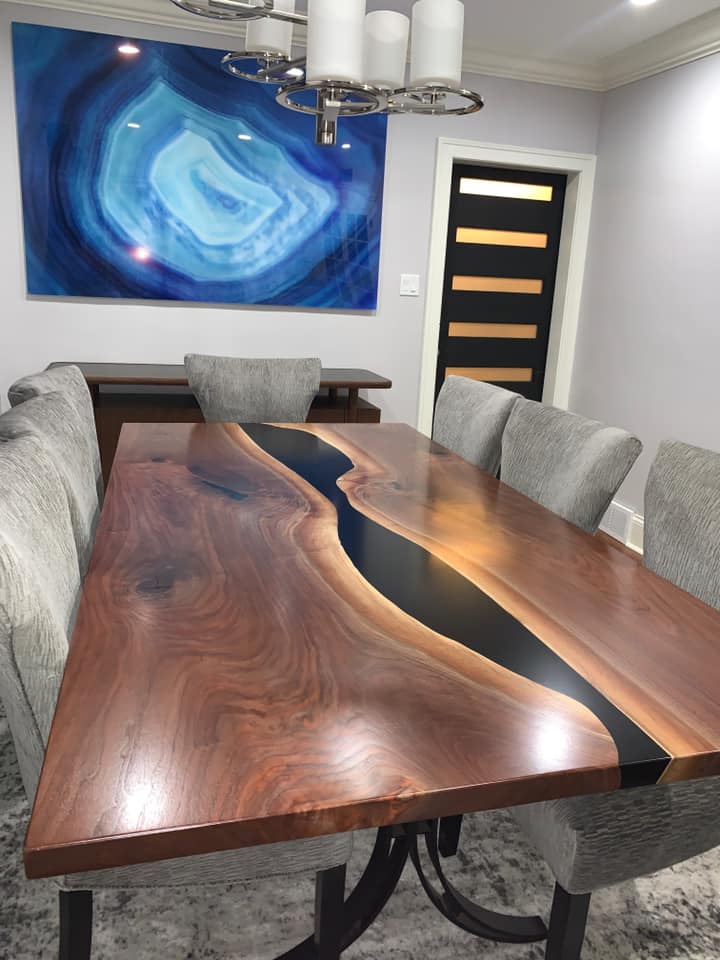 Custom Designed & Custom Made Large Black Walnut Epoxy River Dining Table Sold Online To A Family In Chicago In 2020 | $6,500+ | Black Epoxy Resin River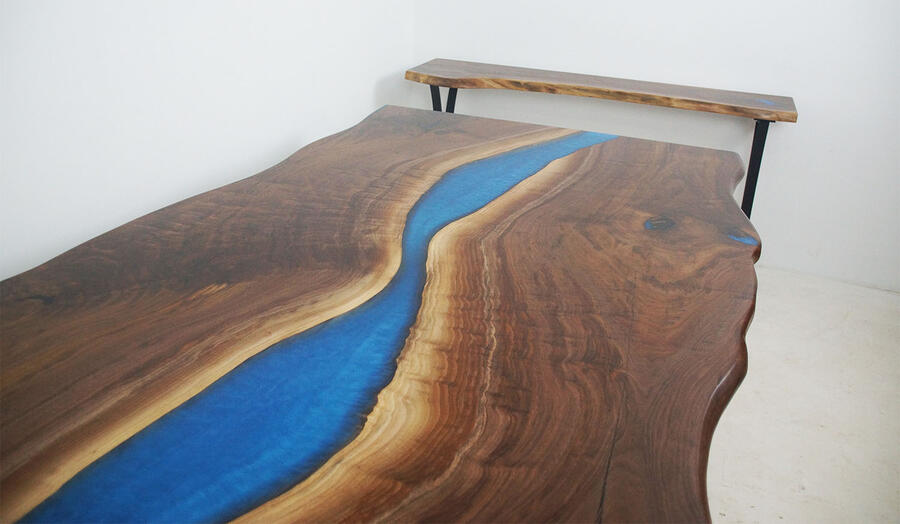 Live Edge Black Walnut Conference Table With Blue Epoxy Resin River And Matching End Table $8,600 [Sold Online And Custom Built By CVCF In 2020]
Place An Order For A Handmade Farmhouse Table, Kitchen Table Or Conference Table | Commission A Custom Built Epoxy Resin & Live Edge Wood Table, Table Top, Desk, Countertop, Desk Top Or Bed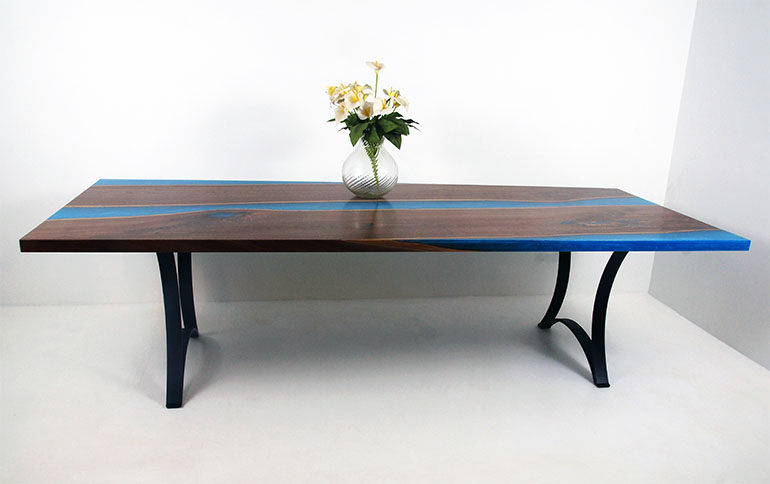 Blue Epoxy Resin River Dining Table Sold Online To California Customer $8,600+
Live Edge Wood Tables | Live Edge Coffee Tables | Live Edge Dining Tables | Epoxy Live Edge Tables | Live Edge Table Tops | Live Edge Tables With Extension Leaves | Live Edge Tables With Wood, Metal, Pipe & Hairpin Legs | With Blue Epoxy | Live Edge Tables With Resin | For 2, 4, 6, 8, 10, 12 Or 20 People | Live Edge Tables For Outdoors
Buy A Custom Made Round Conference Table $7,000+ | For Sale Locally Near You (U.S. Only) Or Online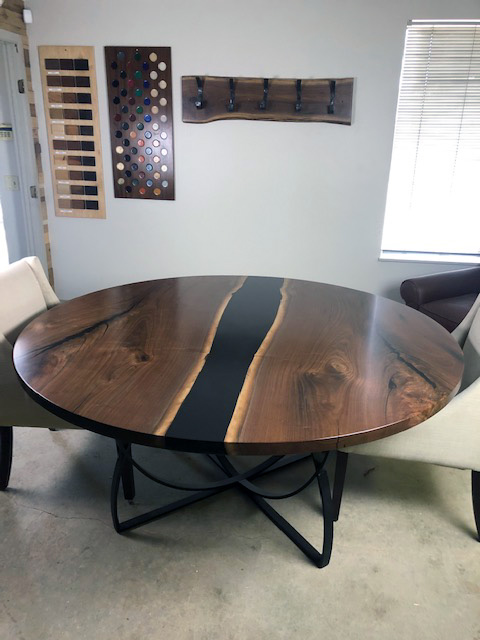 Pictured Here Is Round Black Epoxy Resin River And Black Walnut Live Edge Conference Table That Was Sold Online By CVCF In 2018
Custom Handmade Conference Room Table Material, Size, Shape And Design Options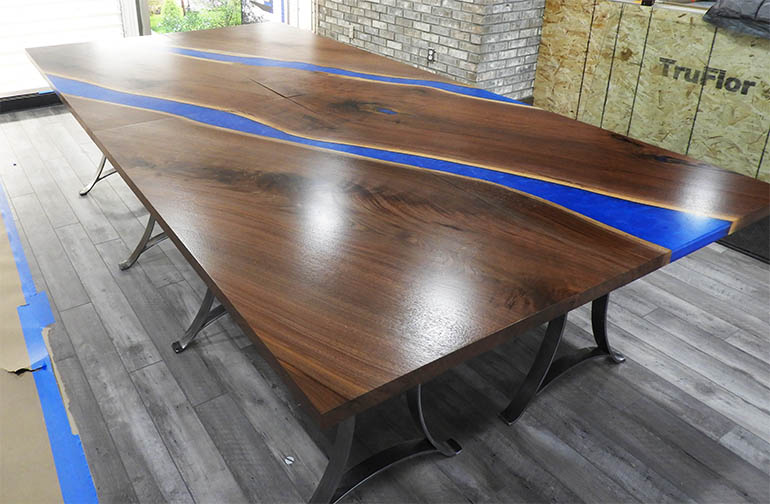 Buy A Custom Built Modern Modular Conference Room Table [System] For Sale Locally Near You (U.S. Only) 12,000+ Any Size, Shape Or Design
Order Custom Built Solid Wood, Epoxy Resin, Steel & Metal Furniture Handmade In The USA | Shipped To All 50 States | For Sale Locally (U.S. Only) And Online | Epoxy Tables, River Dining Tables, Live Edge Desks & Custom Size Beds (And Frames) | Read Customer Reviews And Watch Client Testimonial Videos
Custom Designed Furniture Photo Galleries
More Custom Built Furniture Photo Galleries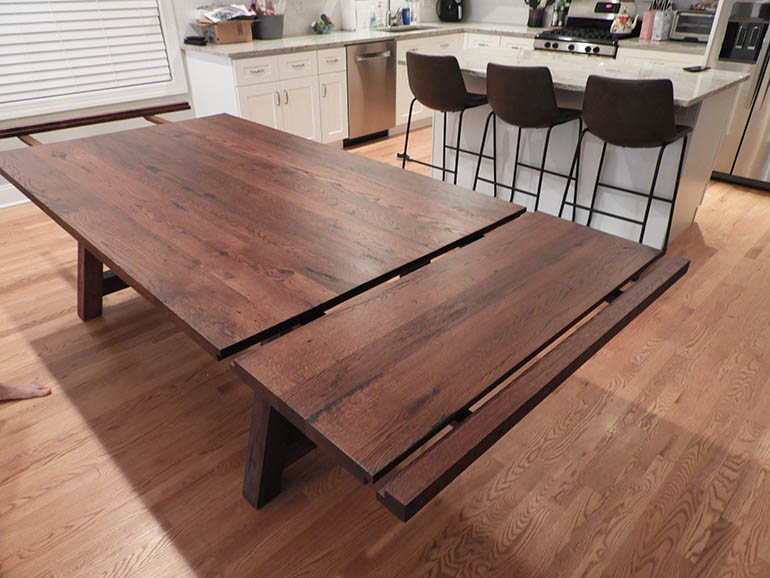 Custom Built Sturdy And Simple Made-To-Order Rustic Farmhouse Dining Table $1,800+ [Extendable]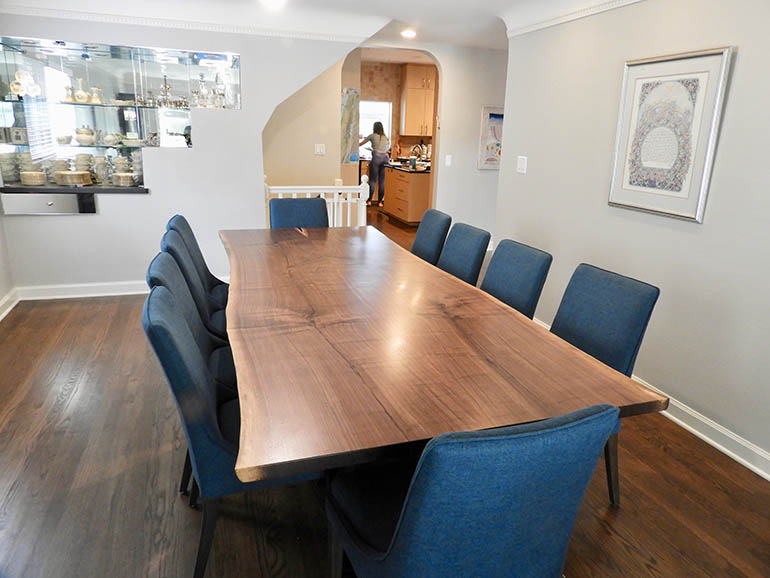 Custom Made Solid Live Edge Wood Slab Dining Table $2,600+ [Kitchen Table That Seats 10]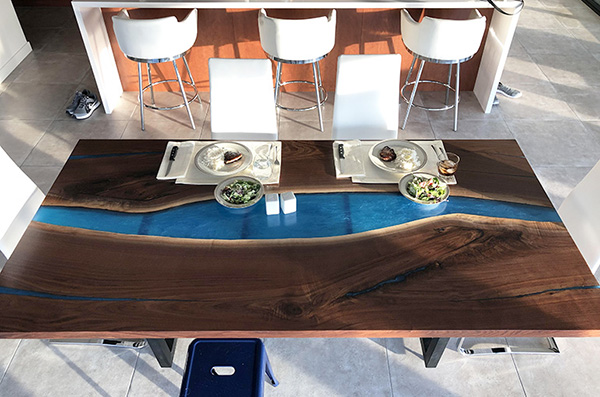 Stylish Modern Blue Epoxy Resin River Live Edge Black Walnut Dining Table $4,200+ [Custom Ordered]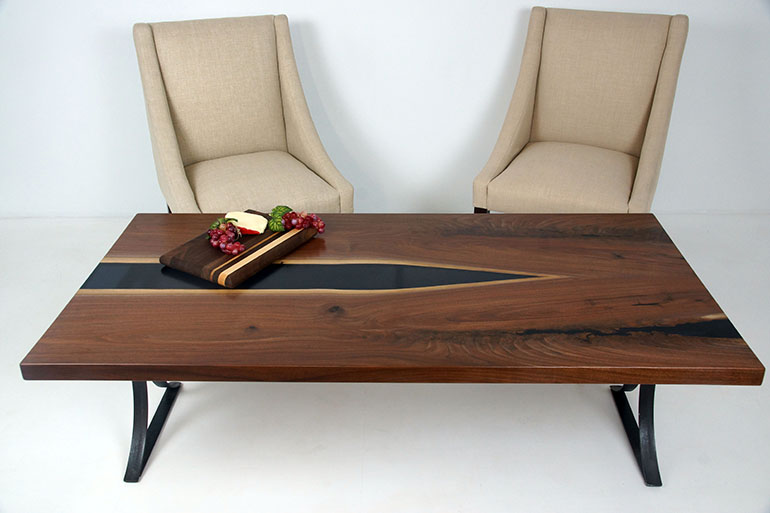 Unique Modern Solid Wood Custom Handmade Coffee Table $800+ [Black Epoxy Resin]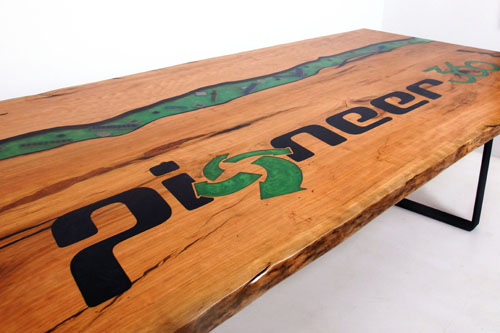 Custom Handcrafted Live Edge Epoxy Logo Conference Table $4,500+ [Any Size Or Shape]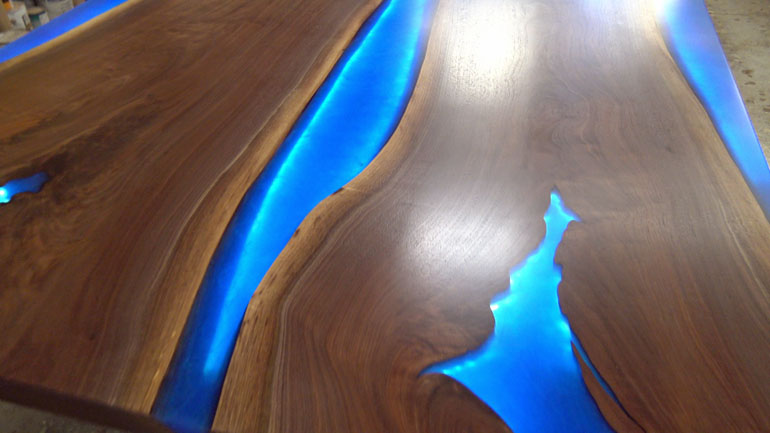 Large High Quality Custom Designed Epoxy Resin River Dining Table $3,000+ [With LED Lights]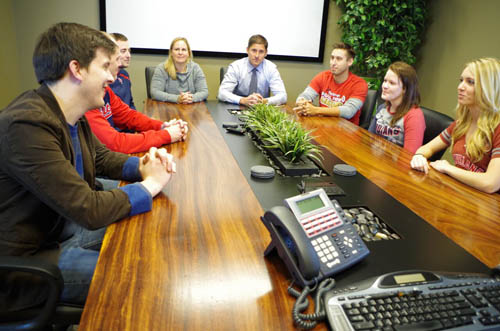 New Long And Wide Modern Handcrafted Custom Conference Room Table $4,500+ [Reclaimed Wood And Steel]
Buy Custom Furniture From $299+ Epoxy Resin And Live Edge Dining Tables And Desks For Sale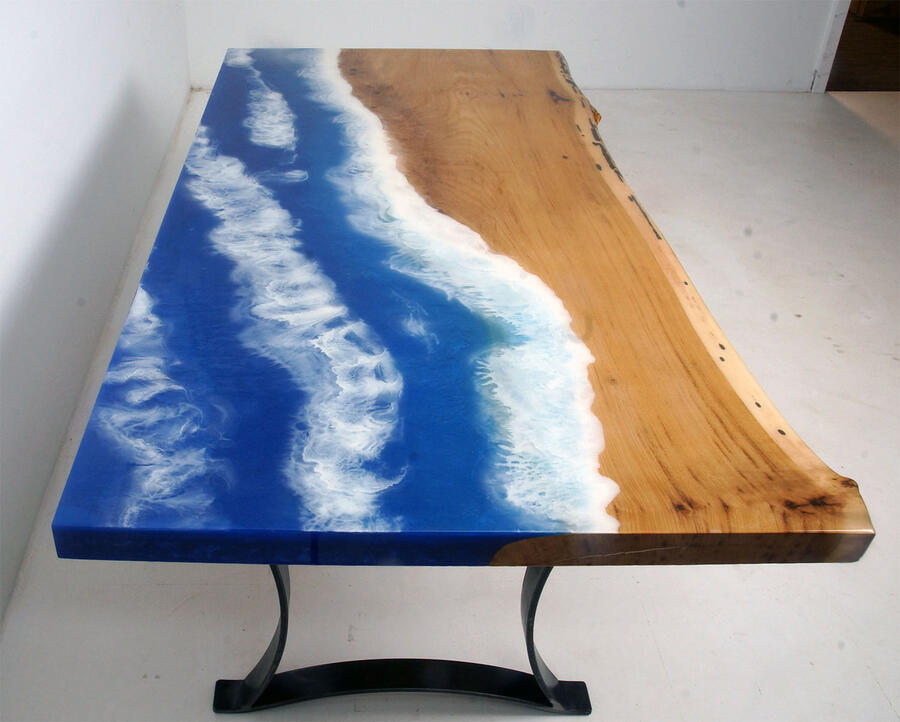 Epoxy Resin "Moving Ocean" Coffee Table $1,000+ [Incredible Ocean Table]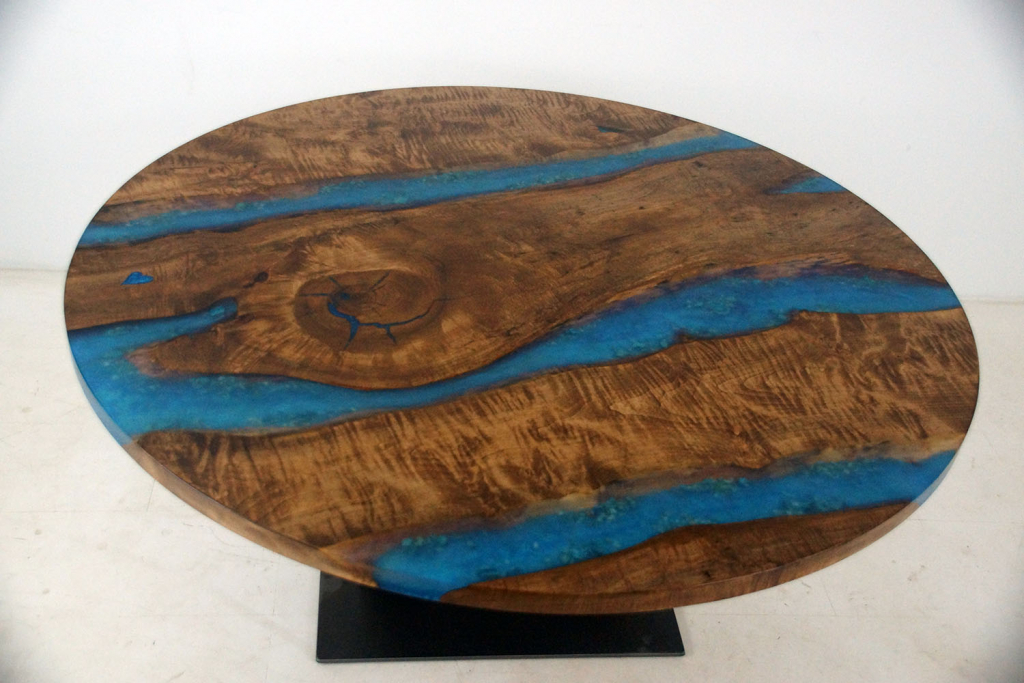 Round Blue Epoxy Resin River And Live Edge Dining Table $6,000+
Information On River Tables And Epoxy Resin From Chagrin Valley Custom Furniture
How Much Does A River Table Cost?
Small river tables range from $800 – $4,000, and larger river tables range from $1,800 – $6,500. Get more river table prices, here.
How Thick Should A River Table Be?
CVCF frequently uses wood slabs that are 2″ thick to custom build sturdy river tables for customers that order locally and online in the U.S. After sanding, these 2″ thick slabs end up being about 1 3/4″ thick.
Are River Tables Strong?
Well built epoxy resin river tables made by CVCF with sturdy natural live edge hardwood slabs are extremely durable and can seat 8, 10, 12 or more people. The surfaces of river table tops made by CVCF, are beautiful, strong and virtually impenetrable. The custom metal river table legs and bases handcrafted by CVCF will last for generations without maintenance.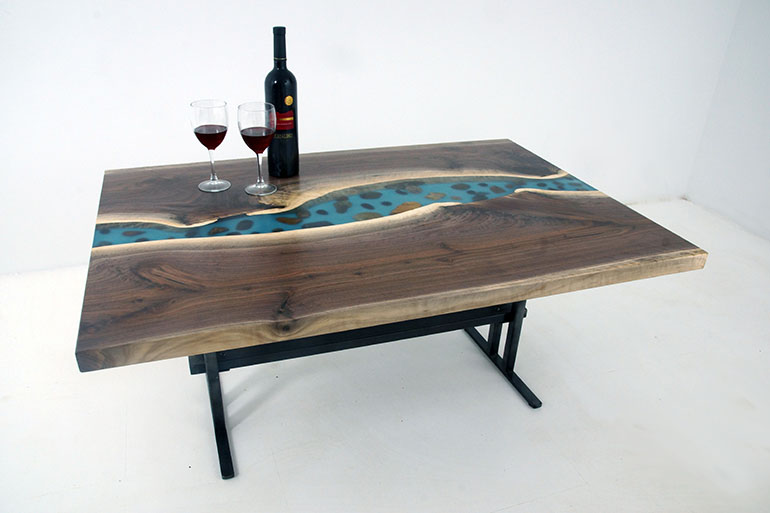 Learn About About Building River Tables And Epoxy Resin And Wood Furniture From Chagrin Valley Custom Furniture
Custom Wood And Metal Furniture Prices | 2021 Price Ranges (U.S.) For Custom Built Handmade Epoxy Resin And Wood Furniture
What Is Live Edge Furniture?
Live edge furniture is for sale locally near you (U.S. only) and online at Chagrin Valley Custom Furniture. To order a piece of custom made live edge furniture locally in the United States or online, call 440-591-5511 or email shel@chagrinvalleycustomfurniture.com.
CVCF live edge furniture designers, craftspeople, desk makers and table builders enhance and showcase the beauty of the rustic natural edges of the wood slabs. CVCF live edge furniture makers don't touch the edges of the wood slabs in order to preserve the outside of the original harvested tree to show the outer edges of the visible tree trunk.
When CVCF artisans finish building a piece of live edge furniture, it looks "alive". Although live edge wood slabs are somewhat pricey, they are so darn unique, they are worth the extra cost.
View High-Resolution Pictures And Fun Videos Of Cool Custom Furniture Designs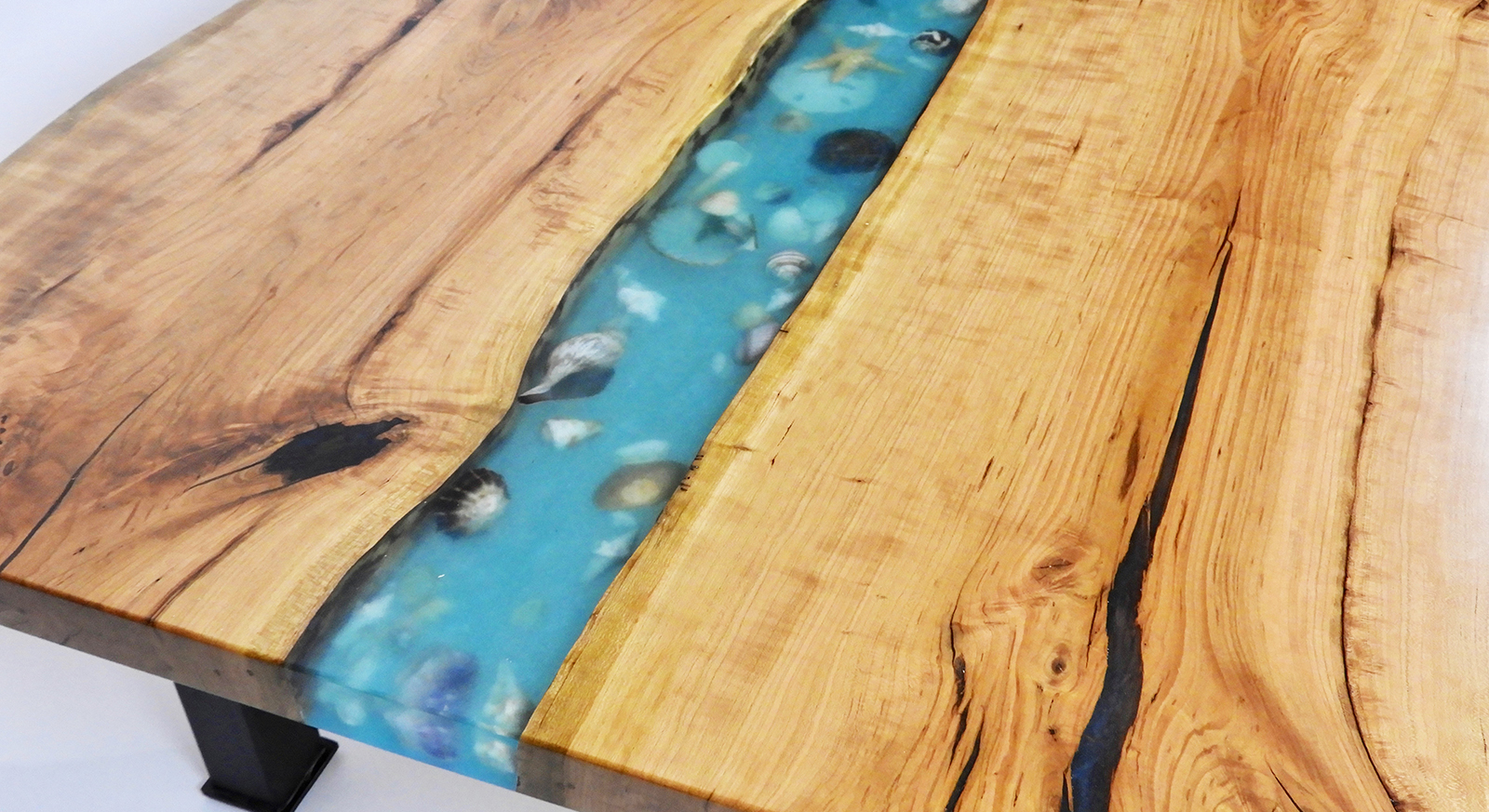 See examples of made-to-order furniture sold by Chagrin Valley Custom Furniture to customers throughout the USA here in our furniture project gallery.  CVCF sells, designs, makes, delivers, ships and assembles high-end handmade wood furniture for individuals, families and businesses in the continental U.S.
Typical custom furniture prices start at $229 and high-end custom furniture prices start at $5,000. Learn how the highest quality river tables and custom wood and metal furnishings are handcrafted in America in 2021, here. CVCF custom furniture designers and makers recommend the best types of wood for epoxy tables and river tables such as 2″ thick black walnut live edge wood slabs.
CVCF specializes in rustic furniture—many pieces are made from reclaimed barn wood—and live-edge pieces that incorporate the natural edge of the wood into the look. Many of these pieces also incorporate a waterfall (or riverbed), which is a technique using epoxy resin to create a colorful accent.  CVCF is thriving custom furniture business that serves the public, the hospitality industry, and corporate clients—fulfilling orders from all over the United States.  Chagrin Valley Custom Furniture manufacturers custom built epoxy resin wood furniture and epoxy resin river tables.
CVCF normally designs furniture for our customers, or we collaborate with our clients to design custom furniture, which we then handcraft and assemble.  However, if you design your own furniture, we will build it, install and assemble it for you, assuming you live in the continental USA. To submit your design drawings or CAD drawing for a quote, call 440-591-5511, email shel@chagrinvalleycustomfurniture.com or click here.
Buy a custom desk near you or online from Chagrin Valley Custom Furniture. Chagrin Valley Custom Furniture specializes in custom live edge epoxy resin and wood river desks and workstations, including ergonomic adjustable height desks. In these times with so many people working out of their homes, it is important to have a workspace that works for you while offering you comfort and peace of mind. Since you get to custom design your own furniture for CVCF to build, you are assured of getting a desk or workstation that fits your space, matches your décor, fulfills your vision, and elevates the character of your home office. These custom river desks and workstations are ideal for home offices, places of business, hotels, and for the staff at restaurants, bars, and commercial developments.
Speaking of comfort, the CVCF team of furniture makers are experts at building electric height adjustable desks and workstations, also known as sit-stand desks. These are ergonomically designed to keep you healthy, comfortable, and productive for the long hours you spend in your home office. Of course, your happiness quotient will rise when you have something so strikingly beautiful to look at and feel all day. The electric control panel automatically raises and lowers the height of the desk smoothly and quickly. Retirees love this feature as it helps ease or prevent any back, neck, and shoulder issues.
We'd love to see or hear about your design idea for your dream custom river desk or workstation! We'll design it based on your unique wants and needs. You select the epoxy color, the type of wood, the style, the size, the shape, the features and accessories – it's your desk and these are your decisions!
By definition, custom furniture is not in stock, so buy real custom furniture online at Chagrin Valley Custom Furniture. Work with CVCF furniture designers and makers online to define the project specifically and then we will build your furniture for you. To submit your design drawings or CAD drawing for a quote, call 440-591-5511, email shel@chagrinvalleycustomfurniture.com or submit the form here.
When you shop for custom furniture online at CVCF, me make sure it perfectly fits into your living space – to the exact inch. CVCF designers, makers, builders and epoxy resin artists will inspire you to be creative when we co-design your furniture with you to ensure that your home or office space is as stylish and functional as you want.
Custom Tables For Sale Online [Dining And Farmhouse $1,500+] | Buy A Custom Conference Table Locally Near You (U.S. Only) Or Online | Epoxy Resin & Live Edge Wood Conference Tables | Large & Modern | Prices | Read Customer Reviews And Watch Client Testimonial Videos
Learn how to buy a custom conference table here. Find out how to design and buy your own "made-to-measure" table for sale locally near you (U.S. only) or online. This video shows you how to get a price for a durable custom size handmade conference room table.
Find out how to order a beautiful solid wood conference table for your own home, office or business in the U.S. You choose the width and height of your table and the thickness of the table top, here.
Visit https://archive.chagrinvalleycustomfurniture.com
Call CVCF At 440-591-5511 To Speak To A Custom Furniture Designer
Email: customerservice@chagrinvalleycustomfurniture.com
Chagrin Valley Custom Furniture builds and sells large and modern conference room tables, custom wood dining tables, rustic live edge tables, drop leaf tables, kitchen tables with walnut table tops, and simple sturdy farmhouse tables.
Stylish and practical custom tables are proudly made-to-order with epoxy resin water-themed decorations (rivers, oceans, waterfalls, canyons), live edge table tops, sustainably sourced premium specialty woods, recycled or reclaimed barn wood and one-of-a-kind steel legs and metal bases.
CVCF's furniture builders co-design the very best custom built tables with customers, in any style, shape or size requested. The CVCF warehouse ships unique tables, that seat any number of people, to homes and firms all across America, from Los Angeles to New York City.
Local CVCF's expert furniture makers in Cleveland, Ohio craft high quality epoxy resin river tables, farm tables, small and large boardroom tables and coffee tables.
Tables are made from walnut, oak, maple, mahogany, elm and cherry wood. Company logos and corporate branded elements are inlaid into table top surfaces or CNC carved and filled with colorful epoxy resin pours. Clients choose their favorite items to be embedded into epoxy resin.
LED lights, cable management systems, power outlets, cabinets, drawers, wheels, lamps, benches and data ports can be integrated into custom tables, desks or office furniture made by CVCF.
Learn About The Top Custom Furniture Designers, Makers And Builders In The U.S.
CVCF is a custom furniture maker, refinishing and woodworking company based in Cleveland, Ohio, which specializes in rustic works and live edge designs – but is equally capable and excited to deliver modern, industrial, retro, artisan, traditional, or any other design genre that can be achieved through custom wood and metalworking.
Customers throughout the USA can now buy a handmade custom epoxy resin river table made from live edge wood from CVCF. We are now shipping and delivering rustic living room furniture, epoxy resin river tables, epoxy resin headboards, epoxy resin wood art, live edge walnut bar tops, modern coffee tables with resin inlays, resin wall art panels, epoxy resin waterfall coffee tables made from live edge wood, and epoxy resin dining and kitchen tables to customers throughout the United States. Prices for epoxy resin river tables start at $800.
Learn more about epoxy resin "river" furniture on the pages below:
Chagrin Valley Custom Furniture takes orders for small custom furniture design projects from local customers and clients all over the United States. Prices for small and simple pieces of custom furniture start at $229. Small custom furniture projects that we take on include custom made floating shelves, custom built live edge shelves, handmade rustic bookshelves, and one-of-a-kind contemporary bookcases.
And speaking of small pieces of custom furniture and home furnishings – CVCF is now supplying a growing demand in the U.S. for miniature versions of traditional furniture that being used in tiny homes, small apartments and small living spaces. CVCF even makes custom made ant farms for an online retailer. Now that is a small living space!
Other types of inexpensive custom made high quality wood furniture built by CVCF includes custom wood and steel coat hangers, coffee cup racks, spice racks, pet furniture, epoxy resin cutting boards ($275), dog and cat beds. Affordable home décor and accents that we handcraft for our customers include epoxy resin cutting boards, wooden picture frames, night stands, picture and mirror frames, plant stands, steel and metal table and desk legs, rustic step stools, storage cabinets and small benches.
CVCF Custom Furniture Design Photo Gallery
Our photo gallery is a story of transformation- a change from wood into art, of homes into masterpieces, and a hobby into a booming business servicing the best fanbase of any woodworking company in the country.  Our most popular furniture and custom woodworking designs include interior sliding barn doors, live edge tables, coffee tables, dining and kitchen tables, customized living room furniture, customized office furniture and custom woodworking projects. We also receive a large volume of refinishing projects (see prices here) for furniture inevitably damaged from use over time for our residential and commercial clientele in Cleveland, Detroit, Akron, Columbus, and Pittsburgh metro areas. See our complete gallery below, featured in chronological order.  CVCF's customers buy custom furniture online through our Live Edge Furniture Company e-commerce website. For more information about the types of custom furniture you can buy in the USA, click here.
For in-depth pricing information, we invite you to visit our pricing page.