For this project we took a live edge of ash and mixed it with highlights of walnut. The project has an earthy live edge with a modern look. This client from Sagamore Hills, Ohio just loves the look of this table in their newly decorated kitchen. We delivered this project to their home in February, 2016.
To Buy A Custom River Table, Submit Your Design Idea And Get A Price Quote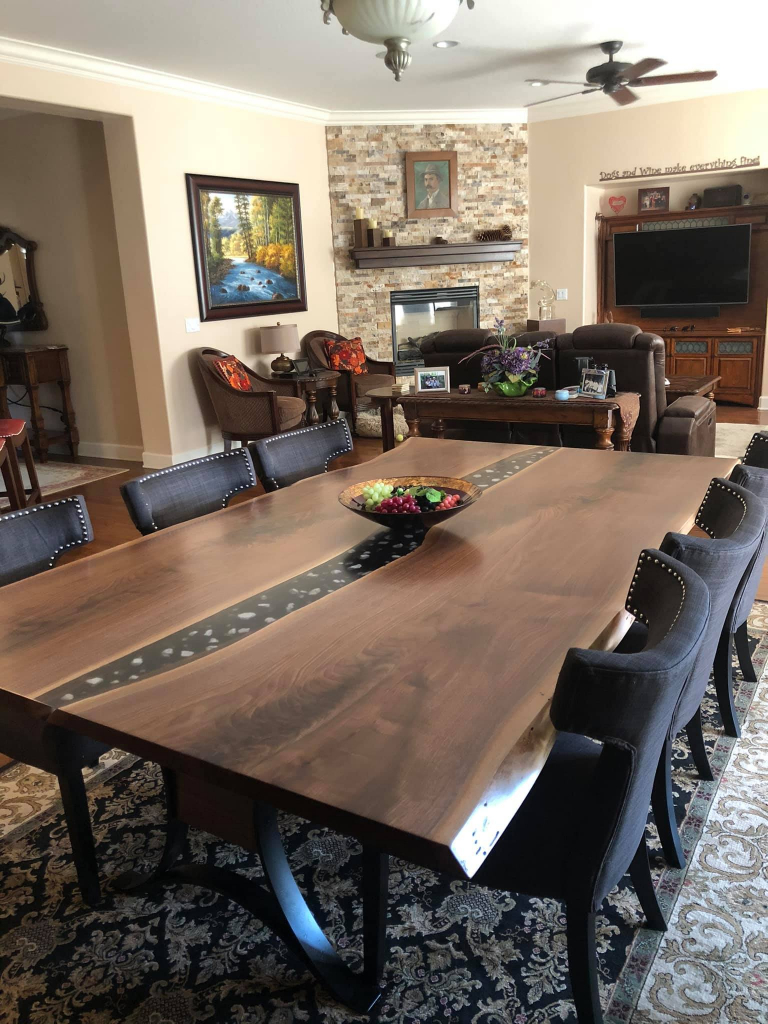 Custom Built Live Edge Black Epoxy River Dining Table $7,000+
Custom Made Live Edge Black Walnut Dining Table With A Black Epoxy Resin River And Embedded Crystals | Sturdy Steel Table Legs Were Also Custom Built For The Client | Sold Online By CVCF In 2020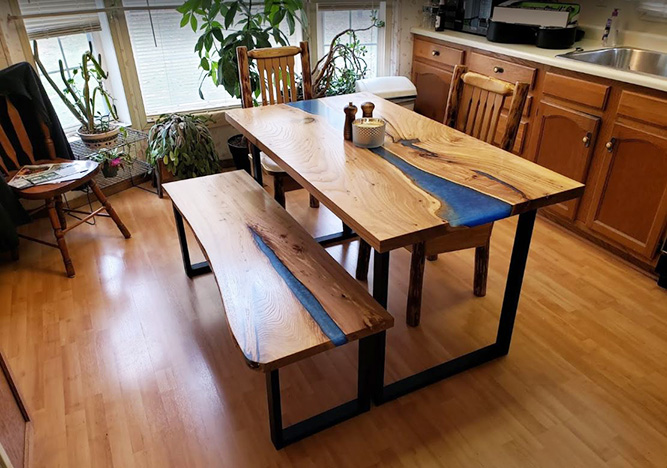 Custom Made Epoxy Resin River Kitchen Table With Matching Bench $6,500+ [Sold Locally]
Buy A Modern Epoxy Table Or Rustic Live Edge Table Locally Near You (U.S. Only) Or Online | Custom Live Edge Wood Dining Tables & Epoxy Tables For Sale
20+ Photos & Videos Of Epoxy Resin River And Live Edge Wood Slab Dining Tables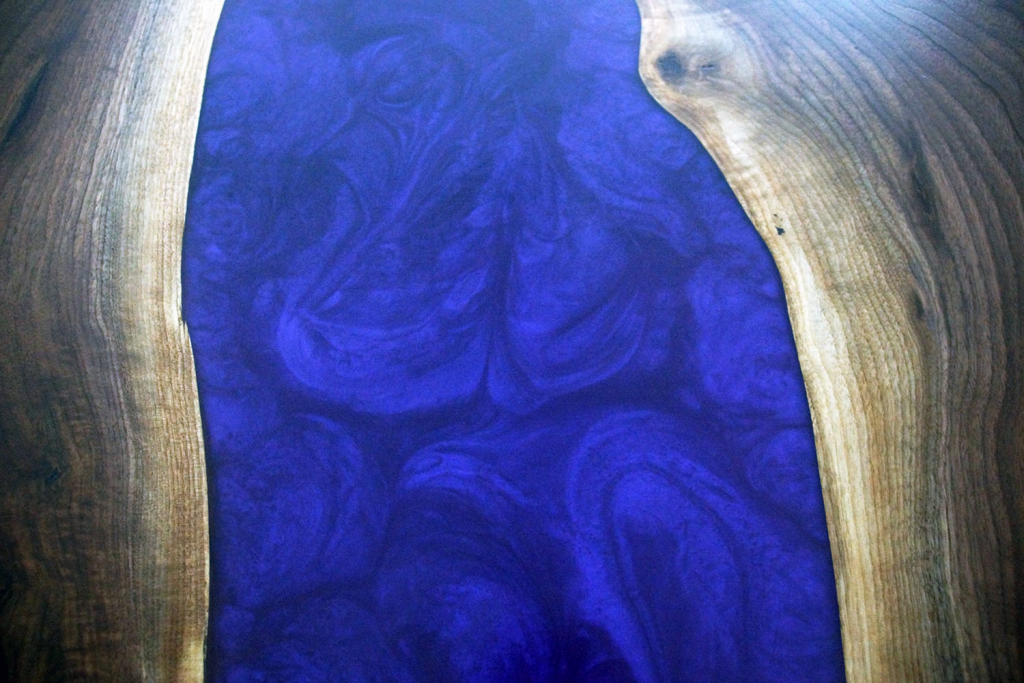 Custom Purple Epoxy Resin River And Black Walnut Dining Table $4,000+
Shown Here Is A Custom Built Black Walnut Live Edge Booth Dining Table With A Purple Epoxy Resin River That Was Sold Online To A Friendly Customer From Indiana In 2020
Custom Made Epoxy Tables And Live Edge Dining Tables For Sale Online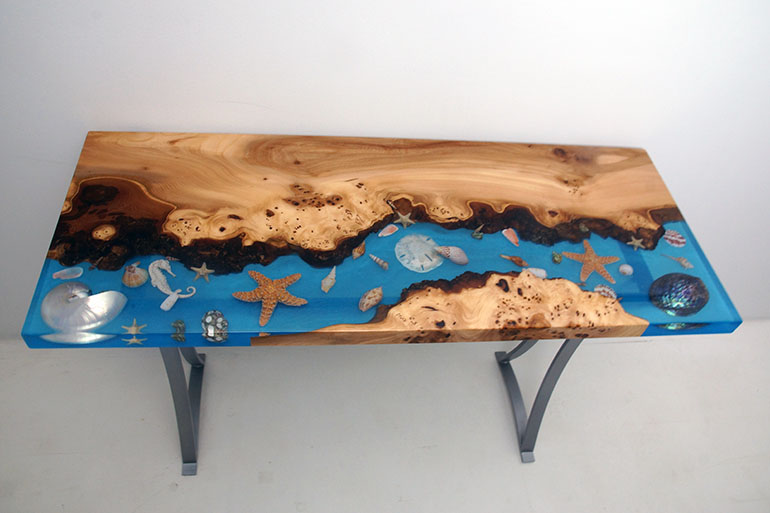 Buy A Resin 'Coral Reef' Coffee Table | $2,400+ | Beach Style End Table And Beach Themed Furniture | Ocean Tables For Sale | Embedded Stones, Sea Shells & Sand Dollars | Beach Style Furniture | Unique Custom Made Ocean Epoxy Resin Table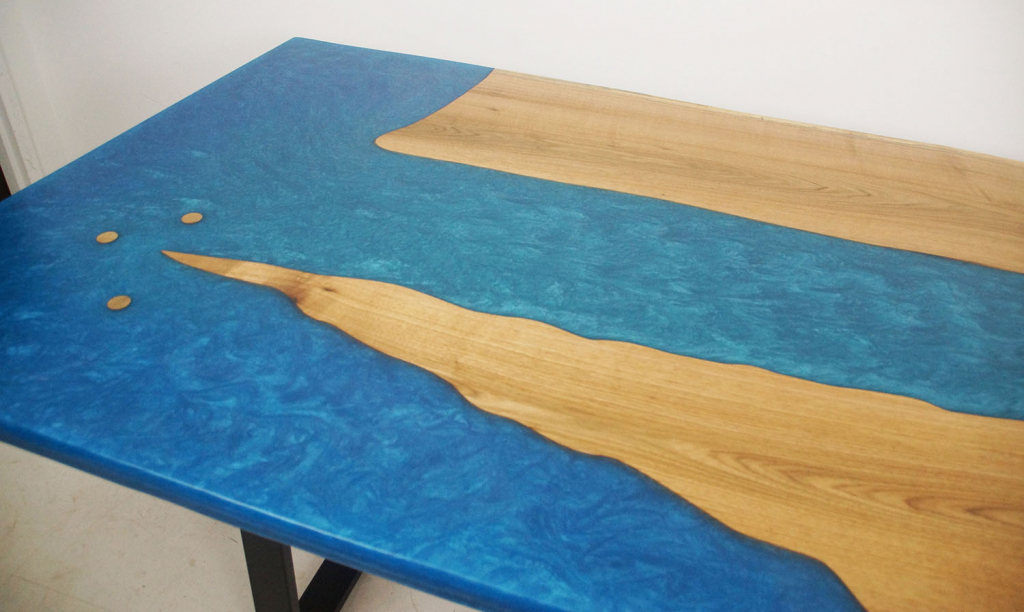 Custom Built Epoxy Resin "Intercoastal Waterway Design" And Live Edge Wood Dining Table $10,000+ | Sold Online By Chagrin Valley Custom Furniture In 2020
To Order A Custom Made Epoxy Table Or Live Edge Table, Call 440-591-5511 For Information Or Email Shel@ChagrinValleyCustomFurniture.com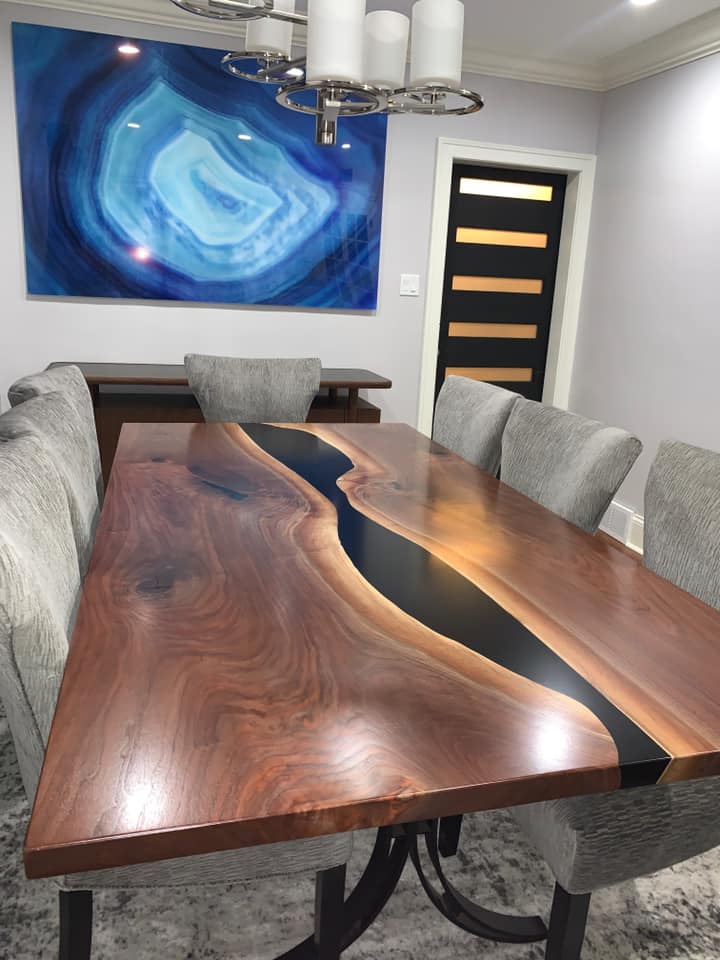 Custom Designed & Custom Made Large Black Walnut Epoxy River Dining Table Sold Online To A Family In Chicago In 2020 | $6,500+ | Black Epoxy Resin River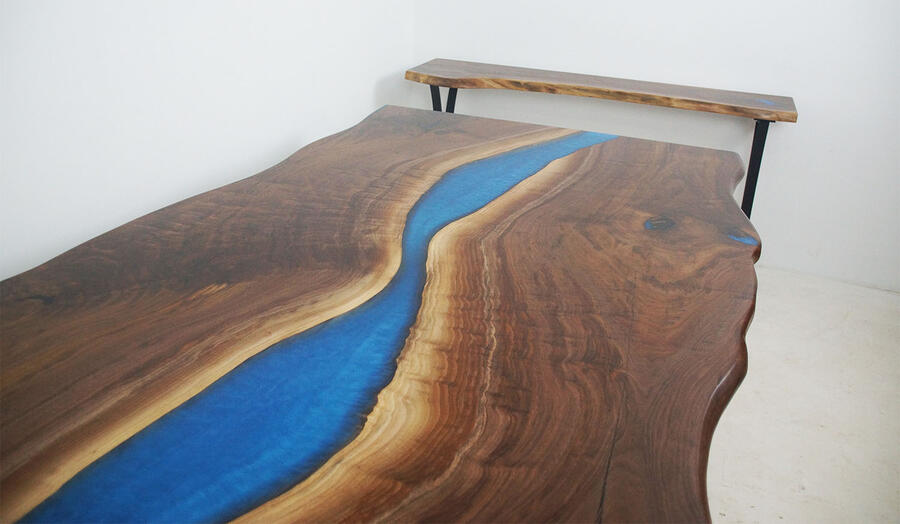 Live Edge Black Walnut Conference Table With Blue Epoxy Resin River And Matching End Table $8,600 [Sold Online And Custom Built By CVCF In 2020]
Place An Order For A Handmade Farmhouse Table, Kitchen Table Or Conference Table | Commission A Custom Built Epoxy Resin & Live Edge Wood Table, Table Top, Desk, Countertop, Desk Top Or Bed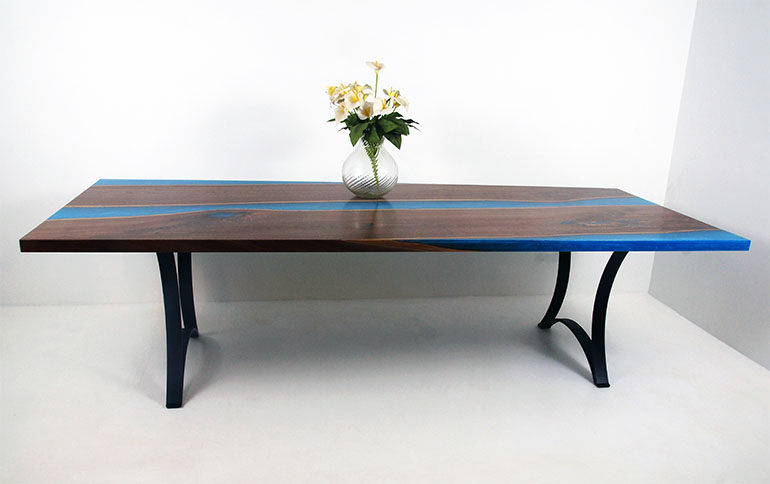 Blue Epoxy Resin River Dining Table Sold Online To California Customer $8,600+
Live Edge Wood Tables | Live Edge Coffee Tables | Live Edge Dining Tables | Epoxy Live Edge Tables | Live Edge Table Tops | Live Edge Tables With Extension Leaves | Live Edge Tables With Wood, Metal, Pipe & Hairpin Legs | With Blue Epoxy | Live Edge Tables With Resin | For 2, 4, 6, 8, 10, 12 Or 20 People | Live Edge Tables For Outdoors
CVCF makes it easy to commission the top American designers, best modern dining table makers, creative epoxy resin artists, most experienced rustic dining table builders and skilled craftspeople to build the custom made dining table you want for your dining room, kitchen or restaurant.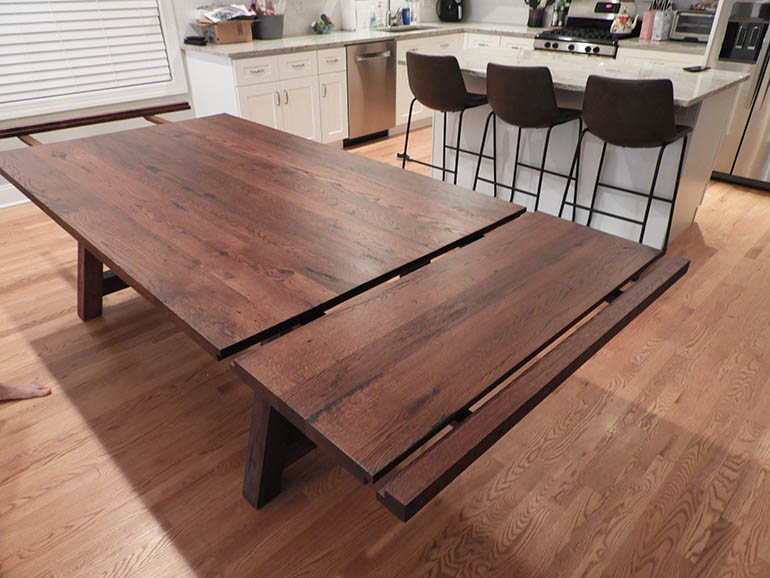 Custom Built Sturdy And Simple Made-To-Order Rustic Farmhouse Dining Table $1,800+ [Extendable]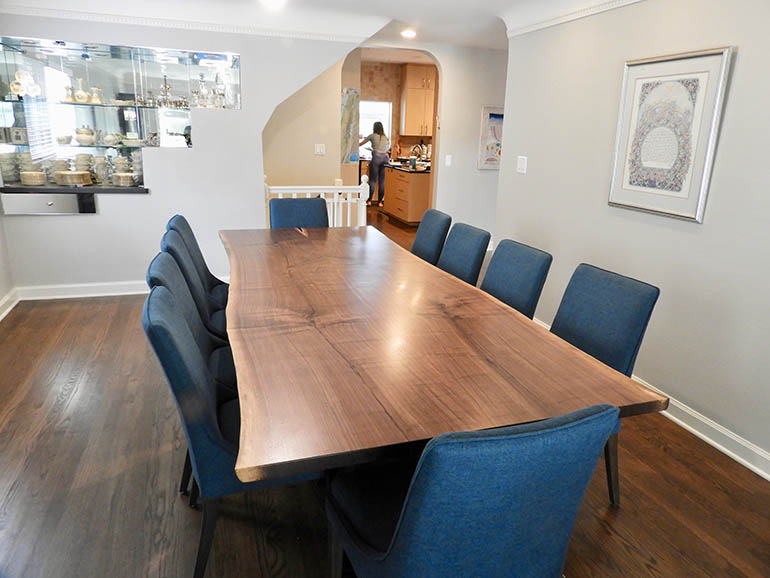 Custom Made Solid Live Edge Wood Slab Dining Table $2,600+ [Kitchen Table That Seats 10]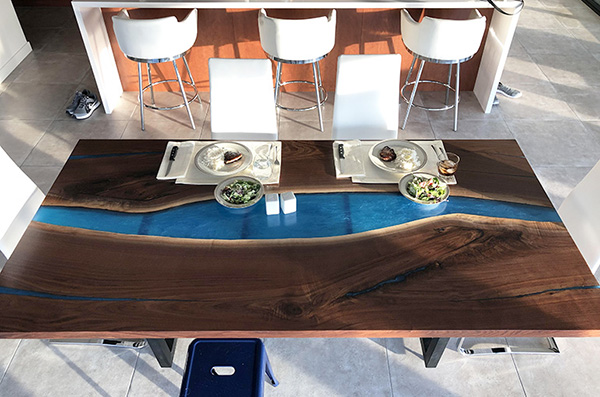 Stylish Modern Blue Epoxy Resin River Live Edge Black Walnut Dining Table $4,200+ [Custom Ordered]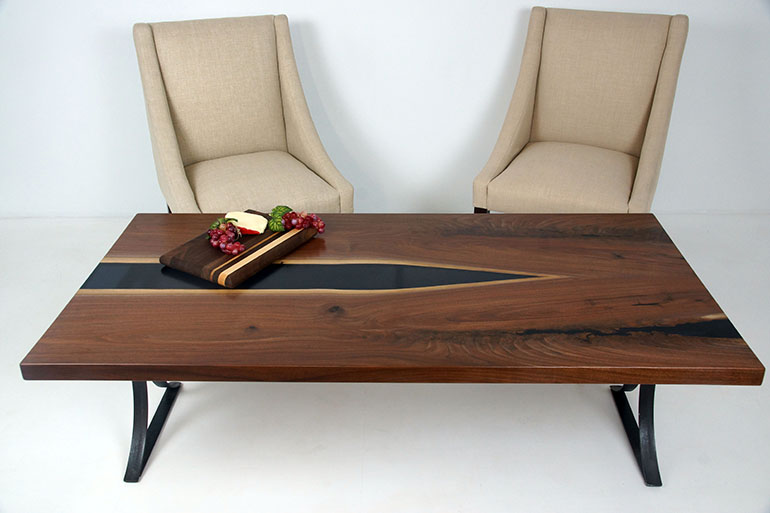 Unique Modern Solid Wood Custom Handmade Coffee Table $800+ [Black Epoxy Resin]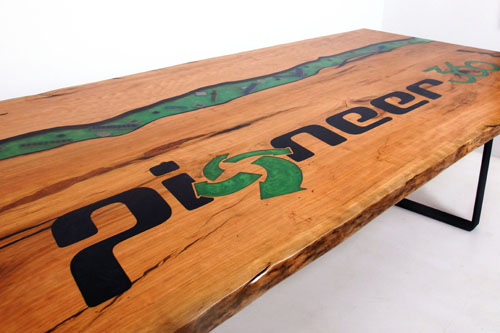 Custom Handcrafted Live Edge Epoxy Logo Conference Table $4,500+ [Any Size Or Shape]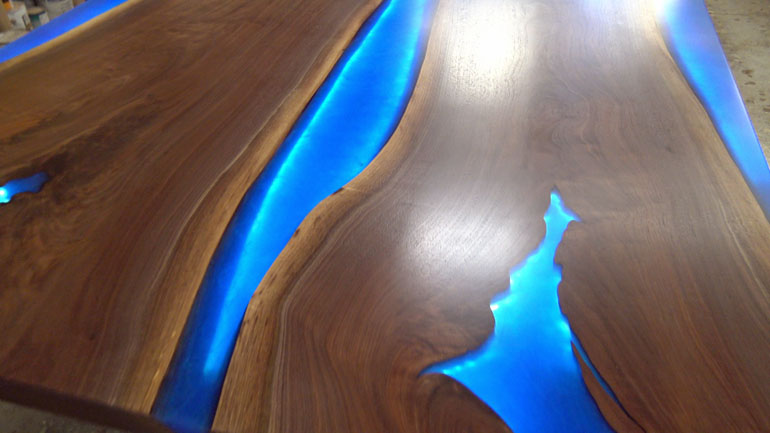 Large High Quality Custom Designed Epoxy Resin River Dining Table $3,000+ [With LED Lights]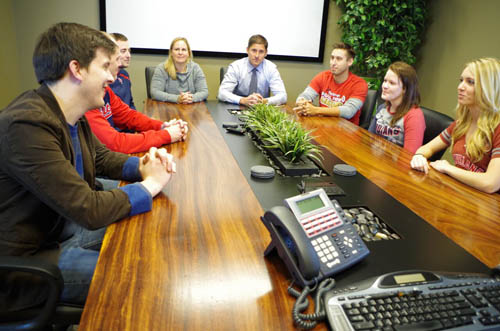 New Long And Wide Modern Handcrafted Custom Conference Room Table $4,500+ [Reclaimed Wood And Steel]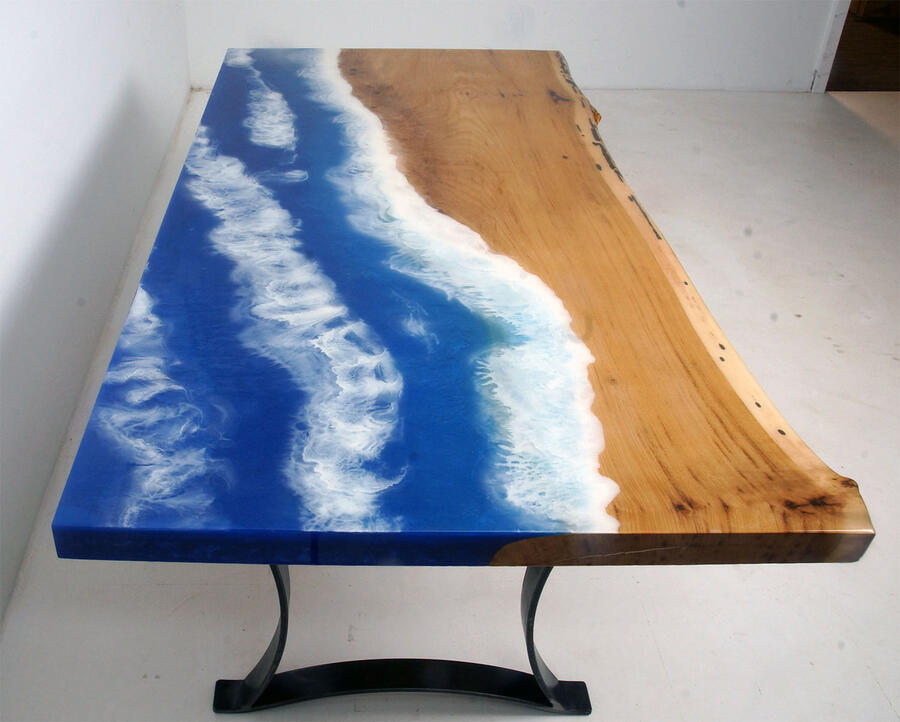 Epoxy Resin "Moving Ocean" Coffee Table $1,000+ [Incredible Ocean Table]
Custom Built Live Edge L-Shaped Desk With Storage & Drawers Sold By CVCF In 2015
The L-shaped corner desk show in this video was custom made with two African mahogany live edge wood slabs. It features hidden storage compartments, a hidden drawer and a hidden shelf for electronics. This handmade solid wood desk was commissioned locally in 2015 from Chagrin Valley Custom Furniture.
Types Of Custom Built Live Edge Furniture For Sale Locally (U.S. Only) And Online By CVCF
Custom Farmhouse Dining Table Sold Locally [Industrial Base]
In this video, furniture maker Shel Myeroff, owner of Chagrin Valley Custom Furniture, talks with local customers Matt and Molly from Chagrin Falls, Ohio about the high quality made-to-order extendable farmhouse dining room table that CVCF custom built for them.
After an initial furniture design consultation, CVCF furniture builders set off to handcraft the rustic, yet modern and simple, farmhouse dining table from 100-year-old reclaimed oak wood beams, sustainably sourced from a barn in Southern Ohio.
The expert CVCF craftsmen at the Cleveland, Ohio workshop, completely customized the farmhouse dining table by adding a sturdy and durable industrial style metal (steel) base. This video shows all the attention to detail, including the welds and the two pullout inserts. The comfortable farmhouse dining table is 128 inches long when fully extended. Now Matt and Molly are living happily ever after with their new beautiful, and very unique, solid wood farmhouse dining table.
Listen to the couple talk about the exceptional customer service they received from CVCF. Find out how they got helpful design ideas from Shel for their custom table. Get their thoughts on the remarkable workmanship provided by CVCF craftspeople.
Because pine is inexpensive, it is frequently used by America artisans to make farmhouse tables (also know as a farm table or harvest table) tops. For the farmhouse table shown in this video, CVCF used more expensive oak barn beams because they will last for generations (they already lasted over 100 years in a barn) and because the cut beams display a more authentic style and absorb wood stains more effectively.
The country living inspired design style of the charming contemporary farmhouse dining table shown in this video, combines clean sleek lines with a cozy and warm farmhouse feel. This homey style of farmhouse furniture and décor certainly has not gone out of style.
Popular farmhouse style furniture made by CVCF typically incorporates versatile traditional aesthetics and industrial components (legs and bases) to convey a fresher character and a more relaxing appeal than rustic furniture and décor.
Truly custom farmhouse furniture and farmhouse dining tables are handcrafted by CVCF in any design style that the client wants. Exact sizes, dimensions, shapes and wood species are specified by the customers. CVCF ships custom built farmhouse tables to homes, restaurants and businesses in all 50 states.
CVCF creates authentic one-of-a-kind farmhouse tables and a customer experience unlike any other in the furniture industry. Commissioning a farmhouse table from CVCF is fun and rewarding, start to finish. From the table design to the creation, CVCF invite their clients to "get involved". CVCF always strives to exceed customer expectations.