Thank You, Ohio Lottery, for opportunity to serve you.
Sheldon Myeroff, President and Builder for CVCF.
To Buy A Custom River Table, Submit Your Design Idea And Get A Price Quote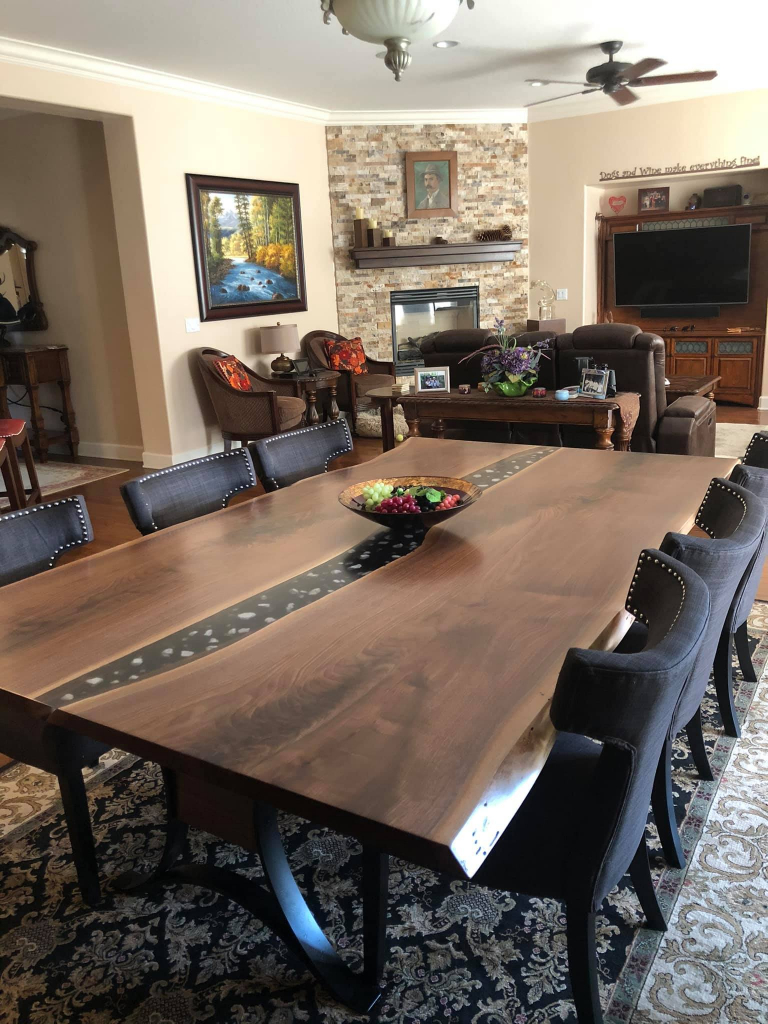 Custom Built Live Edge Black Epoxy River Dining Table $7,000+
Custom Made Live Edge Black Walnut Dining Table With A Black Epoxy Resin River And Embedded Crystals | Sturdy Steel Table Legs Were Also Custom Built For The Client | Sold Online By CVCF In 2020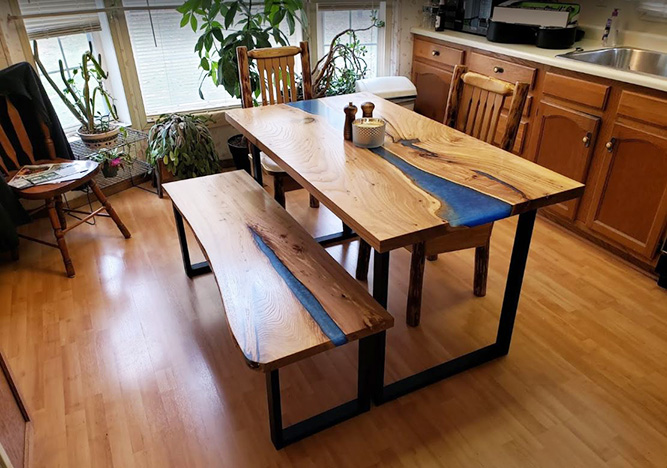 Custom Made Epoxy Resin River Kitchen Table With Matching Bench $6,500+ [Sold Locally]
Buy A Modern Epoxy Table Or Rustic Live Edge Table Locally Near You (U.S. Only) Or Online | Custom Live Edge Wood Dining Tables & Epoxy Tables For Sale
20+ Photos & Videos Of Epoxy Resin River And Live Edge Wood Slab Dining Tables
Custom Purple Epoxy Resin River And Black Walnut Dining Table $4,000+
Shown Here Is A Custom Built Black Walnut Live Edge Booth Dining Table With A Purple Epoxy Resin River That Was Sold Online To A Friendly Customer From Indiana In 2020
Custom Made Epoxy Tables And Live Edge Dining Tables For Sale Online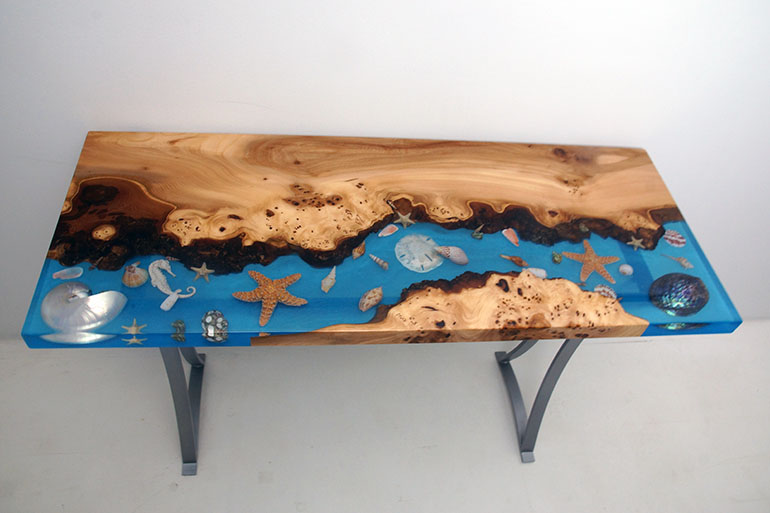 Buy A Resin 'Coral Reef' Coffee Table | $2,400+ | Beach Style End Table And Beach Themed Furniture | Ocean Tables For Sale | Embedded Stones, Sea Shells & Sand Dollars | Beach Style Furniture | Unique Custom Made Ocean Epoxy Resin Table
Custom Built Epoxy Resin "Intercoastal Waterway Design" And Live Edge Wood Dining Table $10,000+ | Sold Online By Chagrin Valley Custom Furniture In 2020
To Order A Custom Made Epoxy Table Or Live Edge Table, Call 440-591-5511 For Information Or Email Shel@ChagrinValleyCustomFurniture.com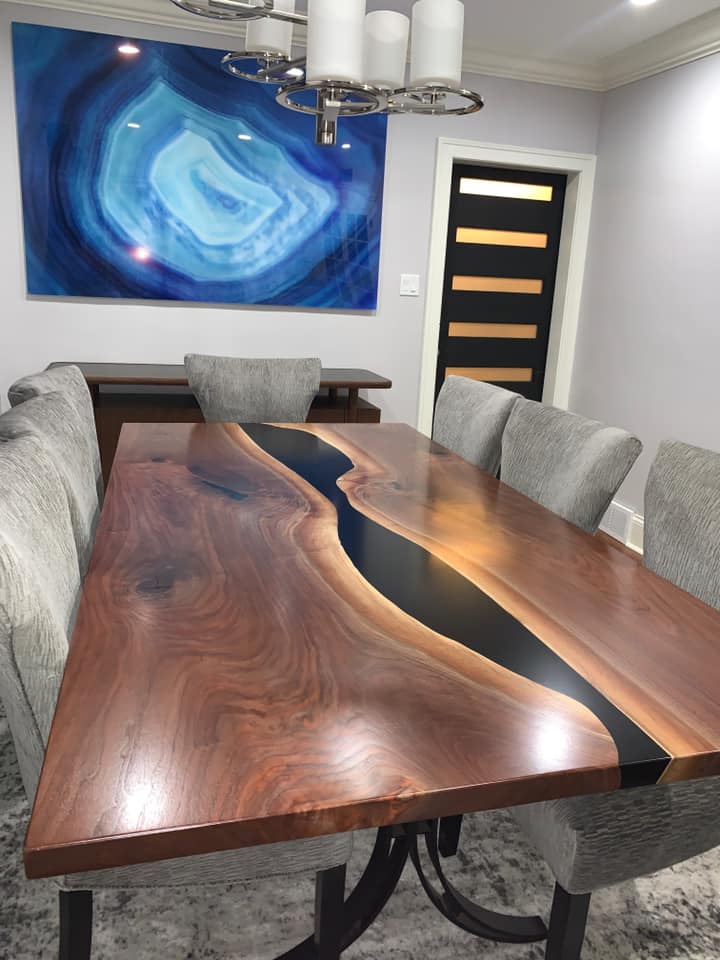 Custom Designed & Custom Made Large Black Walnut Epoxy River Dining Table Sold Online To A Family In Chicago In 2020 | $6,500+ | Black Epoxy Resin River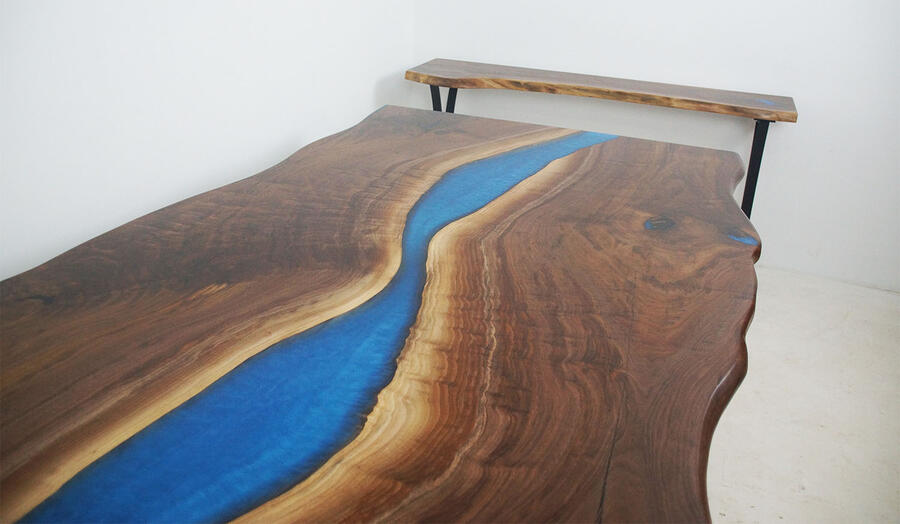 Live Edge Black Walnut Conference Table With Blue Epoxy Resin River And Matching End Table $8,600 [Sold Online And Custom Built By CVCF In 2020]
Place An Order For A Handmade Farmhouse Table, Kitchen Table Or Conference Table | Commission A Custom Built Epoxy Resin & Live Edge Wood Table, Table Top, Desk, Countertop, Desk Top Or Bed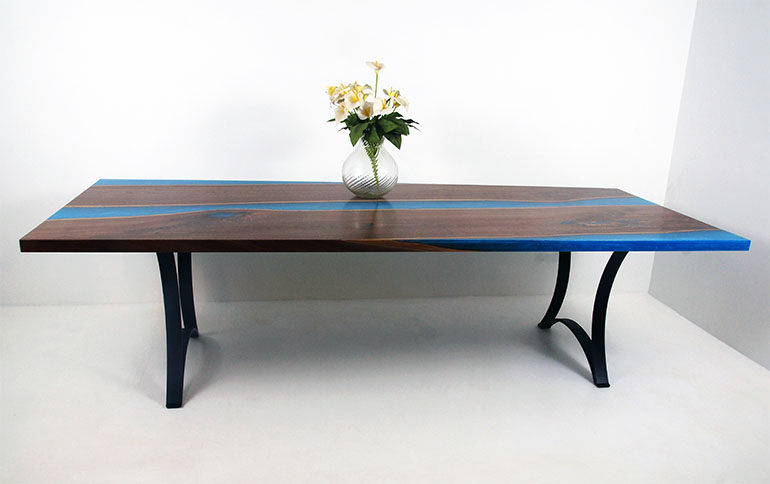 Blue Epoxy Resin River Dining Table Sold Online To California Customer $8,600+

Live Edge Wood Tables | Live Edge Coffee Tables | Live Edge Dining Tables | Epoxy Live Edge Tables | Live Edge Table Tops | Live Edge Tables With Extension Leaves | Live Edge Tables With Wood, Metal, Pipe & Hairpin Legs | With Blue Epoxy | Live Edge Tables With Resin | For 2, 4, 6, 8, 10, 12 Or 20 People | Live Edge Tables For Outdoors

CVCF makes it easy to commission the top American designers, best modern dining table makers, creative epoxy resin artists, most experienced rustic dining table builders and skilled craftspeople to build the custom made dining table you want for your dining room, kitchen or restaurant.

Custom Built Live Edge L-Shaped Desk With Storage & Drawers Sold By CVCF In 2015

The L-shaped corner desk show in this video was custom made with two African mahogany live edge wood slabs. It features hidden storage compartments, a hidden drawer and a hidden shelf for electronics. This handmade solid wood desk was commissioned locally in 2015 from Chagrin Valley Custom Furniture.

Types Of Custom Built Live Edge Furniture For Sale Locally (U.S. Only) And Online By CVCF

CVCF was awarded the contract to build a Front Desk and Counter for the Ohio Lottery HQ office in downtown Cleveland, Ohio. The Ohio Lottery requested a unique look that combined modern with rustic. They also required this to have a 20-year life. CVCF went to work and delivered a Mahogany laminate on the main body and a Tiger Maple live edge for the counter. The project was delivered in October 2016. The Ohio Lottery loves this design and has gotten many compliments from customers and employees.