Contact Chagrin Valley Custom Furniture

Founder And Owner: Shel Myeroff
Phone: 440-591-5511
Email:
shel@chagrinvalleycustomfurniture.com
Read Customer Reviews And Watch Client Testimonial Videos
Design Studio, Showroom And Manufacturing Facility
Address: 26309 Miles Road, Suite #6, Warrensville Heights, Ohio 44128
Design Studio And Showroom Business Hours
Monday through Friday: 8:00 am to 4:30 pm
Saturday and Sunday: By Appointment Only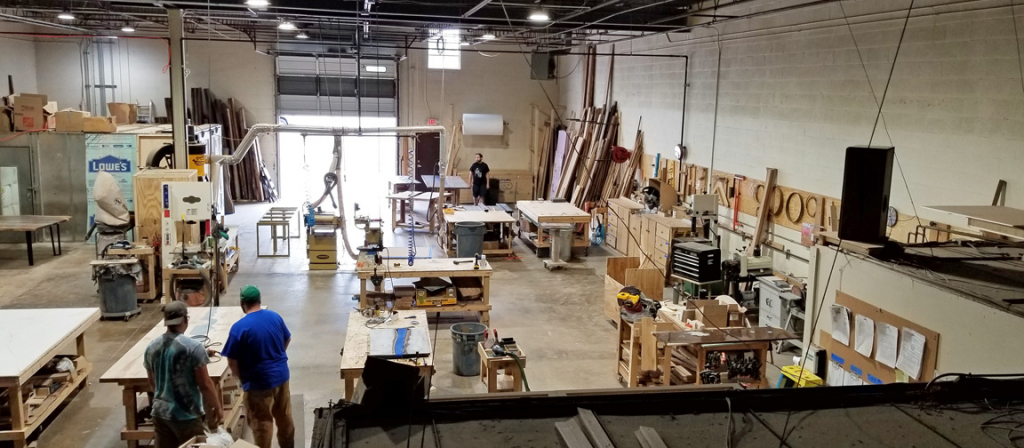 Ordering Custom Designed Furniture Or A Custom Designed Woodworking Project
Visit one of the top custom furniture manufacturing facility in the United States. Visit a CVCF showroom near you or buy custom furniture online. You can start the custom furniture ordering process here or you can request a brochure, request an estimate or price quote or visit our design studio and showroom. You can also request a free design consultation which can be conducted in person, by phone or through the use of Skype or FaceTime.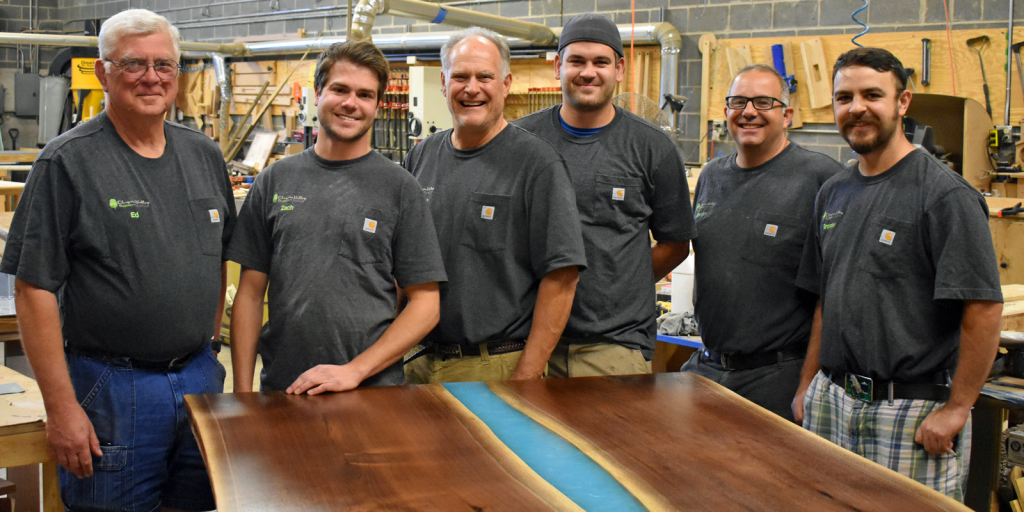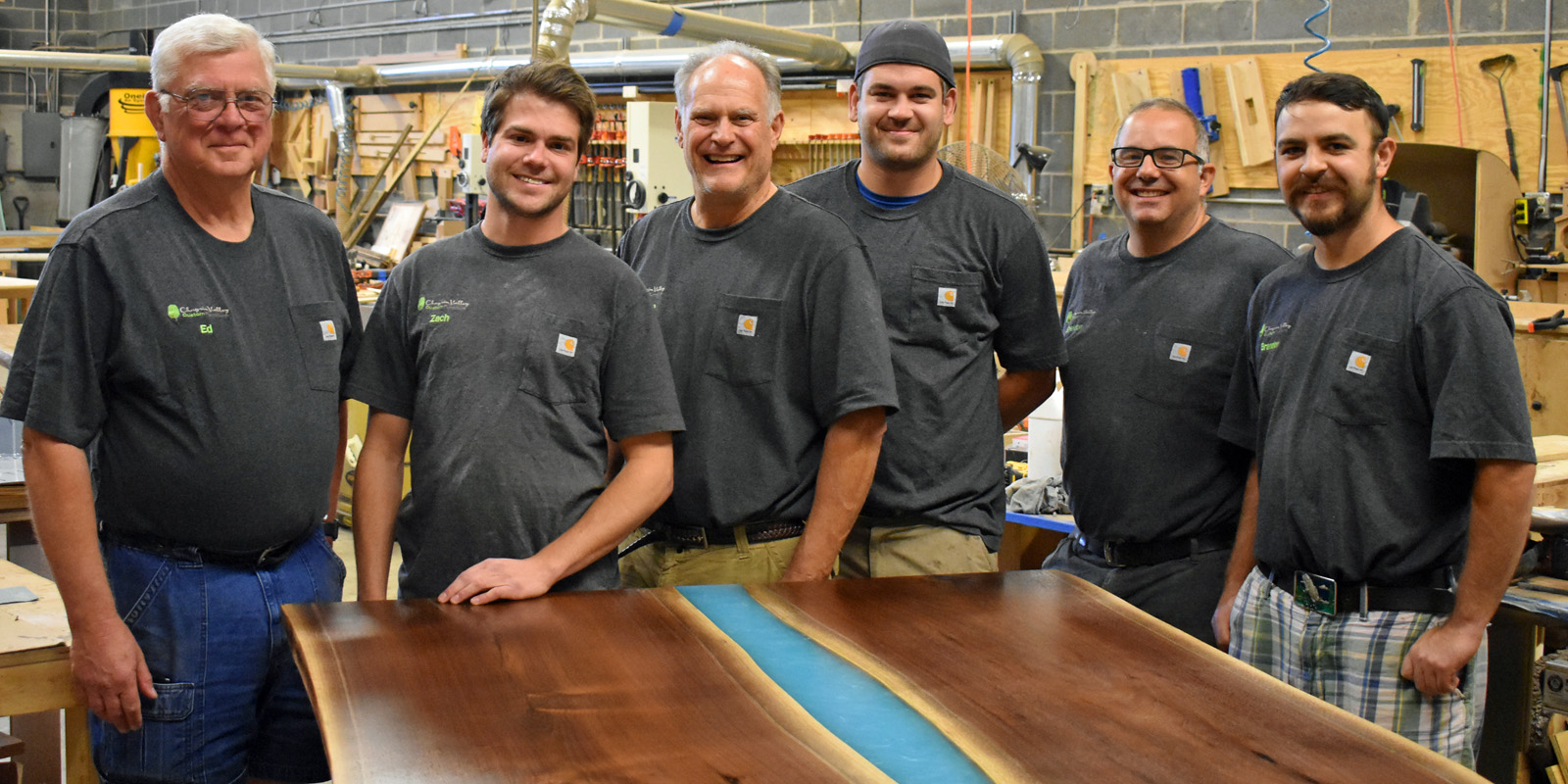 Visit a Chagrin Valley Custom Furniture showroom near you. Now you can buy custom furniture in the USA in person. Take a stroll through a design studio or sit down with a custom furniture designer to discuss your ideas for a new piece of furniture.  Meet our woodworkers, get a quote, sign a purchase order, make a deposit payment, collaborate on furniture design specifications, schedule furniture delivery and assembly.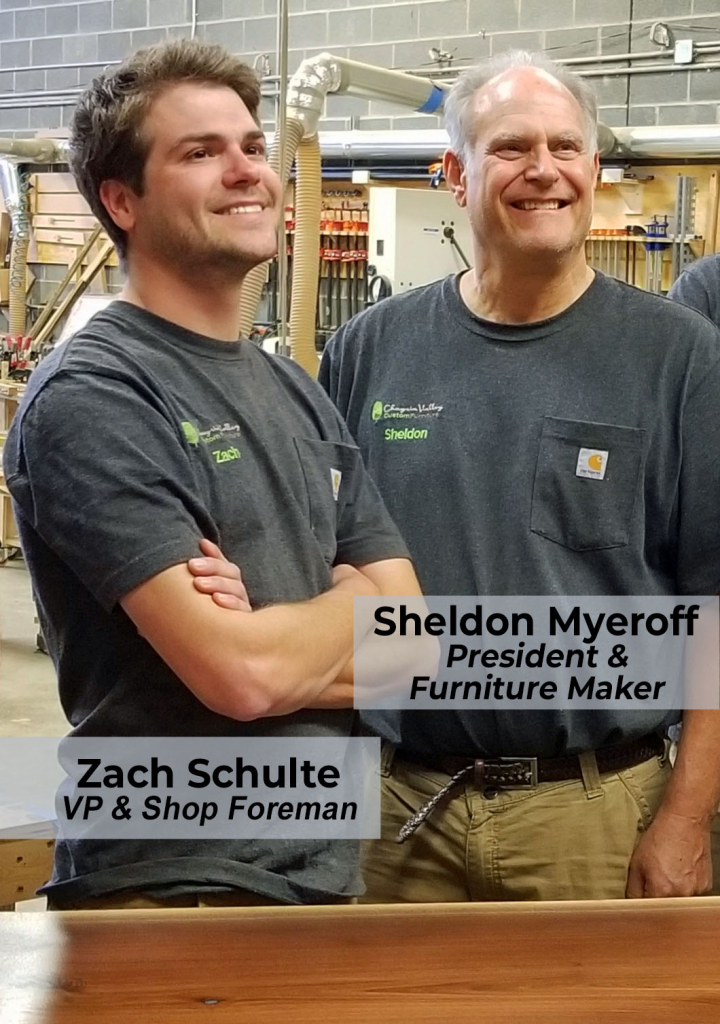 That is how it works.  CVCF makes designing and buying custom furniture is easy and fun.  You can submit your custom furniture design and get a price for fabrication and assembly.  Learn how the highest quality river tables and the best custom wood and metal furnishings are handcrafted in America in 2020, here.
In 2018, after outgrowing our quaint woodworking shop in Chagrin Falls, Ohio, CVCF relocated to a larger facility in Warrensville Heights, Ohio that allowed us to expand our capabilities, our output, and our woodworking team. We also offer customers our first storefront and showroom area where the public is welcome to visit and see some of our most recent projects as well as a variety of slab samples, live edge floating shelves, and authentic rustic barn wood barn doors. Sit at our impressive live edge conference table and discuss your next furniture project with owner Shel Myeroff and his designers.
What you'll find at Chagrin Valley Custom Furniture is totally original, one-of-a kind, distinctive furniture built with the highest quality materials by our skilled designers and artisans. If you have your own project being handcrafted, we invite you to stop in and see it as it progresses. If you wish, we'll even hand you a sander or plane and you can work alongside expert craftsmen while you help build your piece of furniture.
How I Built a Booming Custom Furniture Business Online
Posted On YouTube On December 31, 2020 By Chagrin Valley Custom Furniture [ChagrinValleyCustomFurniture.com]
This video shows you how Sheldon Myeroff turned his custom furniture making hobby into a profitable international custom furniture making company – all after retirement! Success came primarily from specialization with a focus on designing, building and selling custom-made river (epoxy) tables and rustic and modern custom made barn doors. A "river table" is two pieces of natural wood with a river of epoxy resin flowing down the middle. That's become 80% of his furniture making business.
Sheldon started Chagrin Valley Custom Furniture from his home in 2013, but only became serious about growing the company after moving into a large high-end furniture manufacturing facility in 2017. CVCF has become a manufacturer of high quality, handcrafted, custom designed furniture, specializing in custom live edge epoxy tables and desks for sale online to individuals and businesses throughout the continental United States and Canada. Sheldon's innovative ideas for furniture and his furniture business have become a hallmark of his success.
The audio for this video is comprised of extracts from Andy Levine's Second Act Stories podcast on December 7, 2020, and titled "Goodbye Executive Recruiting…Hello Furniture Marking". Andy interviewed Sheldon and CVCF VP of Operations Zach Schulte for this podcast – which Adam wrote and voiced. The full podcast is only 20 minutes long and we hope you'll give it a listen. You can find it at https://www.secondactstories.org.
The Chagrin Valley process is different from other custom furniture makers (builders) because we only make true custom furniture. That means you don't go online to order and pay at the start of the process. With CVCF, you are part of the custom furniture-making process every step of the way as together we create a completely new, one-of-a-kind piece of epoxy resin furniture, specific to your unique needs and desires. You give us your design idea, choose the epoxy color, wood slab, make tweaks in the design, all remotely through video technology. You can even have an emblem or your company logo machined into the wood and filled with epoxy, or embed items in the epoxy such as school and college logos, rocks, crystals, and other sentimental memorabilia.
We harvest our wood sustainably, often under the direction of the U.S. Forest Service. This ensures the long term health of the forest. We spend up to 2 years removing moisture from the logs before starting to work with them. This helps prevent warping and cracking of the wood. Our 6,000 sq. ft. workshop is fully equipped to handle all the challenges of making a beautiful epoxy resin river table, which includes a temperature controlled, clean spray room for a smoother, scratch-resistant coat. We also offer a large variety of metal and wood legs, plus you can design your own legs if you wish.
Our furnishings include custom epoxy resin river tables, epoxy resin river beds and headboards, epoxy resin desks, epoxy resin wall art, rustic to modern farmhouse tables, barn doors, benches, countertops, shelves and so much more. Prices for our conference tables are based on such factors as size, wood species, live edge/not live edge, conference table components, epoxy resin, engraved company names, engraved logos, embedded objects in epoxy resin rivers, etc. Prices for our solid wood and live edge conference tables start at about $4,500, average about $9,000, and top off at about $18,000. Prices for conference tables with epoxy resin rivers and epoxy-filled CNC logos or scenes will cost more.
For a quote on handcrafting your epoxy resin river furniture design and shipping it to your home or place of business anywhere in the USA, call Sheldon Myeroff at 440-591-551, scan or take a photo of your design and text it to us at 440-591-5511, or email to shel@chagrinvalleycustomfurniture.com.
Buy A Custom Made Round Conference Table $7,000+ | For Sale Locally Near You (U.S. Only) Or Online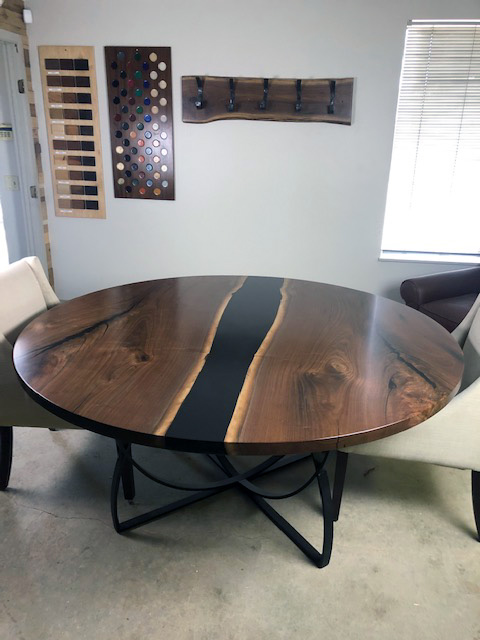 Pictured Here Is Round Black Epoxy Resin River And Black Walnut Live Edge Conference Table That Was Sold Online By CVCF In 2018
Custom Handmade Conference Room Table Material, Size, Shape And Design Options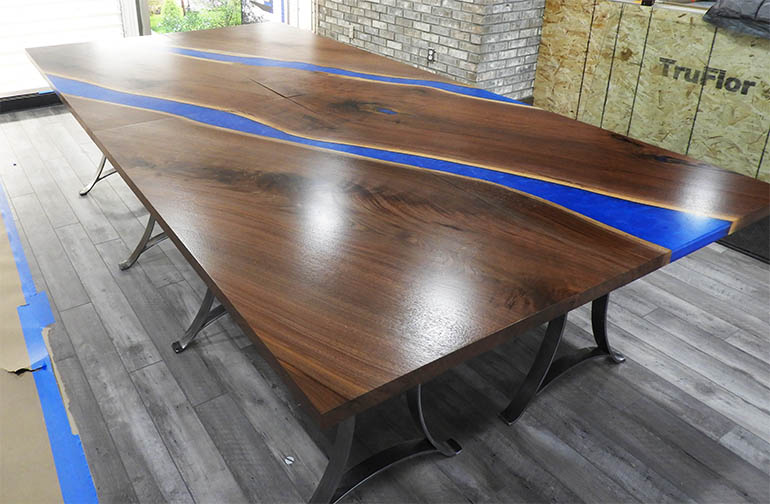 Buy A Custom Built Modern Modular Conference Room Table [System] For Sale Locally Near You (U.S. Only) 12,000+ Any Size, Shape Or Design
Custom Built Live Edge L-Shaped Desk With Storage & Drawers Sold By CVCF In 2015
The L-shaped corner desk show in this video was custom made with two African mahogany live edge wood slabs. It features hidden storage compartments, a hidden drawer and a hidden shelf for electronics. This handmade solid wood desk was commissioned locally in 2015 from Chagrin Valley Custom Furniture.
Types Of Custom Built Live Edge Furniture For Sale Locally (U.S. Only) And Online By CVCF
Walk-in store and showroom hours are 9am-4pm, Monday through Friday, or weekends by appointment. For unsurpassed customer experience, we recommend calling ahead before your visit during the week- but no matter when you stop in, we guarantee there will be a furniture design expert ready and willing to build your dream furniture design project into reality.
Store & Showroom Address: 26309 Miles Road, Suite 6, Warrensville Heights, OH 44128, (Corner of Miles Rd. and Commerce Pkwy., just east of Richmond Rd.)
During our consultation, we will ask what kind of project you're looking for, what your budget is, and what your working time frame is. We offer a wide variety of options from wood-type to metal leg customization to meet your budgetary needs.  Call us or stop by to learn how to buy custom designed wood furniture for sale in the USA. Prices start around $800. CVCF is a high quality custom furniture maker. You can buy custom dining room furniture, epoxy resin river tables and live edge coffee tables for sale.
To order, purchase, or find out the price range for a custom piece of furniture you have in mind, call Shel Myeroff at 440-591-5511, Contact Us or go to the 'Request an Estimate' page of this web site and fill out and submit the form.