VIDEO TESTIMONIAL: Custom Southwest Epoxy River Table | Rocks, Arrowheads, Fossils & Turquoise [CVCF 2021]
Uploaded to YouTube On December 18, 2021 by Chagrin Valley Custom Furniture
In this video, a homeowner from New Mexico talks about the made-to-order epoxy river dining table he and his wife co-designed online remotely with Chagrin Valley Custom Furniture. The Black Walnut tabletop has a teal blue river running through it and epoxy-filled indents, imperfections, knotholes, and cracks. Suspended in the epoxy are turquoise crystals,  river rocks, pebbles, fossils, and arrowheads to go along the Southwestern theme of their home.
Every dining table is unique and an expression of the people who order it. We use Zoom, Facetime, phone calls, emails and texts to keep you fully involved in the design and construction of your custom dining table. We make our dining tables from locally-sourced, sustainably-harvested natural wood, reclaimed wood and live edge wood. You choose your own wood slabs – any species – plus the materials and epoxy resin color. Tell us what style you want – industrial, modern, rustic – you name it, we'll build it.
You'll also see dozens of other custom-made one-of-a-kind dining tables we've co-designed online with homeowners, businesses, restaurants, hotels, interior designers, and architects, and built in our 6,000 sq. ft. workshop in Cleveland. Chagrin Valley offers many epoxy resin table options – different types, styles, designs, shapes, seating, legs and bases, epoxy colors and more.
We pride ourselves on having what we feel are the highest quality river tables built in America. With our CNC machine, we are able to engrave names, logos, topographic waterway features, and other artwork into our epoxy river dining tables and custom conference tables. We have built 100% customized tables for businesses and homeowners all across America.
YouTube Video: Custom Wood & Epoxy Dining & Kitchen Tables for Sale Online [Costs, Sizes, Modern Tops, Live Edge]
You can buy custom epoxy resin river tables, epoxy resin and wood dining tables and epoxy resin and live edge wood countertops for sale locally or online at ChagrinValleyCustomFurniture.com. Buy a natural live edge wood table. You can call CVCF at 440-591-5511. Get design ideas in the CVCF project gallery before you submit you table design idea and request a quote online. You can even start designing your own custom furniture, desk or table online with this free app.
YouTube Video Uploaded By Chagrin Valley Custom Furniture On July 26, 20221 Titled "CNC Carved Epoxy-Filled Topographic Tables | Mapped River, Lake, Waterway, Ocean Tables [CVCF 2021]"
In this video, you'll see really amazing custom tables with the center of the tabletop carved out to replicate the shapes of bodies of water in the U.S. and then filled with colored epoxy. You'll watch how these tables are handmade, one by one, by Chagrin Valley Custom Furniture in our Cleveland, Ohio production facility.
Take a look at pictures of custom made epoxy resin river and solid wood kitchen tables, custom built epoxy resin and natural wood conference tables, made-to-order epoxy resin river and live edge dining tables, custom made epoxy resin and solid wood coffee tables and epoxy resin river tables that have been handcrafted by CVCF to our customer's exact specifications. If you are looking for custom desks, see some of the custom built epoxy resin river and solid wood desks, handmade executive desks, L-shaped desks, custom built home office desks and furniture and handcrafted live edge wood slab desks that CVCF has built, here.
YouTube Video Uploaded By Chagrin Valley Custom Furniture On May 19, 2021 Titled "Lake Sunapee Replicated in a CNC Engraved Epoxy Table (CVCF 2021)"
In this video, furniture designer Sky Ironhorse programs and operates a handheld CNC Router to carve the outline of Lake Sunapee, New Hampshire into the top of a table that is then filled with colored epoxy. Chagrin Valley Custom Furniture fulfilled the request of a couple by making this one-of-a-kind dining table for their luxury lake house.
Prices for custom made river tables start at $1,900+. You can order custom built epoxy and wood dining tables and ocean tables that will be built just the way you want and then shipped to you.
Video Uploaded To YouTube By Chagrin Valley Custom Furniture On May 5, 2021 Titled "The Best Custom Epoxy Resin River Tables [2020 Compilation]"
This video features our best custom furniture (mostly custom river table) projects we've produced and delivered throughout the year 2020. Projects ranged widely, from simple live edge walnut desks, to hickory river tables with LED lights and extendable leafs (with LED light up capabilities), and conference river tables with CNC engraved logos.
Tabletop Wood Examples
CVCF only makes custom epoxy resin furniture out of solid wood slabs—generally with the live edge included. The woods below are the ones we find make the best river tables. A dark river with a light wood is awesome. A light river with a dark wood is even more awesome. You can't go wrong! Our customers can pick out the exact slab they want when we take them into our wood warehouse or supplier's lumberyard via video technology. Our workshop is in the Chagrin Valley of Ohio, an area that supports the growth of hundreds of wood species on sustainable farms. Give us a call at 440-591-5511 and Sheldon will help you with your wood selection.
Custom Epoxy Resin River Colors, Tints and Effects
At CVCF, our craftspeople make our own epoxy resin colors and tints for the river dining tables and epoxy resin and wood furniture we handcraft for our clients. We have put years of research into the art of creating these beautiful features that are either poured between two live edge solid wood slabs, or poured into cracks and openings in the natural wood slab. Custom epoxy resin colors are created as a results of extensive conversations with our customers, who give us direction on what they want, and then are given a few epoxy resin samples to choose from. Epoxy resin colors can be built to be completely opaque, or semi-transparent, and can have varying levels of "motion" throughout the design
Below are some samples of past projects to give you inspiration. These are by no means meant to limit your imagination. Remember, we can make anything!
Custom Metal And Wood Table Legs & Base Examples
The legs and bases you choose to complete your one-of-a-kind project come in a wide variety of shapes, sizes, and levels of complexity. We divide our designs into "tiers" by relative price – the higher the tier, the higher the price. But remember, each base will be custom made to best complement the dimensions of your tabletop. If you want a custom design, simply indicate as such and our designers will be eager and waiting to fulfill your vision.
Tier I
Tier II
Tier III
Examples Of Custom Embedded Items, Logos And Engravings
Chagrin Valley Custom Furniture has become more creative in our execution of river table designs by adding decorative elements in the resin before it cures. Taking the "river" concept to its logical conclusion, our builders can make tables embedded with smooth stones, rocks, shells, crystals and more that line the bottom of the resin, adding a premium rustic, outdoorsy flair to an already stunning concept.
Build Your Epoxy Resin River Table Below
Choose your favorite epoxy resin colors and wood species | Select the shape and dimensions | Add embedded objects and inlays, CNC engravings, logos & LED lights | Choose metal legs or custom table bases | Complete the form below – then send us your epoxy resin furniture design idea to get a quote and to order from home | Read customer reviews and watch client testimonial videos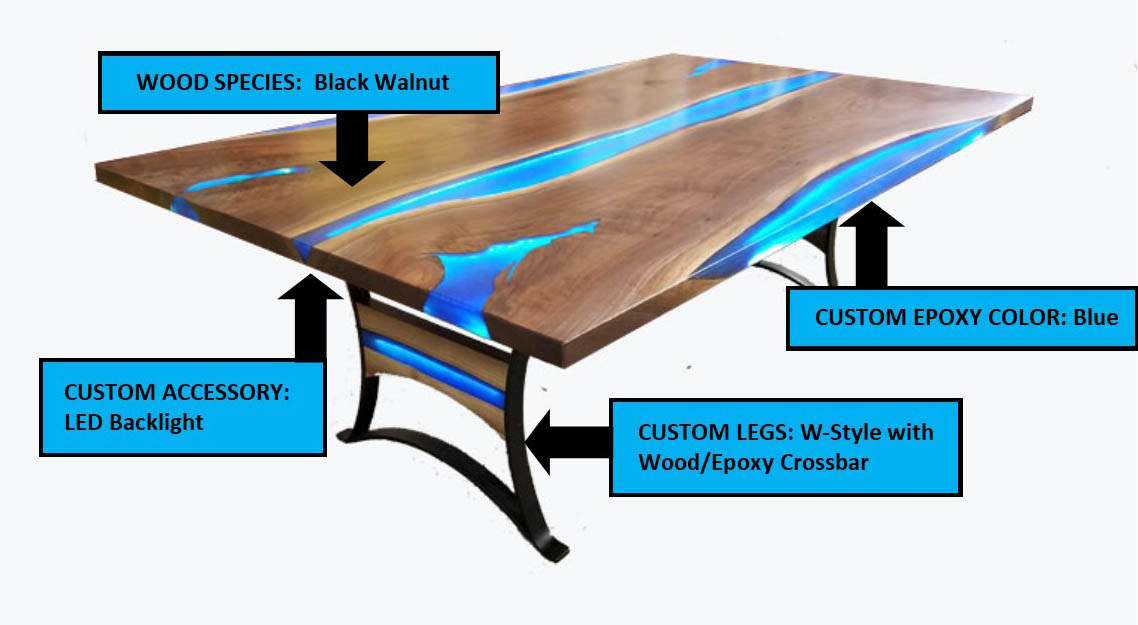 Chagrin Valley Custom Furniture makes beautiful, one-of-a-kind, epoxy resin furniture and
live edge epoxy resin river tables
for homes and businesses throughout the United States. CVCF craftspeople are experts at handcrafting and shipping unique epoxy resin and wood kitchen island tops, countertops, coffee tables, dining tables, conference tables, desk tops, bar tops and table tops.
Please use the information on this page to help you design your own river table, which you can then submit to us for a quote.
You can also complete the form at the bottom of the page in order to pass on your design ideas to CVCF. Feel free to call 440-591-5511 or email shel@chagrinvalleycustomerfurniture.com for more information, get an estimate, or place an order for an epoxy resin and live edge wood "river" table.
This page explains options for epoxy resin river tables custom made by CVCF. Our customers choose the type of live edge wood slab – for example, black walnut. Our clients chose the colors, such as blue or teal, of the epoxy resin river. When we receive an order from anyone in the USA, they specify the width and length of the river table and decide on the seating capacity. Our customers often choose to have objects embedded into the epoxy resin river. These objects are often rocks, sea shells, glass, stones, LED lights, fish, crystals, bullets and crayons. Our clients also choose their favorite river table legs or bases. Business customers often choose to have CVCF make epoxy resin tables with custom engravings or business logos.
CVCF custom furniture designers and makers recommend the best types of wood for epoxy tables and river tables such as 2″ thick black walnut live edge wood slabs.
CVCF also sells river tables that are in stock here. Learn how the highest quality river tables and custom wood and metal furnishings are handcrafted in America in 2020, here. Watch a video showing how we created a 19′ CNC engraved Mississippi River conference table from wood, epoxy resin and steel, here. View pictures of river tables that CVCF recently designed, built and delivered to customers in the U.S in 2020.
In 2020, CVCF perfected the art of making custom tables with epoxy inlays, CNC river tables, 'Ocean Tables', CNC machined river tables with epoxy resin and 'Canyon River Tables'. In this video, Chagrin Valley Custom Furniture shows you multi-colored epoxy resin being poured and shaped into an epoxy resin and wood ocean table ordered by a family in New York. We sell custom made ocean tables and moving ocean coffee tables made with stunning epoxy resins, custom steel legs, glass and natural woods such as black walnut and live edge wood slabs to customers all across the United States.
To help you in the designing process, this page shows you a sampling of custom river table options for epoxy resin colors, various wood species that are ideal for these tables, custom legs that we have designed, and custom accessories—objects that we can embed in the epoxy, LED lighting, etc. At the bottom of the page, you will find a simple form to fill out to inquire about pricing or to order a table. You can check the "options" boxes or, if you don't see the options you want, check "other" to describe what you want. You can also attach a sketch, rendering, photograph, or CAD drawing of the table you have in mind. CVCF will call you back to discuss pricing and the details for your epoxy resin river table.