Custom Handmade Modular Conference Room Table Material, Size, Shape And Design Options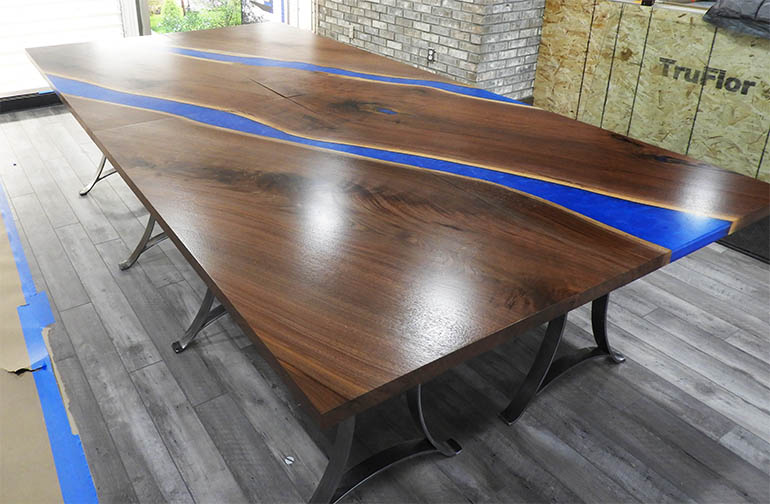 Buy A Custom Built Modern Modular Conference Room Table [System] For Sale Locally Near You (U.S. Only) 12,000+ Any Size, Shape Or Design
The Story Behind The Custom Built Modular Conference Table Pictured Here
A fancy sports car club in Detroit gave us a really awesome design idea for a modular epoxy river conference room table. The client wanted 4 tables with rivers going through them so when you put them together it was one large river table. CVCF refined the idea and built the table in our 6000 sq. ft. woodworking facility outside Cleveland, OH.
In this video, Zach Schulte, VP of Operations, tells you about how the "Quad" table was built, from selecting the walnut slabs for the table, to pouring the blue epoxy resin river, to sanding and topcoating the table with catalyzed varnish, and finally loading it in the van and driving it off to Michigan. We delivered the tables to their offices in April 2019.
Projects like this cost between $12,000 – $14,000. Prices for conference tables are based on the cost of the wood, the size of the table, the cost of the epoxy resins used, the steel legs required, the complexity of the design aspects and other materials required to handcraft the table.
Buy A Custom Made Round Conference Table $7,000+ | For Sale Locally Near You (U.S. Only) Or Online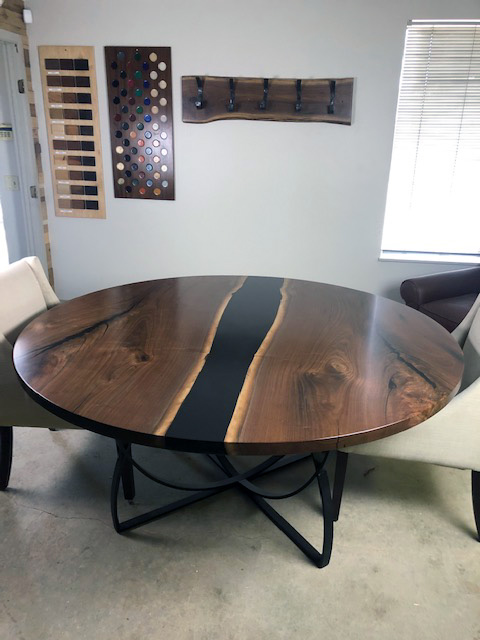 Pictured Here Is Round Black Epoxy Resin River And Black Walnut Live Edge Conference Table That Was Sold Online By CVCF In 2018