2021 Prices For High Quality Custom Built Furniture, Sofas, Tables, Desks, Beds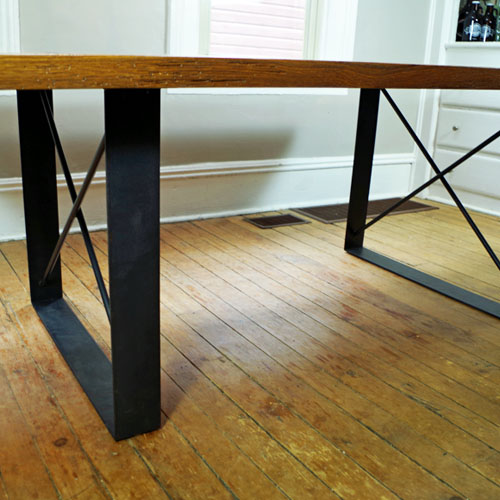 Prices For High-End Custom Furniture, High Quality Live Edge Dining Tables, Epoxy Resin River Tables And Handmade Kitchen Tables Start At $3,000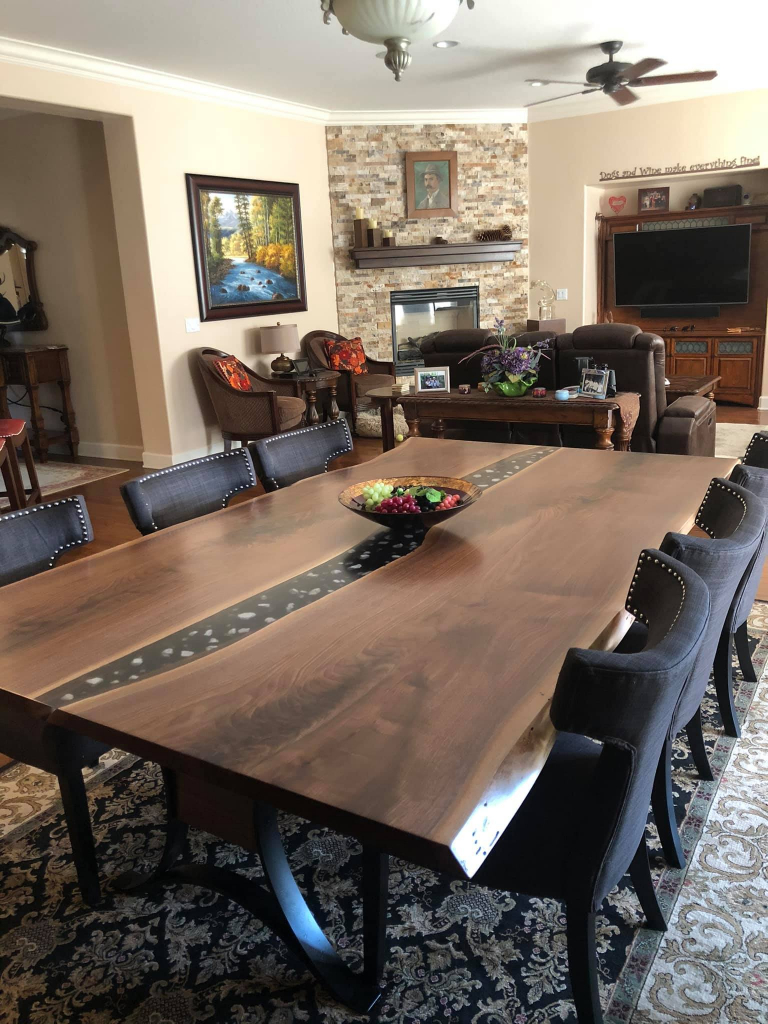 Custom Built Live Edge Black Epoxy River Dining Table $7,000+
It Is Easy To Order The Furniture You Designed Online From CVCF
Buy Custom Built Furniture From Chagrin Valley Custom Furniture Locally Near You (U.S. Only) Or Online Here – It Is Simple To Order And Fun To Co-Design Your Own "Dream Furniture" With Friendly And Professional CVCF Furniture Designers
Find Out How Much Your New Custom Built Wood Furniture Will Cost In The United States In 2021
Modern Epoxy Resin And Rustic Live Edge Wood Furniture | 2021 Prices From $229+
All Major Credit Cards Are Accepted When You Buy Truly Custom Furniture Online Or By Phone
To Place An Order Locally Or Online For Real Custom Furniture Call, 440-591-5511 Or Email A CVCF Furniture Builder
Submit Your Furniture Design Idea Here To Get A Quote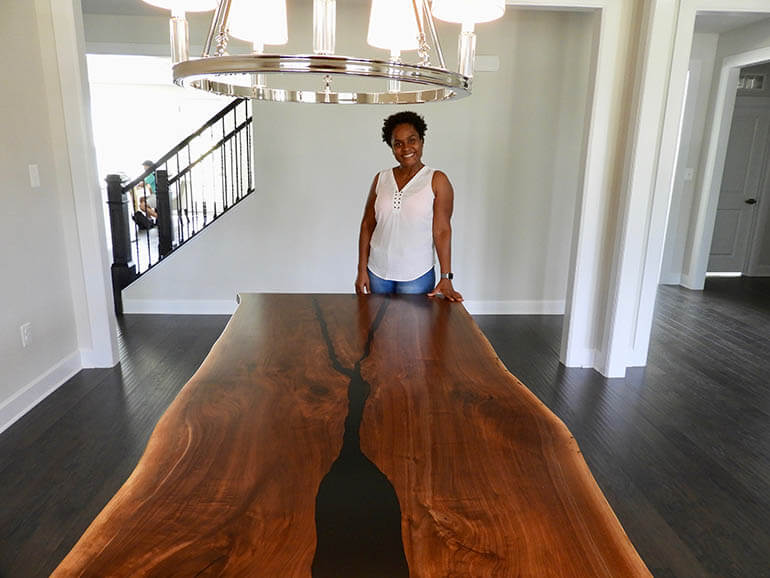 Handmade Live Edge Epoxy Resin River Dining Tables, Custom Dining Room Furniture, Custom Made Live Edge Wood Desks And Desk Tops 
Custom Wood And Metal Furniture Prices | 2021 Price Ranges (U.S.) For Custom Built Handmade Epoxy Resin And Wood Furniture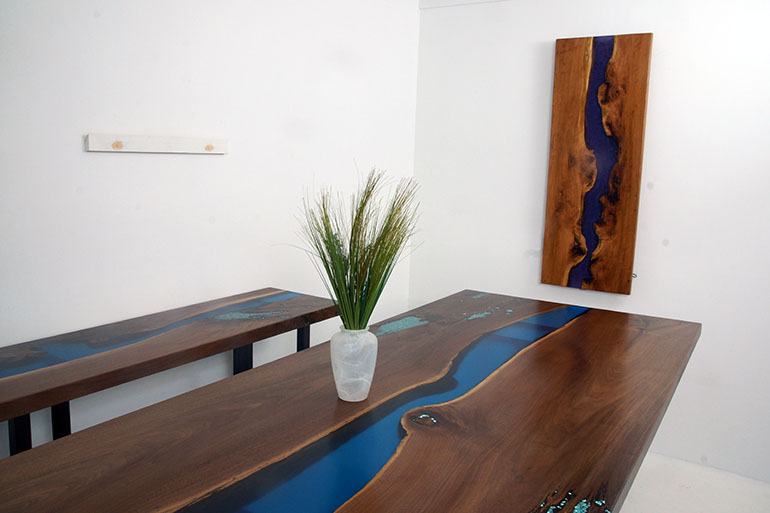 Commission A Custom Made Black Walnut Dining Table With A Blue Epoxy Resin River $7,200+ | Matching Console Table $1,900+
Unique Coffee Tables, Bespoke Kitchen Tables And Countertops, Handcrafted Farmhouse Tables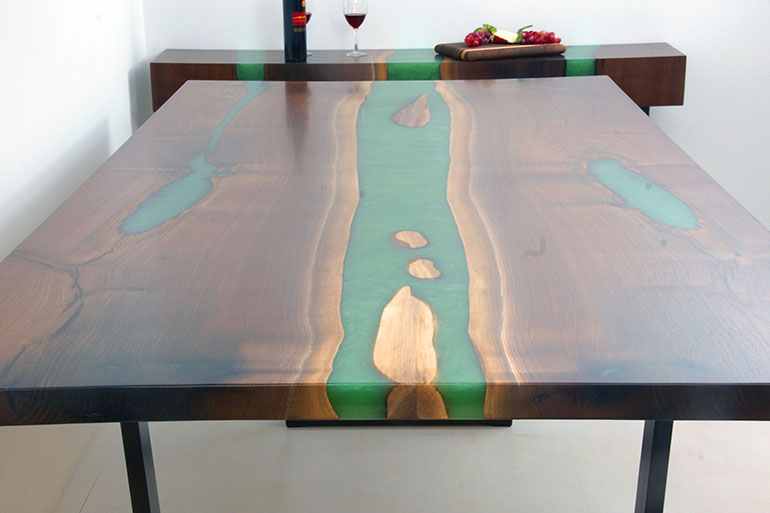 Large Green Epoxy Resin River Live Edge Dining Table For Sale Online $8,000+ Matching Console Table (Credenza) 
Modern Epoxy Resin And Rustic Live Edge Wood Furniture | 2021 Prices From $229+
All Major Credit Cards Are Accepted When You Buy Truly Custom Furniture Online Or By Phone
To Place An Order Locally Or Online For Real Custom Furniture Call, 440-591-5511 Or Email A CVCF Furniture Builder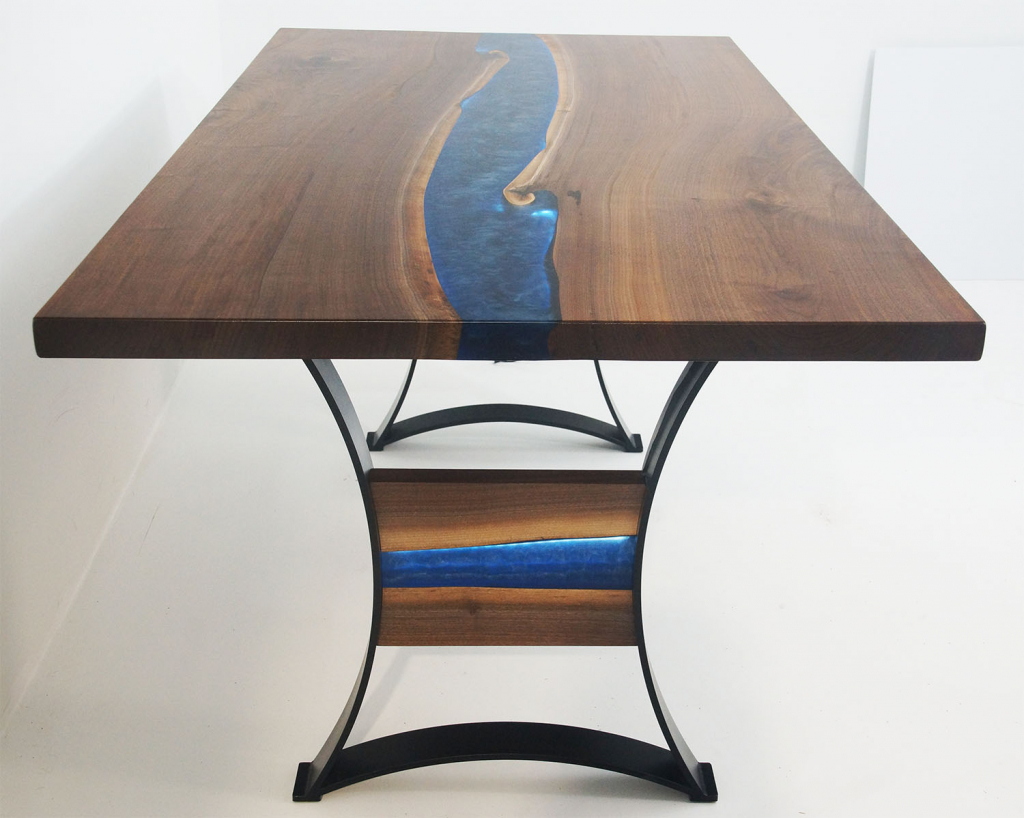 LED Strip Lights In A Blue Epoxy Resin River Live Edge Dining Table Top | Custom Built LED River Dining Table Sold Online By CVCF In 2020 | Price $6,000+ | Custom Table Top Base Made With Metal, Wood And Led Lights | Shipped To Customer In 2021 | Use Your Credit Card To Order A Custom Built River Table Online
Custom Made Modern Epoxy Resin River Barn Doors And Handmade Rustic Reclaimed Barn Wood Interior Sliding Doors (With Glass And Mirrors)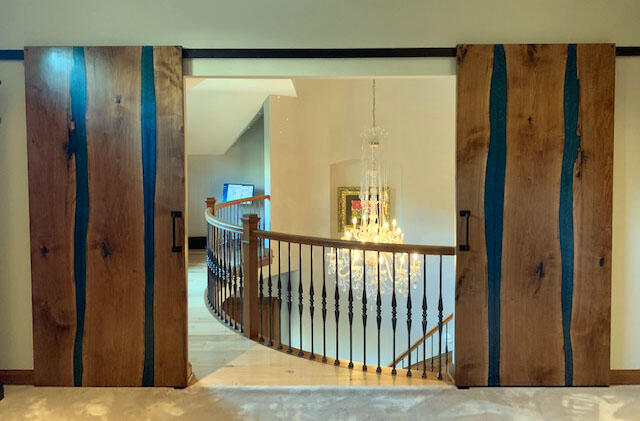 Custom Handmade Epoxy Resin River And Live Edge Wood Slab Barn Doors Co-Designed Online By CVCF And Our Delighted Customer In 2020 $9,800+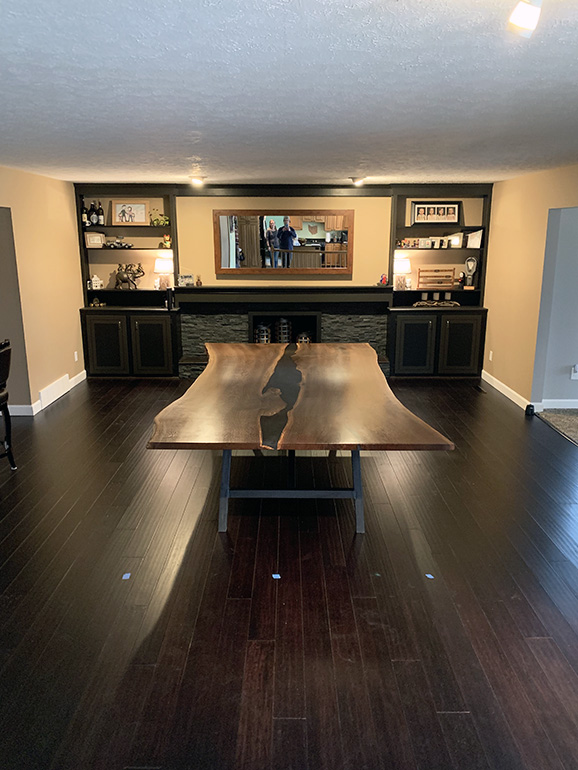 Black Epoxy Resin River Live Edge Dining Table $6,500+ Sold Locally In 2020
How To Design A Modern Custom Built Epoxy Resin River Table For Your Home To Fit Your Personal Style
Approve The Quote And Pay A Deposit By Check Or Credit Card
Approve The Completed River Table Design/Build Project By Reviewing Pictures Online And Pay The Balance Due Online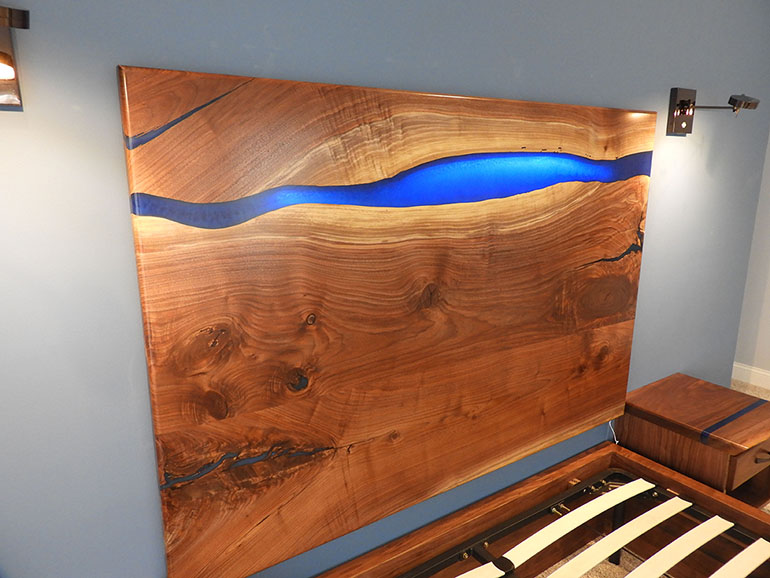 Custom Live Edge And Epoxy Resin Headboards For Sale Locally Near You (U.S. Only) And Online By CVCF
Custom Size Wooden Beds And Frames And Made-To-Measure Rain Resistant Outdoor Furniture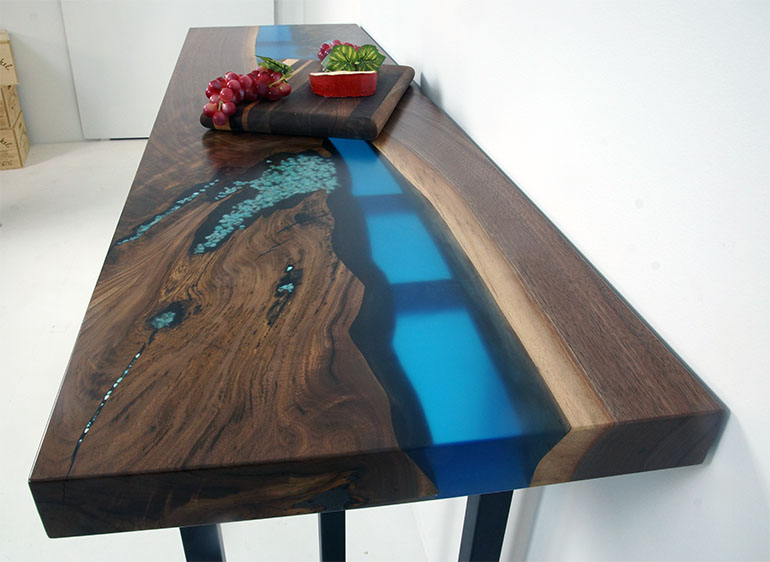 Custom Built Blue Epoxy Resin River Console Table $1,900+
It Is Easy To Order The Custom Live Edge Furniture You Envisioned Online From CVCF
Buy Custom Built Live Edge Furniture From Chagrin Valley Custom Furniture Locally Near You (U.S. Only) Or Online Here – It Is Simple To Order And Fun To Co-Design Your Own "Dream Live Edge Furniture" With Friendly And Professional CVCF Live Edge Furniture Designers
Buy A Epoxy River Rock Dining Table Online Here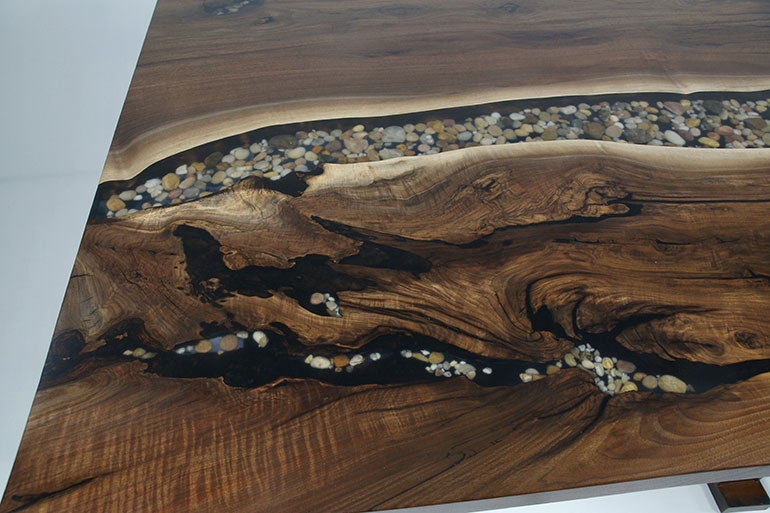 Pictured Here Is A Custom Built Black Walnut Live Edge Dining Table | Clear Epoxy River | Embedded Rocks $6,500+
Custom Built Outdoor Furniture For Sale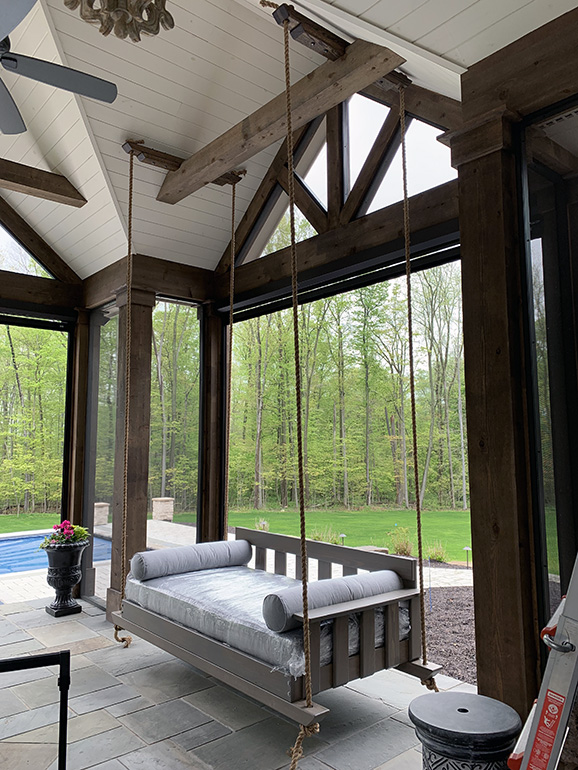 Buy A Custom Made Porch Swing Bed For Sale Locally Near You (U.S. Only) Or Online From Chagrin Valley Custom Furniture
CVCF ships custom made porch swing beds to clients in all 50 states. Pictured here is a custom outdoor porch swing bed that was sold locally in 2020. Prices for similar style handcrafted Cypress wood porch swing beds start at $4,600. Chagrin Valley Custom Furniture sells, makes and ships custom outdoor furniture to customers all over the U.S.
Custom Size Handmade Built-In Bookcases And Bookshelves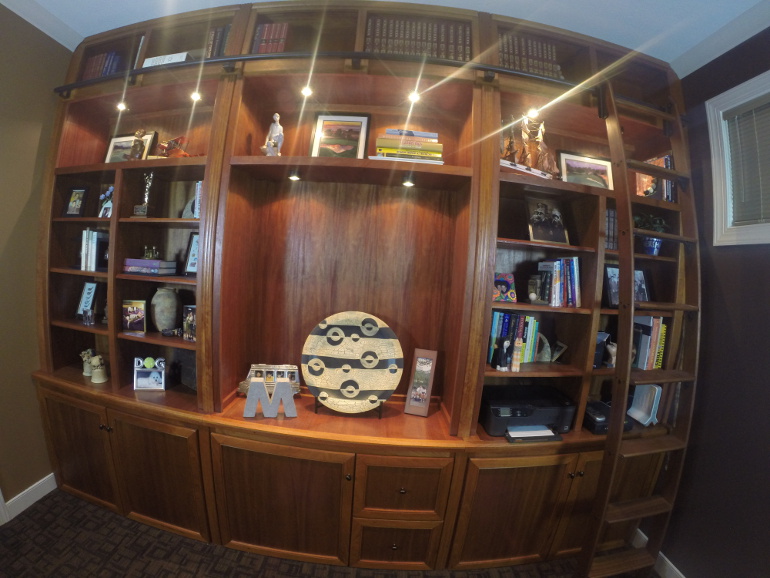 Pictured Here Is A Custom Made Built-In Mahogany Book Case And Bookshelves Sold Locally In 2014 By Chagrin Valley Custom Furniture | $12,500+
One-Of-A-Kind Modern Epoxy Resin River Table Tops And Custom Made Rustic Live Edge Bar Tops
Custom Farmhouse Dining Table Sold Locally [Industrial Base]
In this video, furniture maker Shel Myeroff, owner of Chagrin Valley Custom Furniture, talks with local customers Matt and Molly from Chagrin Falls, Ohio about the high quality made-to-order extendable farmhouse dining room table that CVCF custom built for them.
After an initial furniture design consultation, CVCF furniture builders set off to handcraft the rustic, yet modern and simple, farmhouse dining table from 100-year-old reclaimed oak wood beams, sustainably sourced from a barn in Southern Ohio.
The expert CVCF craftsmen at the Cleveland, Ohio workshop, completely customized the farmhouse dining table by adding a sturdy and durable industrial style metal (steel) base. This video shows all the attention to detail, including the welds and the two pullout inserts. The comfortable farmhouse dining table is 128 inches long when fully extended. Now Matt and Molly are living happily ever after with their new beautiful, and very unique, solid wood farmhouse dining table.
Listen to the couple talk about the exceptional customer service they received from CVCF. Find out how they got helpful design ideas from Shel for their custom table. Get their thoughts on the remarkable workmanship provided by CVCF craftspeople.
Because pine is inexpensive, it is frequently used by America artisans to make farmhouse tables (also know as a farm table or harvest table) tops. For the farmhouse table shown in this video, CVCF used more expensive oak barn beams because they will last for generations (they already lasted over 100 years in a barn) and because the cut beams display a more authentic style and absorb wood stains more effectively.
The country living inspired design style of the charming contemporary farmhouse dining table shown in this video, combines clean sleek lines with a cozy and warm farmhouse feel. This homey style of farmhouse furniture and décor certainly has not gone out of style.
Popular farmhouse style furniture made by CVCF typically incorporates versatile traditional aesthetics and industrial components (legs and bases) to convey a fresher character and a more relaxing appeal than rustic furniture and décor.
Truly custom farmhouse furniture and farmhouse dining tables are handcrafted by CVCF in any design style that the client wants. Exact sizes, dimensions, shapes and wood species are specified by the customers. CVCF ships custom built farmhouse tables to homes, restaurants and businesses in all 50 states.
CVCF creates authentic one-of-a-kind farmhouse tables and a customer experience unlike any other in the furniture industry. Commissioning a farmhouse table from CVCF is fun and rewarding, start to finish. From the table design to the creation, CVCF invite their clients to "get involved". CVCF always strives to exceed customer expectations.
A Little Furniture Design Inspiration Goes A Long Way At MYDOMAINE
MYDOMAINE, founded in 2013, is a great shoppable online publisher website to visit if you want some chic furniture design ideas and advice. They make an aspirational life achievable for every budget. Check them out on Instagram, Facebook and Pinterest.
Furniture Featured On MYDOMAINE [12/08/20 Prices]
Is Buying Real Authentic Custom Built Furniture Online Too Challenging? – Then Shop For Customizable Furniture
Get inspiration for customized and personalized furniture tailored for your lifestyle at BoConcept. If you are choosing a new sofa or creating a dining setting design your own furniture here. First, select a style, then take size measurements and choose materials and fabrics. Get free input from a BoConcept Design Consultant and use their free design service, here.
Custom Tables | How To Build, Price & Sell Yours [Or Buy One]
Learn how to build and sell your own DIY handmade wood tables or custom made live edge epoxy resin river tables. See examples of amazing custom handcrafted tables, here. Get tips for selling your kitchen tables and coffee tables on Facebook Marketplace, here. Find out what to charge for the farmhouse tables you build, here.
15 MOST Amazing Custom Tables – Epoxy Resin and Wood River
Posted On YouTube By Top Fives On July 3, 2020
Learn how to build a custom walnut dining table, here. If you are a furniture maker, find out how to price your work, here. Learn how to order a custom built epoxy table, a custom river table or an epoxy resin and live edge wood river dining table made to your specifications, here.
Live Edge River Table | Woodworking How-To
Posted On YouTube On Febuary 2018 By John Malecki [JohnMalecki.com]
Top 5 Woodworking Projects That Sell
Posted On YouTube On August 7, 2020 By 731 Woodworks
How To Price Your Woodworking Projects
Posted On January 23, 2020 By Rockler
Everybody agrees that masterful woodcraft comes at a price, what that price should be is the subject of a lot of debate. Have you ever wondered what to charge for something you made? Virtually every handmade product has a "right price." Charge more and it won't sell; charge less and you're losing money.
Finding the right price requires five separate calculations to determine costs for materials, labor, overhead, profit and selling expenses. You can calculate these by hand, or use your computer and a spreadsheet. Here's how we would price the pictured accent table. Read more here.
Watch John Malecki Built A Deep Blue Epoxy Resin Live Edge Walnut Wood River Table!
Posted On YouTube On November 27, 2019 By John Malecki
Thank You Technology! – Custom Furniture Finally Works Online For Interior Designers, Buyers And Makers
Posted December 8, 2020
Do you want to know how interior designers find unique furniture and luxurious sofas for their clients? Well, here's the answer.
Find out where interior designers shop and source statement pieces. Learn how interior decorators buy handmade custom built solid wood furniture online, as well as epoxy furniture and custom steel and metal furniture in the U.S. for their high-end custom furniture clients, here.
Listen to Dennis Scully on his podcasts at Business Of Home. He interviews thought leaders, entrepreneurs, and creatives about the changes and challenges facing the interior design community.
If you want to efficiently source and cost-effectively select furniture popular custom furniture, download this PDF.
Interior designers use outstanding online trade tools, all-in-one digital platforms and furniture and home decor marketplaces. If you can't afford to pay an interior designer, at least you can design your own furniture online here.
Is It Simple For Interior Designers To Order Custom Furniture Online?
If you don't think it is easy for interior designers to order custom furniture online, both Chagrin Valley Custom Furniture and BuildLane, might be able to change your mind.
Learn how the online portal, BuildLane connects interior designers with high quality custom furniture makers that will build their furniture – at a good price. Sign up and request unlimited quotes at BuildLane.com. Get your questions answered from BuildLane, here. Check out BuildLane on Instagram.
Listen to the leadership team at the online custom furniture platform BuildLane talk about furniture makers and the interior design industry on this podcast. Learn how interior designers source designer quality furniture in the United States.
Online platforms like Chagrin Valley Custom Furniture and BuildLane make it easy for interior designers to communicate with the builder they choose. Check out the CVCF custom furniture design gallery here, or the BuildLane gallery, here. Although Chagrin Valley Custom Furniture also has an excellent online platform for interior designers to request custom furniture price quotes, BuildLane also offers excellent digital production management tools:
Live Status Of Custom Furniture Orders
Review Completed Furniture At The Factory
Generate Quote Request
Approve & Develop Samples
COM Receipts
Confirm Order Details
Shop Drawings
Production Tracking
Finished Photography
Shipping & Logistics
You can buy a couch or custom sofa from the American e-commerce company, Wayfair and get up to 60% off through January 5, 2021. Shop Wayfair for a custom sofa, here. Wayfair sells furniture, décor and home goods at their Online Home Store, here.
Choose your favorite upholstery color, upholstery material, the design type and then pick out the right size for your room or space. Find out how much their custom made sofas cost, here. Wayfair sells custom sleeper sofas, here.
Find out how you get the best deal on a couch, here. Joybird is another online furniture company that changed the way Americans buy furniture online. Joybird (acquired by La-Z-Boy in 2018) sells custom sofas and sectional sofas, here.
Ethan Allen and Crate and Barrel also sell personalized and customizable couches, sofas and sectionals so that you can create your own space. Get a price for the cloud couch from RH (formerly Restoration Hardware), here.
You can also buy a high quality handcrafted custom sofa, in a variety of sizes, from BenchMade Modern, which is a rebellious luxury brand for a growing generation of design junkies from all walks of life.  Founded in 2015 by the modernist American furniture designer, Edgar Blazona, the firm is a direct-to-consumer sofa company, similar to Burrow (Furniture). The sizes and orientations of their sofas can be customized to perfectly fill the space in your room. BenchMade Modern was voted "Best Custom Sofa Online".
If you are on a budget you can design your own sofa, here. Shop for handmade (Amish) couches with solid custom wood frames, here. Purchase a responsibly sourced modern and customized sofa online or find a showroom near you.
You can customize your sectional or sofa by choosing from thousands of configurations and sizes, here. Create your custom size couch or loveseat by choosing from any type of style, fabric or frame, here. Design your own affordable modern custom sectional (3, 8, 9, 10, 11, 12, 13, 16, 17 or 18 pieces), here.
Design your own Wayfair custom couch or cute loveseat by choosing from any type of style, fabric or frame, here. Get help planning your own sofa design by booking an appointment based on where you live, here. Buy an Amish made couch, here.
If you know what you need and know what you like, choose from compact settees to room-for-everyone sectionals to create your own couch that will work for your one-of-a-kind space, here. First, select a silhouette, then choose a fabric, consider a color and then customize the legs and casters to design your own sofa.
Personalize a fully customizable "dream sofa" and give it a pop of personality by choosing your favorite style, size and fabric, here. Design your own custom upholstered sofa or custom made sectional by choosing from selected design options here, or book an appointment for a design consultation, here.
If you need helping designing your custom couch, get an in-store custom sofa design consultation, request a virtual design consultation, meet a design consultant for space planning or chat with a real person, here.
Create your own space by building your own sectional sofa by picking the size, color and material, here. Create a truly personal home by changing the material, fabrics, color, configuration and size of a custom sofa, here.
Buy a modern and high quality custom sofa here or shop for an affordable genuine leather sleeper sofa, sectional or mid-century sofa bed, here. Shop for a comfortable sofa or a customizable loveseat and get fast, free shipping on your order, here.
If you admire old-fashioned luxury sofas or chic minimalist sofas that become the focal point for any décor, view a great sofa gallery, here. Choose from custom upholstered sectionals, chaises and ottomans. Learn how to work with a custom sofa or custom furniture designer, here.
Find out how to buy a custom sofa online and get it delivered for $149, here. If you want to build a custom sofa or sectional, order free fabric swatches (light gray, dark gray, beige, blues, fun colors, black and white, browns, crypton), here.
If you are looking for ample seating, buy a made-to-order sectional sofa online, here. If you are looking for a new affordable custom made sofa, loveseat, sleeper sofa or daybed, choose from 100+ fabrics, 20+ legs, multiple lengths, configurations, collections, leather options and depths, here. Book a virtual appointment with a custom sofa design specialist, here.
If you want a custom sofa fast, shop here. Instead of buying a ready-made sofa that doesn't exactly suit your living room order one with custom fabrics, leg shapes, arm heights and lengths. Buy a high quality sofa that looks and feels like a custom sofa at a fraction of the cost of a real custom sofa. You can shop online for durable sofas, loveseats and sectionals with steel frames, here.
If you like the retro look, consider buying a Mid-Century style sofa, here. Choose from custom fabrics, leg materials and arm heights and get your sofa shipped and delivered for free.
Shop online for full range of sofa shapes and over 100 designer fabrics, patterns (solids, stripes, checks, florals, animal prints, botanicals, geometrics, dots, abstract and conversational) and materials (velvet, cotton, linen), here.
Buy a custom sofa for every style and budget at a cookie cutter price and get $45 off the price of your sofa here. Learn about buying a custom couch or sofa for less money, here.
Affordable Custom Sofas And Custom Couches For Sale In The U.S.
Search Online For A "Custom Sofa Near Me"
Find a custom sofa showroom or custom sofa maker near you. Buy a custom made sofa at a retail store near you.
Walnut river tables are awesome.  Black walnut river tables are very popular in the USA in 2019 because the kiln dried dark-colored, straight grained true heartwood contrasts so vividly with a blue epoxy resin river.  The craftsmen at Chagrin Valley Custom Furniture love to make custom designed tables from walnut wood slabs because it so darn beautiful and workable.  CVCF loves to use black walnut wood for woodworking projects. Although it is not as readily available in the USA, CVCF has a few secret sources for this cherished wood.  American Black Walnut is darling of the CVCF craftsmen.  CVCF designs, handcrafts ships, delivers and assembles black walnut river tables, epoxy resin furniture and live edge waterfall benches for customers across the USA. Prices for small walnut river coffee tables start at $825.  Simply provide CVCF with your walnut river table design requirements to receive a quote for your woodworking project.
Historic, Innovative, Iconic And Influential American Furniture Designers And Interior Designers That Have Inspired CVCF's Top Furniture Designers, Builders And Makers
Take a look at pictures of George Nakashima's instinctual woodworking style of 'live edge', here. Check out one of his tables in Julianne Moore's (Julie Anne Smith) New York City town house, here. This iconic furniture designer embraced flaws, cracks, wormholes and knots, as do the furniture designers and makers at CVCF. Talk about awesome, gaze at this Nakashima Conoid Cocktail Table.
Custom Ocean Tables For Sale [And Prices]
The very best custom size ocean epoxy resin tables are sold by Chagrin Valley Custom Furniture here. These unique blue epoxy resin tables with moving ocean waves are cool pieces of furniture that looking like seashores with moving tides. The crashing waves are made with multiple layers of different shades of ultra high quality blue epoxy resin and natural wood slabs. CVCF uses walnut slabs, live edge wood slabs and reclaimed wood to bring the beach indoors. The woodworkers at CVCF have perfected the art of handcrafting elegant live edge ocean shore coffee tables.
CVCF makes the highest quality coffee tables with ocean waves that move. CVCF also makes the highest quality custom river tables sold in the U.S. Get information on custom furniture prices in the U.S. here. The average price of a prefabricated ocean table sold on Etsy ranges from about $450 to $950. CVCF's prices for ocean tables are significantly higher than those found on Etsy and other American e-commerce furniture websites that focus on handmade furniture because we are a professional company (not an individual maker) that handcrafts every ocean table to our customer's exact table design specifications. CVCF does not mass produce ocean tables in order to keep costs down. We make them one at a time and every one is different. This is the essential concept behind custom furniture. CVCF is a leading manufacturer of high quality custom furniture sold in the U.S. The collaborative process we go through with our customers to make incredible handmade ocean tables takes time – and our customers don't mind paying more to get exactly what they want.
Because CVCF uses the highest quality synthetic epoxy resins and kiln dried lumber to handcraft ocean tables and functional resin art furniture, our prices are not the lowest you will find on the Internet. We don't sell cheap ocean tables – we do it right or we don't do it at all.  Most of the custom made ocean coffee tables sold by CVCF cost well over $1,000 and the larger ocean tables we build for dining rooms and conference rooms often cost between $5,000 and $10,000. It is worth noting that CVCF focuses on quality and customer satisfaction and that is why it can can take a few months to create a completely custom ocean table for our ocean table clients.
Prices for ocean tables are based on the cost of the wood, the size of the table, the cost of the epoxy resins used, the steel legs required, the complexity of the design aspects and other materials required to handcraft the ocean table.
Custom Built Live Edge L-Shaped Desk With Storage & Drawers Sold By CVCF In 2015
The L-shaped corner desk show in this video was custom made with two African mahogany live edge wood slabs. It features hidden storage compartments, a hidden drawer and a hidden shelf for electronics. This handmade solid wood desk was commissioned locally in 2015 from Chagrin Valley Custom Furniture.
Types Of Custom Built Live Edge Furniture For Sale Locally (U.S. Only) And Online By CVCF
About Our Custom Furniture Makers And Builders – We Love American History And USA Traditions
Chagrin Valley Custom Furniture is a team of experienced craftsmen, woodworkers, metalsmiths and creative designers that manufacture and construct beautiful, handcrafted custom hardwood and unique metal furniture. CVCF originally started out making custom furniture for private and commercial clients in Cleveland and the Midwest. When word of the quality of our woodworking, and the professionalism of our staff, spread to places like Denver, Colorado, we started taking orders from customers and delivering our woodworking products to LA, San Francisco, Boston, Chicago, Miami, Austin, St. Louis, NYC, Atlanta and other far flung locations.  Because of our ability to make authentic rustic custom furniture, Denver Colorado is one of our main markets, outside of Cleveland, for custom wood furniture.  People in Denver must love reclaimed wood tables and handmade solid wood furniture made one at a time.  Chagrin Valley Custom Furniture manufacturers custom built epoxy resin wood furniture and epoxy resin river tables.
We also ship and deliver a fair amount of individual pieces and suites of American made furniture to customers in New England, where an appreciation for fine craftsmanship and high end functional custom furniture manufacturing has been passed down from generation to generation.  It seems that people in places like Rhode Island; Vernon, Shelburne and Burlington Vermont; Boston, Westminster, Ipswich and Gardner MA; New Haven and Greenwich CT; Freeport, Portland, Sedgwick And Scarborough Maine; Philadelphia; Westchester County and New York City, NY cherish the purity of handmade solid wood custom furniture and handcrafted chairs.  A few of the master level furniture makers and accomplished woodworkers at CVCF even subscribe to Mortise & Tenon Magazine because we celebrate the preservation, research, and recreation of historic furniture.  The principles at CVCF are on a quest to promote furniture design excellence and high quality craftsmanship. The firm tries to foster an appreciation of artistic wisdom.  While it has been challenging, because more people are buying furniture from online retailers, more folks are renting their homes, single family households are increasing and lifestyles are changing, the guys at Chagrin Valley Custom Furniture never stop trying to expand the market for handcrafted authentic custom furniture – one piece at a time. Even with a rising demand for custom furniture, the CVCF furniture makers are still keeping up with furniture orders customers in the U.S. have commissioned. We want our customer's dream to come true. Plus, it is so much fun building innovative custom furniture. Even though branding cliches are way too common, CVCF is still trying to build our brand as one of the USA's most reliable and creative custom wood furniture manufacturers.
It is great to see that home grown companies such as Rustbelt Reclamation and Chagrin Valley Custom Furniture, both located in Cleveland, Ohio have found a market for exceptional quality custom furniture that feature unique materials and reclaimed lumber that is handmade in the USA.  Have Rustic And Modern Furniture Custom Built For You In Cleveland Ohio.
Custom Built Handmade Epoxy Resin River Furniture USA Price Ranges
Prices Ranges Vary Depending Upon The Size Of The Furniture, Fabrication Complexity, Types of Metal Legs Or Bases and Species Of Wood Slabs | Discounted Pricing Is Available for Epoxy Resin Furniture Contract Manufacturing Of Multiple Tables Or Pieces Of Furniture For Restaurants, Bars, Hotels, Hospitality and Commercial Firms | Shipping, Delivery and Assembly Prices Are Not Included Below | CVCF Also Owns And Operates The Live Edge Furniture Company | Buy A Made To Order Live Edge River Table Or Walnut River Table Online
Handmade Custom Built Rustic Wood And Metal Furniture For Sale
Types Of Rustic Furniture For Sale That You Can Buy In The USA | Rustic Furniture Delivery And Assembly Services Provided
Affordable 100% Custom Made Rustic Furniture For Sale | Order Handmade Rustic Furniture For A Bedroom | Purchase Custom Built Rustic Farmhouse Furniture | Modern Rustic Furniture | Rustic Living Room Furniture | Buy Vintage Style Rustic Furniture | Types Of Rustic And Log Cabin Furniture For Sale | Solid Wood Rustic Dining And Kitchen Tables For Sale | Rustic Houseware And Rustic Barware For Sale | Rustic Furniture For Country Homes | Buy Rustic Wood And Metal Furniture | Rustic Furniture For Cabins, Cottages And Lodges | Order One Of A Kind Rustic Furniture For An RV Or Houseboat | Purchase Handcrafted Oak And Walnut Rustic Furniture For Log Homes | Modern Rustic Furniture | Rustic Living Room Furniture | Wholesale Rustic Furniture | Buy Amish Style Rustic Furniture | Commission the Construction Of A Rustic Harvest Table | Reclaimed Rustic Furnishings For Sale | Visit Our Rustic Furniture Store | Rustic And Western Furniture | Rustic Chairs For Sale | Custom Built Rustic Mirrors For Sale | Buy 100% Solid Wood Rustic Furniture | Rustic And Live Edge Coffee, Side, Sofa, End And Entry Tables For Sale | Shop By Rustic Furniture Category | Shop By Styles Of Rustic Furniture | Reclaimed Wood And Barn Wood Rustic Furniture For Sale | Buy A Rustic Desk With Storage | Rustic Farmhouse Desks For Sale | Rustic Executive Desks For Sale | Order A Custom Built Rustic L-Shaped Desk | Order Rustic Barn Beam Furnishings | We Sell Rustic Computer Desks With Keyboard Trays | Buy Rustic Live Edge Furniture | Get A Quote For Rustic Furniture Construction | Buy A Barnwood Bed | Order Custom Made Rustic Bed Frames | Rustic Log Beds For Sale | Order An Extra Large Rustic Bed For A Man | Modern Rustic Beds For Sale | Buy A Rustic White Bed Frame | Rustic Oak Beds For Sale | Buy A Rustic Vanity For Sale | Order A Custom Built Handmade Rustic Bathroom Vanity | Barnwood Bathroom Vanities For Sale | Farmhouse Vessel Sink Vanities For Sale | CVCF Sells Distressed Bathroom Vanities At Wholesale | Buy A Cabin Style Bathroom Vanity | Handmade Rustic Entertainment Centers For Sale | Order A Solid Wood Barn Door TV Stand | CVCF Makes Rustic Entertainment Centers For 70 Inch Televisions | Farmhouse Entertainment Centers For Sale | Buy A Solid Wood Rustic TV Stand | Small Rustic Entertainment Centers For Sale | Rustic Cabinets For Sale | Buy Rustic Kitchen Cabinets | Order Inexpensive Rustic Cabinets | Buy Modern Rustic Kitchen Cabinets | Rustic Accent Cabinets For Sale | Rustic Kitchen Islands For Sale | Handmade Rustic Tables For Sale | Order Custom Built Rustic Living Room Furniture | Buy Small Rustic Living Room Furniture | Get Modern Rustic Living Room Ideas | Buy Rustic Living Room Furniture For Small Spaces | CVCF Sells Rustic Living Room Furniture To People On A Budget |  Buy Rustic Living Room Furniture For An Apartment | Purchase Transitional Rustic Living Room Furniture | Farmhouse Living Room Furniture For Sale | Rustic Counters For Sale | Buy Rustic Wood Countertops | CVCF Sells Rustic Countertops For Cabins, Cottages And Summer Homes | Custom Built Reclaimed Wood Countertops For Sale | Handmade And Custom Built Rustic Benches For Sale | Buy A Rustic Farmhouse Bench | Rustic Bench Seats For Sale | Order Rustic Bench Seats | CVCF Designs And Builds Rustic Benches With Cushions And Pillows | Buy A Rustic Hallway Bench | Acacia Wood Rustic Wood Settee Benches For Sale | French Country Settee Benches For Sale | Handmade In The USA Entryway Benches For Sale | Order A Rustic Bench Made From Reclaimed Wood And Lumber | Rustic Dining Benches For Sale In The USA | Order A Custom Built Rustic Bench With A Back | CVCF Sells Rustic Entryway Benches With Coat Racks | Order A Rustic Entry Bench With Shoe Storage | Buy Rustic Chairs For Sale In The USA | Rustic Dining Chairs For Sale | Rustic Metal Chairs | Adirondack Chairs For Sale | Buy Rustic Log Chairs From CVCF | Farmhouse Chairs For Sale | Rustic Bookcases For Sale | Buy A Barnwood Bookcase | Rustic Bookcases And Rustic Bookshelves For Sale | CVCF Handcrafts Custom Built Rustic Wall Mounted Bookshelves And Industrial Rustic Shelving | Order A Rustic Bookcase With Doors | Rustic Mantels For Sale | Buy A Rustic Fireplace Mantel | CVCF Sells Custom Made Rustic Mantels With Supporting Projections And Corbels | Rustic Barn Doors For Sale | Buy Handmade Custom Built Rustic Interior Sliding Barn Doors Made With Wood, Glass And Metal
Top 5 Woodworking Projects That Sell
Posted On YouTube On August 7, 2020 By 731 Woodworks
How To Design, Make (Build), Price, Market, Sell, Deliver And Ship Your Own Custom Handmade DIY Wood Dining Tables Locally And Online
Are you a creative woodworker that makes handmade furniture and do you want to know how to sell your wood products? If you enjoy woodworking, considering selling your unique woodworking projects or handmade tables locally near you or on the Internet. Making and selling furniture can be challenging but for many custom furniture designers and makers, it is worth it. The U.S. furniture market is worth over $96 billion a year.
If you have a furniture design degree, find out the best ways to sell homemade furniture and custom built furniture, here.
Get a little guidance to help you figure out how to price and sell your own do-it-yourself (DIY) furniture, here. Get some advice to learn how and where to sell custom furniture, here. Learn how to become a successful furniture maker and how to make a living building custom furniture, here.
Do you want to know how to design, build, market and sell your own homemade furniture online near you or online on Etsy or Facebook Marketplace? Learn about selling your woodworking projects using Facebook ads and on Facebook Marketplace, here.
You will probably have more luck selling custom furniture on Etsy than eBay. However, if you want to try selling your own custom made furniture on eBay, get a few tips, here.
Custom furniture makers, builders and retailers who sell furniture on Amazon choose specific geographical regions for listing and shipping their handmade furniture. In contrast to Etsy, "Amazon Handmade" has a fairly strict vetting process. Find out how to offer white glove furniture delivery, assembly services and furniture removal services, here.
There are a number of ways to sell your custom furniture online. Shopify makes it easy to start a custom furniture business online. Learn how to start a handcrafted rustic wood furniture business online at Shopify, here.
If you want to go the "old school" route, find out how to advertise your homemade furniture locally or in your regional newspaper, here.
Learn how to selling your handmade tables at local furniture shops near you on a consignment basis, here. Find out the best ways to market and sell your custom solid wood and epoxy resin furniture at trade shows and local craft shows, here.
If you want to sell your own custom made furniture and home décor without designing and building your own furniture website, find out how the membership and marketing fees work on CustomMade.com, here.
If you want to make a ton of cash selling your custom furniture online, find out how to build a large online furniture store, here.
If you want to sell custom furniture online, you will need to choose a selling platform and then upload pictures of your handmade furniture. You will need to learn how to process credit card payments online.
One of the biggest challenges to selling custom furniture online is managing shipping fees and actually shipping your handmade furniture all over the United States.
You can use Google Ads to promote the custom furniture you sell online. If your custom furniture is truly custom, then you don't have to manage an inventory. However, if you are selling made-to-order furniture or prefabricated furniture, you will need to keep tabs on your stock. Learn how to grow you online furniture store, here.
How Custom Furniture Prices Are Determined
Understanding the specific criteria that are involved in determining the price of a custom, handcrafted piece of furniture is important. We tried to make it easier for people to understand what options must be considered and defined before a final price can be determined.
A number of distinct factors directly affect how custom furniture prices are determined including size, type of wood used, types of fasteners, the complexity of the project, the associated time required, design detail, finishes used, application of specialty paints, among other things. Following are other factors that may increase the cost of a project:
Live Edge Slabs

 can be used for many of the product categories below. Add an additional 10%-20%.
Reclaimed Wood

such as Barn Siding

 can also be used for many of the product categories. Add an additional 10%-20%.
Repurposed Projects.

This is the process where we take an existing piece of furniture, sometimes a family heirloom, and convert it to a new piece of furniture

. Special pricing based on the details of the project.
Furniture Refinishing.

We can take any piece of furniture and make it like new by applying any of dozens of different finishes including: Faux, Distressed, Spray lacquers or color paint finishes.
In all likelihood, your project will include combinations that have not been used before, so it is important to discuss the project with Shel in order to get a better understanding of the costs involved. If you're with a restaurant or making a large contract furniture order, prices per item for such large orders may also decrease in your favor.
Our Payment Terms for Custom Furniture
We offer custom financing terms and payment options. . Call Shel at 440-591-5511 and we can talk about how we can make your project more affordable. Our payment options include the following.
Pickup, Delivery and Installation of Custom Furniture
Chagrin Valley Custom Furniture will deliver any new piece of custom furniture virtually anywhere within driving distance for free. Existing pieces that need to be refinished or painted will also be picked up and delivered for free within a 10-mile radius of our workshop in Bainbridge, Ohio. We generally charge $50 if you are outside that radius or if it is a particularly big item that requires two people to install. All projects will be installed in your home with the utmost care and respect by our people who deliver the furniture.  
Ordering and Purchasing Handcrafted Furniture from CVCF
To order or purchase custom furniture from Chagrin Valley Custom Furniture, call 440-591-5511, email Sheldon Myeroff at shel@chagrinvalleycustomfurniture.com or go to the 'Request an Estimate' page of this web site and fill out and submit the form.