Buy High-End Custom Furniture Near You Or Online | $3,000+
VIDEO TESTIMONIAL: Custom Southwest Epoxy River Table | Rocks, Arrowheads, Fossils & Turquoise [CVCF 2021]
Uploaded to YouTube On December 18, 2021 by Chagrin Valley Custom Furniture
In this video, a homeowner from New Mexico talks about the made-to-order epoxy river dining table he and his wife co-designed online remotely with Chagrin Valley Custom Furniture. The Black Walnut tabletop has a teal blue river running through it and epoxy-filled indents, imperfections, knotholes, and cracks. Suspended in the epoxy are turquoise crystals,  river rocks, pebbles, fossils, and arrowheads to go along the Southwestern theme of their home.
Every dining table is unique and an expression of the people who order it. We use Zoom, Facetime, phone calls, emails and texts to keep you fully involved in the design and construction of your custom dining table. We make our dining tables from locally-sourced, sustainably-harvested natural wood, reclaimed wood and live edge wood. You choose your own wood slabs – any species – plus the materials and epoxy resin color. Tell us what style you want – industrial, modern, rustic – you name it, we'll build it.
You'll also see dozens of other custom-made one-of-a-kind dining tables we've co-designed online with homeowners, businesses, restaurants, hotels, interior designers, and architects, and built in our 6,000 sq. ft. workshop in Cleveland. Chagrin Valley offers many epoxy resin table options – different types, styles, designs, shapes, seating, legs and bases, epoxy colors and more.
We pride ourselves on having what we feel are the highest quality river tables built in America. With our CNC machine, we are able to engrave names, logos, topographic waterway features, and other artwork into our epoxy river dining tables and custom conference tables. We have built 100% customized tables for businesses and homeowners all across America.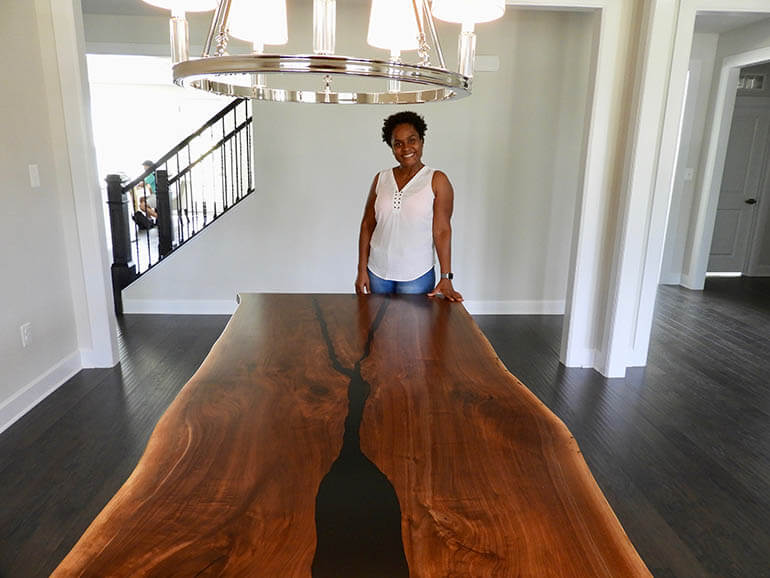 Handmade Live Edge Epoxy Resin River Dining Tables, Custom Dining Room Furniture, Custom Made Live Edge Wood Desks And Desk Tops
It Is Easy To Order The Furniture You Designed Online From CVCF
Buy Custom Built Furniture From Chagrin Valley Custom Furniture Locally Near You (U.S. Only) Or Online Here – It Is Simple To Order And Fun To Co-Design Your Own "Dream Furniture" With Friendly And Professional CVCF Furniture Designers
Modern Epoxy Resin And Rustic Live Edge Wood Furniture | 2021 Prices From $229+
All Major Credit Cards Are Accepted When You Buy Truly Custom Furniture Online Or By Phone
To Place An Order Locally Or Online For Real Custom Furniture Call, 440-591-5511 Or Email A CVCF Furniture Builder
Submit Your Own Furniture Design Idea Here To Get A Quote
YouTube Video: Custom Wood & Epoxy Dining & Kitchen Tables for Sale Online [Costs, Sizes, Modern Tops, Live Edge]
Custom Epoxy River Tables For Sale Locally & Online
You can buy custom epoxy resin river tables, epoxy resin and wood dining tables and epoxy resin and live edge wood countertops for sale locally or online at ChagrinValleyCustomFurniture.com. Buy a natural live edge wood table. You can call CVCF at 440-591-5511. Get design ideas in the CVCF project gallery before you submit you table design idea and request a quote online. You can even start designing your own custom furniture, desk or table online with this free app.
YouTube Video Uploaded By Chagrin Valley Custom Furniture On July 26, 20221 Titled "CNC Carved Epoxy-Filled Topographic Tables | Mapped River, Lake, Waterway, Ocean Tables [CVCF 2021]"
In this video, you'll see really amazing custom tables with the center of the tabletop carved out to replicate the shapes of bodies of water in the U.S. and then filled with colored epoxy. You'll watch how these CNC carved topographical epoxy tables with ACTUAL mapped rivers, lakes, beaches, oceans, islands, bays, seashores are handmade, one by one, by Chagrin Valley Custom Furniture in our Cleveland, Ohio production facility.
Take a look at pictures of custom made epoxy resin river and solid wood kitchen tables, custom built epoxy resin and natural wood conference tables, made-to-order epoxy resin river and live edge dining tables, custom made epoxy resin and solid wood coffee tables and epoxy resin river tables that have been handcrafted by CVCF to our customer's exact specifications. If you are looking for custom desks, see some of the custom built epoxy resin river and solid wood desks, handmade executive desks, L-shaped desks, custom built home office desks and furniture and handcrafted live edge wood slab desks that CVCF has built, here.
YouTube Video Uploaded By Chagrin Valley Custom Furniture On May 19, 2021 Titled "Lake Sunapee Replicated in a CNC Engraved Epoxy Table (CVCF 2021)"
In this video, furniture designer Sky Ironhorse programs and operates a handheld CNC Router to carve the outline of Lake Sunapee, New Hampshire into the top of a table that is then filled with colored epoxy. Chagrin Valley Custom Furniture fulfilled the request of a couple by making this one-of-a-kind dining table for their luxury lake house. CVCF can use a CNC router to carve any real lake or river into the top of a wood table top.
Prices for custom made river tables start at $1,900+. You can order custom built epoxy and wood dining tables and ocean tables that will be built just the way you want and then shipped to you.
Video Uploaded To YouTube By Chagrin Valley Custom Furniture On May 5, 2021 Titled "The Best Custom Epoxy Resin River Tables [2020 Compilation]"
This video features our best custom furniture (mostly custom river table) projects we've produced and delivered throughout the year 2020. Projects ranged widely, from simple live edge walnut desks, to hickory river tables with LED lights and extendable leafs (with LED light up capabilities), and conference river tables with CNC engraved logos.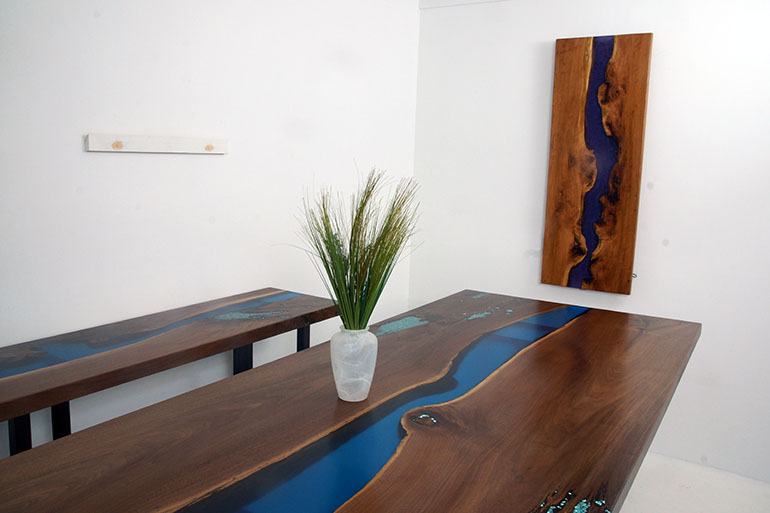 Commission A Custom Made Black Walnut Dining Table With A Blue Epoxy Resin River $7,200+ | Matching Console Table $1,900+
Unique Coffee Tables, Bespoke Kitchen Tables And Countertops, Handcrafted Farmhouse Tables
Custom Made Modern Epoxy Resin River Barn Doors And Handmade Rustic Reclaimed Barn Wood Interior Sliding Doors (With Glass And Mirrors)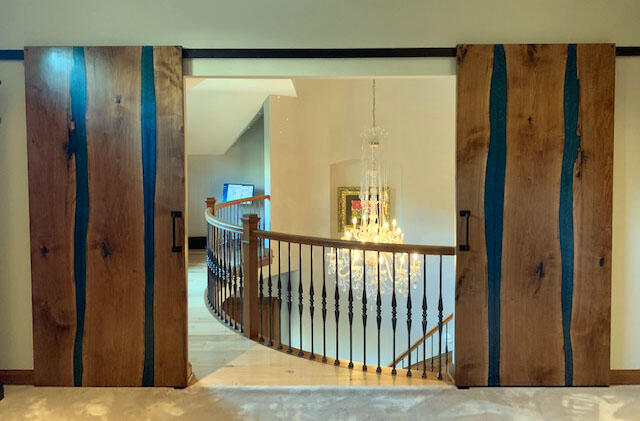 Custom Handmade Epoxy Resin River And Live Edge Wood Slab Barn Doors Co-Designed Online By CVCF And Our Delighted Customer In 2020 $9,800+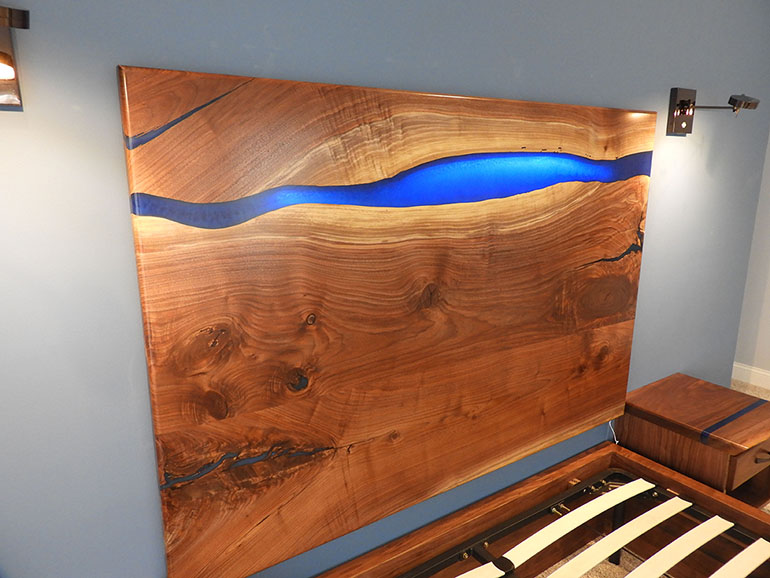 Custom Live Edge And Epoxy Resin Headboards For Sale Locally Near You (U.S. Only) And Online By CVCF
Custom Size Wooden Beds And Frames And Made-To-Measure Rain Resistant Outdoor Furniture
Buy A Epoxy River Rock Dining Table Online Here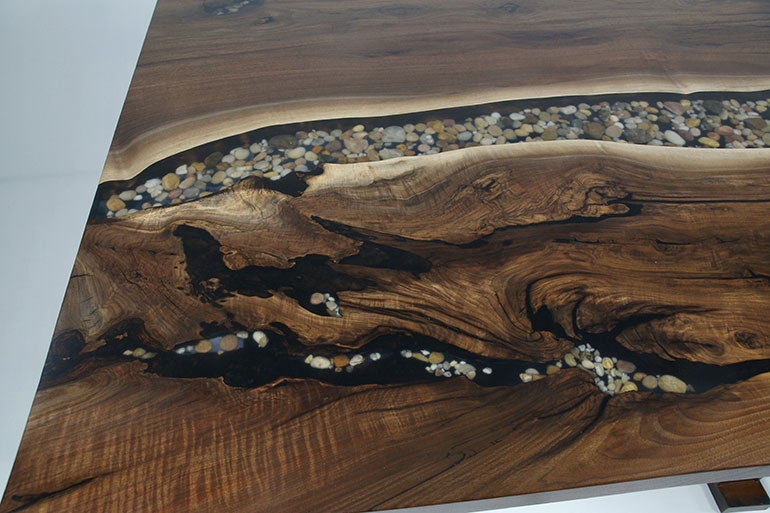 Pictured Here Is A Custom Built Black Walnut Live Edge Dining Table | Clear Epoxy River | Embedded Rocks $6,500+
Custom Built Outdoor Furniture For Sale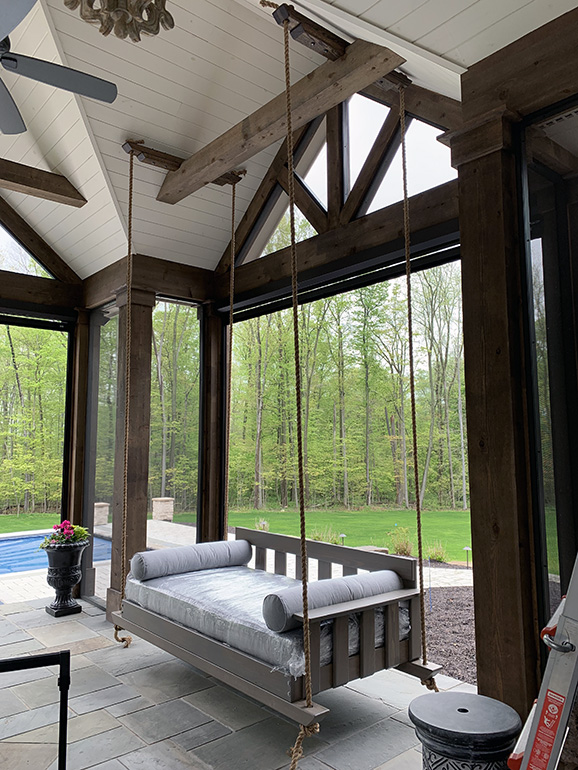 Buy A Custom Made Porch Swing Bed For Sale Locally Near You (U.S. Only) Or Online From Chagrin Valley Custom Furniture
CVCF ships custom made porch swing beds to clients in all 50 states. Pictured here is a custom outdoor porch swing bed that was sold locally in 2020. Prices for similar style handcrafted Cypress wood porch swing beds start at $4,600. Chagrin Valley Custom Furniture sells, makes and ships custom outdoor furniture to customers all over the U.S.
Custom Size Handmade Built-In Bookcases And Bookshelves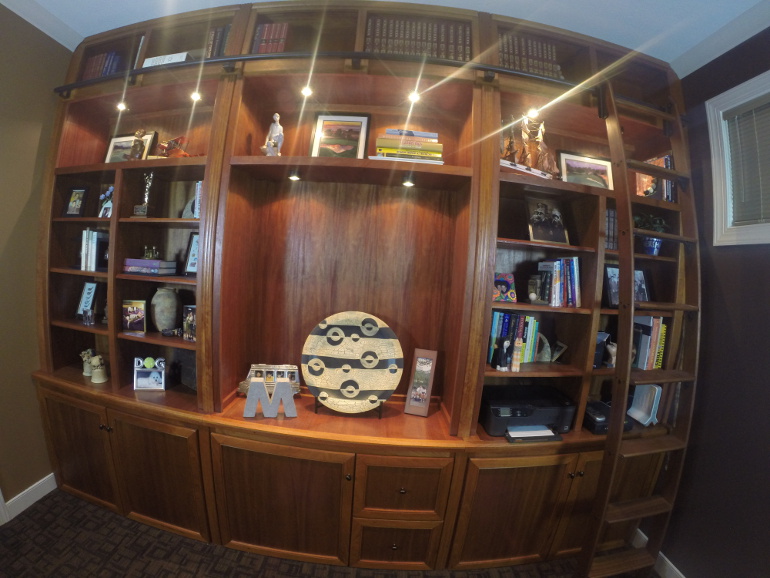 Pictured Here Is A Custom Made Built-In Mahogany Book Case And Bookshelves Sold Locally In 2014 By Chagrin Valley Custom Furniture | $12,500+
One-Of-A-Kind Modern Epoxy Resin River Table Tops And Custom Made Rustic Live Edge Bar Tops
To Buy Custom Furniture, Submit Your Idea & Get A Price | Sofas, Wood Tables, Desks, Beds
Buy Custom Built Epoxy Resin And Live Edge Wood Furniture For Sale Locally Near You (U.S. Only) And Online From Chagrin Valley Custom Furniture | See Some Great Pictures Of Custom Handmade Epoxy Resin River Dining Tables Here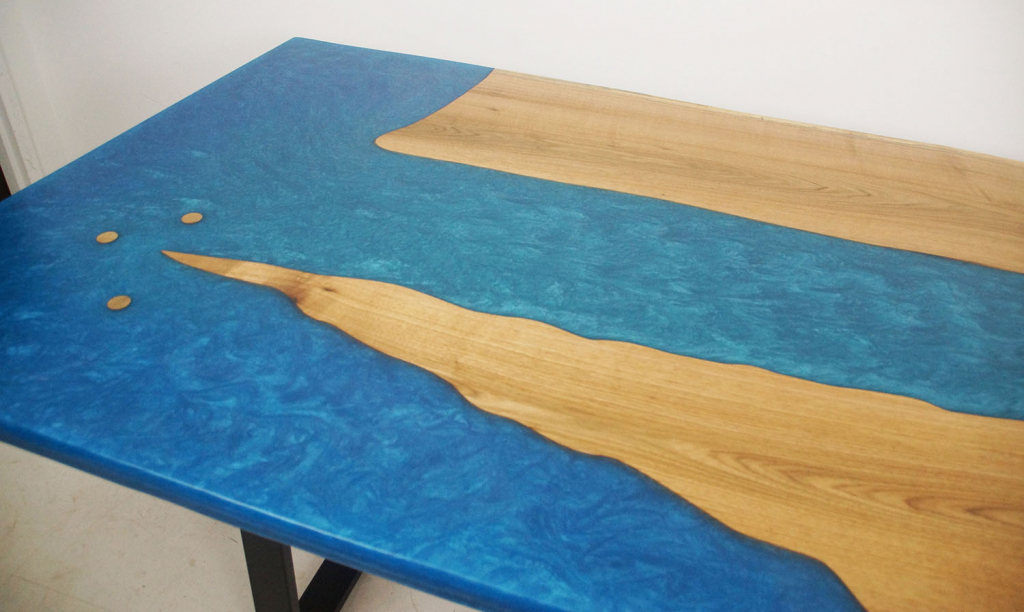 Custom Built Epoxy Resin "Intercoastal Waterway Design" And Live Edge Wood Conference Table And Occasional Dining Table $10,000+ | Sold Online By Chagrin Valley Custom Furniture In 2020
Buy Custom Handmade Wood Furniture Or A Custom Sofa For Sale Locally (U.S.) Or Online | Read Customer Reviews And Watch Client Testimonial Videos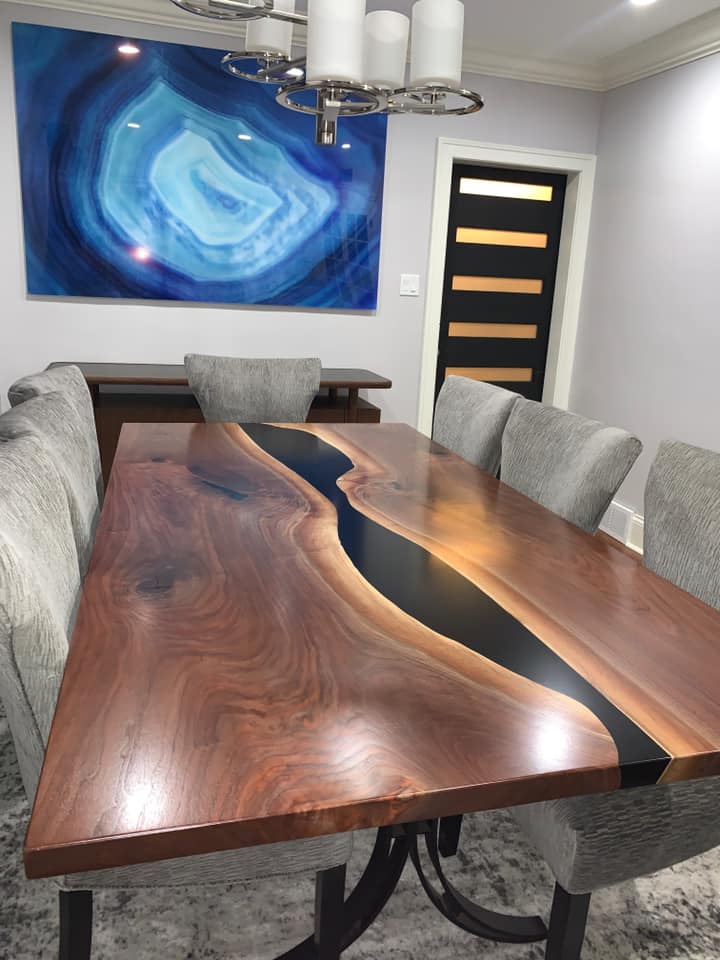 Custom Designed & Custom Made Large Black Walnut Epoxy River Dining Table Sold Online To A Family In Chicago In 2020 | $6,500+ | Black Epoxy Resin River
Follow These 4 Simple Steps To Buy Custom Handmade Solid Wood And Metal Furniture In The U.S.
Buy A Resin 'Coral Reef' Coffee Table | $2,400+ | Beach Style End Table And Beach Themed Furniture | Ocean Tables For Sale | Embedded Stones, Sea Shells & Sand Dollars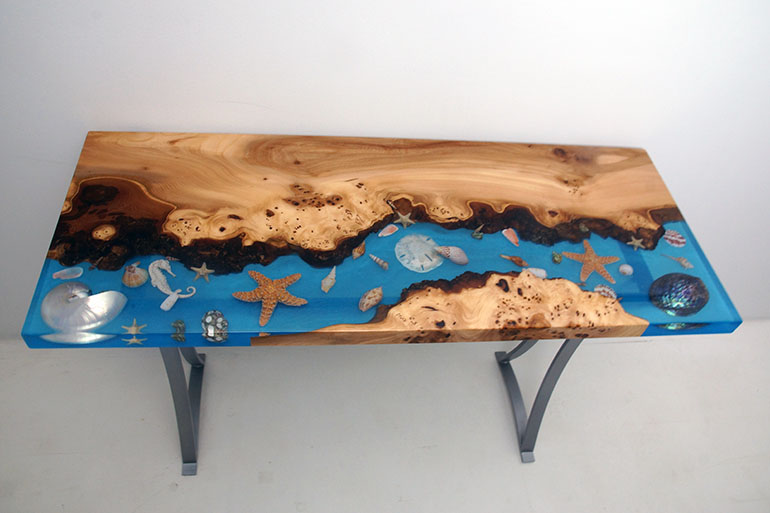 Beach Style Tables And Beach Themed Furniture For Sale Locally Near You (U.S.) And Online | Unique Custom Made Ocean Epoxy Resin Table
Call 440-591-5511 or email customerservice@chagrinvalleycustomfurniture.com to learn more about ordering new high end custom wood furniture, a modern epoxy resin river dining table or a rustic live edge wood slab standing desk.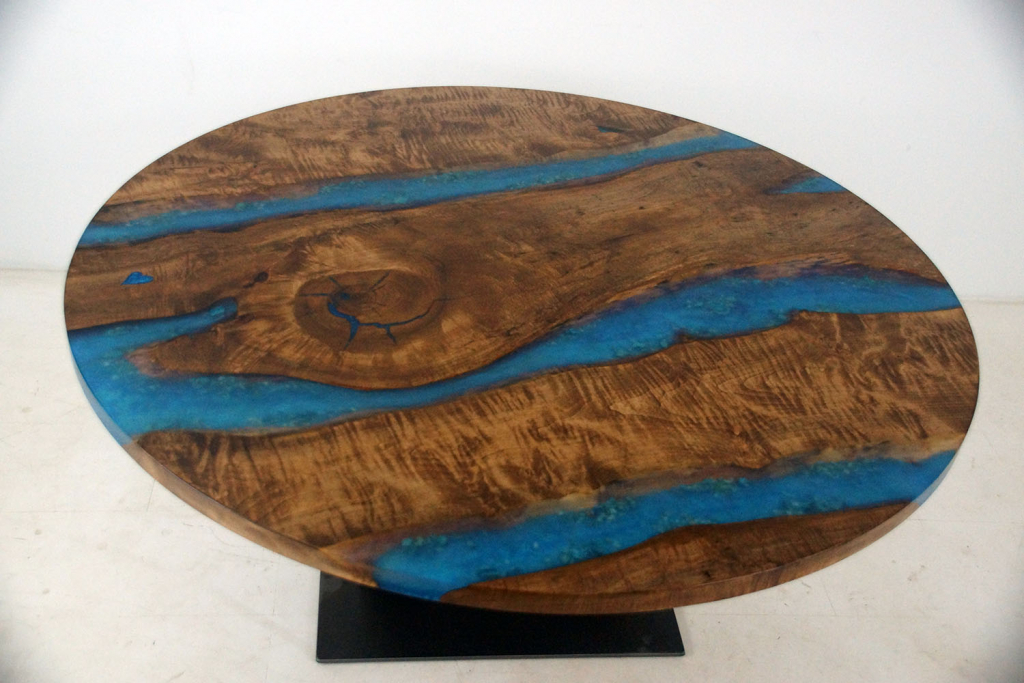 Round Blue Epoxy Resin River And Live Edge Dining Table $6,000+
Information On River Tables And Epoxy Resin From Chagrin Valley Custom Furniture
How Much Does A River Table Cost?
Small river tables range from $800 – $4,000, and larger river tables range from $1,800 – $6,500. Get more river table prices, here.
How Thick Should A River Table Be?
CVCF frequently uses wood slabs that are 2″ thick to custom build sturdy river tables for customers that order locally and online in the U.S. After sanding, these 2″ thick slabs end up being about 1 3/4″ thick.
Are River Tables Strong?
Well built epoxy resin river tables made by CVCF with sturdy natural live edge hardwood slabs are extremely durable and can seat 8, 10, 12 or more people. The surfaces of river table tops made by CVCF, are beautiful, strong and virtually impenetrable. The custom metal river table legs and bases handcrafted by CVCF will last for generations without maintenance.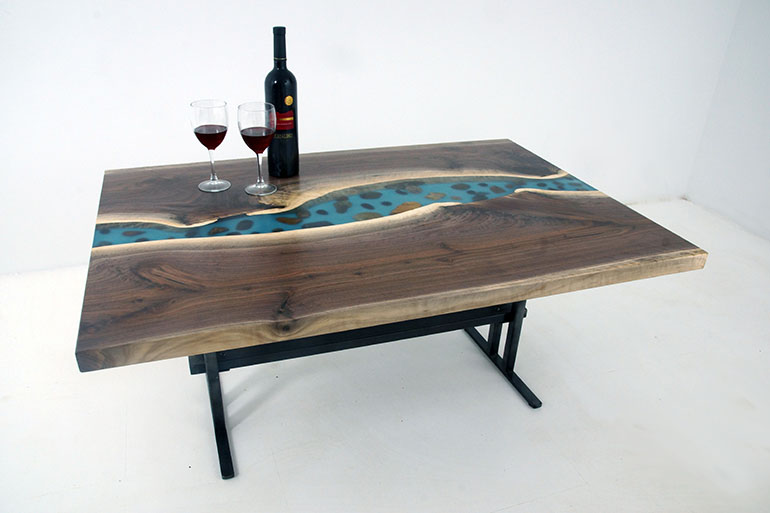 Learn About About Building River Tables And Epoxy Resin And Wood Furniture From Chagrin Valley Custom Furniture
To Buy A Custom River Table, Submit Your Design Idea And Get A Price Quote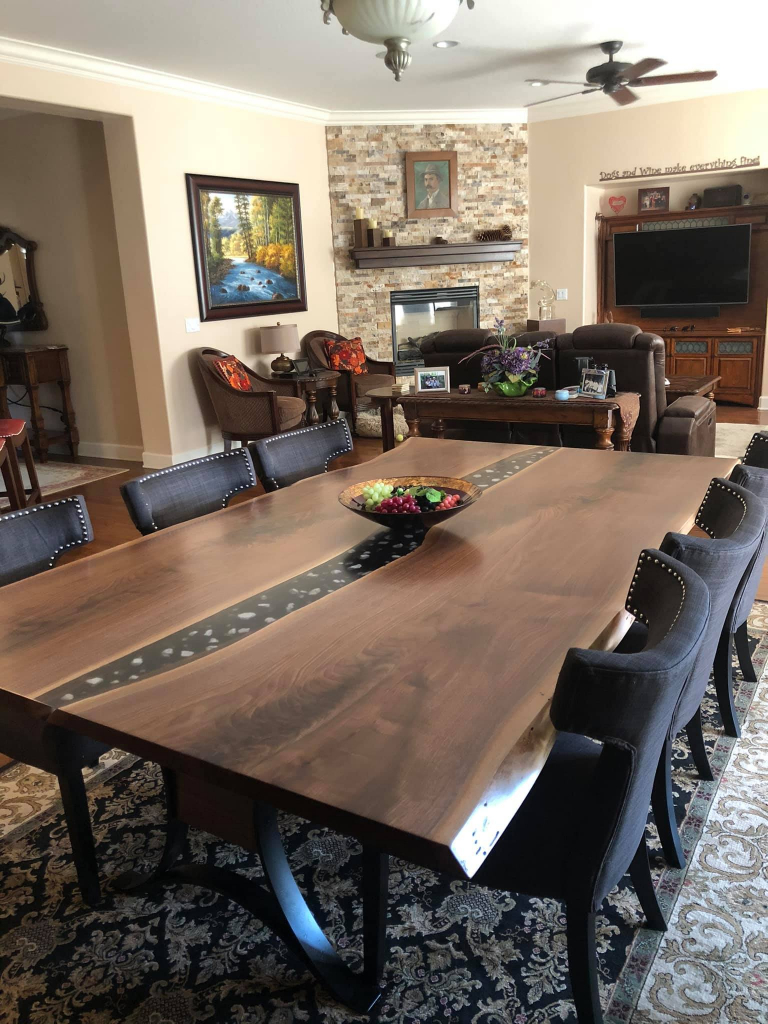 Custom Built Live Edge Black Epoxy River Dining Table $7,000+
Custom Made Live Edge Black Walnut Dining Table With A Black Epoxy Resin River And Embedded Crystals | Sturdy Steel Table Legs Were Also Custom Built For The Client | Sold Online By CVCF In 2020 | Resin River Tables For Sale At CVCF River Table Online Store $800+ Epoxy Live Edge Dining Tables | Buy A Custom Built River Table | River Table Prices From $800+ | Submit Your Own River Table Design Idea | Request A Quote For A River Table | Large Handcrafted River Tables For Sale $1,800+ | Custom Built Epoxy Resin Live Edge Dining Tables And Kitchen Countertops | Handmade Rustic And Modern River Tables | Shipped To All 50 States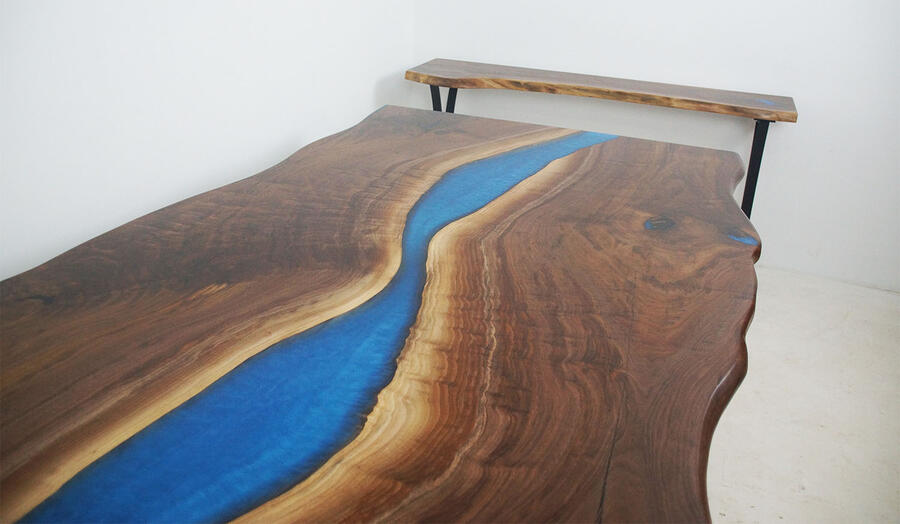 Live Edge Black Walnut Conference Table With Blue Epoxy Resin River And Matching End Table $8,600 [Sold Online And Custom Built By CVCF In 2020]
Custom Furniture For Upscale Homes
[/one_third]
Buy High-End And Upscale Custom Furniture For Sale Near You Or Online | Luxury Furniture & Home Furnishings | Home & Executive Office Furniture | Prices From $3,000+ | Submit Your Design Idea | Get A Price
Buy High-End Custom Made Furniture In The United States
Buy High-End Custom Made Home Office Furniture
Purchase Expensive Handmade Luxury Home Furnishings, Home Décor And Accents
Expensive Custom Furniture Is Worth It – If Uniqueness And Quality Are Your Top Priorities
If you are looking for the most expensive and highest quality custom furniture sold online, CVCF is one of the top custom furniture brands in the U.S. We custom build fine furniture for million dollar homes, resorts, mansions, luxury apartments, celebrities, 1 percenters, country clubs, yachts, 5 Diamond Restaurants and hotels in the U.S. CVCF delivers and ships high-end custom furniture to clients in all 50 states. High-end custom furniture is built by CVCF from solid natural woods, is scratch and dent resistant and is coated with the proper protective finishes so that the furniture remains beautiful for decades, retains it's value and lasts for generations. And because we build real authentic handcrafted custom furniture, our customers get exactly what they want.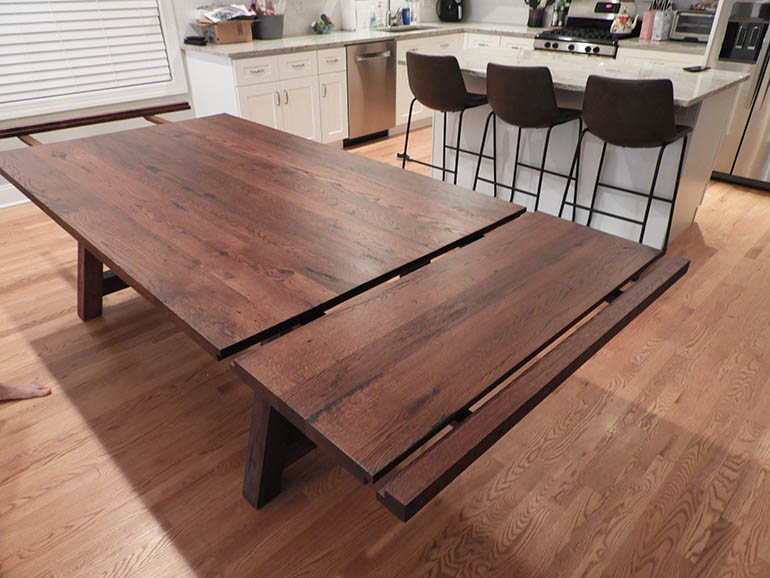 Custom Built Sturdy And Simple Made-To-Order Rustic Farmhouse Dining Table $1,800+ [Extendable]
Buy High-End & Upscale Custom Furniture For Sale Near You Or Online In The U.S. | Prices From $3,000+ | Home & Executive Office Furniture | Dining Tables, Desks, Beds & Chairs | Traditional & Modern | Extremely High Quality (Expensive) Handmade Luxury Home Furnishings | Top Furniture Brand | Fine Furniture For Restaurants, Hotels & Yachts | Wood, Epoxy Resin, Glass & Metal | Shipped To All 50 States
Buy A Custom Made Round Conference Table $7,000+ | For Sale Locally Near You (U.S. Only) Or Online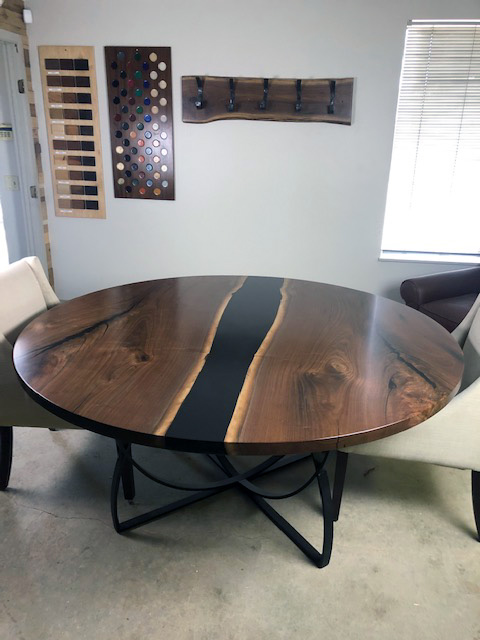 Pictured Here Is Round Black Epoxy Resin River And Black Walnut Live Edge Conference Table That Was Sold Online By CVCF In 2018
Custom Handmade Conference Room Table Material, Size, Shape And Design Options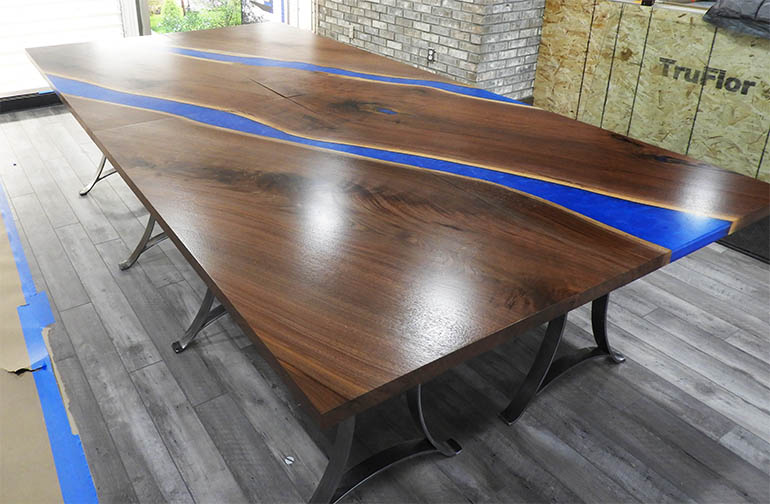 Buy A Custom Built Modern Modular Conference Room Table [System] For Sale Locally Near You (U.S. Only) 12,000+ Any Size, Shape Or Design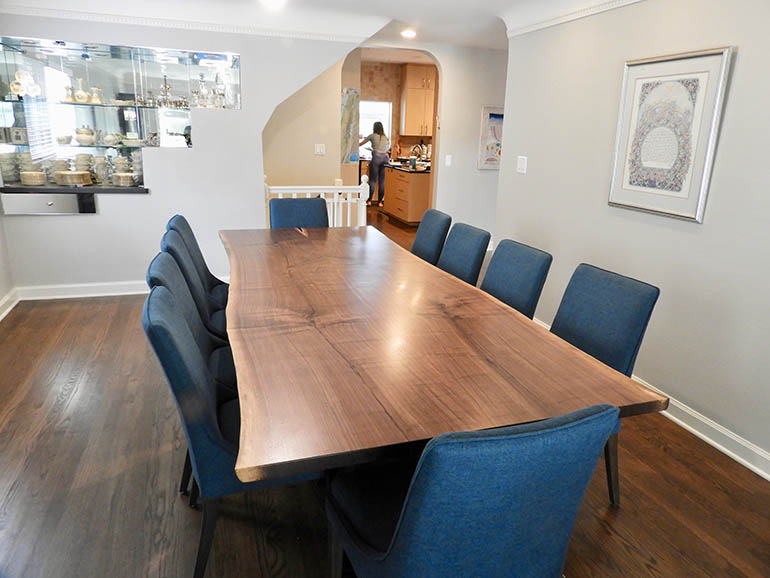 Custom Made Solid Live Edge Wood Slab Dining Table $2,600+ [Kitchen Table That Seats 10]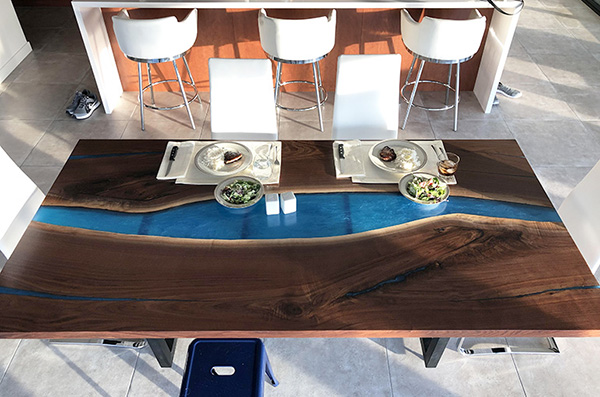 Stylish Modern Blue Epoxy Resin River Live Edge Black Walnut Dining Table $4,200+ [Custom Ordered]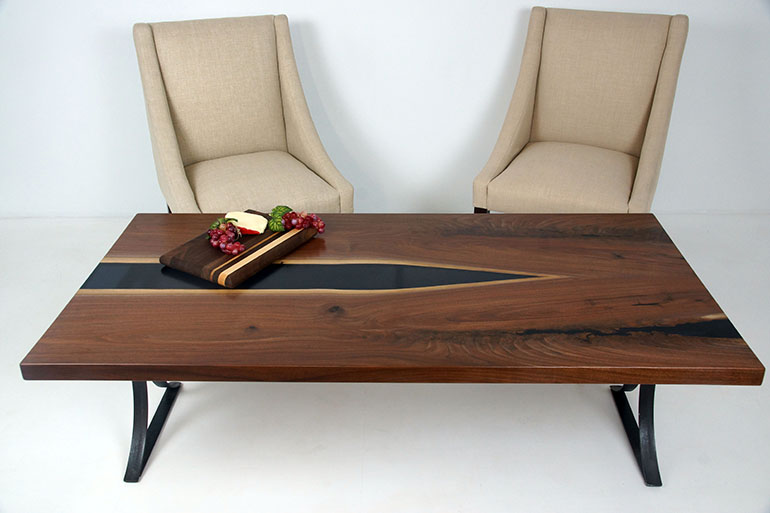 Unique Modern Solid Wood Custom Handmade Coffee Table $800+ [Black Epoxy Resin]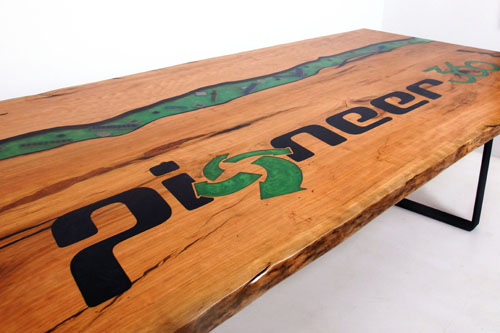 Custom Handcrafted Live Edge Epoxy Logo Conference Table $4,500+ [Any Size Or Shape]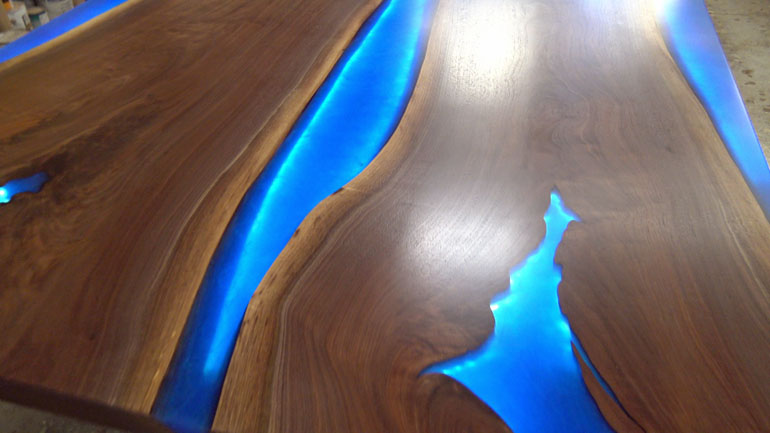 Large High Quality Custom Designed Epoxy Resin River Dining Table $3,000+ [With LED Lights]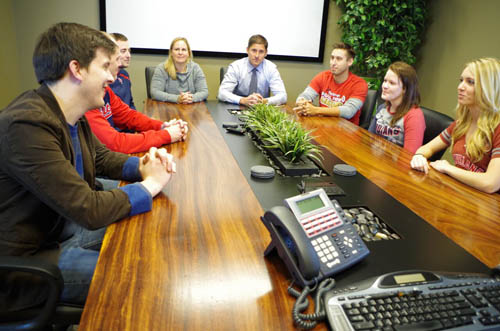 New Long And Wide Modern Handcrafted Custom Conference Room Table $4,500+ [Reclaimed Wood And Steel]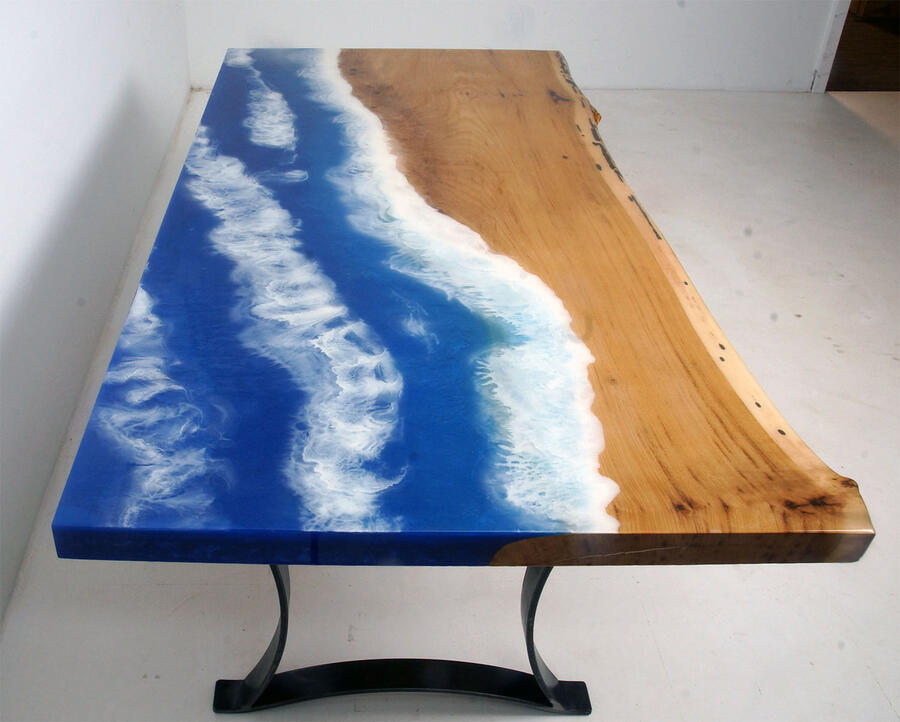 Epoxy Resin "Moving Ocean" Coffee Table $1,000+ [Incredible Ocean Table]
How I Built a Booming Custom Furniture Business Online
Posted On YouTube On December 31, 2020 By Chagrin Valley Custom Furniture [ChagrinValleyCustomFurniture.com]
This video shows you how Sheldon Myeroff turned his custom furniture making hobby into a profitable international custom furniture making company – all after retirement! Success came primarily from specialization with a focus on designing, building and selling custom-made river (epoxy) tables and rustic and modern custom made barn doors. A "river table" is two pieces of natural wood with a river of epoxy resin flowing down the middle. That's become 80% of his furniture making business.
Sheldon started Chagrin Valley Custom Furniture from his home in 2013, but only became serious about growing the company after moving into a large high-end furniture manufacturing facility in 2017. CVCF has become a manufacturer of high quality, handcrafted, custom designed furniture, specializing in custom live edge epoxy tables and desks for sale online to individuals and businesses throughout the continental United States and Canada. Sheldon's innovative ideas for furniture and his furniture business have become a hallmark of his success.
The audio for this video is comprised of extracts from Andy Levine's Second Act Stories podcast on December 7, 2020, and titled "Goodbye Executive Recruiting…Hello Furniture Marking". Andy interviewed Sheldon and CVCF VP of Operations Zach Schulte for this podcast – which Adam wrote and voiced. The full podcast is only 20 minutes long and we hope you'll give it a listen. You can find it at https://www.secondactstories.org.
The Chagrin Valley process is different from other custom furniture makers (builders) because we only make true custom furniture. That means you don't go online to order and pay at the start of the process. With CVCF, you are part of the custom furniture-making process every step of the way as together we create a completely new, one-of-a-kind piece of epoxy resin furniture, specific to your unique needs and desires. You give us your design idea, choose the epoxy color, wood slab, make tweaks in the design, all remotely through video technology. You can even have an emblem or your company logo machined into the wood and filled with epoxy, or embed items in the epoxy such as school and college logos, rocks, crystals, and other sentimental memorabilia.
We harvest our wood sustainably, often under the direction of the U.S. Forest Service. This ensures the long term health of the forest. We spend up to 2 years removing moisture from the logs before starting to work with them. This helps prevent warping and cracking of the wood. Our 6,000 sq. ft. workshop is fully equipped to handle all the challenges of making a beautiful epoxy resin river table, which includes a temperature controlled, clean spray room for a smoother, scratch-resistant coat. We also offer a large variety of metal and wood legs, plus you can design your own legs if you wish.
Our furnishings include custom epoxy resin river tables, epoxy resin river beds and headboards, epoxy resin desks, epoxy resin wall art, rustic to modern farmhouse tables, barn doors, benches, countertops, shelves and so much more. Prices for our conference tables are based on such factors as size, wood species, live edge/not live edge, conference table components, epoxy resin, engraved company names, engraved logos, embedded objects in epoxy resin rivers, etc. Prices for our solid wood and live edge conference tables start at about $4,500, average about $9,000, and top off at about $18,000. Prices for conference tables with epoxy resin rivers and epoxy-filled CNC logos or scenes will cost more.
For a quote on handcrafting your epoxy resin river furniture design and shipping it to your home or place of business anywhere in the USA, call Sheldon Myeroff at 440-591-551, scan or take a photo of your design and text it to us at 440-591-5511, or email to shel@chagrinvalleycustomfurniture.com.
Custom Farmhouse Dining Table Sold Locally [Industrial Base]
In this video, furniture maker Shel Myeroff, owner of Chagrin Valley Custom Furniture, talks with local customers Matt and Molly from Chagrin Falls, Ohio about the high quality made-to-order extendable farmhouse dining room table that CVCF custom built for them.
After an initial furniture design consultation, CVCF furniture builders set off to handcraft the rustic, yet modern and simple, farmhouse dining table from 100-year-old reclaimed oak wood beams, sustainably sourced from a barn in Southern Ohio.
The expert CVCF craftsmen at the Cleveland, Ohio workshop, completely customized the farmhouse dining table by adding a sturdy and durable industrial style metal (steel) base. This video shows all the attention to detail, including the welds and the two pullout inserts. The comfortable farmhouse dining table is 128 inches long when fully extended. Now Matt and Molly are living happily ever after with their new beautiful, and very unique, solid wood farmhouse dining table.
Listen to the couple talk about the exceptional customer service they received from CVCF. Find out how they got helpful design ideas from Shel for their custom table. Get their thoughts on the remarkable workmanship provided by CVCF craftspeople.
Because pine is inexpensive, it is frequently used by America artisans to make farmhouse tables (also know as a farm table or harvest table) tops. For the farmhouse table shown in this video, CVCF used more expensive oak barn beams because they will last for generations (they already lasted over 100 years in a barn) and because the cut beams display a more authentic style and absorb wood stains more effectively.
The country living inspired design style of the charming contemporary farmhouse dining table shown in this video, combines clean sleek lines with a cozy and warm farmhouse feel. This homey style of farmhouse furniture and décor certainly has not gone out of style.
Popular farmhouse style furniture made by CVCF typically incorporates versatile traditional aesthetics and industrial components (legs and bases) to convey a fresher character and a more relaxing appeal than rustic furniture and décor.
Truly custom farmhouse furniture and farmhouse dining tables are handcrafted by CVCF in any design style that the client wants. Exact sizes, dimensions, shapes and wood species are specified by the customers. CVCF ships custom built farmhouse tables to homes, restaurants and businesses in all 50 states.
CVCF creates authentic one-of-a-kind farmhouse tables and a customer experience unlike any other in the furniture industry. Commissioning a farmhouse table from CVCF is fun and rewarding, start to finish. From the table design to the creation, CVCF invite their clients to "get involved". CVCF always strives to exceed customer expectations.
Custom Built Live Edge L-Shaped Desk With Storage & Drawers Sold By CVCF In 2015
The L-shaped corner desk show in this video was custom made with two African mahogany live edge wood slabs. It features hidden storage compartments, a hidden drawer and a hidden shelf for electronics. This handmade solid wood desk was commissioned locally in 2015 from Chagrin Valley Custom Furniture.
Types Of Custom Built Live Edge Furniture For Sale Locally (U.S. Only) And Online By CVCF
U.S. Luxury Custom Furniture Designers, Makers And Builders
Chagrin Valley Custom Furniture is the top exclusive luxury custom furniture maker for wealthy homeowners, prestigious businesses and expensive restaurants, bars and hotels in the United States. We specialize in custom made-in-the-USA wood and metal furniture that combines high-end quality, style, function and durability. Materials we used to create high-end custom furniture includes natural wood slabs, colorful epoxy resins, glass, steel, metal, leather, hardware, finishes and fabrics.
You can submit your custom furniture design and get a price for fabrication and assembly.  All our exclusive handcrafted furniture is specially built to fit your space, match your décor, fulfill your vision, and elevate the character of any room in your home or place of business. Prices start at $3,000 for our one-of-a-kind pieces, including; rustic and live edge dining tables, headboards, workstations, interior barn doors, custom kitchen tables, kitchen islands and countertops.
Chagrin Valley Custom Furniture manufacturers custom built epoxy resin wood furniture and epoxy resin river tables. CVCF also sells rustic furniture, live edge dining tables, epoxy resin headboards and river tables that are in stock here. CVCF ships luxury furniture and high-end home furnishing to all 50 states.
High-End Custom Made Furniture And Luxury Furniture For U.S. Homes, Restaurants, Hotels And Offices
Most of high quality custom furniture and river tables that CVCF builds cost between $3,000 and $12,000. Custom designed live edge river dining table prices start at $4,200. Large conference river tables that seat 10-12 people go from $8,000 to $20,000. Typical river conference table prices start at $4,500. Learn how the highest quality river tables and custom wood and metal furnishings are handcrafted in America in 2020, here. High-end custom made furniture and luxury home furnishings made by CVCF are extremely popular with residents of Florida, California, Chicago, Maryland, Ne Jersey, Connecticut,  Massachusetts, New Hampshire, Virginia, Colorado, Texas, Arizona and New York.
View pictures of river tables that CVCF recently designed, built and delivered to customers in the U.S in 2020. Watch a video showing how we created a 19′ CNC engraved Mississippi River conference table from wood, epoxy resin and steel, here. This black walnut river table was handcrafted for the corporate conference room of the Crescent River Port Pilots' Association, which is located in Louisiana. 
Buy custom made hospitality furniture for U.S. hotels and restaurants from Chagrin Valley Custom Furniture. Buy custom hospitality furniture for your five-diamond restaurant, five-star hotel, boutique inn, country club, conference center, casino, chain restaurant or exclusive resort from Chagrin Valley Custom Furniture. Fine custom furniture is handmade by Chagrin Valley Custom Furniture in Cleveland, Ohio for our hospitality industry clientele and is shipped anywhere in the U.S. Custom hotel furniture and restaurant furniture built by CVCF is frequently made with epoxy resin, wood and metal. CVCF is a full-service provider of high quality handcrafted furniture and high-end luxury custom furniture for the hospitality industry.
The craftsmen at Chagrin Valley Custom Furniture love to make custom resin, wood and metal river tables! We make dining tables with live edge wood slabs and resin rivers, river tables with rocks, epoxy resin and wood furniture, river countertops, headboards, resin and wood wall art and river conference tables for people all around the country. Our veteran woodworkers and experienced metalsmiths welcome all kinds of imaginative design projects. Every day, we look forward to receiving amazing river table design ideas from amazing Americans that want a really great river table custom made for their new home, office, conference room, boardroom room, bar, business, school, RV, boat or yacht.
Some of the favorite types of river tables we handcraft are fancy (and trendy) live edge wood dining tables that have river rocks, gems, crystals, sea shells or stones embedded into a meandering blue resin river. Large river conference tables that seat 8-12 people with LED lights are a lot of fun to make as well. See pictures shown below of custom river tables we have "co-designed" with our customers or peruse a photo gallery here. Prices for unique custom made live edge river dining tables start at $4,200. Prices for river conference tables start at $4,500.
Walnut river tables are awesome.  Black walnut river tables are very popular in the USA in 2019 because the kiln dried dark-colored, straight grained true heartwood contrasts so vividly with a blue epoxy resin river.  The craftsmen at Chagrin Valley Custom Furniture love to make custom designed tables from walnut wood slabs because it so darn beautiful and workable.  CVCF loves to use black walnut wood for woodworking projects. Although it is not as readily available in the USA, CVCF has a few secret sources for this cherished wood.  American Black Walnut is darling of the CVCF craftsmen.  CVCF designs, handcrafts ships, delivers and assembles black walnut river tables, epoxy resin furniture and live edge waterfall benches for customers across the USA. Prices for small walnut river coffee tables start at $825.  Simply provide CVCF with your walnut river table design requirements to receive a quote for your woodworking project.
Where Rustic Meets Modern
CVCF is the place "Where Rustic Meets Modern" when it comes to custom furniture manufacturers in the USA. We make authentic rustic furniture with a modern twist – often combining rustic materials with metal legs or accents. Our goal is to bring the peace, tranquility and calm of real natural wood products into homes and businesses with a contemporary décor. Our rustic dining tables, coffee tables, and interior sliding barn doors are built with authentic barn wood reclaimed from the thousands of abandoned centuries-old barns here in Ohio. Our live edge conference tables, dining tables, coffee tables, desks, tabletops, countertops, headboards, and shelves make use of the wide variety of beautiful hardwood trees grown here in Ohio, such as maple, walnut, cherry, and oak. We also take live edge slabs and create stunning river tables, adding epoxy and resin in an infinite number of designs and colors to suit your taste and match your décor. In addition, we make our own wood and metal table bases and legs that are unlike any you'll find anywhere else. You can see our wide range of furniture types and styles in our project gallery.
CVCF normally designs furniture for our customers, or we collaborate with our clients to design custom furniture, which we then handcraft and assemble.  However, if you design your own furniture, we will build it, install and assemble it for you, assuming you live in the continental USA. To submit your design drawings or CAD drawing for a quote, call 440-591-5511, email shel@chagrinvalleycustomfurniture.com or click here.
To learn more or to order exclusive custom restaurant furniture, custom commercial furniture, custom contract furniture, custom hospitality furniture, and custom home furniture from Chagrin Valley Custom Furniture, give owner and furnituremaker Sheldon Myeroff a call at 440-591-5511 or email shel@chagrinvalleycustomfurniture.com. He'll be happy to share his expertise on custom furniture for your home or business.
For Upscale Homes Throughout The United States
For Design-Conscious Businesses & Offices in America
For Hotels, Bars & Restaurants with Distinctive Taste in Décor
Delivery To Home and Businesses Throughout the USA
With our headquarters nestled in the rolling hills of the beautiful Chagrin Valley outside of Cleveland Ohio, we deliver to homes, businesses, restaurants, bars and hotels in cities and counties throughout the continental United States, including:
New York City (Westchester, Hudson River Valley, Suffolk, Nassau, Kings, Bronx, Hackensack NJ, Essex NJ), Los Angeles (Los Angeles, Orange, Riverside) , Chicago (Cook, Lake, Kendall), Washington, DC (Fairfax VA, Loudon VA, Montgomery MD), Dallas (Dallas), Columbus (Franklin), Pittsburgh (Allegheny), Philadelphia (Philadelphia, Chester), Boston (Suffolk, Norfolk), San Francisco (San Francisco, Marin, Alameda), Houston (Harris), Atlanta (Fulton), Miami: (Miami-Dade, Broward), Seattle (King), Detroit (Wayne-Oakland, Livingston), Phoenix (Maricopa), Minneapolis (Hennepin), Denver (Douglas), Fairfax County (Reston) and Nashville (Williamson).
Prices start at $5,000 for live edge epoxy resin river tables. View custom furniture pictures and watch videos on our website.
customer testimonials
and see for yourself what they're saying about For nearby locations, we can deliver the furniture right to your home or office in our "You'll Love It!" van and install it on site. For locations in states further away, we ship your furniture by experienced carriers such as UPS, USPS, and FedEx.
For upper income homes from Atherton CA to Cherry Hills Village CO to San Francisco to Scarsdale NY, we design and build the following expensive luxury furniture:
Custom Interior Sliding Barn Doors
One-of-a-kind Desks
Exquisite Live Edge Tables, Tabletops and Countertops, Kitchen Islands
Rustic and Live Edge Headboards
Live Edge Floating Shelving and more
For design-conscious businesses in communities like New York City NY, Miami FL, and Los Angeles CA, we construct the best American made furniture:
Custom Executive Board Room Conference Tables
Live Edge River Wall Hangings
Ergonomic Live Edge Height-Adjustable Desks
Reception Desks and more
For hotels, restaurant chains, and commercial properties in America's most upscale counties such as Fairfax VA, Santa Clara CA, Douglas CO, and San Mateo CA, we make:
Custom Rustic and Live Edge Dining Tables and Coffee Tables
Live Edge River Wall Hangings
Reception Stations
Countertops, Bar Tops and more
Watch how colored resin and epoxy is mixed and poured to create a river table
Add a stunning colored epoxy and resin river for extra effect
A river table is a live edge table that uses colored epoxy resin to fill the gap between two opposing live edge pieces- thus creating the appearance of a small "river." A beautiful effect is also created by filling wood imperfections with colored epoxy to create ponds, lakes, and oceans. River table epoxy colors vary from our most popular turquoise to semi-transparent green epoxy resin set with quartz crystals to fiery red to fully opaque black resin. The river can also be lit from underneath to create a glow or a stunning neon effect for the table.
Compare the Most Expensive Furniture Manufacturers, USA
Chagrin Valley Custom Furniture shares the art of custom furniture making with a wide range of respected companies who manufacturer their high-end products in the USA.
These high-end furniture designers offer a variety of exclusive furniture options from rustic to modern, new to vintage/used: Thomas Moser Furniture is committed to simplicity in design with a modern look, Joybird features mid century modern inspired furniture, and Farmhouse Furniture makes rustic, farmhouse and reclaimed wood furniture.
There are a number of high end Maine wood furniture makers, including Chilton Furniture that specializes in Scandinavian, Cottage. Live Edge and Arts & Crafts styles.
Some of the top American made bedroom furniture manufacturers include Vaughan-Bassett Furniture Company, The Spruce, and Bassett.
There are many Amish furniture makers in northeast Ohio and neighboring Pennsylvania who are excellent craftsman and make extremely high end custom furniture. Check out Countryside Amish Furniture, Amish Direct Furniture, and Amish Outlet Store.
You'll find plenty of high end furniture online at e-commerce furniture sites such as Custom Made and Etsy. CVCF also has a national ecommerce site called Live Edge Furniture Company that sells ready-to-ship rustic and live edge furniture to your home or place of business. Check us out at LiveEdgeFurnitureCompany.com.
And talk about exclusive high-end furniture! Top exclusive luxury furniture maker Essential Home has posh high end furniture stores in London and Paris and has come out with a Top 10 list of the top exclusive luxury furniture brands. All you millionaires (and billionaires) might want to take a look at their products!
However, when you compare quality, compare creativity, and compare prices, we think you'll agree that Chagrin Valley Custom Furniture makes the best American made furniture in the USA. Next, you'll learn how we make our furniture.

Watch the "Creation of a Custom-Made Ergonomic Adjustable Height Desk" for an owner of a prominent commercial real estate brokerage company.
It Starts With a Call
A common store bought piece of furniture starts with a visit to the nearest furniture outlet, but a beautiful, handcrafted piece of custom furniture starts with a call to Chagrin Valley Custom Furniture at 440-591- 5511. Talk to owner/craftsman Sheldon Myeroff about your custom furniture project and ask him any questions that are on your mind. Learn about our studio, our artisans, our capabilities and the advantages of our handcrafted custom furniture over ordinary furniture. You can call Shel any day of the week, including Saturdays and Sundays, from 9am – 5pm. If you prefer, you can email him at shel@chagrinvalleycustomfurniture.com, or go to the request an estimate page of this web site and fill out and submit the form.
Design Consultation
No other furniture can fulfill both your aesthetic desires and functional needs like custom handcrafted wood furniture from CVCF. Much of that has to do with the "home" work we put in before even starting your project. As part of our free in-home consultation, we explore your vision for the project, we get to know your home or place of business where the piece will live, as well its size requirements. We'll share our thoughts for potential designs, types of woods, stains and finishes, and discuss other important details that will go into creating your one-of- a-kind piece of custom furniture. Do you want your furniture built from natural wood, reclaimed wood, or are you repurposing other wood furnishings? Do you prefer a natural stain, faux finish, or painted surface? If there is an opportunity to incorporate glass and metal into your project, we can do that too. You have many decisions to make and we can help. When we complete the design consultation, we will both have a thorough understanding of the direction of the project as well as the approximate cost based on this initial meeting.
Sketches and Schematics
Before we ever put saw to wood, we put pen to paper. After our consultation, the expert furniture designers create a sketch of the project for your review. At this point, we can modify the design to incorporate any suggestions you have until the look of the piece is precisely what you want. Then we create a final computer-rendered CAD drawing with every exact detail of the piece and submit it to you for final approval.
Review and Approval
Like what you see? Give us the go-ahead and we will give you a projected completion date, delivery/installation date, and final price. Now let's get started on the handcrafted custom wood furniture of your dreams!
Making Your Furniture
Throughout the custom furniture making process, we keep you informed on the progress by providing updates of your custom piece as it is handcrafted with precision, care and love. If you see something you want changed in the design, let's do it! If we see something that we feel will improve the final product, we'll let you know and you make the decision if you want it done. This process ensures that your finished piece of handcrafted custom furniture is of the highest quality and exactly what you desire!
Completion and Delivery
When we have finished building your custom piece, we carefully box it and take picture of the piece in the box for reference should the piece become damaged en-route. We ship by trusted carriers such as UPS, USPS, and FedEx. If you live in northeast Ohio, we can deliver the goods to you in our "You'll Love It" van. To learn more about delivery, inspection, and the returns process, click here.
Follow-up
If you have any questions, feel free to contact us: call us at 440-591-5511, or go to the 'contact us' page of this web site and fill out and submit the form. You are a valued customer and we want to make sure you are completely satisfied with your furniture. In fact, every piece comes with a 100% satisfaction guarantee. If you don't want it, return it at no charge, no questions asked. If it is everything and more than you expected, you can review us on our website or email a photo and testimonial. We'd love to hear from you!

General Kinds of Luxury Furniture that CVCF Builds
Luxury Outdoor Furniture
Luxury Garden Furniture
Luxury Home Furniture
Luxury Bedroom Furniture
Luxury Office Furniture
Luxury Restaurant Furniture
Luxury Bar Furniture
Luxury Hotel Furniture
Luxury Business Furniture
Types of High-End Luxury Custom Furniture CVCF Makes
Starting at $5000
Below is a list of the types of top quality custom furniture we make. Of course, as a luxury custom furniture maker CVCF can make whatever your heart desires – any design, any wood material, any style, any type. Our high end furniture prices start at $5000.
Luxury Conference Tables
Luxury Farmhouse Tables
Luxury Office Tables
Luxury Work Tables
Luxury Desks and Work Stations
Authentic Solid Hardwood Barn Doors
Luxury Bedroom Furniture & Headboards
Luxury Buffets
Luxury Kitchen Countertops
Luxury Outdoor Furniture
Tables – Coffee, Side, Sofa, Entry
Luxury Dining Tables
Luxury Reception Stations
Luxury Restaurant Tables
Luxury Bars
Luxury Kitchen Islands
Luxury Kitchen Tables
Wood Types Used to Create Our Custom Furniture, Tables, Desks, Shelves, Interior Barn Doors and Other Woodworking and Carpentry Projects
CVCF uses only the finest quality wood slabs from a wide variety of wood species to create our handcrafted custom furniture and other custom wood projects. These include:
Slabs of African and American Mahogany
Distressed Wood and Seasoned Old Growth Lumber
Old Barn Wood, Antique Barn Beams and Vintage Barn Siding can be used as infrastructure such as legs and cabinets below the slabs.
Reclaimed Wood and Reclaimed Flooring
Recycled, Salvaged and Repurposed Wood and Lumber
Live Edge Slabs and Natural Edge Slabs such as Walnut, Sassafras, Ash and Chestnut, Cherry, Oak, Birch, Pine and many others.
'Spalted Maple' (Wood with dark contrasting streaks and lines)
High Quality Kiln-Dried Hardwoods Native to Ohio, United States and exotic international woods
Extreme or Extra Gnarly, Burly, Curly, or Figured Logs and Wood
How to Get Started
To learn more about our exclusive custom furniture, to find out about prices, or to order your high-end custom furniture from Chagrin Valley Custom Furniture: