Your dining room is the ideal place to express your creativity and unique artistic passions. Your dining table is the focal point of that space, and a solid wood table with an epoxy resin river running through it beats a tablecloth and runner any day, especially when it is co-designed by you and the the furniture design experts at CVCF. When your epoxy resin river table is finished, we can ship anywhere within the continental U.S., or install by-hand if you are local to Cleveland, Ohio. Just fill out the form to the right to submit your furniture design idea, or request a build based on one of our customer's past designs, which can be found below, or you can explore our gallery.
When you co-design a piece with us, you tell us what you want it to look like, you select the wood slabs via email or video call, you decide on the epoxy color and legs, and we keep you in the loop every step of the way! The experience of helping to "build" your furniture with CVCF is almost as rewarding as having the river dining room table on which to serve your family and guests.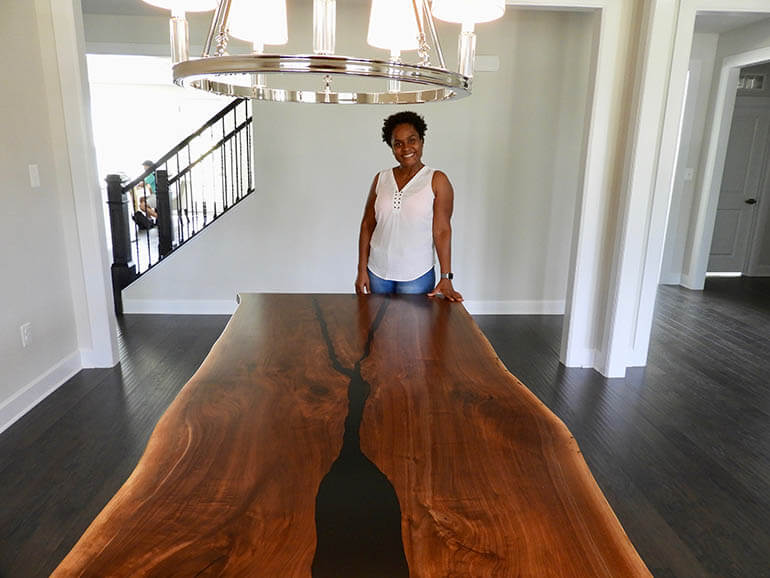 Epoxy Resin River Dining Tables We've Built Recently
Make your way to the gallery and see what customers have been creating with us lately.
Let's start building for you.
We make dining room tables for all kinds of families across the country. Dining room tables of all sizes can be custom made by our craftsmen, along with your choice of pre-made or completely custom legs and base.
Check out a small selection of custom design options below. Then, check out recent epoxy dining table designs made for businesses and customers across the U.S.
See pricing near the bottom of this page.
Most Popular River Table Wood Choices
Most Popular River Table Epoxy Resin Colors
We Will Create Any Custom Base You Envision
Here Are Some Past Examples Of What Customers Have Come Up With
Custom Epoxy Resin River Dining Table Price Ranges
Prices vary based on a vast number of factors surrounding the complexity and requirements of your custom table. Factors involving your tabletop include: your species of wood, the amount of epoxy, the thickness of your chosen slab, the length of your table, what kind of embedded items you choose in your table, and if you want the piece to light up with custom LED light installation beneath the resin.
The legs or base you choose can also greatly impact pricing. Tier I bases are cheaper than Tier II, and Tier II bases will usually be cheaper than completely custom legs or bases. Choosing a custom option with ergonomic functions, or the ability to electronically control the height of the tabletop (making it into a standing table/desk) will increase the net price of your project.
Watch How We Make the Highest Quality River Tables in the US
See How to Order Your Custom River Table from Our Craftsmen