Eco-Friendly Raw Materials Used For Custom Furniture Handmade In The USA
When you choose your raw materials for custom built furniture, the choices can be a bit overwhelming at times. Their are dozens of types of woods you can select – live edge wood slabs, reclaimed wood, barn wood, oak, walnut and more.
You can choose from metal, alloy, aluminum, steel and wrought iron. The glass options are numerous. Their are hundreds of types of stains, primers, varnishes, epoxy resins and polyurethanes.  At some point, you will want to consider hardware and fasteners options.
If you are designing or building a custom couch, you will want to ponder the different types of fibers, fabrics, textiles and upholstery. If you like Western furniture you may want to use leather. If you want to give a finished look to your furniture, you will want to get an understanding of decorative laminates.
Even choices in plastics and vinyl come into play when designing and making custom furniture.
Co-Design Your Custom Furniture Online With CVCF Experts & Makers | Start By Taking Measurements
Use your own creative style to design and customize your space, room or furniture. Download or register for free custom furniture programs, apps and software if you want to design your own furniture, make your own furniture or buy custom made furniture online, here.
Choose From A Wide Variety Of Furniture Materials
Solid Hardwoods
Wood Species Used To Make Custom Furniture And Custom Cabinets: English Oak, American Black Walnut, Plane (Lacewood), American Cherry, Mahogany, Teak, Beech, Cedar, Birch, Hickory, Kingwood, Sugar Maple (Hard Maple), Red Oak, European Walnut, American Whitewood, White Oak, Yellow Poplar, English Walnut, Peruvian Walnut, Woods From Trees In Ohio, Western Hemlock, Yew, Box, Douglas Fir, American Red Oak, Western Red Cedar, Indian Laurel and British Elm.
Soft Woods Such As Pine And Longleaf Pine (Not So Soft)
Reclaimed Wood From Homes And Factories
Kiln Dried Wood Slabs, Natural Edge Slabs And Live Edge Slabs: Ash Natural Edge Slabs, Camphor, Chinaberry, Eucalyptus, Bubinga, Boxelder, Buckeye Burl, Butternut, Tigerwood (Goncalo Alves), Indian Rosewood, Ipe, Cherry, Cypress, Elm Natural Edge Slabs, Hickory, Mahogany, Maple Bigleaf, Live Oak, Monkey Pod, Norfolk Pine, Sycamore, Maple Figured, Maple Hard/Soft, Mappa Burl, Oak, Red/White, Pine Natural Edge Slabs, Poplar, Redwood Old Growth, Sassafras, Sycamore, Brazilian Cherry (Jatoba), Laurel Oak, Leadwood, Walnut Black, Walnut Claro And Other Species
Industrial Materials
Repurposed Furniture And Materials
Barn Wood (Barnwood) And Barn Beams
Metal, Steel, Alloys And Stainless Steel
Furniture Protectors And Covers
Steel And Metal Table Bases And Legs
Wood And Metal Table Frames
Rectangular, Round, Square And Oval Glass Table Tops
Gray, Bronze, Laminated And Frosted Glass
Pattern Glass, Back Painted And Tinted Glass
Hardware For Sliding Barn Doors, Interior Doors, French Doors, Bi-Parting Barn Doors, Single Panel Barn Doors, Three And Four Panel Doors, Z Panel Doors Dutch Doors, Cabinet Barn Doors And Pocket Doors
Fasteners, Screws, Nails, Face Frame And Frameless Hinges, Tracks, Drawer Pulls, Finger Pulls, Handles, Locks, Brass Hooks, Polished Nickel Cabinet Knobs, Decorative Hooks, Timber Plates, Cabinet Bumpers, Casters, Classic Style Hardware, Rustic Style Hardware, Modern Hardware And Farmhouse Style Hardware
Tempered Glass Table Tops, Glass Shelves And Door Panels
Clear, Bronze And Grey Mirrors
Glass With Beveled, Flat Polished, Pencil Polished And Seamed Edges
Standard Clear Glass, Ultra-Clear Low Iron Glass, Acid-Etched Glass, Warm Brown Glass, Smokey Gray Glass
Granite, Marble, Concrete, Stone And Cement
Epoxy Resin
Plastic And Vinyl
Stain, Varnish, Lacquer, Paint And Solvents
Natural Fibers And Fabrics Such As Linen, Wool, Silk, Rayon And Cotton
Synthetic Fibers Such As Nylon, Acrylic, Polyester, Polypropylene, Olefin And Microfiber (A Blend Of Polyester And Polyamid)
Leather
Upholstery, Webbing, Padding And Springs
Choose From The Following Furniture Materials To Build A Custom Table
Table Length (36″, 48″, 60″, 78″, 120″, Etc.)
Table Width (18″, 24″,32″,  36″, 40″, 4'6″, Etc.)
Table Height (16″, 18″, 28″, 30″, 34″, 40″, 42″, Etc.)
Table Depth (24″, 30″, 36″, Etc.)
Table Shape (Rectangular, Square, Round, Oval, Boat, Circular, U-Shaped, Racetrack Oval, Rounded Corners, Etc.)
Table Top Thickness (1″, 1.5″, 1 3/4″, 2″, 2.5″, Etc.)
Table Seating Capacity, (2, 4, 6, 8, 10, 12, Etc.)
Table Type (Dining, Kitchen, Coffee, Conference, Parsons, Bar, Extendable, Wood Slab, River, Ocean, Chess, Bedside, End, Gaming, Pool, Waterfall, Drafting, End, Sofa, Coral Reef, Cocktail, Console, CNC Engraved, Vanity, Corner, Picnic, Accent, Bar, L-Shaped Table Desks, Nested, Outdoor, Residential, Work, Commercial, Kitchen Island, Etc.)
Table Design Style (Farmhouse, Industrial, Modern, Rustic, Live Edge, Lift Top, Shaker, Hospitality, Contemporary, Epoxy Resin River, Harvest, Drop Leaf, Folding, For Small Spaces, Antique, French Country, Queen Anne, Vintage, Artistic, Mid-Century Modern, Pennsylvania Dutch, Traditional, Etc.)
Wood Species & Type Of Table Top (Walnut, Natural Wood Slab, Live Edge, Figured Maple, Brown Maple,  Hard Maple, Logs, White Or Red Oak, Hickory, Elm, Solid Wood, American Hardwoods, Alder, Mahogany, Cherry, Birch, Ash, Fir, Teak, Rosewood, Reclaimed Wood, Pine, Exotic, Etc.)
Table Legs & Base (Trestle, Trapezoid, Single Pedestal, Double Pedestal, Wood, Metal, Steel, Cross, Bold Down, Bar Height, Single Solid Leg, Tree Stump/Trunk, Turned Legs, Post, Etc.)
Table Top Coating, Sheen, Finish, Paint Or Stain (Epoxy Resin Topcoat, Urethane Topcoat, Polyurethane, High-End Clear Coat, Tung Oil Satin Finish, Semi-Gloss Varnish, Water-Based Finish, Oil-Based Finish, Urethane Varnish, Etc.)
Table Hardware And Parts (Leaf Supports, Table Locks, Fasteners, Drop Leaf Supports, Nailhead Trim, Surface Mount Corner Brackets, Pins, Braces, Table Lift Mechanisms, Slides, Blanks, Table Leg Brackets, Sockets, Lever Locks, Extension Hardware, Hinges, Knobs, Pulls, Bumpers, Casters, Connectors, Wheels, Edge Covers, Feet, Decorative Hardware, Folding Hardware, Etc.)
Table Materials (Wood, Epoxy Resin, Glass, Natural, Steel, Brass, Laminates, Formica, Synthetic, Cast Iron, Marble, Granite, Plastic, Plywood, Stainless Steel, Quartz, Leg Feet, Etc.)
VIDEO TESTIMONIAL: Custom Southwest Epoxy River Table | Rocks, Arrowheads, Fossils & Turquoise [CVCF 2021]
Uploaded to YouTube On December 18, 2021 by Chagrin Valley Custom Furniture
In this video, a homeowner from New Mexico talks about the made-to-order epoxy river dining table he and his wife co-designed online remotely with Chagrin Valley Custom Furniture. The Black Walnut tabletop has a teal blue river running through it and epoxy-filled indents, imperfections, knotholes, and cracks. Suspended in the epoxy are turquoise crystals,  river rocks, pebbles, fossils, and arrowheads to go along the Southwestern theme of their home.
Every dining table is unique and an expression of the people who order it. We use Zoom, Facetime, phone calls, emails and texts to keep you fully involved in the design and construction of your custom dining table. We make our dining tables from locally-sourced, sustainably-harvested natural wood, reclaimed wood and live edge wood. You choose your own wood slabs – any species – plus the materials and epoxy resin color. Tell us what style you want – industrial, modern, rustic – you name it, we'll build it.
You'll also see dozens of other custom-made one-of-a-kind dining tables we've co-designed online with homeowners, businesses, restaurants, hotels, interior designers, and architects, and built in our 6,000 sq. ft. workshop in Cleveland. Chagrin Valley offers many epoxy resin table options – different types, styles, designs, shapes, seating, legs and bases, epoxy colors and more.
We pride ourselves on having what we feel are the highest quality river tables built in America. With our CNC machine, we are able to engrave names, logos, topographic waterway features, and other artwork into our epoxy river dining tables and custom conference tables. We have built 100% customized tables for businesses and homeowners all across America.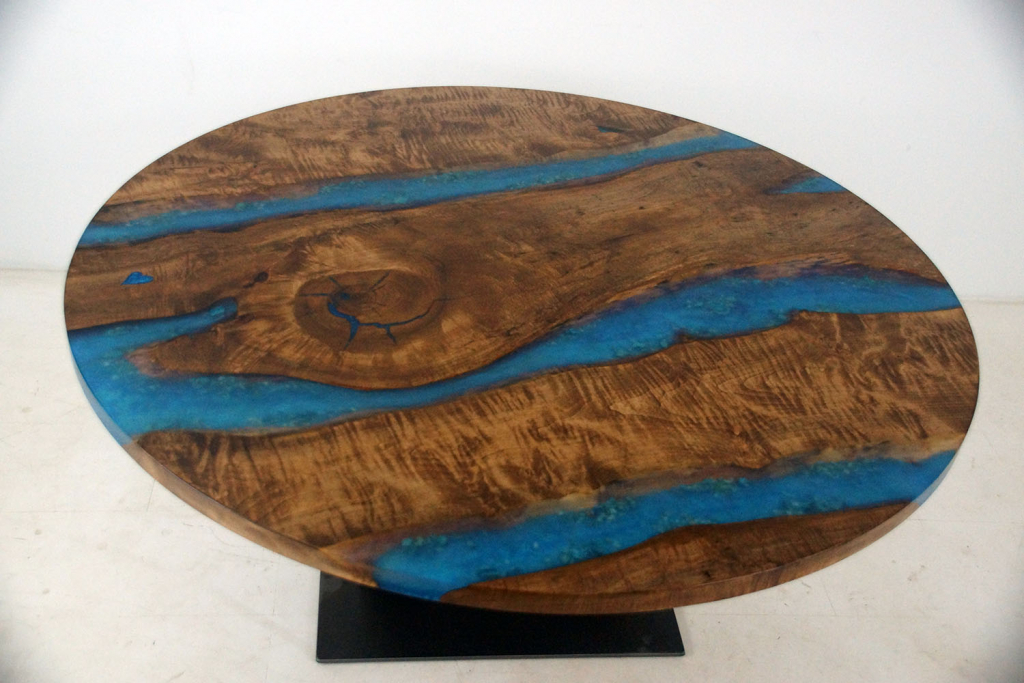 Round Blue Epoxy Resin River And Live Edge Dining Table $6,000+
You can buy custom epoxy resin river tables, epoxy resin and wood dining tables and epoxy resin and live edge wood countertops for sale locally or online at ChagrinValleyCustomFurniture.com. Buy a natural live edge wood table. You can call CVCF at 440-591-5511. Get design ideas in the CVCF project gallery before you submit you table design idea and request a quote online. You can even start designing your own custom furniture, desk or table online with this free app.
YouTube Video Uploaded By Chagrin Valley Custom Furniture On July 26, 20221 Titled "CNC Carved Epoxy-Filled Topographic Tables | Mapped River, Lake, Waterway, Ocean Tables [CVCF 2021]"
In this video, you'll see really amazing custom tables with the center of the tabletop carved out to replicate the shapes of bodies of water in the U.S. and then filled with colored epoxy. You'll watch how these CNC carved topographical epoxy tables with ACTUAL mapped rivers, lakes, beaches, oceans, islands, bays, seashores are handmade, one by one, by Chagrin Valley Custom Furniture in our Cleveland, Ohio production facility.
Take a look at pictures of custom made epoxy resin river and solid wood kitchen tables, custom built epoxy resin and natural wood conference tables, made-to-order epoxy resin river and live edge dining tables, custom made epoxy resin and solid wood coffee tables and epoxy resin river tables that have been handcrafted by CVCF to our customer's exact specifications. If you are looking for custom desks, see some of the custom built epoxy resin river and solid wood desks, handmade executive desks, L-shaped desks, custom built home office desks and furniture and handcrafted live edge wood slab desks that CVCF has built, here.
YouTube Video Uploaded By Chagrin Valley Custom Furniture On May 19, 2021 Titled "Lake Sunapee Replicated in a CNC Engraved Epoxy Table (CVCF 2021)"
In this video, furniture designer Sky Ironhorse programs and operates a handheld CNC Router to carve the outline of Lake Sunapee, New Hampshire into the top of a table that is then filled with colored epoxy. Chagrin Valley Custom Furniture fulfilled the request of a couple by making this one-of-a-kind dining table for their luxury lake house. CVCF can use a CNC router to carve any real lake or river into the top of a wood table top.
Prices for custom made river tables start at $1,900+. You can order custom built epoxy and wood dining tables and ocean tables that will be built just the way you want and then shipped to you.
Video Uploaded To YouTube By Chagrin Valley Custom Furniture On May 5, 2021 Titled "The Best Custom Epoxy Resin River Tables [2020 Compilation]"
This video features our best custom furniture (mostly custom river table) projects we've produced and delivered throughout the year 2020. Projects ranged widely, from simple live edge walnut desks, to hickory river tables with LED lights and extendable leafs (with LED light up capabilities), and conference river tables with CNC engraved logos.
Information On River Tables And Epoxy Resin From Chagrin Valley Custom Furniture
How Much Does A River Table Cost?
Small river tables range from $1,900 – $4,000, and larger river tables range from $1,900 – $6,500. Get more river table prices, here.
How Thick Should A River Table Be?
CVCF frequently uses wood slabs that are 2″ thick to custom build sturdy river tables for customers that order locally and online in the U.S. After sanding, these 2″ thick slabs end up being about 1 3/4″ thick.
Are River Tables Strong?
Well built epoxy resin river tables made by CVCF with sturdy natural live edge hardwood slabs are extremely durable and can seat 8, 10, 12 or more people. The surfaces of river table tops made by CVCF, are beautiful, strong and virtually impenetrable. The custom metal river table legs and bases handcrafted by CVCF will last for generations without maintenance.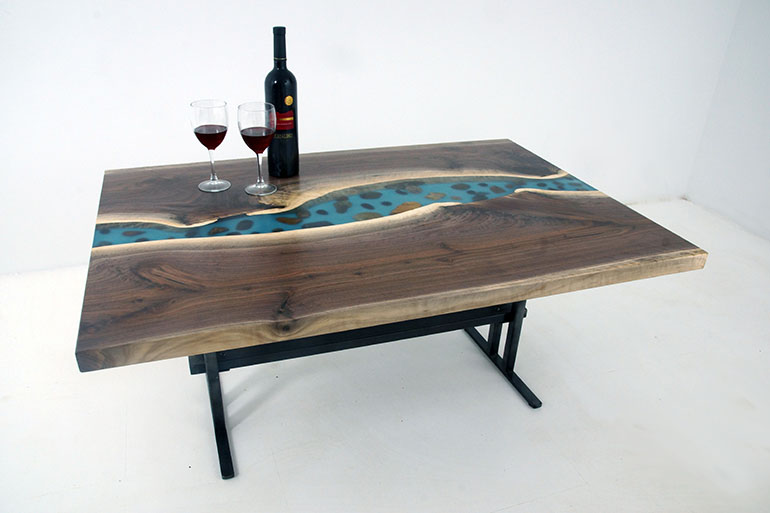 Learn About About Building River Tables And Epoxy Resin And Wood Furniture From Chagrin Valley Custom Furniture
Buy A Custom Made Round Conference Table $7,000+ | For Sale Locally Near You (U.S. Only) Or Online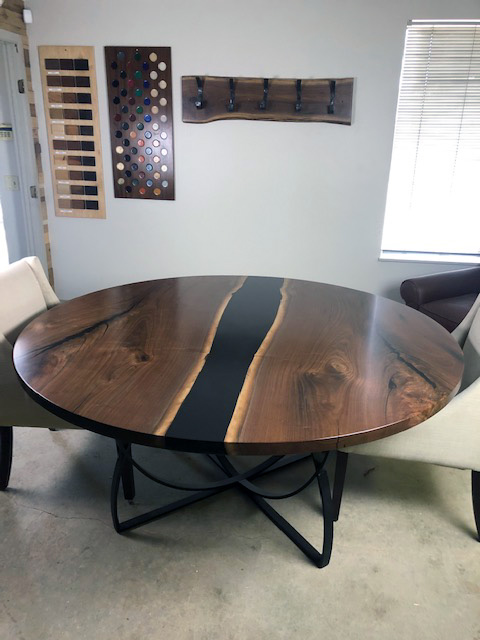 Pictured Here Is Round Black Epoxy Resin River And Black Walnut Live Edge Conference Table That Was Sold Online By CVCF In 2018
Custom Handmade Conference Room Table Material, Size, Shape And Design Options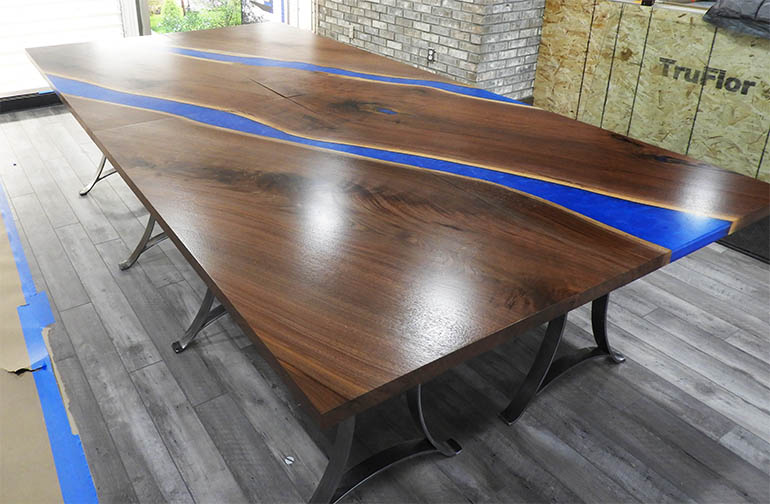 Buy A Custom Built Modern Modular Conference Room Table [System] For Sale Locally Near You (U.S. Only) 12,000+ Any Size, Shape Or Design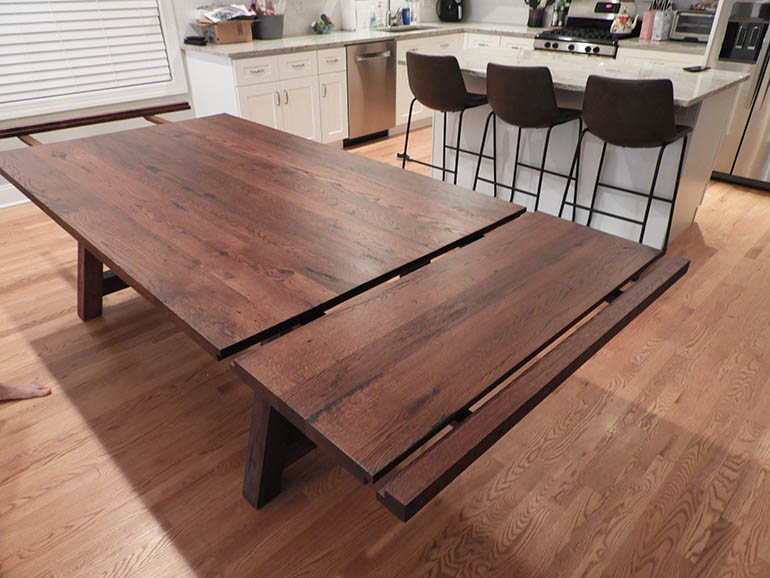 Custom Built Sturdy And Simple Made-To-Order Rustic Farmhouse Dining Table $1,800+ [Extendable]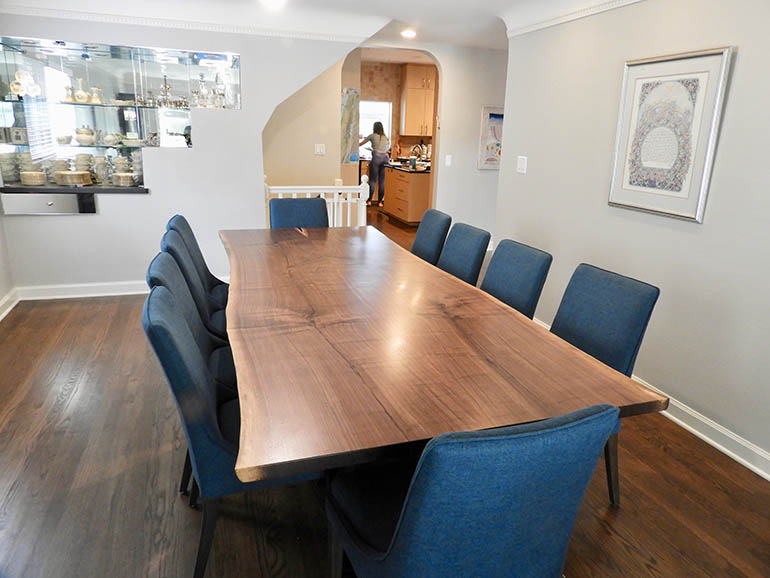 Custom Made Solid Live Edge Wood Slab Dining Table $2,600+ [Kitchen Table That Seats 10]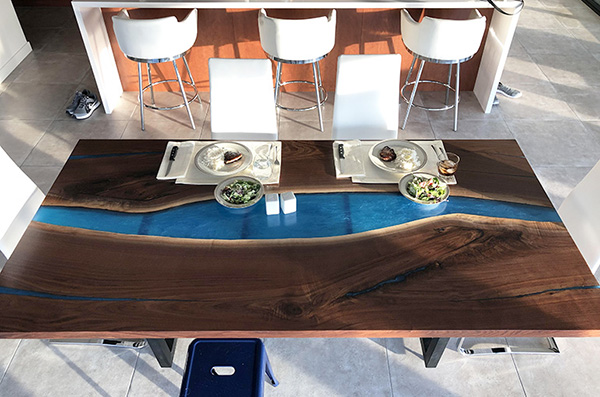 Stylish Modern Blue Epoxy Resin River Live Edge Black Walnut Dining Table $4,200+ [Custom Ordered]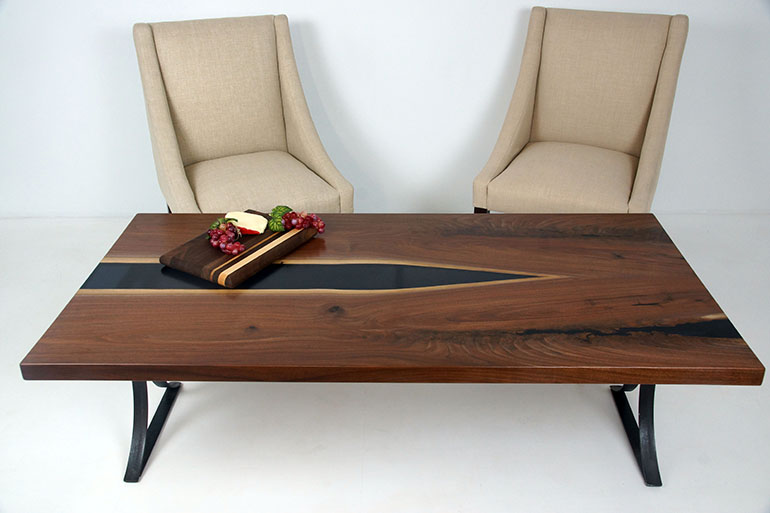 Unique Modern Solid Wood Custom Handmade Coffee Table $800+ [Black Epoxy Resin]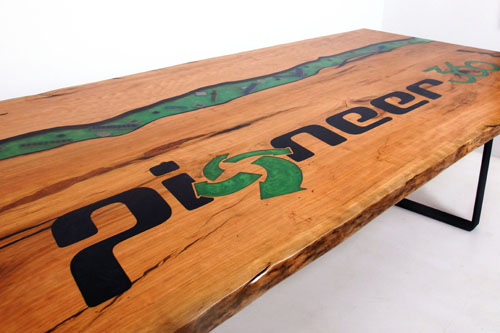 Custom Handcrafted Live Edge Epoxy Logo Conference Table $4,500+ [Any Size Or Shape]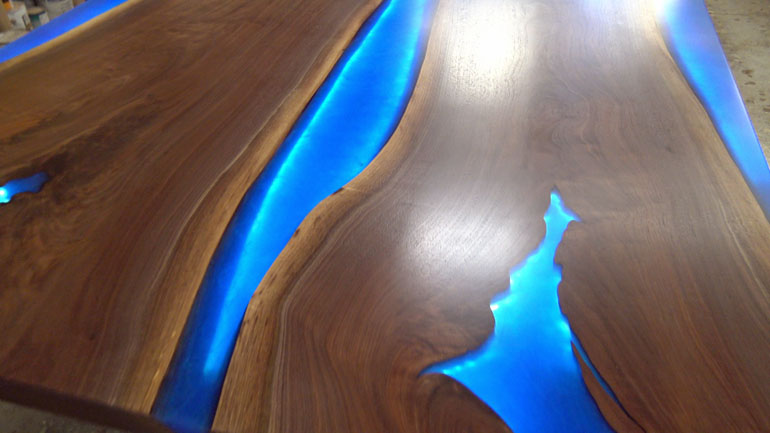 Large High Quality Custom Designed Epoxy Resin River Dining Table $3,000+ [With LED Lights]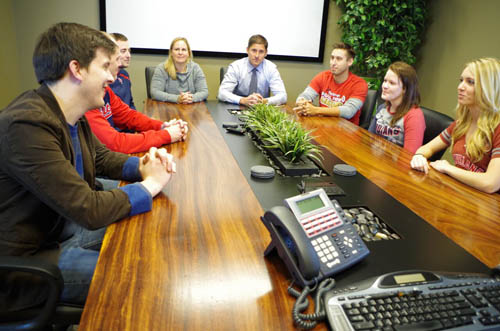 New Long And Wide Modern Handcrafted Custom Conference Room Table $4,500+ [Reclaimed Wood And Steel]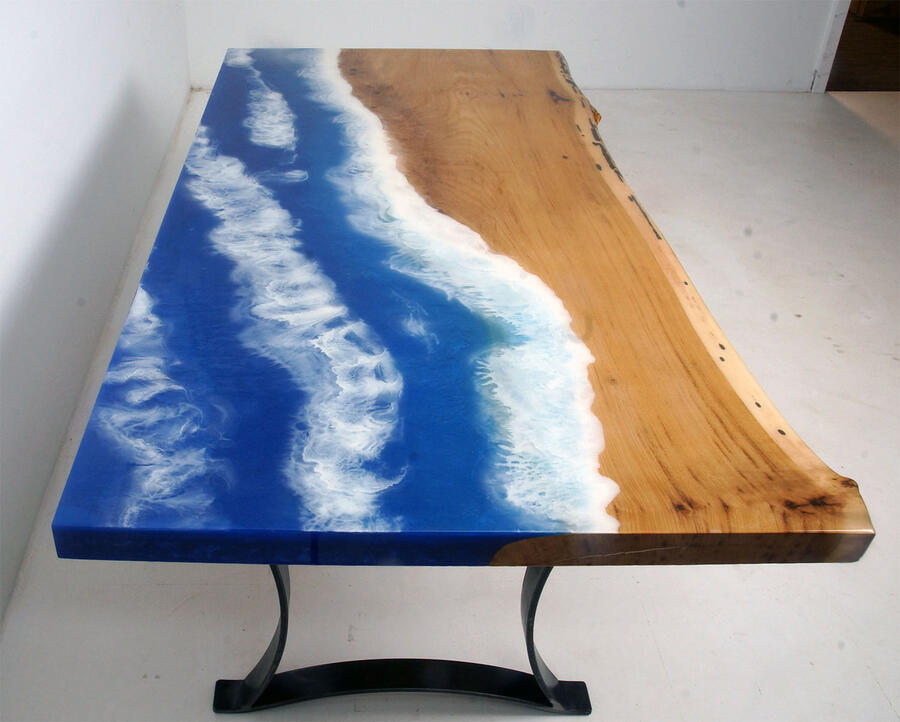 Epoxy Resin "Moving Ocean" Coffee Table $1,000+ [Incredible Ocean Table]
Order 100% Custom Furniture From CVCF And You Choose All The Materials
You can start the custom furniture ordering process here or you can request a brochure, request an estimate or price quote or visit our design studio and showroom. You can also request a free design consultation which can be conducted in person, by phone or through the use of Skype or FaceTime.
When you order brand new custom furniture or a custom woodworking project from Chagrin Valley Custom Furniture, from anywhere in the USA, you are getting real and authentic custom furniture. You can submit your custom furniture design and get a price for fabrication and assembly. 
We design AND build 100% completely custom furniture from scratch, unlike most firms that advertise custom furniture. Our furniture is many steps above "customizable furniture", "semi-custom furniture" and "made-to-order furniture" on the custom scale – it is really custom furniture, as custom as custom can be.
Granted real custom furniture takes longer to make, ship, deliver and assemble. It is true that more effort from the customer is required when commissioning a handmade one of a kind piece or suite of furniture. Learn how the highest quality river tables and custom wood and metal furnishings are handcrafted in America in 2020, here.
CVCF normally designs furniture for our customers, or we collaborate with our clients to design custom furniture, which we then handcraft and assemble.  However, if you design your own furniture, we will build it, install and assemble it for you, assuming you live in the continental USA.
To submit your design drawings or CAD drawing for a quote, call 440-591-5511, email shel@chagrinvalleycustomfurniture.com or click here.
Buying 100% completely custom furniture is, and should be fun. You should be able to pick out the wood slab, the glass table top, the fabric for the chairs, the upholstery for the sofa, the hinges for the barn door and the color of stain for your kid's bunk beds.
What fun is buying custom furniture if you can't get it made just the way you want.  If you could care less about the screws we use for your furniture, then you don't need to specify stainless steel.  We will probably use them anyway, even though they are more expensive.
The process of working with a designer at CVCF is enjoyable. You get to choose ALL the materials, or as many as materials as you want during the design phase of the project.
When you buy custom furniture from CVCF, you not only get to specify the types of wood, glass, padding and metal that will handcrafted, you also get to collaborate on, and approve one or more design drawings.  Ask your grandfather, building furniture is fun – and buying it should be too.
The process of buying custom furniture usually starts with a phone call or email. From there the customer begins conversations with a CVCF Woodworking Project Manager or a furniture designer.
During the initial "Design-Build" consultation one of the main topics is choosing the prettiest, coolest or most awesome materials for the furniture or woodworking project. People that order, or commission, completely custom furniture should try to understand the importance of the materials used to manufacture high quality custom furniture.
The more furniture materials options that are considered at the beginning of the project, the better the end result.  If they desire, or are so inclined, CVCF clients are welcome to choose ALL THE MATERIALS that will be used to make their piece, or suite, of custom furniture.
This is what makes CVCF different in the "custom furniture industry".  Chagrin Valley Custom Furniture manufacturers custom built epoxy resin wood furniture and epoxy resin river tables.
The woodworkers at Chagrin Valley Custom Furniture use only the finest types of materials to manufacture 100% custom furniture for customers in the United States.  We use premium hardwood materials and unique design techniques when handcrafting your distinctive furniture.
We can help you decide which wood and what technique is best suited to your handcrafted custom furniture project. Just call owner/woodworker Shel Myeroff at 440-591-5511, email him at shel@chagrinvalleycustomfurniture.com or go to the 'Request an Estimate' page of this web site and fill out and submit the form.  Have Rustic And Modern Furniture Custom Built For You In Cleveland Ohio.

Get Started Designing Your Own Custom Furniture!
Get creative and go online and use an app or program to expertly design and customize your own room, interior space or perfectly fitting furniture.
Choose any style you truly want for a sturdy farmhouse table, epoxy resin river dining table, adjustable height standing desk, sofa, bed, chair, kitchen island, countertop, table top, bookcase, sectional or kitchen cabinets.
Customize any of the furniture materials, dimensions, wood species, epoxy resin colors, table top finishes and stains. Create a custom furniture design and submit it for a quote. Get a price for custom made furniture, a custom built dining table or a unique handcrafted desk, here. Read custom furniture design reviews, here.
Choose any type of live edge wood slab table edges, powder coated steel legs, inlays, barn door hardware or metal bases. Select your favorite power outlets and cable management equipment, lighting components, CNC carvings and engravings, decorative and functional hardware, wheels or feet.
Design your own custom sofa online by customizing your dream sofa or sectional by selecting from thousands of configurations and sizes.
Use Your Own Creative Style To Design And Customize Your Space, Room Or Furniture
Download or register for free custom furniture programs, apps and software if you want to design your own solid wood furniture, make your own live edge furniture or buy custom made colorful epoxy resin furniture online.
Find out what you need to know about designing custom furniture that precisely fits your needs and space requirements.
Read step-by-instructions, browse furniture design pictures and watch videos to see how custom furniture is built.
Design furniture online with free woodworking design and 3D modeling apps. You don't need to be a master craftsman to design and build your own custom furniture.
Watch a video tutorial to learn how to draw sketches of basic furniture forms and shapes. You can design your own furniture and find a local furniture maker near you or buy it online here.
Custom Farmhouse Dining Table Sold Locally [Industrial Base]
In this video, furniture maker Shel Myeroff, owner of Chagrin Valley Custom Furniture, talks with local customers Matt and Molly from Chagrin Falls, Ohio about the high quality made-to-order extendable farmhouse dining room table that CVCF custom built for them.
After an initial furniture design consultation, CVCF furniture builders set off to handcraft the rustic, yet modern and simple, farmhouse dining table from 100-year-old reclaimed oak wood beams, sustainably sourced from a barn in Southern Ohio.
The expert CVCF craftsmen at the Cleveland, Ohio workshop, completely customized the farmhouse dining table by adding a sturdy and durable industrial style metal (steel) base. This video shows all the attention to detail, including the welds and the two pullout inserts. The comfortable farmhouse dining table is 128 inches long when fully extended. Now Matt and Molly are living happily ever after with their new beautiful, and very unique, solid wood farmhouse dining table.
Listen to the couple talk about the exceptional customer service they received from CVCF. Find out how they got helpful design ideas from Shel for their custom table. Get their thoughts on the remarkable workmanship provided by CVCF craftspeople.
Because pine is inexpensive, it is frequently used by America artisans to make farmhouse tables (also know as a farm table or harvest table) tops. For the farmhouse table shown in this video, CVCF used more expensive oak barn beams because they will last for generations (they already lasted over 100 years in a barn) and because the cut beams display a more authentic style and absorb wood stains more effectively.
The country living inspired design style of the charming contemporary farmhouse dining table shown in this video, combines clean sleek lines with a cozy and warm farmhouse feel. This homey style of farmhouse furniture and décor certainly has not gone out of style.
Popular farmhouse style furniture made by CVCF typically incorporates versatile traditional aesthetics and industrial components (legs and bases) to convey a fresher character and a more relaxing appeal than rustic furniture and décor.
Truly custom farmhouse furniture and farmhouse dining tables are handcrafted by CVCF in any design style that the client wants. Exact sizes, dimensions, shapes and wood species are specified by the customers. CVCF ships custom built farmhouse tables to homes, restaurants and businesses in all 50 states.
CVCF creates authentic one-of-a-kind farmhouse tables and a customer experience unlike any other in the furniture industry. Commissioning a farmhouse table from CVCF is fun and rewarding, start to finish. From the table design to the creation, CVCF invite their clients to "get involved". CVCF always strives to exceed customer expectations.
Custom Built Live Edge L-Shaped Desk With Storage & Drawers Sold By CVCF In 2015
The L-shaped corner desk show in this video was custom made with two African mahogany live edge wood slabs. It features hidden storage compartments, a hidden drawer and a hidden shelf for electronics. This handmade solid wood desk was commissioned locally in 2015 from Chagrin Valley Custom Furniture.
Types Of Custom Built Live Edge Furniture For Sale Locally (U.S. Only) And Online By CVCF
Walnut river tables are awesome.  Black walnut river tables are very popular in the USA in 2019 because the kiln dried dark-colored, straight grained true heartwood contrasts so vividly with a blue epoxy resin river.
The craftsmen at Chagrin Valley Custom Furniture love to make custom designed tables from walnut wood slabs because it so darn beautiful and workable.  CVCF loves to use black walnut wood for woodworking projects. Although it is not as readily available in the USA, CVCF has a few secret sources for this cherished wood.  American Black Walnut is darling of the CVCF craftsmen.
CVCF designs, handcrafts ships, delivers and assembles black walnut river tables, epoxy resin furniture and live edge waterfall benches for customers across the USA. Prices for small walnut river coffee tables start at $825.  Simply provide CVCF with your walnut river table design requirements to receive a quote for your woodworking project.
Custom Tables For Sale Online [Dining And Farmhouse $1,500+] | Buy A Custom Conference Table Locally Near You (U.S. Only) Or Online | Epoxy Resin & Live Edge Wood Conference Tables | Large & Modern | Prices | Read Customer Reviews And Watch Client Testimonial Videos
Learn how to buy a custom conference table here. Find out how to design and buy your own "made-to-measure" table for sale locally near you (U.S. only) or online. This video shows you how to get a price for a durable custom size handmade conference room table.
Find out how to order a beautiful solid wood conference table for your own home, office or business in the U.S. You choose the width and height of your table and the thickness of the table top, here.
Visit https://archive.chagrinvalleycustomfurniture.com
Call CVCF At 440-591-5511 To Speak To A Custom Furniture Designer
Email: customerservice@chagrinvalleycustomfurniture.com
Chagrin Valley Custom Furniture builds and sells large and modern conference room tables, custom wood dining tables, rustic live edge tables, drop leaf tables, kitchen tables with walnut table tops, and simple sturdy farmhouse tables.
Stylish and practical custom tables are proudly made-to-order with epoxy resin water-themed decorations (rivers, oceans, waterfalls, canyons), live edge table tops, sustainably sourced premium specialty woods, recycled or reclaimed barn wood and one-of-a-kind steel legs and metal bases.
CVCF's furniture builders co-design the very best custom built tables with customers, in any style, shape or size requested. The CVCF warehouse ships unique tables, that seat any number of people, to homes and firms all across America, from Los Angeles to New York City.
Local CVCF's expert furniture makers in Cleveland, Ohio craft high quality epoxy resin river tables, farm tables, small and large boardroom tables and coffee tables.
Tables are made from walnut, oak, maple, mahogany, elm and cherry wood. Company logos and corporate branded elements are inlaid into table top surfaces or CNC carved and filled with colorful epoxy resin pours. Clients choose their favorite items to be embedded into epoxy resin.
LED lights, cable management systems, power outlets, cabinets, drawers, wheels, lamps, benches and data ports can be integrated into custom tables, desks or office furniture made by CVCF.
Order Custom Built Furniture And Have It Assembled In Your Home Or Business | Types Of Handmade Wood And Metal Furniture For Sale