Drafting Furniture, Equipment & Products Used to Design and Draw Furniture Plans
If you are thinking about designing your own custom furniture, it is probably wise to invest in some drafting tools, drafting equipment, and drafting supplies that can help you design like a pro. Some of the common products used by custom furniture designers include drafting paper, drafting tables, drafting lamps, roll files, T-squares, drafting straight edges, drawing boards, graph paper, drafting triangles and protractors. To find a great selection of drafting tools online from top drafting suppliers such as
Alvin
,
Fairgate
,
Kohinoor
, and
Staedtler
, go to
www.draftingsteals.com.
They can answer any product questions, and assist with selection of drawing tools, equipment, supplies, and furniture.
Get started designing furniture online, here. Learn how to design your own custom furniture online with free software and 3D modeling apps, here.
Whether you draft your concept as a finished blueprint, or simply sketch your idea on a napkin, you can submit your design Chagrin Valley Custom Furniture and we will be happy to review and refine it to be construction-ready. We can make any necessary adjustments or have one of our custom furniture designers do a professional draft from scratch (or sketch) and then build the furniture to your exact specifications. To submit your design to Chagrin Valley Custom Furniture, click here.
Following is a list and description of furniture design products used by architects, engineers and contractors in the USA.
For starters, you'll want to have a compass, dividers, and a drafting instrument set to help you draw arcs and circles, as well as take measurements. Drafting sets generally include both a divider and compass plus additional tools for inking and lettering.
You'll need a variety of drafting triangles for drawing vertical and angled lines on your technical drawings. They create exact 90°, 30°, 60°, and 45° angled lines. There are also adjustable triangles to create a variety of angled lines. To keep the triangle perfectly level on the paper, you'll need a T-square as well. The T-square is placed with its head against the side of the drawing board, and the blade makes a perfectly level horizontal line for you to draw on or to set the triangle on.
Protractors are used in drafting to draw and measure angles other than 30°, 45°, 60°, or 90°. Semi-circle protractors have 180° graduations, full circle protractors 360° graduations, and Tru-Angle Bevel protractors have two swinging arms that measure 360°.
Did you know there's actually a drafting instrument that spaces lines equidistance apart? It's called an Equal Space Divider. Its riveted pivot points expand and contract for precise spacing of lines. A proportional divider maintains scale ratio when transferring design elements from one drawing to another. The two-pointed equal length divider legs are attached with an adjustable pivot point that makes design elements proportionally larger, smaller or the same size when transferring.
Curve rulers and flexible curves are used for drawing and measuring curves. Drafting curves include French curves, adjustable curves, flexible curves, graduated curves, and more. A parallel glider is a rolling ruler used to draw parallel, perpendicular, angled lines and circles. It combines the features of a straightedge, compass, triangle, protractor and more – all in one tool!
A pantograph creates, enlarges, and reduces drawings up to ten times in scale. To use it, select the ratio of reduction or enlargement, connect the clamp to the board and pantograph, and use the trace point to trace over the original drawing while tracing a reproduction on a new piece of paper at the same time.
Drafting pencils and mechanical pencils have lead that varies in hardness from soft to hard. Harder leads are used for lighter, narrow lines and softer leads for darker, wider lines. 4H pencils are generally used for light layout and guide lines, H pencils for thin dark lettering, dimension and extension lines, and F pencils for thick, dark object lines. DraftingSteals offers mechanical pencils, clutch style lead holders, and architectural wood pencils from Alvin, Sanford, General, Kohinoor, Pentel and other drafting suppliers.
Technical illustration pens and markers are used for writing, lettering, and drawing the crisp sharp lines needed for technical furniture design drawings. Precision illustration and lettering ruling pens assure a clean and even line in your manual drawings.
Drafting paper has special qualities that allow you to draw on it better with pencils and pens. It's smooth, erasable and made from friendly drawing materials like vellum and film. You can buy it in pads, sheets, and rolls. Translucent drafting vellum, made of 100% new cotton fiber, is preferred for its erasability, strength, and archival qualities. Polyester drafting film won't tear, cut, stain, become brittle or discolored with age. Graph paper, with its printed grids, is beneficial for recording, diagramming, charting, and plotting data.
In addition to the drafting tools, supplies and equipment, you may want to invest in some drafting furniture to create a more productive work environment. Drafting furniture includes tables, chairs, lighting, and storage designed specifically for the needs of a draftsman. DraftingSteals has large selection of furniture from the most popular names in drafting like Alvin, Mayline, Safco, SMI and Studio Designs.
The drafting table is a multipurpose desk serving as a stable platform for drawing and reading blueprints. Most tables are height adjustable so that you can stand or sit while working. A key feature found in drafting tables is the ability to adjust the board incline angle to the most comfortable drawing position.
If you don't purchase a drafting table, you can always get a portable drafting board that offers a perfectly flat, smooth, and soft surface for you to draw on. Put it on any surface and take it with you wherever you prefer to do your drafting. Drafting lamps attach to the drafting table and have swinging arms to provide the right amount of light to the right area of your drawing. They come with Halogen, Florescent, or Incandescent lights.
The ideal drafting chair offers ergonomic features that include height adjustment and swivel. The ability to change seating positions and even to stand up for spells is important for creating a comfortable, healthy work experience.
There are different types of storage racks and cabinets for filing and protecting your drafting plans. Flat file cabinets are recommended when protecting large format documents. The drawings lie flat on the shelves and are hidden from exposure to light and other elements that can damage your plans. Roll file storage is an inexpensive way to store and organize large sheets of drafting paper rolled and held in an upright position.
Now that you have all your drafting tools, equipment, and furniture, all you need is the knowhow to create the furniture designs in a manner that can translated into a functional piece of furniture.
Furniture design apps, books and software teach you how to sketch, draw and design your own custom wood and metal furniture and to executive professional drafts. Learn how to visualize, plan, render, 3D model, measure and share custom designed furniture for woodworking projects, carpentry, interior design and cabinet design. Click here to learn about furniture design apps, books and software.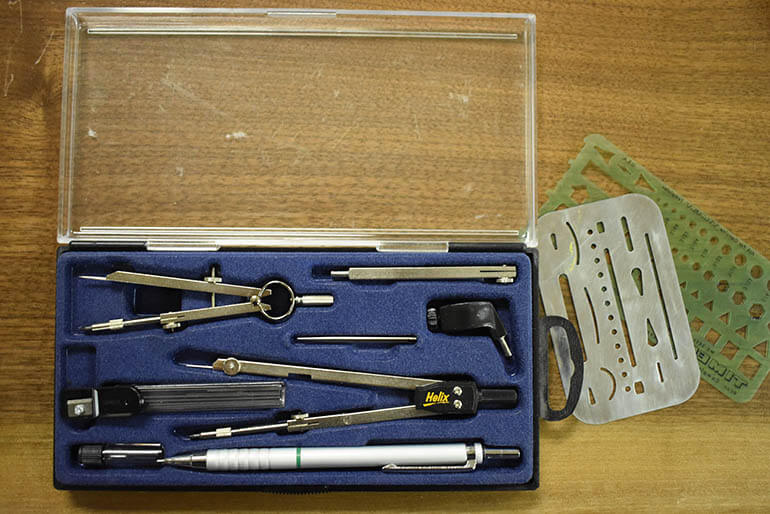 Protractors, compasses, pens and more.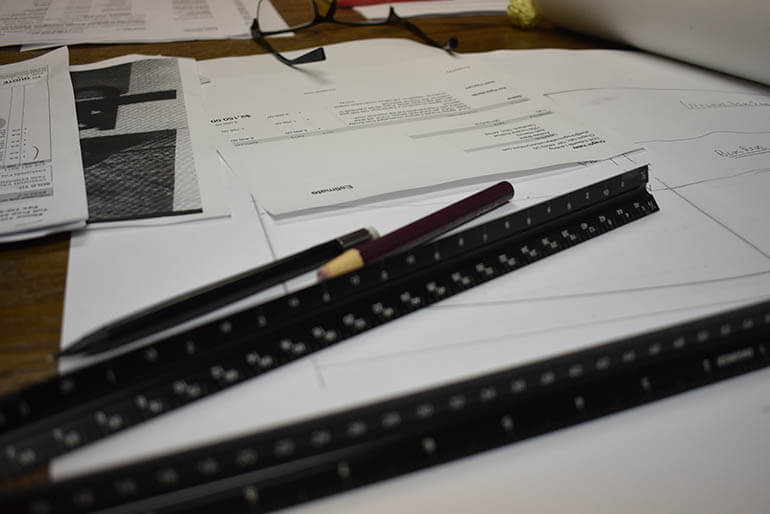 Rulers – a staple for precise craftsmen.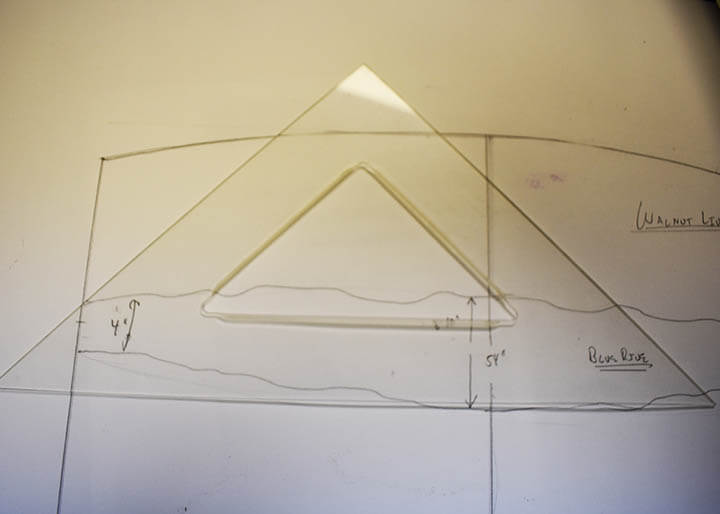 A triangle, used for measuring and sketching angles.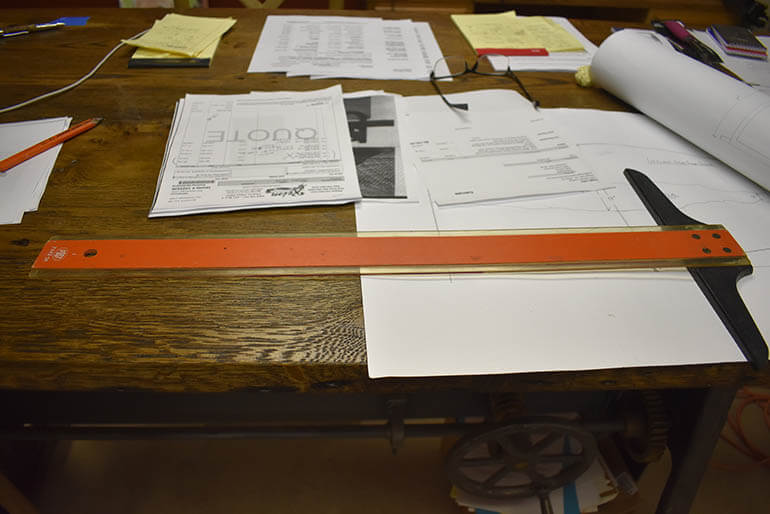 A T-square used in the CVCF offices for blueprinting to perfection.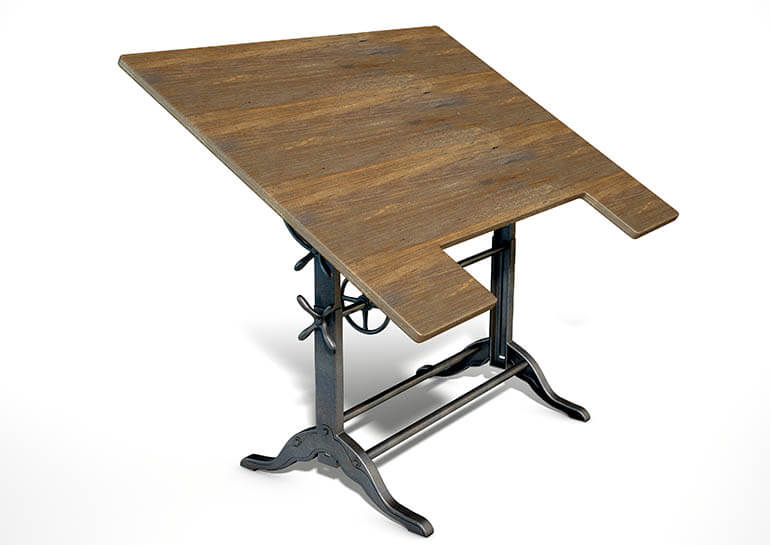 A professional, angel-adjustable drafting table.
If you are really serious about designing your own furniture, numerous colleges, universities, and trade schools offer degree programs in furniture design. Knowing how to draw and use color is an important skill furniture designers need. You will also learn all about the materials available to furniture makers, including wood, metal, and ceramic materials. While many furniture designers still create customized furniture designs using traditional design tools, equipment and methods, many now use computer-aided design (CAD) technology to develop realistic-looking designs.
To learn about furniture design and CAD technology, you can apply online for the SCAD furniture design program.
Southern New Hampshire University also offers online courses in woodworking and furniture design. They include a Drawing Digital Designs and Designing Furniture course in which students consider material use, wood choice, and function to create original designs.
Academic Earth offers online certificate programs in furniture making which include the design of custom-made pieces, as well as products rendered in manufacturing facilities.
Penn Foster Career School's Online Furniture and Cabinet Maker Diploma Program includes instruction in how to apply the fundamentals of design to furniture making, how to design furniture to fit the user, and how to use sketches, drawings, and mock-ups in furniture design.
When you're ready to submit a polished custom furniture design or simple sketch of your concept, you can submit your design to Chagrin Valley Custom Furniture. We will be happy to review it and refine it for manufacturing at our custom furniture making facility outside Cleveland, Ohio. To submit your design, click here.
VIDEO TESTIMONIAL: Custom Southwest Epoxy River Table | Rocks, Arrowheads, Fossils & Turquoise [CVCF 2021]
Uploaded to YouTube On December 18, 2021 by Chagrin Valley Custom Furniture
In this video, a homeowner from New Mexico talks about the made-to-order epoxy river dining table he and his wife co-designed online remotely with Chagrin Valley Custom Furniture. The Black Walnut tabletop has a teal blue river running through it and epoxy-filled indents, imperfections, knotholes, and cracks. Suspended in the epoxy are turquoise crystals,  river rocks, pebbles, fossils, and arrowheads to go along the Southwestern theme of their home.
Every dining table is unique and an expression of the people who order it. We use Zoom, Facetime, phone calls, emails and texts to keep you fully involved in the design and construction of your custom dining table. We make our dining tables from locally-sourced, sustainably-harvested natural wood, reclaimed wood and live edge wood. You choose your own wood slabs – any species – plus the materials and epoxy resin color. Tell us what style you want – industrial, modern, rustic – you name it, we'll build it.
You'll also see dozens of other custom-made one-of-a-kind dining tables we've co-designed online with homeowners, businesses, restaurants, hotels, interior designers, and architects, and built in our 6,000 sq. ft. workshop in Cleveland. Chagrin Valley offers many epoxy resin table options – different types, styles, designs, shapes, seating, legs and bases, epoxy colors and more.
We pride ourselves on having what we feel are the highest quality river tables built in America. With our CNC machine, we are able to engrave names, logos, topographic waterway features, and other artwork into our epoxy river dining tables and custom conference tables. We have built 100% customized tables for businesses and homeowners all across America.
Get Ideas From 20+ Unique River Tables You Can Buy In 2021 | Customized Contemporary Wood And Epoxy Dining Tables And Kitchen Countertops
YouTube Video: Custom Wood & Epoxy Dining & Kitchen Tables for Sale Online [Costs, Sizes, Modern Tops, Live Edge]
Custom Epoxy River Tables For Sale Locally & Online
You can buy custom epoxy resin river tables, epoxy resin and wood dining tables and epoxy resin and live edge wood countertops for sale locally or online at ChagrinValleyCustomFurniture.com. Buy a natural live edge wood table. You can call CVCF at 440-591-5511. Get design ideas in the CVCF project gallery before you submit you table design idea and request a quote online. You can even start designing your own custom furniture, desk or table online with this free app.
YouTube Video Uploaded By Chagrin Valley Custom Furniture On July 26, 20221 Titled "CNC Carved Epoxy-Filled Topographic Tables | Mapped River, Lake, Waterway, Ocean Tables [CVCF 2021]"
In this video, you'll see really amazing custom tables with the center of the tabletop carved out to replicate the shapes of bodies of water in the U.S. and then filled with colored epoxy. You'll watch how these CNC carved topographical epoxy tables with ACTUAL mapped rivers, lakes, beaches, oceans, islands, bays, seashores are handmade, one by one, by Chagrin Valley Custom Furniture in our Cleveland, Ohio production facility.
Take a look at pictures of custom made epoxy resin river and solid wood kitchen tables, custom built epoxy resin and natural wood conference tables, made-to-order epoxy resin river and live edge dining tables, custom made epoxy resin and solid wood coffee tables and epoxy resin river tables that have been handcrafted by CVCF to our customer's exact specifications. If you are looking for custom desks, see some of the custom built epoxy resin river and solid wood desks, handmade executive desks, L-shaped desks, custom built home office desks and furniture and handcrafted live edge wood slab desks that CVCF has built, here.
YouTube Video Uploaded By Chagrin Valley Custom Furniture On May 19, 2021 Titled "Lake Sunapee Replicated in a CNC Engraved Epoxy Table (CVCF 2021)"
In this video, furniture designer Sky Ironhorse programs and operates a handheld CNC Router to carve the outline of Lake Sunapee, New Hampshire into the top of a table that is then filled with colored epoxy. Chagrin Valley Custom Furniture fulfilled the request of a couple by making this one-of-a-kind dining table for their luxury lake house. CVCF can use a CNC router to carve any real lake or river into the top of a wood table top.
Prices for custom made river tables start at $1,900+. You can order custom built epoxy and wood dining tables and ocean tables that will be built just the way you want and then shipped to you.
Video Uploaded To YouTube By Chagrin Valley Custom Furniture On May 5, 2021 Titled "The Best Custom Epoxy Resin River Tables [2020 Compilation]"
This video features our best custom furniture (mostly custom river table) projects we've produced and delivered throughout the year 2020. Projects ranged widely, from simple live edge walnut desks, to hickory river tables with LED lights and extendable leafs (with LED light up capabilities), and conference river tables with CNC engraved logos.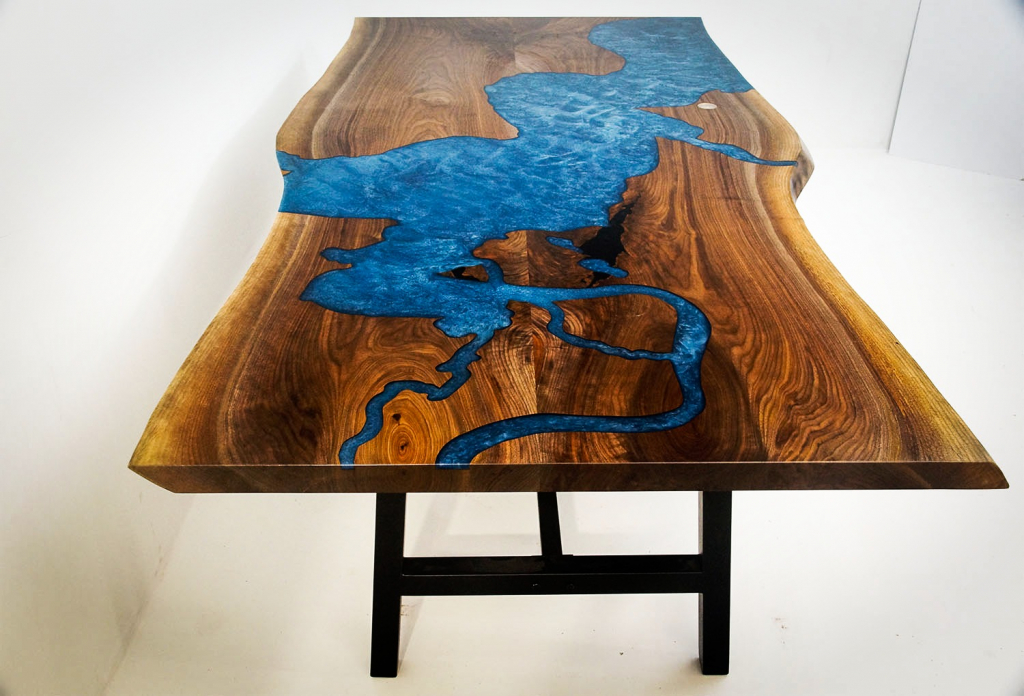 Custom Made CNC Carved And Blue Epoxy Filled Chesapeake Bay Black Walnut Live Edge Dining Table $7,000+
Resin Inlay Table Was Co-Designed Online By Pennsylvania Client And CVCF River Table Makers | Custom Handmade And Shipped In 2020 | Elegant Fluid And Curving Epoxy Resin Water Scene Tables For Your Living Room Or Dining Room
How I Built a Booming Custom Furniture Business Online
Posted On YouTube On December 31, 2020 By Chagrin Valley Custom Furniture [ChagrinValleyCustomFurniture.com]
This video shows you how Sheldon Myeroff turned his custom furniture making hobby into a profitable international custom furniture making company – all after retirement! Success came primarily from specialization with a focus on designing, building and selling custom-made river (epoxy) tables. A "river table" is two pieces of natural wood with a river of epoxy resin flowing down the middle. That's become 80% of his furniture making business.
Sheldon started Chagrin Valley Custom Furniture from his home in 2013, but only became serious about growing the company after moving into a large high-end furniture manufacturing facility in 2017. CVCF has become a manufacturer of high quality, handcrafted, custom designed furniture, specializing in custom live edge epoxy tables and desks for sale online to individuals and businesses throughout the continental United States and Canada. Sheldon's innovative ideas for furniture and his furniture business have become a hallmark of his success.
The audio for this video is comprised of extracts from Andy Levine's Second Act Stories podcast on December 7, 2020, and titled "Goodbye Executive Recruiting…Hello Furniture Marking". Andy interviewed Sheldon and CVCF VP of Operations Zach Schulte for this podcast – which Adam wrote and voiced. The full podcast is only 20 minutes long and we hope you'll give it a listen. You can find it at https://www.secondactstories.org.
The Chagrin Valley process is different from other custom furniture makers (builders) because we only make true custom furniture. That means you don't go online to order and pay at the start of the process. With CVCF, you are part of the custom furniture-making process every step of the way as together we create a completely new, one-of-a-kind piece of epoxy resin furniture, specific to your unique needs and desires. You give us your design idea, choose the epoxy color, wood slab, make tweaks in the design, all remotely through video technology. You can even have an emblem or your company logo machined into the wood and filled with epoxy, or embed items in the epoxy such as school and college logos, rocks, crystals, and other sentimental memorabilia.
We harvest our wood sustainably, often under the direction of the U.S. Forest Service. This ensures the long term health of the forest. We spend up to 2 years removing moisture from the logs before starting to work with them. This helps prevent warping and cracking of the wood. Our 6,000 sq. ft. workshop is fully equipped to handle all the challenges of making a beautiful epoxy resin river table, which includes a temperature controlled, clean spray room for a smoother, scratch-resistant coat. We also offer a large variety of metal and wood legs, plus you can design your own legs if you wish.
Our furnishings include custom epoxy resin river tables, epoxy resin river beds and headboards, epoxy resin desks, epoxy resin wall art, rustic to modern farmhouse tables, barn doors, benches, countertops, shelves and so much more. Prices for our conference tables are based on such factors as size, wood species, live edge/not live edge, conference table components, epoxy resin, engraved company names, engraved logos, embedded objects in epoxy resin rivers, etc. Prices for our solid wood and live edge conference tables start at about $4,500, average about $9,000, and top off at about $18,000. Prices for conference tables with epoxy resin rivers and epoxy-filled CNC logos or scenes will cost more.
For a quote on handcrafting your epoxy resin river furniture design and shipping it to your home or place of business anywhere in the USA, call Sheldon Myeroff at 440-591-551, scan or take a photo of your design and text it to us at 440-591-5511, or email to shel@chagrinvalleycustomfurniture.com.
Custom Tables For Sale Online [Dining And Farmhouse $1,500+] | Buy A Custom Conference Table Locally Near You (U.S. Only) Or Online | Epoxy Resin & Live Edge Wood Conference Tables | Large & Modern | Prices | Read Customer Reviews And Watch Client Testimonial Videos
Learn how to buy a custom conference table here. Find out how to design and buy your own "made-to-measure" table for sale locally near you (U.S. only) or online. This video shows you how to get a price for a durable custom size handmade conference room table.
Find out how to order a beautiful solid wood conference table for your own home, office or business in the U.S. You choose the width and height of your table and the thickness of the table top, here.
Visit https://archive.chagrinvalleycustomfurniture.com
Call CVCF At 440-591-5511 To Speak To A Custom Furniture Designer
Email: customerservice@chagrinvalleycustomfurniture.com
Chagrin Valley Custom Furniture builds and sells large and modern conference room tables, custom wood dining tables, rustic live edge tables, drop leaf tables, kitchen tables with walnut table tops, and simple sturdy farmhouse tables.
Stylish and practical custom tables are proudly made-to-order with epoxy resin water-themed decorations (rivers, oceans, waterfalls, canyons), live edge table tops, sustainably sourced premium specialty woods, recycled or reclaimed barn wood and one-of-a-kind steel legs and metal bases.
CVCF's furniture builders co-design the very best custom built tables with customers, in any style, shape or size requested. The CVCF warehouse ships unique tables, that seat any number of people, to homes and firms all across America, from Los Angeles to New York City.
Local CVCF's expert furniture makers in Cleveland, Ohio craft high quality epoxy resin river tables, farm tables, small and large boardroom tables and coffee tables.
Tables are made from walnut, oak, maple, mahogany, elm and cherry wood. Company logos and corporate branded elements are inlaid into table top surfaces or CNC carved and filled with colorful epoxy resin pours. Clients choose their favorite items to be embedded into epoxy resin.
LED lights, cable management systems, power outlets, cabinets, drawers, wheels, lamps, benches and data ports can be integrated into custom tables, desks or office furniture made by CVCF.
Buy A Custom Made Round Conference Table $7,000+ | For Sale Locally Near You (U.S. Only) Or Online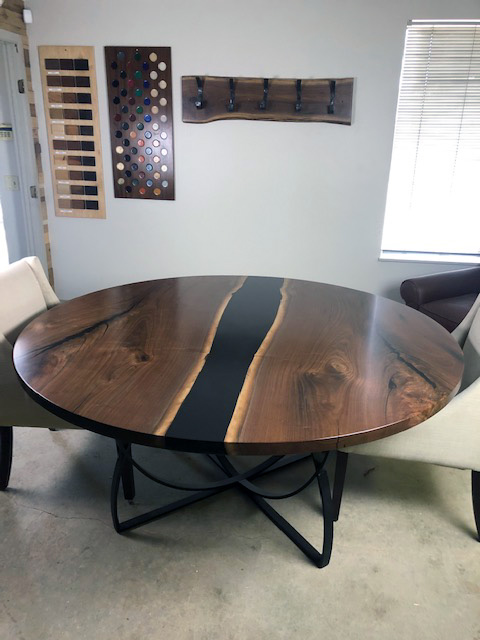 Pictured Here Is Round Black Epoxy Resin River And Black Walnut Live Edge Conference Table That Was Sold Online By CVCF In 2018
Custom Handmade Conference Room Table Material, Size, Shape And Design Options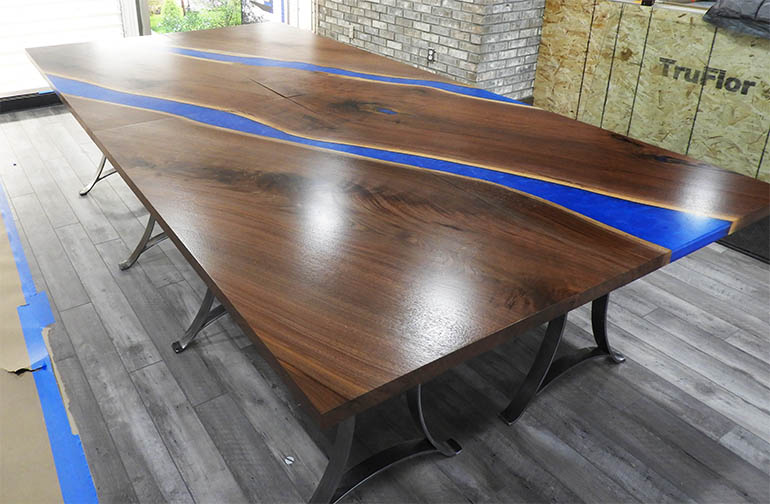 Buy A Custom Built Modern Modular Conference Room Table [System] For Sale Locally Near You (U.S. Only) 12,000+ Any Size, Shape Or Design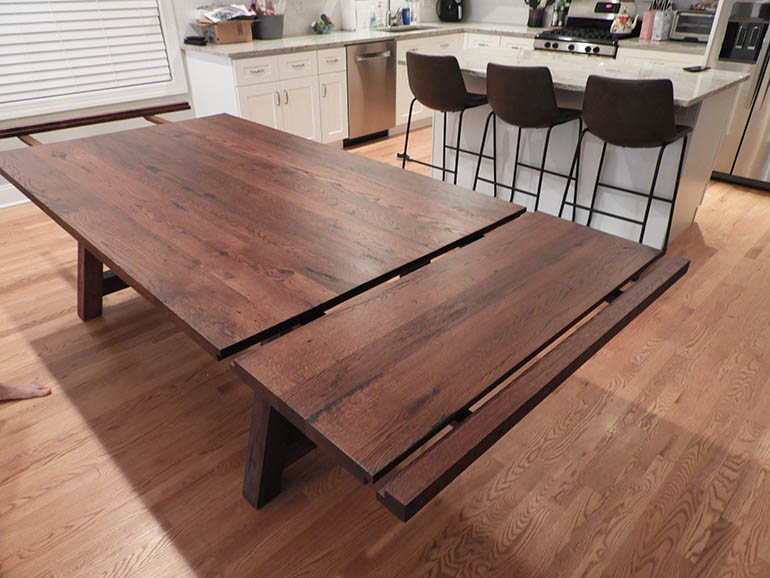 Custom Built Sturdy And Simple Made-To-Order Rustic Farmhouse Dining Table $1,800+ [Extendable]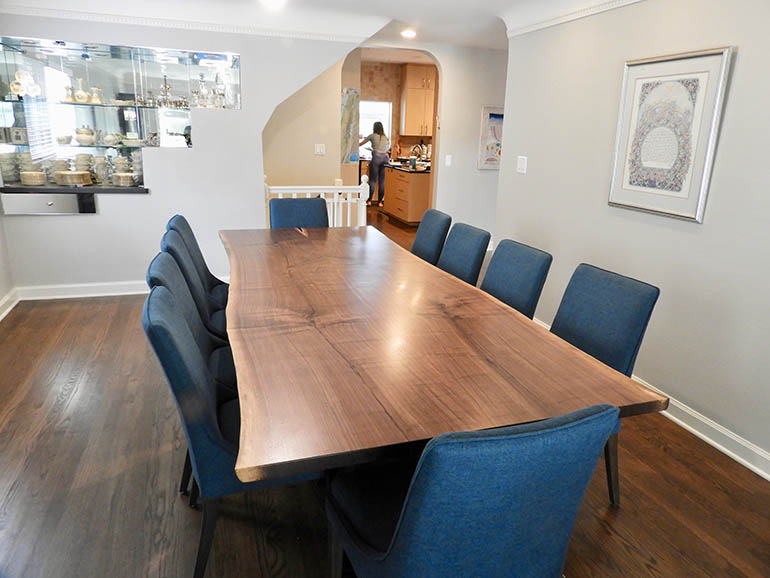 Custom Made Solid Live Edge Wood Slab Dining Table $2,600+ [Kitchen Table That Seats 10]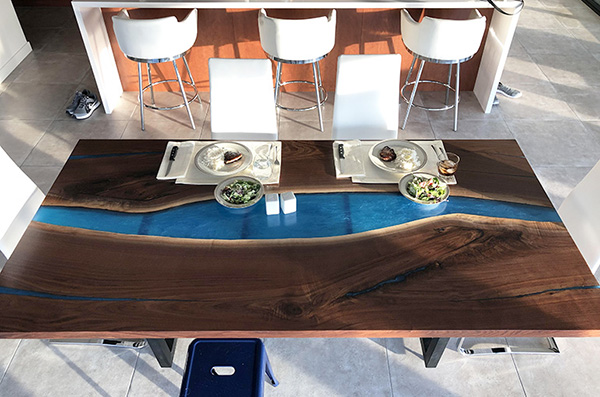 Stylish Modern Blue Epoxy Resin River Live Edge Black Walnut Dining Table $4,200+ [Custom Ordered]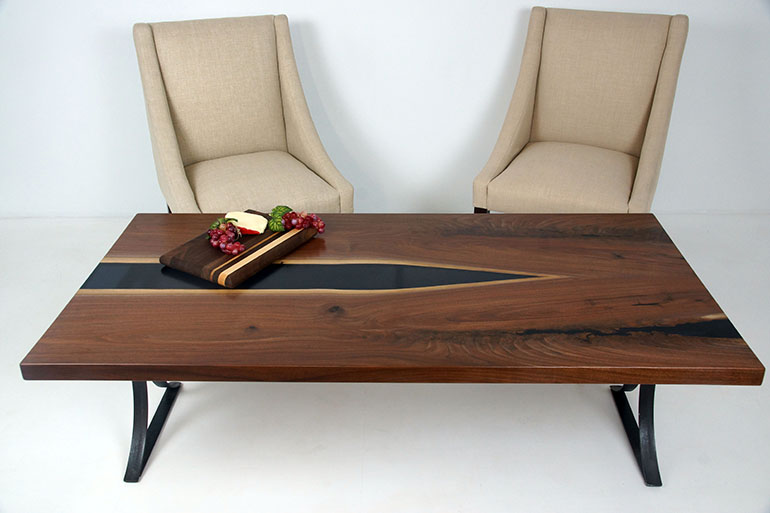 Unique Modern Solid Wood Custom Handmade Coffee Table $800+ [Black Epoxy Resin]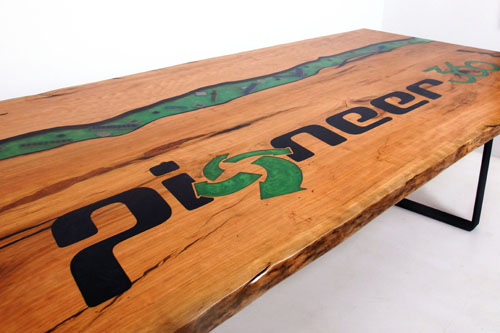 Custom Handcrafted Live Edge Epoxy Logo Conference Table $4,500+ [Any Size Or Shape]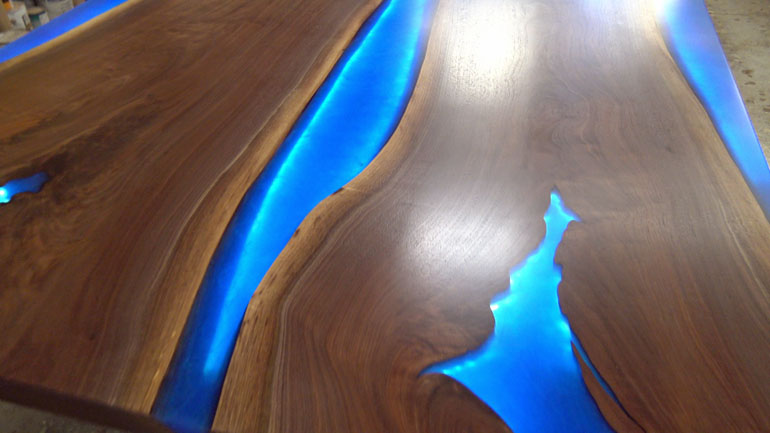 Large High Quality Custom Designed Epoxy Resin River Dining Table $3,000+ [With LED Lights]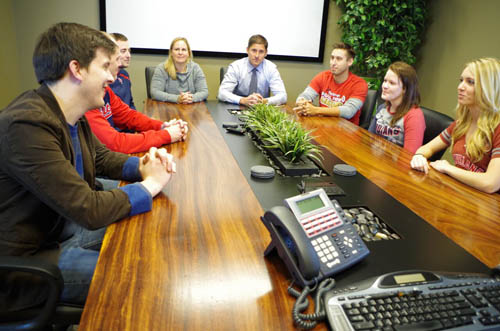 New Long And Wide Modern Handcrafted Custom Conference Room Table $4,500+ [Reclaimed Wood And Steel]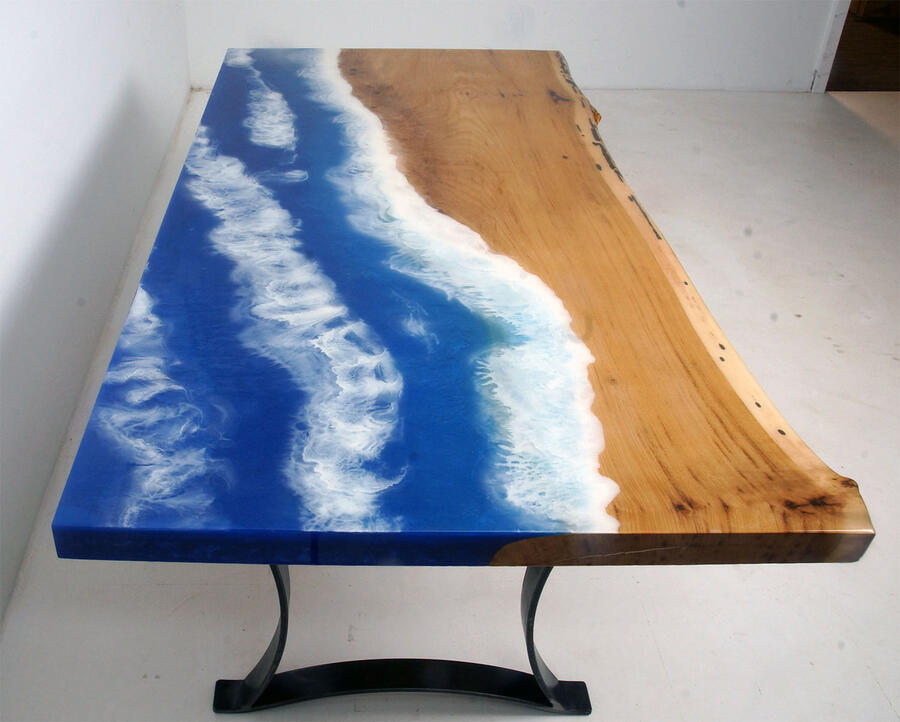 Epoxy Resin "Moving Ocean" Coffee Table $1,000+ [Incredible Ocean Table]