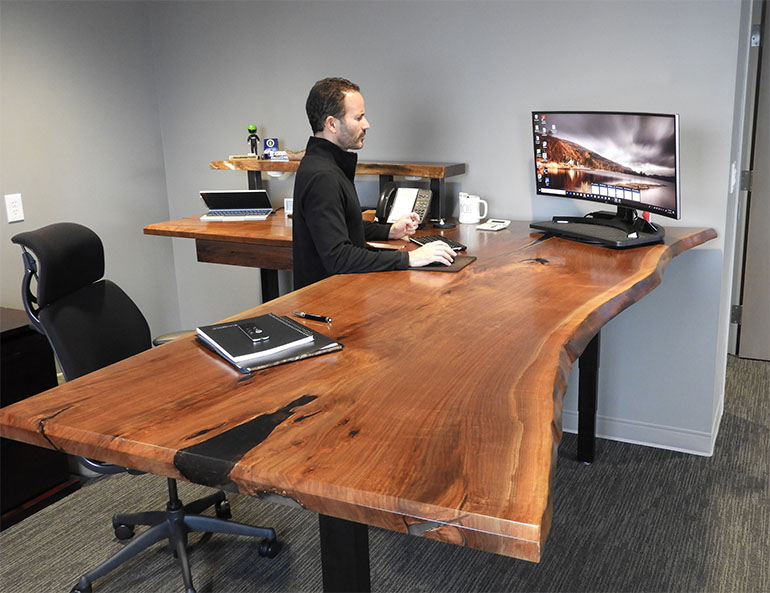 Custom Made Black Epoxy Resin Black Walnut Live Edge Adjustable Height Sit Stand Desk For An Office | Sold Locally [Ohio] In 2019 | $5,300+
Get more information about buying a custom executive desk, custom live edge desk or custom L-shaped desk online, here.
Submit Your Custom Desk Design Idea Here
Prices From $1,200+| Buy A Custom Desk For Sale Near You Or Online | Custom Live Edge Solid Wood Slab Desks And Height-Adjustable Standing Desk (Sit/Stand)
Computer Desks & Desk Tops For Home Offices, Small Spaces, Personal Computers, Gaming, Bedrooms, Kids & Teens | Custom Desks With File Cabinets, Drawers, Bookshelves & Hutches
VIDEO TESTIMONIAL: Custom Southwest Epoxy River Table | Rocks, Arrowheads, Fossils & Turquoise [CVCF 2021]
Uploaded to YouTube On December 18, 2021 by Chagrin Valley Custom Furniture
In this video, a homeowner from New Mexico talks about the made-to-order epoxy river dining table he and his wife co-designed online remotely with Chagrin Valley Custom Furniture. The Black Walnut tabletop has a teal blue river running through it and epoxy-filled indents, imperfections, knotholes, and cracks. Suspended in the epoxy are turquoise crystals,  river rocks, pebbles, fossils, and arrowheads to go along the Southwestern theme of their home.
Every dining table is unique and an expression of the people who order it. We use Zoom, Facetime, phone calls, emails and texts to keep you fully involved in the design and construction of your custom dining table. We make our dining tables from locally-sourced, sustainably-harvested natural wood, reclaimed wood and live edge wood. You choose your own wood slabs – any species – plus the materials and epoxy resin color. Tell us what style you want – industrial, modern, rustic – you name it, we'll build it.
You'll also see dozens of other custom-made one-of-a-kind dining tables we've co-designed online with homeowners, businesses, restaurants, hotels, interior designers, and architects, and built in our 6,000 sq. ft. workshop in Cleveland. Chagrin Valley offers many epoxy resin table options – different types, styles, designs, shapes, seating, legs and bases, epoxy colors and more.
We pride ourselves on having what we feel are the highest quality river tables built in America. With our CNC machine, we are able to engrave names, logos, topographic waterway features, and other artwork into our epoxy river dining tables and custom conference tables. We have built 100% customized tables for businesses and homeowners all across America.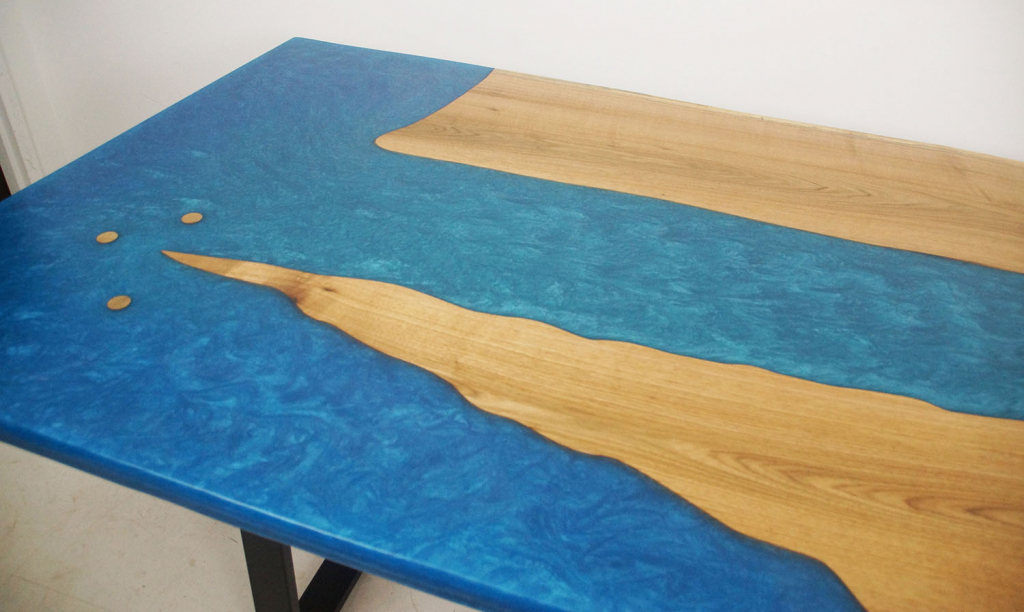 Custom Built Epoxy Resin "Intercoastal Waterway Design" And Live Edge Wood Desk Top For A Conference Table And Occasional Dining Table $10,000+ | Sold Online By Chagrin Valley Custom Furniture In 2020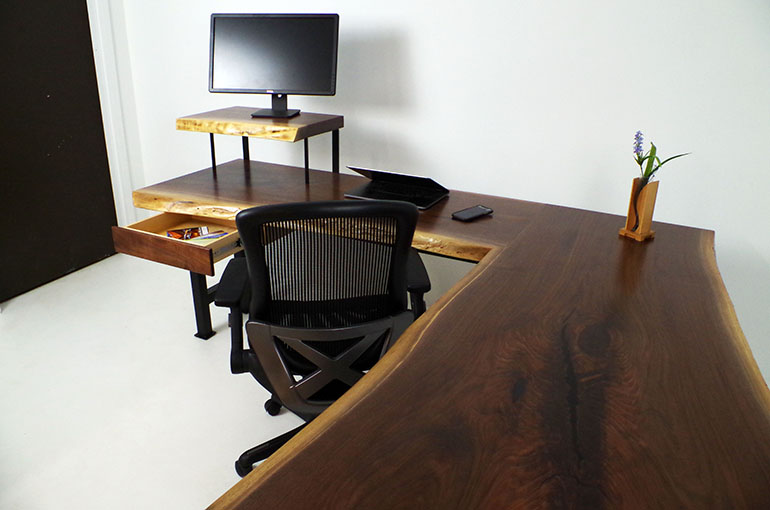 High-End Custom Built L-Shaped Live Edge Walnut Wood Home Office Desk Sold Online In 2020 $6,400+ [With Storage Drawer And Monitor Stand]
It Is Easy To Order The Desk You Designed Online From CVCF
Buy A Custom Built Desk From Chagrin Valley Custom Furniture Locally Near You (U.S. Only) Or Online Here – It Is Simple To Order And Fun To Co-Design Your Own "Dream Furniture" With Friendly And Professional CVCF Furniture Designers
Modern Epoxy Resin And Rustic Live Edge Desks
All Major Credit Cards Are Accepted When You Buy Truly Custom Desk Online Or By Phone
To Place An Order Locally Or Online For A Real Custom Made Desk Call, 440-591-5511 Or Email A CVCF Furniture Builder
Custom Handmade Desks | Live Edge & Colorful Epoxy Resin Designs | You Choose The Wood Slab, Epoxy Color, Legs & Everything Else | You Design And We Build It | Read Customer Reviews And Watch Client Testimonial Videos
How To Make A Swirl Effect In An Epoxy Resin River Table [By An Expert]
Brandon, woodworker and expert resin artist at CVCF, shows you how to create the subtle (or not so subtle) "swirl" effects in the resin poured down a river table, here.
Epoxy Resin And Live Edge Wood Desks Impeccably Handcrafted For Your Home Office, Place of Business, Hotel or Restaurant
Buy a custom desk near you or online from Chagrin Valley Custom Furniture. Chagrin Valley Custom Furniture specializes in custom live edge epoxy resin and wood river desks and workstations, including ergonomic adjustable height desks. In these times with so many people working out of their homes, it is important to have a workspace that works for you while offering you comfort and peace of mind.
Since you get to custom design your own furniture for CVCF to build, you are assured of getting a desk or workstation that fits your space, matches your décor, fulfills your vision, and elevates the character of your home office. These custom river desks and workstations are ideal for home offices, places of business, hotels, and for the staff at restaurants, bars, and commercial developments.
Speaking of comfort, the CVCF team of furniture makers are experts at building electric height adjustable desks and workstations, also known as sit-stand desks. These are ergonomically designed to keep you healthy, comfortable, and productive for the long hours you spend in your home office. Of course, your happiness quotient will rise when you have something so strikingly beautiful to look at and feel all day. The electric control panel automatically raises and lowers the height of the desk smoothly and quickly. Retirees love this feature as it helps ease or prevent any back, neck, and shoulder issues.
We'd love to see or hear about your design idea for your dream custom river desk or workstation! We'll design it based on your unique wants and needs. You select the epoxy color, the type of wood, the style, the size, the shape, the features and accessories – it's your desk and these are your decisions!
Custom Built Live Edge L-Shaped Desk With Storage & Drawers Sold By CVCF In 2015
The L-shaped corner desk show in this video was custom made with two African mahogany live edge wood slabs. It features hidden storage compartments, a hidden drawer and a hidden shelf for electronics. This handmade solid wood desk was commissioned locally in 2015 from Chagrin Valley Custom Furniture.
Custom Built Epoxy Resin River Studio Desk Made For A Music Producer In 2020
The custom desk seen here was made for a New York music producer as an upgrade for his home studio. Epoxy resin adorns everything, from the tabletop and legs to the detachable monitor stands. The entire piece can be illuminated through the resin via a switch connected to LED lights.
Get Ideas From 20+ Unique River Tables You Can Buy In 2021 | Customized Contemporary Wood And Epoxy Dining Tables And Kitchen Countertops
You can buy custom epoxy resin river tables, epoxy resin and wood dining tables and epoxy resin and live edge wood countertops for sale locally or online at ChagrinValleyCustomFurniture.com. Buy a natural live edge wood table. You can call CVCF at 440-591-5511. Get design ideas in the CVCF project gallery before you submit you table design idea and request a quote online. You can even start designing your own custom furniture, desk or table online with this free app.
YouTube Video Uploaded By Chagrin Valley Custom Furniture On July 26, 20221 Titled "CNC Carved Epoxy-Filled Topographic Tables | Mapped River, Lake, Waterway, Ocean Tables [CVCF 2021]"
In this video, you'll see really amazing custom tables with the center of the tabletop carved out to replicate the shapes of bodies of water in the U.S. and then filled with colored epoxy. You'll watch how these CNC carved topographical epoxy tables with ACTUAL mapped rivers, lakes, beaches, oceans, islands, bays, seashores are handmade, one by one, by Chagrin Valley Custom Furniture in our Cleveland, Ohio production facility.
YouTube Video: Custom Wood & Epoxy Dining & Kitchen Tables for Sale Online [Costs, Sizes, Modern Tops, Live Edge]
Take a look at pictures of custom made epoxy resin river and solid wood kitchen tables, custom built epoxy resin and natural wood conference tables, made-to-order epoxy resin river and live edge dining tables, custom made epoxy resin and solid wood coffee tables and epoxy resin river tables that have been handcrafted by CVCF to our customer's exact specifications. If you are looking for custom desks, see some of the custom built epoxy resin river and solid wood desks, handmade executive desks, L-shaped desks, custom built home office desks and furniture and handcrafted live edge wood slab desks that CVCF has built, here.
YouTube Video Uploaded By Chagrin Valley Custom Furniture On May 19, 2021 Titled "Lake Sunapee Replicated in a CNC Engraved Epoxy Table (CVCF 2021)"
In this video, furniture designer Sky Ironhorse programs and operates a handheld CNC Router to carve the outline of Lake Sunapee, New Hampshire into the top of a table that is then filled with colored epoxy. Chagrin Valley Custom Furniture fulfilled the request of a couple by making this one-of-a-kind dining table for their luxury lake house. CVCF can use a CNC router to carve any real lake or river into the top of a wood table top.
Prices for custom made river tables start at $1,900+. You can order custom built epoxy and wood dining tables and ocean tables that will be built just the way you want and then shipped to you.
Video Uploaded To YouTube By Chagrin Valley Custom Furniture On May 5, 2021 Titled "The Best Custom Epoxy Resin River Tables [2020 Compilation]"
This video features our best custom furniture (mostly custom river table) projects we've produced and delivered throughout the year 2020. Projects ranged widely, from simple live edge walnut desks, to hickory river tables with LED lights and extendable leafs (with LED light up capabilities), and conference river tables with CNC engraved logos.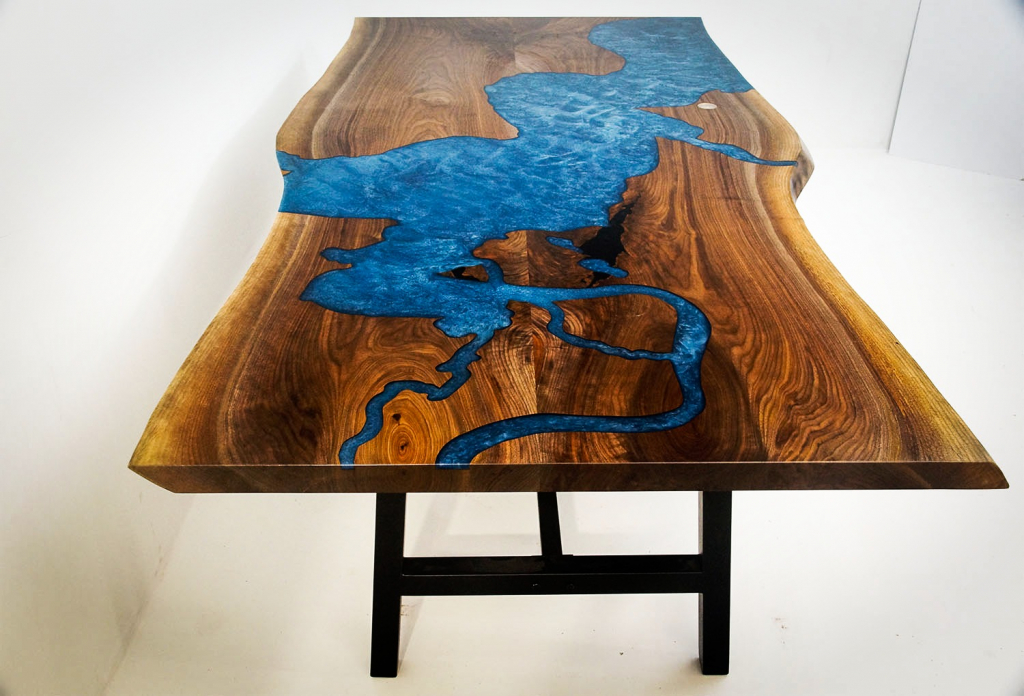 Custom Made CNC Carved And Blue Epoxy Filled Chesapeake Bay Black Walnut Live Edge Dining Table $7,000+
Resin Inlay Table Was Co-Designed Online By Pennsylvania Client And CVCF River Table Makers | Custom Handmade And Shipped In 2020 | Elegant Fluid And Curving Epoxy Resin Water Scene Tables For Your Living Room Or Dining Room
How Do You Make A River Table?
100+ River Tables ideas | How To Build A Massive Epoxy Resin River Table | John Malecki
Check out my building of a MASSIVE epoxy resin river table, complete with a hot-to for building it yourself!
100+ River Tables! Ideas | Pinterest Collection by Homecrux
This live edge river dining table has stones along the banks. Live edge tables have become one of the most sought after furniture styles in the last few years. They can be a focal element in any space.
20+ River Tables You Can Buy in 2020 [Homecrux July 20, 2020]
Want elegance of rivers in your living room? Here're 20+ unique river tables that bring fluidity & curves of water bodies to your home.
Types Of Custom Built Live Edge Furniture For Sale Locally (U.S. Only) And Online By CVCF
Custom Built Live Edge Conference Room Tables For Sale Locally (U.S. Only) And Online
CVCF also sells custom conference tables and custom office furniture to U.S. companies, private citizens, hotels, restaurants, resorts, convention centers, the U.S. military, U.S. government agencies, law enforcement agencies and academic institutions that feature engraved business logos and epoxy resin rivers. CVCF also builds lecterns, managerial desks, bureaus, drawers tables, cabinets, office shelves, office chairs, high-back chairs, credenzas, executive desks, reception desks, floating desk, office tables, partially enclosed office workspaces, communal work desks, adjustable height ergonomic desks, sit-stand desks, cubicles, writing desks, office storage units, corner desks, L-shaped desks, height adjustable desks and other custom built office furniture.
Custom Handmade Wood Home Office Computer Desk Sold By CVCF
See how CVCF built an epic all wood custom handmade desk with a display cabinet and cable management. The "Murphy style" desk top give this modern home office computer and work desk a rustic feel. Chagrin Valley Custom Furniture sold this custom designed desk to a local (U.S.) customer in 2015.
Types of Custom Live Edge Epoxy Resin and Wood River Desks & Workstations
We are always pushing the envelope with epoxy resin desk designs so that you will have a more satisfying experience pushing envelopes on your beautiful new handcrafted river desk. CVCF President and furniture maker Sheldon Myeroff built his own adjustable draftsman's desk to create the designs for our furniture. Just let us know what kind of river desk or workstation you want—we make them all:
Home or small office desks
Computer desks
Office workstations
Studio workstations
Multimedia desks
Technical desks
Professional desks
Executive desks
Writing desks
Reading desks
Sewing Desks
Custom Tables For Sale Online [Dining And Farmhouse $1,500+] | Buy A Custom Conference Table Locally Near You (U.S. Only) Or Online | Epoxy Resin & Live Edge Wood Conference Tables | Large & Modern | Prices | Read Customer Reviews And Watch Client Testimonial Videos
Learn how to buy a custom conference table here. Find out how to design and buy your own "made-to-measure" table for sale locally near you (U.S. only) or online. This video shows you how to get a price for a durable custom size handmade conference room table.
Find out how to order a beautiful solid wood conference table for your own home, office or business in the U.S. You choose the width and height of your table and the thickness of the table top, here.
Visit https://archive.chagrinvalleycustomfurniture.com
Call CVCF At 440-591-5511 To Speak To A Custom Furniture Designer
Email: customerservice@chagrinvalleycustomfurniture.com
Chagrin Valley Custom Furniture builds and sells large and modern conference room tables, custom wood dining tables, rustic live edge tables, drop leaf tables, kitchen tables with walnut table tops, and simple sturdy farmhouse tables.
Stylish and practical custom tables are proudly made-to-order with epoxy resin water-themed decorations (rivers, oceans, waterfalls, canyons), live edge table tops, sustainably sourced premium specialty woods, recycled or reclaimed barn wood and one-of-a-kind steel legs and metal bases.
CVCF's furniture builders co-design the very best custom built tables with customers, in any style, shape or size requested. The CVCF warehouse ships unique tables, that seat any number of people, to homes and firms all across America, from Los Angeles to New York City.
Local CVCF's expert furniture makers in Cleveland, Ohio craft high quality epoxy resin river tables, farm tables, small and large boardroom tables and coffee tables.
Tables are made from walnut, oak, maple, mahogany, elm and cherry wood. Company logos and corporate branded elements are inlaid into table top surfaces or CNC carved and filled with colorful epoxy resin pours. Clients choose their favorite items to be embedded into epoxy resin.
LED lights, cable management systems, power outlets, cabinets, drawers, wheels, lamps, benches and data ports can be integrated into custom tables, desks or office furniture made by CVCF.
Get A Quote For Your Project
How To Submit Your Design Idea and Get A Cost Estimate On a River Desk
To submit your design idea, get a cost estimate, or start the purchasing process for a custom river desk, fill out the form on this page, call Shel Myeroff at 440-591-5511, or email shel@chagrinvalleycustomfurniture.com. Prices for our custom built epoxy resin and wood desks range from $3,000.00 to $6,000.00 based on the type of wood, desk features and desk size. Ergonomically designed height adjustable river desks will generally cost more, based on the features you choose. We can make straight or L-shaped configurations, add shelves, computer and electronics hookups – whatever you want! It's your desk and your design. For more information on custom desk pricing, visit our pricing page.
Custom Ergonomic Height Adjustable River Desks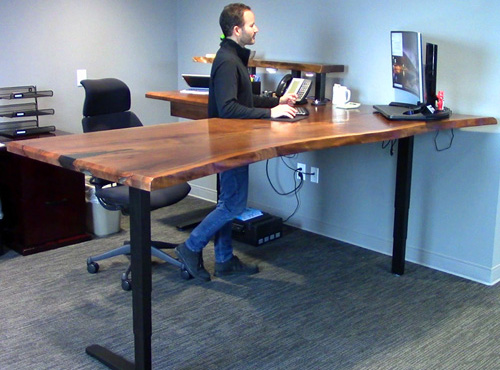 CVCF makes both electric and manual sit-stand desks and workstations. The electric option has a control panel that transitions the desk automatically from sitting to standing height smoothly and effortlessly with just the press of a button.
The manual option has cranks or pneumatics that raise and lower the desk. Of course, this requires more time and effort to position the desk, but costs less than the electric option.
The biggest benefit of a sit-stand desk is ergonomics. Because your body is moving more and not getting locked in a certain position, you'll be more comfortable, reduce or eliminate back, shoulder and neck issues, and raise your productivity and heighten your sense of well-being. We use motorized controls that are quiet and won't disturb you or those around you. Our desks are tested at the workshop for maximum stability before they are shipped out.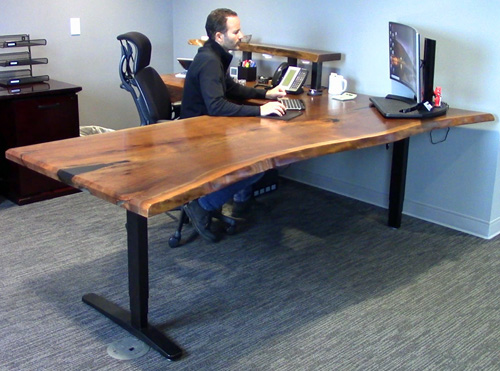 You choose your epoxy resin color, your wood species, the size and shape of the desktop, and accessories. Accessories include shelves, drawers, and cable management products to keep cables out of your way and out of view.
We use standing desk motors, hardware and frames by Uplift, rated the #1 standing desk in performance and features by the New York Times. According to the Times, "Uplift's crossbar-enhanced standing desk is more stable than most rivals, and it's fast and smooth in operation. It has the largest height range so it can accommodate more people. the best mix of performance and features of the desks we tested. It responds quickly to input from your choice of three control keypads and produces minimal wobble even at tall heights thanks to the frame's crossbar and thick legs."
Delivery and Assembly In The USA
Epoxy Resin and Wood Furnishings by CVCF
epoxy resin wood furniture
. In addition to our river desks and workstations, we design and build
epoxy resin river tables
,
epoxy resin and wood wall art
,
epoxy resin and wood headboards and bedsets
, epoxy resin and wood floating shelves, epoxy resin and wood benches, and epoxy resin and wood sliding interior barn doors.
CVCF also sells rustic furniture, live edge dining tables, epoxy resin headboards, and river tables that are in stock here
. Learn how the
highest quality river tables
, desks and
custom wood and metal furnishings
are handcrafted in America in 2020,
here
.
In 2020, CVCF perfected the art of making custom tables with epoxy inlays, CNC river tables, 'Ocean Tables', CNC machined river tables with epoxy resin and 'Canyon River Tables'.
The epoxy resin and wood furniture category has become something of a specialty in recent years, and have been sought out by businesses, interior designers, retirees, offices, restaurants, bars, and homeowners nationwide. Our woodworkers are trained to stay on the cutting edge of furniture design trends and craftsmanship news to provide customers with a custom furniture design experience like no other. Learn how the highest quality river tables and custom wood and metal furnishings are handcrafted in America in 2020, here.
View pictures of river tables that CVCF recently designed, built and delivered to customers in the U.S in 2020. Watch a video showing how we created a 19′ CNC engraved Mississippi River conference table from wood, epoxy resin and steel, here. This black walnut river table was handcrafted for the corporate conference room of the Crescent River Port Pilots' Association, which is located in Louisiana. 
You can find customizable live edge river desks and workstations on websites like Etsy and Custom Made, but only with Chagrin Valley Custom Furniture will you find completely custom furniture design services with the option to submit your design drawing to our team. Every detail of your project is your choice to control, manipulate, or change as you see fit.
With clients seeking live edge river desks and workstations, we collaborate with our customers every step of the way to ensure a flawless and satisfactory experience from beginning to end by having regular conversations via FaceTime, email, text, phone call, Skype – whichever is preferred.
During these conversations, we provide as much visual data as we can through progress photos and videos to make sure everything is moving in the direction you want. Our goal is to provide you more value than you are paying, each and every time.
Want to create your own epoxy resin and wood river desk or workstation online? Just fill out the form at the top of this page, then hit submit, and we'll get back to you with a price.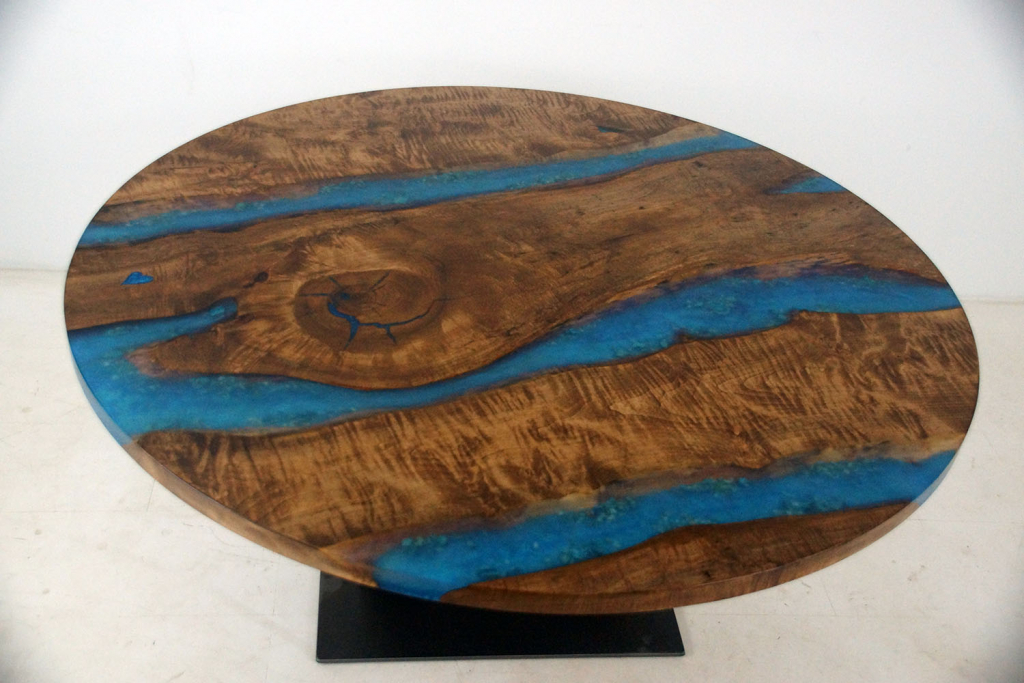 Round Blue Epoxy Resin River And Live Edge Dining Table $6,000+
Information On River Tables And Epoxy Resin From Chagrin Valley Custom Furniture
How Much Does A River Table Cost?
Small river tables range from $800 – $4,000, and larger river tables range from $1,800 – $6,500. Get more river table prices, here.
How Thick Should A River Table Be?
CVCF frequently uses wood slabs that are 2″ thick to custom build sturdy river tables for customers that order locally and online in the U.S. After sanding, these 2″ thick slabs end up being about 1 3/4″ thick.
Are River Tables Strong?
Well built epoxy resin river tables made by CVCF with sturdy natural live edge hardwood slabs are extremely durable and can seat 8, 10, 12 or more people. The surfaces of river table tops made by CVCF, are beautiful, strong and virtually impenetrable. The custom metal river table legs and bases handcrafted by CVCF will last for generations without maintenance.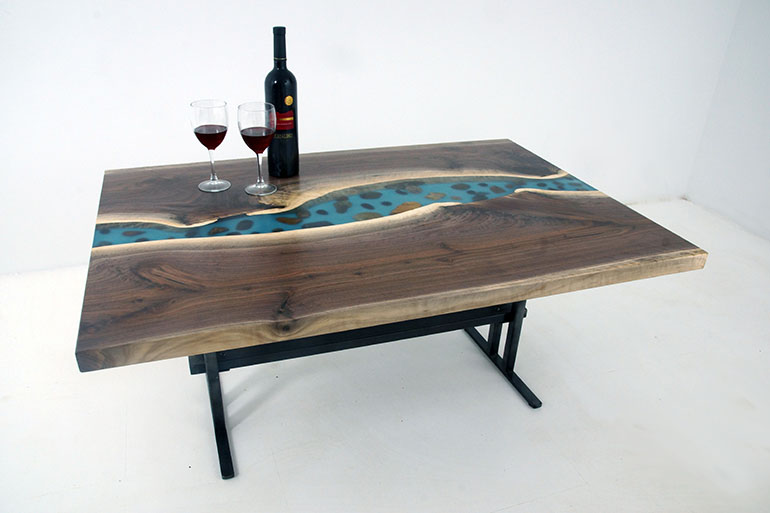 Learn About Building River Tables And Epoxy Resin And Wood Furniture From Chagrin Valley Custom Furniture
Resin River Tables For Sale At CVCF River Table Online Store $800+ Epoxy Live Edge Dining Tables | Buy A Custom Built River Table | River Table Prices From $800+ | Submit Your Own River Table Design Idea | Request A Quote For A River Table | Large Handcrafted River Tables For Sale $1,800+ | Custom Built Epoxy Resin Live Edge Dining Tables And Kitchen Countertops | Handmade Rustic And Modern River Tables | Shipped To All 50 States
2021 Price Ranges (U.S.) For Custom Built, Handmade, High Quality Epoxy Resin And Live Edge Wood Furniture
Buy A Custom Made Round Conference Table $7,000+ | For Sale Locally Near You (U.S. Only) Or Online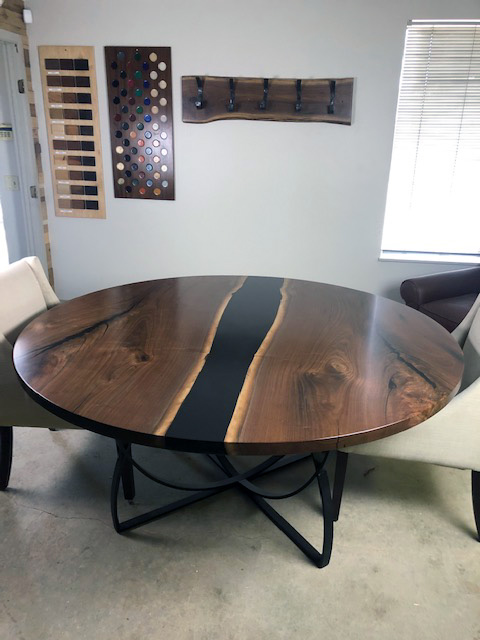 Pictured Here Is Round Black Epoxy Resin River And Black Walnut Live Edge Conference Table That Was Sold Online By CVCF In 2018
Custom Handmade Conference Room Table Material, Size, Shape And Design Options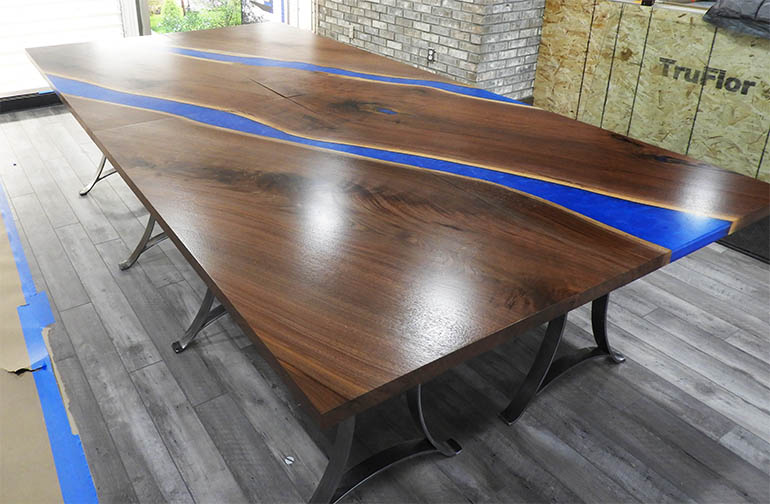 Buy A Custom Built Modern Modular Conference Room Table [System] For Sale Locally Near You (U.S. Only) 12,000+ Any Size, Shape Or Design
Good Reasons To Buy Custom Furniture Near You Or Online From CVCF
There are a many good reasons to buy custom made furniture near you or online. Before you buy "cookie cutter" furniture from Williams-Sonoma, La-Z-Boy, IKEA, Rooms To Go, Steelcase, Sears or Ashley Furniture, consider having it custom made by Chagrin Valley Custom Furniture. If you want a personalized and unique piece of furniture, get creative and call 440-591-5511 to get a price quote. If you need a dining table, sofa, desk or bed adapted to fit into your room, measure the space before you call. Because CVCF does not sell to middlemen and retailers, our prices for high quality custom wood and metal furniture are affordable to most buyers. Prices for high-end custom furniture start at $3,000. We sustainably source our furniture and use reclaimed and recycled wood. We also sell custom made rustic furniture for lodges, cabins, resorts, cottages, second homes, ski chalets and western-themed rooms.
Be sure to avoid these mistakes when you buy custom made furniture. Buy custom furniture handmade with high quality raw materials and don't settle for low quality materials. Buy custom furniture online from the top American custom furniture designers, experienced builders and makers such as CVCF. Don't assume that changing the color of a custom dining table or custom sofa means that you are buying real custom furniture. Authentic handmade custom furniture means that you can decide on every component of the furniture. When you buy custom furniture from CVCF you are "going local" because all our furniture is made in the USA.
There are many benefits to buying custom furniture. If you are picking furniture from the showroom floor, you are not really buying a unique style of custom furniture. Custom made wood furniture, such as farmhouse tables, are usually much sturdier than furniture you buy in a showroom. Custom furniture ordered from CVCF will fit perfectly and you can add any feature you want. Handmade custom furniture from CVCF is an investment and is considered to be heirloom quality. To learn where to buy handmade custom built furniture in the USA, watch this video. To find out how you design furniture, submit your design and get it custom built, watch this video.
Ocean Resin Tables, Ocean Desks And Moving Ocean Desktops For Sale [Moving Ocean Coffee Tables]
In this video, Chagrin Valley Custom Furniture shows you multi-colored epoxy resin being poured and shaped into an epoxy resin and wood ocean table ordered by a family in New York. We sell custom made ocean tables and ocean resin desks (desktops) and moving ocean coffee tables made with stunning epoxy resins, custom steel legs, glass and natural woods such as black walnut and live edge wood slabs to customers all across the United States. These unique blue epoxy resin tables with moving ocean waves are cool pieces of furniture that looking like seashores with moving tides.
Price Ranges For Custom Built Epoxy Resin River Furniture
Custom built epoxy resin wood furniture varies in price based on the kind of furniture you want built. The kind of furniture, the species of wood, the size and complexity of the project, and the quantity of custom pieces purchased in a contract furniture deal will all affect the price per unit of the furniture you purchase. Below are rough price ranges for each kind of epoxy resin furniture you can have custom made by CVCF. Learn more about custom furniture prices here.
Live Edge River Dining Tables: From $4,200+
Small Resin River Tables: $800 to $1,200
Epoxy Resin River Coffee Tables: $1,200 to $2,200
Epoxy Resin River Side Tables: $1,200 to $2,200
Epoxy Resin River Entryway Tables: $1,200 to $2,200
Epoxy Resin River Sofa Tables: $1,200 to $2,200
Epoxy Resin River End Tables: $1,200 to $2,200
Epoxy Resin River Kitchen Tables: $2,800 to 3400
Epoxy Resin River Dining Tables: $3,800 to $5,800
Epoxy Resin River Conference Tables: $3,800 to $5,800
Live Edge Epoxy Resin River Tables: $1,200 to $1,800
Epoxy River Tables With Waterfalls: $1,400 to $2,000
Kinds of Wood Used in Live Edge River Tables
Chagrin Valley Custom Furniture sources its live edge slabs from Amish county in rural Ohio, as well as individual specialty wood kiln driers and suppliers nationwide. Each slab has been carefully treated to bring moisture content down to around 8% – a level high enough to keep the piece from cracking, but low enough to prevent warping during exposure to the elements or moisture.
Elm
Hickory
Mahogany
Maple Bigleaf
Live Oak
Monkey Pine
Norfolk Pine
Sycamore
Maple (Hard or Soft)
Mappa Burl
Oak (Red or White)
Pine
Poplar
Redwood Old Growth
Sassafras
Brazilian Cherry
Get A Quote For Your Live Edge River Desk Design
Submitting your live edge epoxy resin and wood river desk or workstation design is a simple process. After you reach out online, we will collaborate with you over your design drawings, whether they were rendered on the back of a napkin, sourced from a photo on the internet, Photoshopped using several ideas, fully drafted on a drafting table using complete measurements and blueprinting, using CAD drawing software, or none of the above- whichever it may be, we will work with you over the initial phone call to conceptualize your design into something tangible and provide a quote. Simply submit your design drawing or written idea to us to begin. We then keep in touch through regular FaceTime calls, phone calls, photo exchanges, and emails to ensure your project is meeting your expectations. You can reach out to our team or get started in several ways: