Interior designers in the United States order custom handmade high quality wood and metal furniture from Chagrin Valley Custom Furniture.  Interior designers, on behalf of their customers, buy 100% custom furniture from CVCF.  Interior designers in Chicago, Cleveland, Miami, Columbus, Pittsburgh, Phoenix, Seattle, Boston, Los Angeles, San Diego, Austin and NYC shop for 100% custom designed solid wood furniture at CVCF when their clients want a new piece of rustic furniture or an entire room of rustic furniture.  Interior designers also shop for modern custom furniture at CVCF.
Handcrafted One-Of-A-Kind Furniture For USA Homes, Offices And Restaurants
Order Custom Built Solid Wood, Epoxy Resin, Steel & Metal Furniture Handmade In The USA | Shipped To All 50 States | For Sale Locally (U.S. Only) And Online | Epoxy Tables, River Dining Tables, Live Edge Desks & Custom Size Beds (And Frames)
Submit Your Own Furniture Design Idea And Have It Built, Delivered And Assembled For You
Contact Chagrin Valley Custom Furniture
Founder And Owner: Shel Myeroff
Phone: 440-591-5511
Email: shel@chagrinvalleycustomfurniture.com
Design Studio, Showroom And Manufacturing Facility
Address: 26309 Miles Road, Suite 6, Warrensville Heights, Ohio 44128
Design Studio And Showroom Business Hours
Monday through Friday: 8:00 am to 4:30 pm
Saturday and Sunday: By Appointment Only
YouTube Video: Custom Wood & Epoxy Dining & Kitchen Tables for Sale Online [Costs, Sizes, Modern Tops, Live Edge]
Custom Epoxy River Tables For Sale Locally & Online
You can buy custom epoxy resin river tables, epoxy resin and wood dining tables and epoxy resin and live edge wood countertops for sale locally or online at ChagrinValleyCustomFurniture.com. Buy a natural live edge wood table. You can call CVCF at 440-591-5511. Get design ideas in the CVCF project gallery before you submit you table design idea and request a quote online. You can even start designing your own custom furniture, desk or table online with this free app.
YouTube Video Uploaded By Chagrin Valley Custom Furniture On July 26, 20221 Titled "CNC Carved Epoxy-Filled Topographic Tables | Mapped River, Lake, Waterway, Ocean Tables [CVCF 2021]"
In this video, you'll see really amazing custom tables with the center of the tabletop carved out to replicate the shapes of bodies of water in the U.S. and then filled with colored epoxy. You'll watch how these CNC carved topographical epoxy tables with ACTUAL mapped rivers, lakes, beaches, oceans, islands, bays, seashores are handmade, one by one, by Chagrin Valley Custom Furniture in our Cleveland, Ohio production facility.
Take a look at pictures of custom made epoxy resin river and solid wood kitchen tables, custom built epoxy resin and natural wood conference tables, made-to-order epoxy resin river and live edge dining tables, custom made epoxy resin and solid wood coffee tables and epoxy resin river tables that have been handcrafted by CVCF to our customer's exact specifications. If you are looking for custom desks, see some of the custom built epoxy resin river and solid wood desks, handmade executive desks, L-shaped desks, custom built home office desks and furniture and handcrafted live edge wood slab desks that CVCF has built, here.
YouTube Video Uploaded By Chagrin Valley Custom Furniture On May 19, 2021 Titled "Lake Sunapee Replicated in a CNC Engraved Epoxy Table (CVCF 2021)"
In this video, furniture designer Sky Ironhorse programs and operates a handheld CNC Router to carve the outline of Lake Sunapee, New Hampshire into the top of a table that is then filled with colored epoxy. Chagrin Valley Custom Furniture fulfilled the request of a couple by making this one-of-a-kind dining table for their luxury lake house. CVCF can use a CNC router to carve any real lake or river into the top of a wood table top.
Prices for custom made river tables start at $1,900+. You can order custom built epoxy and wood dining tables and ocean tables that will be built just the way you want and then shipped to you.
Video Uploaded To YouTube By Chagrin Valley Custom Furniture On May 5, 2021 Titled "The Best Custom Epoxy Resin River Tables [2020 Compilation]"
This video features our best custom furniture (mostly custom river table) projects we've produced and delivered throughout the year 2020. Projects ranged widely, from simple live edge walnut desks, to hickory river tables with LED lights and extendable leafs (with LED light up capabilities), and conference river tables with CNC engraved logos.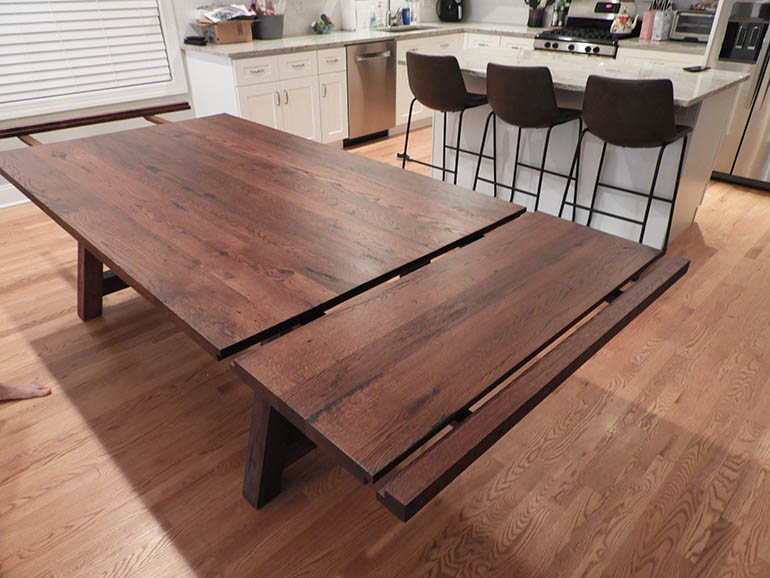 Custom Built Sturdy And Simple Made-To-Order Rustic Farmhouse Dining Table $1,800+ [Extendable]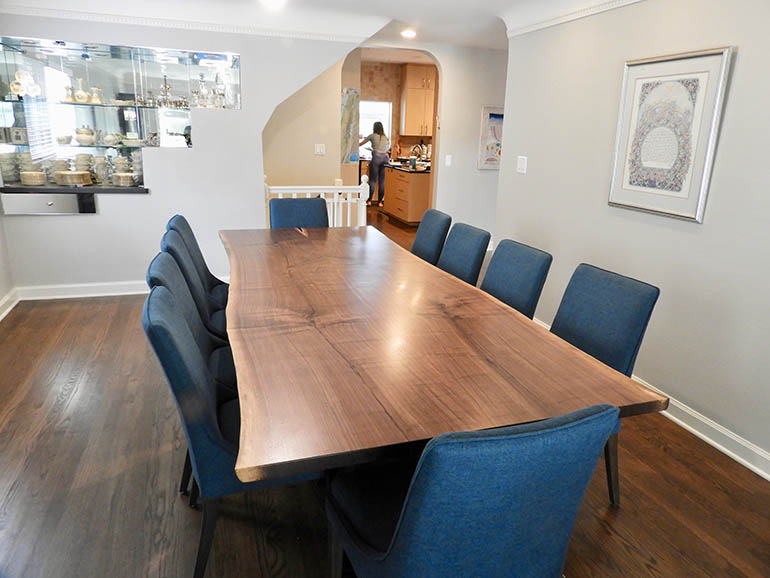 Custom Made Solid Live Edge Wood Slab Dining Table $2,600+ [Kitchen Table That Seats 10]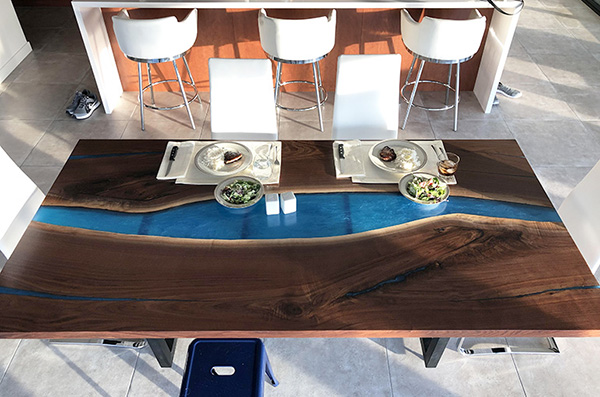 Stylish Modern Blue Epoxy Resin River Live Edge Black Walnut Dining Table $4,200+ [Custom Ordered]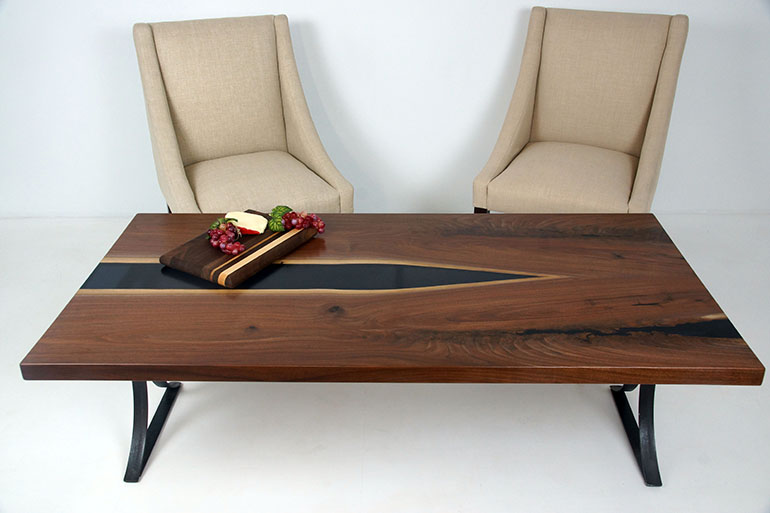 Unique Modern Solid Wood Custom Handmade Coffee Table $800+ [Black Epoxy Resin]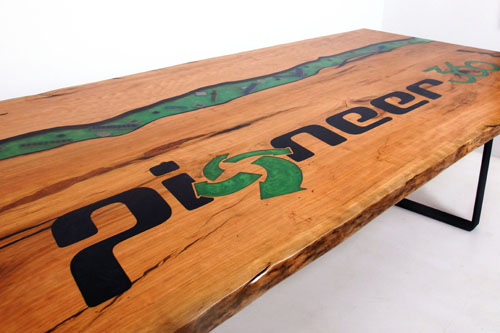 Custom Handcrafted Live Edge Epoxy Logo Conference Table $4,500+ [Any Size Or Shape]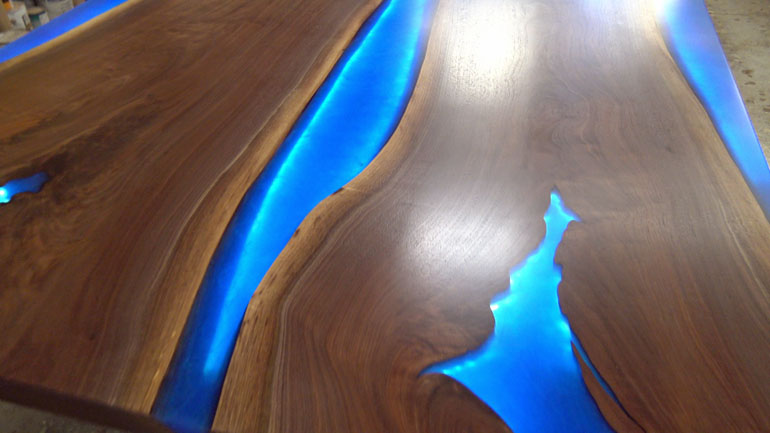 Large High Quality Custom Designed Epoxy Resin River Dining Table $3,000+ [With LED Lights]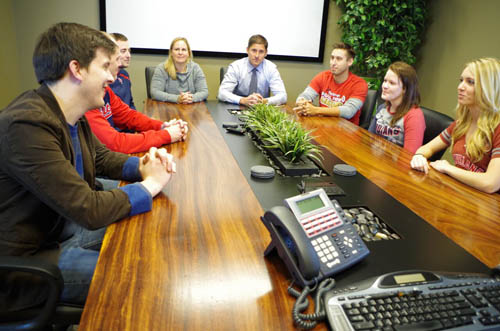 New Long And Wide Modern Handcrafted Custom Conference Room Table $4,500+ [Reclaimed Wood And Steel]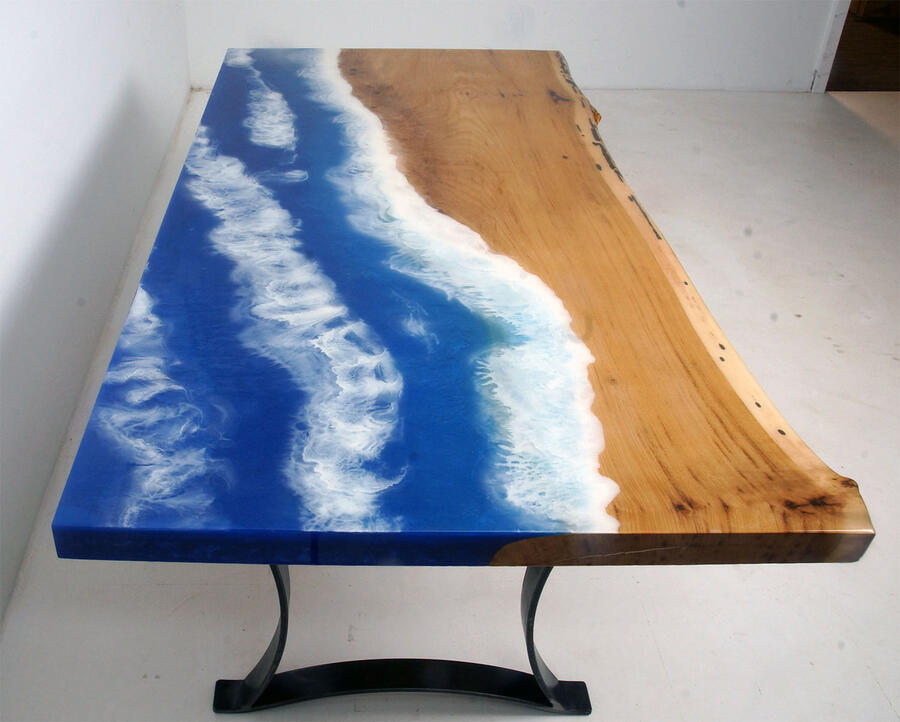 Epoxy Resin "Moving Ocean" Coffee Table $1,000+ [Incredible Ocean Table]
CVCF Pays Tribute To Great American Furniture Designers With Every Piece We Make
CVCF furniture designers and craftspeople have a kinship with trees and a profound appreciation for the founder of live edge furniture, George Nakashima (1905-1990). We share his passion for wood furniture designs that showcase the inherent beauty of natural shapes, organic lines, unfinished edges, live edges, natural textures. CVCF furniture designers and woodworkers strive for discipline, patience and perfection when we make and manufacture high-end wooden furniture for homes, restaurants, hotels and offices. Some of our favorite furniture materials are natural epoxy resin as wells as salvaged, knotted and burled wood.
The uniquely designed epoxy resin and wood 'river' tables perfected over the last 5 years are now so popular that many American consumers are now very aware of their popularity.  When CVCF joiners, live edge artisans, resin artists, carpenters and cabinetmakers design and build custom dining tables and custom desks for U.S. homes and offices, we strive for perfection. Their mastery of hand tools and joinery techniques give CVCF the ability to create custom furniture that resembles vintage furniture, antique furniture, 18th century furniture, 19th century furniture and 20th century furniture – but with a modern flair.
CVCF industrial style furniture designers have been truly inspired by the contributions of Charles Ormond Eames, Jr. and Bernice Alexandra "Ray" Kaiser Eames. We incorporate rustic colors to build industrial furniture that livens up dining rooms, kitchens, bedrooms, conference rooms and offices. CVCF woodworkers source distressed wood elements, salvaged equipment, old industrial hardware, rustic metals, reclaimed barn wood and weathered wood from a variety of rural and urban sources in Northeast Ohio. CVCF furniture designers and master carpenters are experts at using unexpected and unique materials from long abandoned barns, warehouses, lofts, factories, unused churches and industrial spaces. Vintage industrial style furniture and industrial chic décor designed and manufactured by CVCF simulates the turn-of-the-century industrial era by showcasing utilitarianism, roughness, imperfections, practicality, rawness, agedness. CVCF also designs and builds edgy farmhouse dining tables.
Interior Design Tours: A Guide to Custom Built Furniture
Posted On June 7, 2013 By StreetEasy
StreetEasy partners with Tamara Eaton, an NYC based interior designer, to guide you through the ins and outs of ordering custom built furniture. Tamara provides several key tips to keep in mind including your budget, space parameters and time frame. Then she takes you on a tour of Uhuru, a custom built furniture studio in Red Hook, Brooklyn. There Uhuru founders show you how the whole process of building a custom wood table works from start to finish.
Historic, Innovative, Iconic And Influential American Furniture Designers That Have Inspired CVCF's Top Furniture Designers, Builders And Makers
Take a look at pictures of George Nakashima's instinctual woodworking style of 'live edge', here. Check out one of his tables in Julianne Moore's (Julie Anne Smith) New York City town house, here. This iconic furniture designer embraced flaws, cracks, wormholes and knots, as do the furniture designers and makers at CVCF. Talk about awesome, gaze at this Nakashima Conoid Cocktail Table.
Co-Design Your Custom Furniture Online With CVCF Experts & Makers | Start By Taking Measurements
Use your own creative style to design and customize your space, room or furniture. Download or register for free custom furniture programs, apps and software if you want to design your own furniture, make your own furniture or buy custom made furniture online, here.
Talk With A Custom Furniture Designer
Chat with one of our top furniture designers or makers (Sheldon Myeroff Or Zach Schulte) online or on the phone to get free custom furniture design advice or to order a piece of custom furniture handmade just the way you want.
When you custom order furniture from CVCF, the handcrafted custom-built furniture we make is designed hand-in-hand with you. Submit you own custom furniture design idea, picture, sketch, diagram, drawing or explanation to get a price quote. Call 440-591-5511 or email customerservice@chagrinvalleycustomfurniture.com to let us know what you want built. 
When you buy completely 100% custom furniture, custom cabinets or a woodworking project from CVCF you choose ALL the materials and you also approve the design drawings and renderings. If you design it, draw it, sketch it, diagram it or visualize it, we will build it.
View High-Resolution Pictures And Fun Videos Of Cool Custom Furniture Designs We Completed For Interior Designers In The U.S.
Request Free Samples To Help You Design Your Custom Table, Sofa, Desk Or Bed
Submit Your Custom Furniture Design Concept And Get A Quote
You can submit your custom furniture design and get a price for fabrication and assembly.  By definition, custom furniture is not in stock, so the furniture designers and furniture makers at CVCF work hand in hand with interior designers to manufacture completely custom furniture for clients of the interior designers.  Chagrin Valley Custom Furniture is a great furniture resource for interior designers who go the extra mile for their customers to find one of a kind "Made In The USA" custom furniture.
CVCF normally designs furniture for our customers, or we collaborate with our clients to design custom furniture, which we then handcraft and assemble.  However, if you design your own furniture, we will build it, install and assemble it for you, assuming you live in the continental USA. To submit your design drawings or CAD drawing for a quote, call 440-591-5511, email shel@chagrinvalleycustomfurniture.com or click here. Learn how the highest quality river tables and custom wood and metal furnishings are handcrafted in America in 2020, here.
Chagrin Valley Custom Furniture can up any interior designer's game with high quality, handcrafted furniture custom built to fit the space, match the décor, fulfill your vision, and elevate the character of any room in a home or office. We give you the "edge" over your competition, specializing in trending styles such as live edge, reclaimed, and repurposed furniture as well as other furnishings for the home or office!  Our furniture is unlike any other you've ever seen with customer care unlike anything you've ever experienced before. You can see our wide range of furniture types and styles in our Project Gallery.
With our workshop in Chagrin Falls, Ohio, we are the go-to custom furniture resource for interior designers, architects, and other design professionals throughout the Greater Cleveland area, Cuyahoga County, Geauga County, Summit County, Portage County, and all of Northeast Ohio. Designers trust Chagrin Valley Custom Furniture for their custom furniture needs because they know we'll deliver a project on time and with the beauty and precision homeowners expect. Read our customer testimonials and see for yourself what they're saying about us.
To find out how your business can partner with ours, give owner and furniture maker Shel Myeroff a call at 440-591-5511, or contact Shel from the website.
Custom Farmhouse Dining Table Sold Locally [Industrial Base]
In this video, furniture maker Shel Myeroff, owner of Chagrin Valley Custom Furniture, talks with local customers Matt and Molly from Chagrin Falls, Ohio about the high quality made-to-order extendable farmhouse dining room table that CVCF custom built for them.
After an initial furniture design consultation, CVCF furniture builders set off to handcraft the rustic, yet modern and simple, farmhouse dining table from 100-year-old reclaimed oak wood beams, sustainably sourced from a barn in Southern Ohio.
The expert CVCF craftsmen at the Cleveland, Ohio workshop, completely customized the farmhouse dining table by adding a sturdy and durable industrial style metal (steel) base. This video shows all the attention to detail, including the welds and the two pullout inserts. The comfortable farmhouse dining table is 128 inches long when fully extended. Now Matt and Molly are living happily ever after with their new beautiful, and very unique, solid wood farmhouse dining table.
Listen to the couple talk about the exceptional customer service they received from CVCF. Find out how they got helpful design ideas from Shel for their custom table. Get their thoughts on the remarkable workmanship provided by CVCF craftspeople.
Because pine is inexpensive, it is frequently used by America artisans to make farmhouse tables (also know as a farm table or harvest table) tops. For the farmhouse table shown in this video, CVCF used more expensive oak barn beams because they will last for generations (they already lasted over 100 years in a barn) and because the cut beams display a more authentic style and absorb wood stains more effectively.
The country living inspired design style of the charming contemporary farmhouse dining table shown in this video, combines clean sleek lines with a cozy and warm farmhouse feel. This homey style of farmhouse furniture and décor certainly has not gone out of style.
Popular farmhouse style furniture made by CVCF typically incorporates versatile traditional aesthetics and industrial components (legs and bases) to convey a fresher character and a more relaxing appeal than rustic furniture and décor.
Truly custom farmhouse furniture and farmhouse dining tables are handcrafted by CVCF in any design style that the client wants. Exact sizes, dimensions, shapes and wood species are specified by the customers. CVCF ships custom built farmhouse tables to homes, restaurants and businesses in all 50 states.
CVCF creates authentic one-of-a-kind farmhouse tables and a customer experience unlike any other in the furniture industry. Commissioning a farmhouse table from CVCF is fun and rewarding, start to finish. From the table design to the creation, CVCF invite their clients to "get involved". CVCF always strives to exceed customer expectations.
AFFORDABLE SOLUTIONS FOR YOUR INTERIOR DESIGN CLIENTS
Shel is proud to be a Clevelander his entire life and has an affordable solution for you, no matter what type of home you are decorating or what style of furniture you need, including; classic, contemporary, transitional, modern, antique, rustic, cottage, eclectic, country, and industrial.
Click here to see our Design Gallery. In it you'll see a limitless variety of custom designed and built wood furniture including bedroom sets, shelving and entertainment units, benches, chandeliers, barn doors, outdoor furniture and every style of table. Select from mahogany, cherry, chestnut, pine, oak, elm, beech, maple, ash, poplar, walnut, hickory, and other domestic and exotic woods.
THE CVCF ADVANTAGE

And here's another exciting benefit we offer interior designers: If your clients live in Northeast Ohio, you never have to worry about shipping, packaging, transporting, warehousing, or installation costs! With our workshop right here in Chagrin Falls, we take care of all that for you! We have all the necessary equipment and manpower for delivering and installing your custom furniture. And, of course, we're fully insured.
WELCOME TO OUR WORKSHOP
Come visit our workshop in Chagrin Falls and meet our talented team of designers and craftsmen. During the furniture building process, you and your client will be an important part of the design and building process, adding valuable input and insight as the project is being created. What furniture store or retail store can offer that?
Learn more about starting a valuable partnership with Chagrin Valley Custom Furniture. Then let's create some really awesome custom furniture for your clients here in Northeast Ohio. Just give owner and furniture maker Shel Myeroff a call at 440-591-5511, or contact Shel to set up an appointment.
Posted December 8, 2020
Do you want to know how interior designers find unique furniture and luxurious sofas for their clients? Well, here's the answer.
Find out where interior designers shop and source statement pieces. Learn how interior decorators buy handmade custom built solid wood furniture online, as well as epoxy furniture and custom steel and metal furniture in the U.S. for their high-end custom furniture clients, here.
Listen to Dennis Scully on his podcasts at Business Of Home. He interviews thought leaders, entrepreneurs, and creatives about the changes and challenges facing the interior design community.
If you want to efficiently source and cost-effectively select furniture popular custom furniture, download this PDF.
Interior designers use outstanding online trade tools, all-in-one digital platforms and furniture and home decor marketplaces. If you can't afford to pay an interior designer, at least you can design your own furniture online here.
Is It Simple For Interior Designers To Order Custom Furniture Online?
If you don't think it is easy for interior designers to order custom furniture online, both Chagrin Valley Custom Furniture and BuildLane, might be able to change your mind.
Learn how the online portal, BuildLane connects interior designers with high quality custom furniture makers that will build their furniture – at a good price. Sign up and request unlimited quotes at BuildLane.com. Get your questions answered from BuildLane, here. Check out BuildLane on Instagram.
Listen to the leadership team at the online custom furniture platform BuildLane talk about furniture makers and the interior design industry on this podcast. Learn how interior designers source designer quality furniture in the United States.
Online platforms like Chagrin Valley Custom Furniture and BuildLane make it easy for interior designers to communicate with the builder they choose. Check out the CVCF custom furniture design gallery here, or the BuildLane gallery, here. Although Chagrin Valley Custom Furniture also has an excellent online platform for interior designers to request custom furniture price quotes, BuildLane also offers excellent digital production management tools:
Live Status Of Custom Furniture Orders
Review Completed Furniture At The Factory
Generate Quote Request
Approve & Develop Samples
COM Receipts
Confirm Order Details
Shop Drawings
Production Tracking
Finished Photography
Shipping & Logistics
Walnut river tables are awesome.  Black walnut river tables are very popular in the USA in 2019 because the kiln dried dark-colored, straight grained true heartwood contrasts so vividly with a blue epoxy resin river.  The craftsmen at Chagrin Valley Custom Furniture love to make custom designed tables from walnut wood slabs because it so darn beautiful and workable.  CVCF loves to use black walnut wood for woodworking projects. Although it is not as readily available in the USA, CVCF has a few secret sources for this cherished wood.  American Black Walnut is darling of the CVCF craftsmen.  CVCF designs, handcrafts ships, delivers and assembles black walnut river tables, epoxy resin furniture and live edge waterfall benches for customers across the USA. Prices for small walnut river coffee tables start at $825.  Simply provide CVCF with your walnut river table design requirements to receive a quote for your woodworking project.
"Chagrin Valley Furniture Company made an exquisite conference room table for a client of mine. I ventured out to see all the wood samples in a big barn with Sheldon and we found what we were looking for. The table top is made of walnut and cherry with cable/electric boxes that are tucked into the center and the table rests on a contoured walnut pedestal. It is a beautifully crafted piece that has added grounded energy to the conference room. The conference table worked so well that Sheldon made a live edge side table for the same room. I hope to place more of Chagrin Valley Furniture Company's work in other homes and offices."
Follow the process of designing and building a one-of-a-kind custom desk for Stacey and Mike in Lakewood, Ohio. Chagrin Valley Custom Furniture specializes in creating uniquely individual furniture for unique individuals.