To Order Custom Furniture In The United States – Call 440-591-5511
To learn how to buy custom furniture near you or online complete the form here or call 440-591-5511. You can start the custom furniture ordering process now or you can request a brochure, request an estimate or price quote or visit our design studio and showroom. You can also request a free design consultation which can be conducted in person, by phone or through the use of Skype or FaceTime.
If you have a custom designed furniture or custom woodworking project fairly defined and you would like to start the ordering process, let us know.  You can call 440-591-5511, email shel@chagrinvalleycustomfurniture.com or complete the form here to let Chagrin Valley Custom Furniture know that you would like to commission a piece of custom furniture or woodworking product.  You can begin the ordering process online or by phone remotely from your home or business. You can also order at our design studio in Cleveland, Ohio or during an in-person meeting with Shel Myeroff.
How CVCF Designs, Engineers And Sells Custom Furniture Online For Our U.S. Clients
CVCF table designers use 2020 Internet technologies and videotelephony products such as Zoom video conferencing, FaceTime, Dropbox, websites, furniture design software, texting and email to virtually interface and collaborate with our clients throughout the U.S. to design custom wood and metal furniture remotely. Learn how CVCF co-designs custom furniture with U.S. based customers online and by phone here.
View High-Resolution Pictures And Fun Videos Of Cool Custom Furniture Designs
View pictures of river tables that CVCF recently designed, built and delivered to customers in the U.S in 2020. Watch a video showing how we created a 19′ CNC engraved Mississippi River conference table from wood, epoxy resin and steel, here. This black walnut river table was handcrafted for the corporate conference room of the Crescent River Port Pilots' Association, which is located in Louisiana. 
After you contact us to express your interest in ordering custom furniture or a custom woodworking project, Shel Myeroff will begin a consultation process with you to refine the furniture or woodworking design project scope. If you designed your own custom furniture or have a specific type or style of custom furniture design idea in mind you can submit your design, drawing or furniture plan to us.  If you would like a CVCF furniture designer to draw a design for you, no problem. Feel free to request a custom furniture design drawing, sketch or mockup. CVCF also sells rustic furniture, live edge dining tables, epoxy resin headboards and river tables that are in stock here. Learn how the highest quality river tables and the best custom wood and metal furnishings are handcrafted in America in 2020, here.
Once the ordering process has started, CVCF will prepare a furniture design and materials list for your approval.  After you approve the design drawings and raw material specifications, payment, delivery and assembly arrangements will be planned.
Once your handmade custom built furniture has been completely built and tested for quality and craftsmanship in our workshop, we will contact you so that you can approve the actual furniture in person or by approving pictures we email you. We can also use Skype or Facetime to show you the furniture from all angles. After any final alterations have been made and you approve the finished furniture we will confer with you to determine a definitive shipping, delivery and assembly schedule.
Contact Chagrin Valley Custom Furniture
Founder And Owner: Shel Myeroff
Phone: 440-591-5511
Email: shel@chagrinvalleycustomfurniture.com
Design Studio, Showroom And Manufacturing Facility
Address: 26309 Miles Road, Suite #6, Warrensville Heights, Ohio 44128
Design Studio And Showroom Business Hours
Monday through Friday: 8:00 am to 4:30 pm
Saturday and Sunday: By Appointment Only
Buy custom furniture online or near you from Chagrin Valley Custom Furniture. Learn how to design and order custom furniture online here. Buy a modern custom sofa or a large custom made sectional near you or online, here. To learn where to buy handmade custom built furniture in the USA, watch this video. To find out how you design furniture, submit your design and get it custom built, watch this video.
Stay At Home And Design Your Own Furniture
Because the COVID-19 pandemic has prompted more consumers to use digital solutions and e-commerce to commission a piece of custom furniture, Chagrin Valley Custom Furniture has refined the use of video calling applications to collaborate with customers on their design ideas for handmade tables, desks, beds and chairs. CVCF understands that Americans want to stay at home to shop for custom built furniture and home décor to limit the spread of the coronavirus. CVCF's has made it easy for customers to make custom furniture design decisions online and to use e-commerce. While traditional retailers in the U.S. have seen a decline in sales since the pandemic started, CVCF has seen a surge in online orders for custom made furniture. CVCF has not been impacted by the significant slow down in the U.S. supply chain because the firm sources it's hardwoods and solid wood slabs from Amish lumber mills nearby in Ohio.
If you are looking for custom wood furniture makers in the United States, contact Chagrin Valley Custom Furniture. When you design your own 100% custom furniture, it should be a pleasure to pick out all the raw materials including the types of woods, metals, hardware, glass and fabrics. Get tips on designing rustic furniture and Mid-Century Modern furniture here. Get ideas for designing and making your own eye catching and unique wood furniture here.
Chagrin Valley Custom Furniture manufacturers custom built epoxy resin wood furniture and epoxy resin river tables. View pictures of river tables that CVCF recently designed, built and delivered to customers in the U.S in 2020.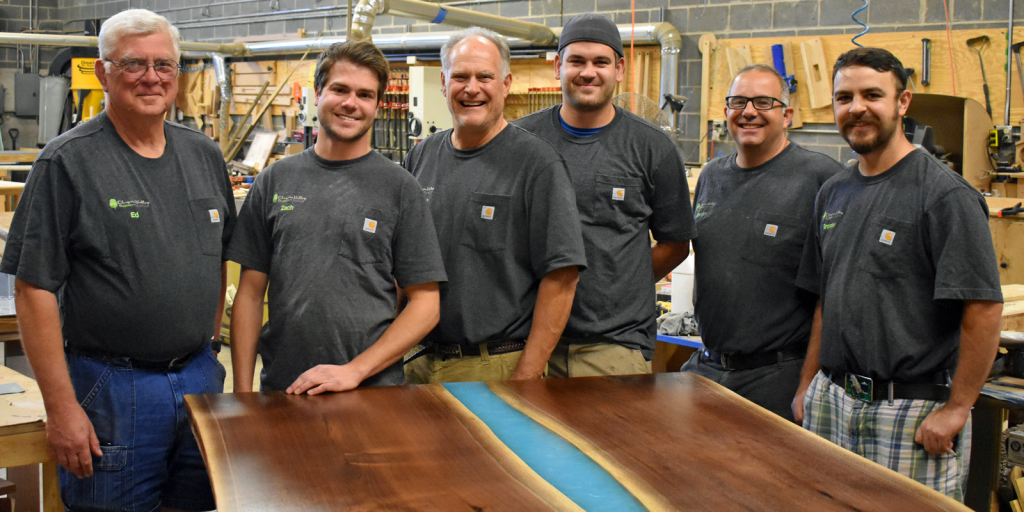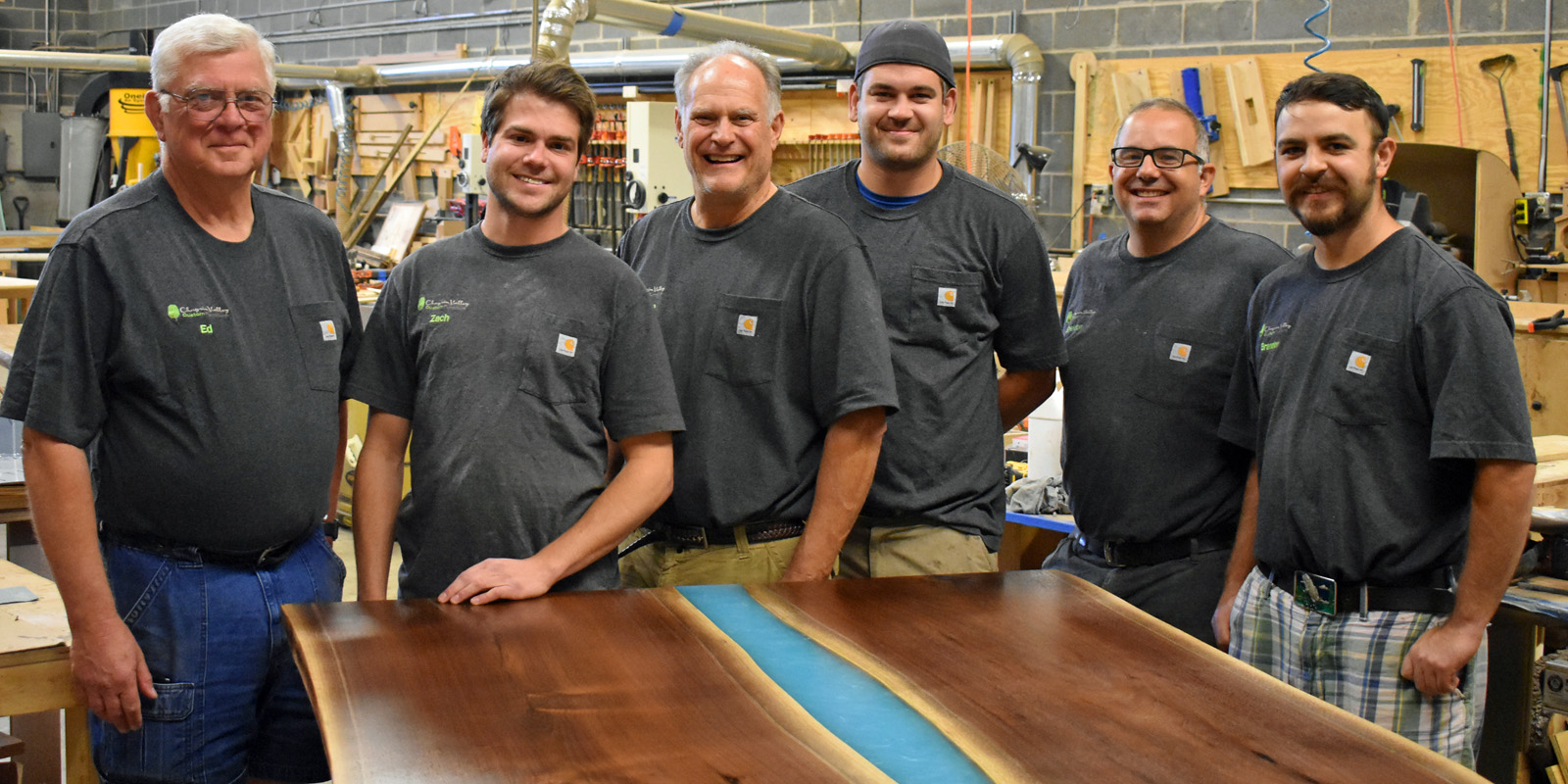 Custom Handmade Modern Epoxy Resin Furniture & Rustic Live Edge Solid Wood Furniture For Sale Locally Near You (U.S. Only) And Online – Call 440-591-5511 To Speak With A Custom Furniture Designer Or Furniture Builder To Order Or Submit Your Furniture Design Idea Or Request A Quote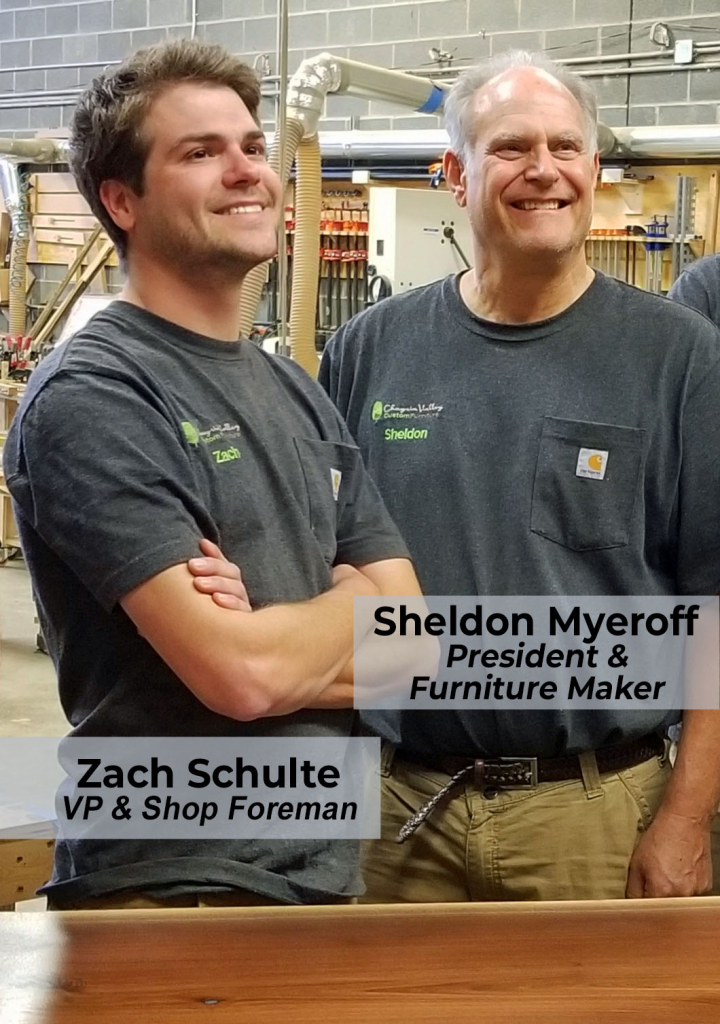 How To Order [Commission] Custom Handmade Furniture Locally Or Online In The U.S.
How I Built a Booming Custom Furniture Business Online
Posted On YouTube On December 31, 2020 By Chagrin Valley Custom Furniture [ChagrinValleyCustomFurniture.com]
This video shows you how Sheldon Myeroff turned his custom furniture making hobby into a profitable international custom furniture making company – all after retirement! Success came primarily from specialization with a focus on designing, building and selling custom-made river (epoxy) tables and  rustic and modern custom made barn doors. A "river table" is two pieces of natural wood with a river of epoxy resin flowing down the middle. That's become 80% of his furniture making business.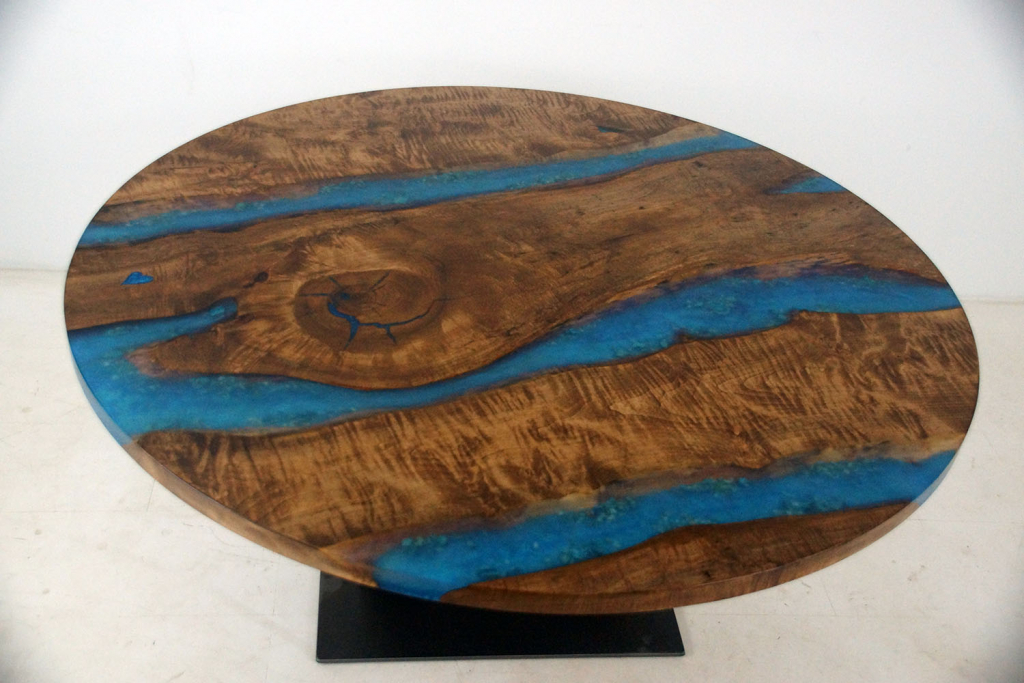 Round Blue Epoxy Resin River And Live Edge Dining Table $6,000+
Information On River Tables And Epoxy Resin From Chagrin Valley Custom Furniture
How Much Does A River Table Cost?
Small river tables range from $800 – $4,000, and larger river tables range from $1,800 – $6,500. Get more river table prices, here.
How Thick Should A River Table Be?
CVCF frequently uses wood slabs that are 2″ thick to custom build sturdy river tables for customers that order locally and online in the U.S. After sanding, these 2″ thick slabs end up being about 1 3/4″ thick.
Are River Tables Strong?
Well built epoxy resin river tables made by CVCF with sturdy natural live edge hardwood slabs are extremely durable and can seat 8, 10, 12 or more people. The surfaces of river table tops made by CVCF, are beautiful, strong and virtually impenetrable. The custom metal river table legs and bases handcrafted by CVCF will last for generations without maintenance.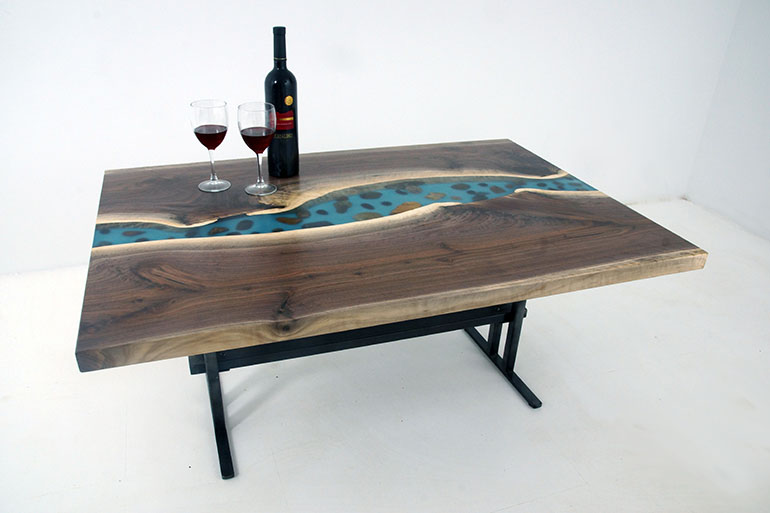 Learn About About Building River Tables And Epoxy Resin And Wood Furniture From Chagrin Valley Custom Furniture
Buy A Custom Made Round Conference Table $7,000+ | For Sale Locally Near You (U.S. Only) Or Online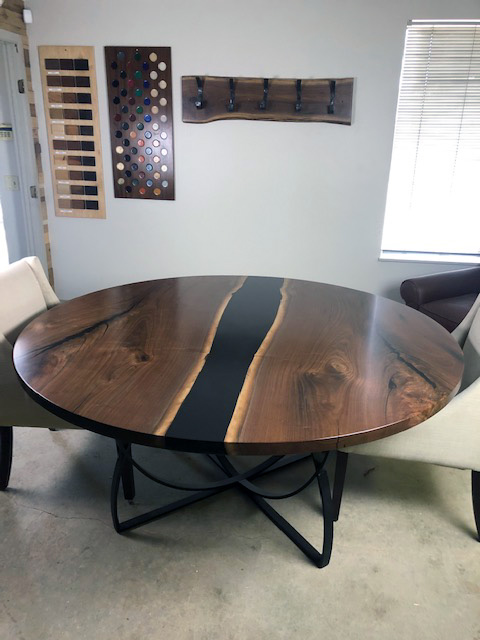 Pictured Here Is Round Black Epoxy Resin River And Black Walnut Live Edge Conference Table That Was Sold Online By CVCF In 2018
Custom Handmade Conference Room Table Material, Size, Shape And Design Options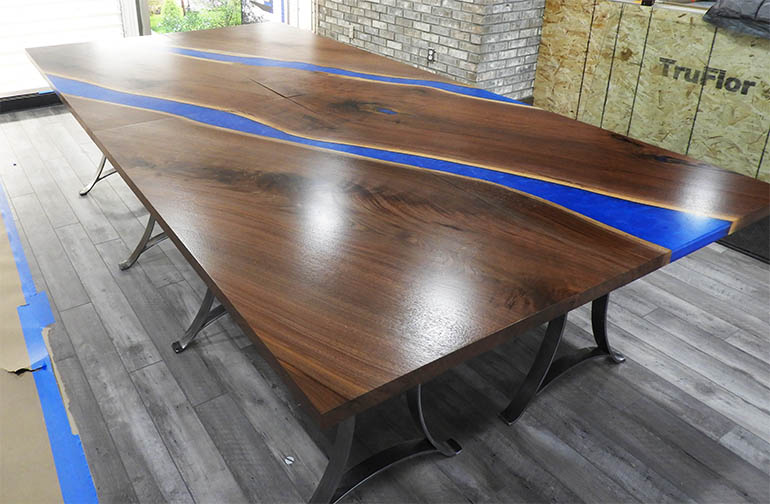 Buy A Custom Built Modern Modular Conference Room Table [System] For Sale Locally Near You (U.S. Only) 12,000+ Any Size, Shape Or Design
How Different Types Of Handmade Wood Furniture Are Custom Designed For Local And Online Customers In The U.S.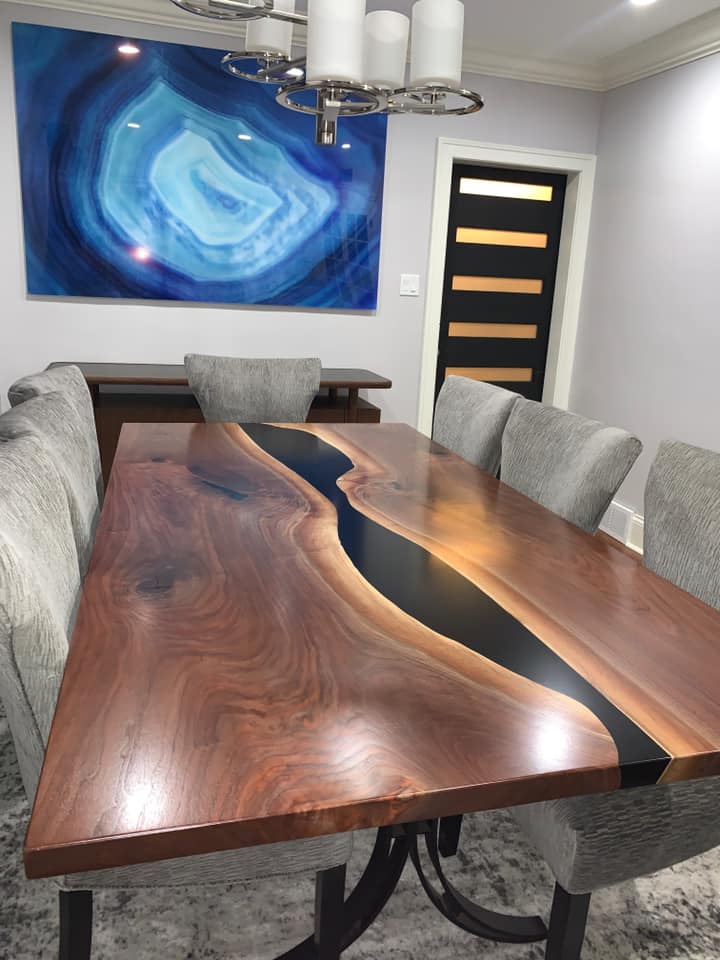 How You Design Furniture, Submit The Design And Get It Custom Built
Posted On YouTube On May 17, 2019 By Chagrin Valley Custom Furniture [ChagrinValleyCustomFurniture.com]
How Custom Epoxy Resin And Live Edge Wood Furniture Is Handmade In The U.S.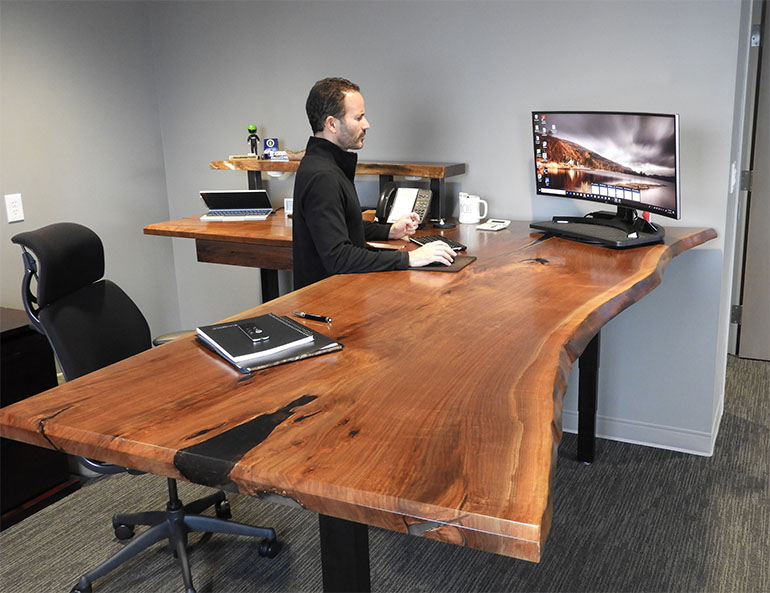 Custom Made Black Epoxy Resin Black Walnut Live Edge Adjustable Height Sit Stand Desk For An Office | Sold Locally [Ohio] In 2019 | $5,300+
The Highest Quality Custom River Tables Sold In The USA [Epoxy Resin Tables & Live Edge Dining Tables]
Posted On YouTube On April 9, 2020 By Chagrin Valley Custom Furniture [ChagrinValleyCustomFurniture.com]
The Making of a Custom Designed Live Edge River Table [How Custom Furniture Is Handmade In The U.S.]
Posted On YouTube On December 9, 2018 By Chagrin Valley Custom Furniture [ChagrinValleyCustomFurniture.com]
How Custom Handmade Furniture [Large] Is Safely And Affordably Shipped To All 50 States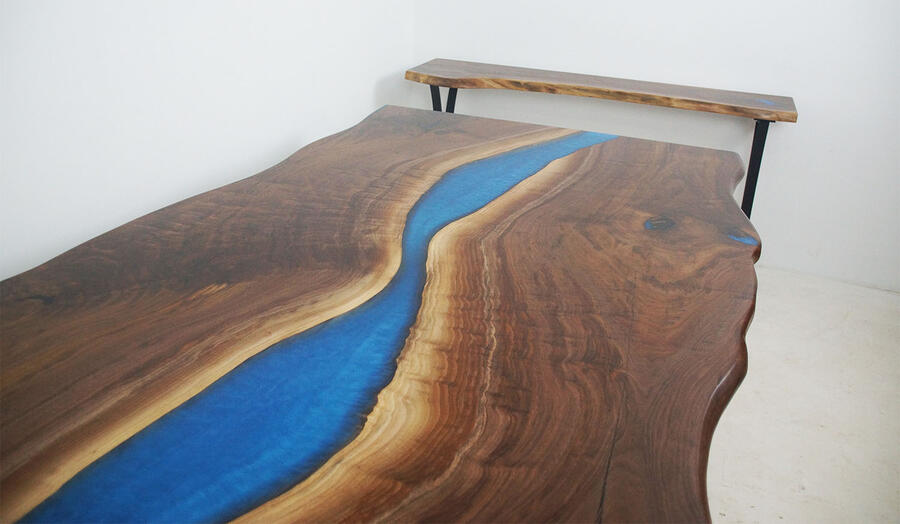 Live Edge Black Walnut Conference Table With Blue Epoxy Resin River And Matching End Table $8,600 [Sold Online And Custom Built By CVCF In 2020]
Crating & Shipping Live Edge River Tables CVCF 2020 [Safely Shipping Large Furniture In The U.S.]
Posted On YouTube On August 7, 2020 By Chagrin Valley Custom Furniture [ChagrinValleyCustomFurniture.com]
In this video, hear how Chagrin Valley Custom Furniture builds custom crates for all our epoxy resin and wood river tables and desks to help ensure damage-free delivery on these very heavy items. Sheldon Myeroff, President of Chagrin Valley Custom Furniture, explains the crating process which includes handcrafting every crate out of solid 2x4s and wood planks, then adding bubble wrap, styrofoam, spacers, and anything else necessary to preserve the integrity of the epoxy resin furnishing during shipping. Then CVCF Operations Manager Ed Johnson discusses the shipping process, arranging for the most reliable ground carriers to deliver the piece to your home or place of business safely.
Get A Quote For Your Project
How To Order Live Edge Custom Furniture
Live edge furniture captures the one-of-a-kind beauty nature offers within every piece of lumber. In this video, we walk you through our shop, introduce some of our artisans, and show you the step-by-step process of ordering live edge custom furniture online, or by phone.