2021 U.S. Furniture Industry News| Market Overview, Share And Size | Key Trends And Opportunities | Prices, Furniture Makers And Videos | Custom Handmade Furniture Niche | Contract Furniture News | Read Handmade Furniture Customer Reviews And Watch Client Testimonial Videos
2021 News For Retailers, Furniture Buyers, Architectural Millwork Professionals, Cabinet Makers, Furniture Makers, Professional Woodworkers And Furniture Industry Insiders
VIDEO TESTIMONIAL: Custom Southwest Epoxy River Table | Rocks, Arrowheads, Fossils & Turquoise [CVCF 2021]
Uploaded to YouTube On December 18, 2021 by Chagrin Valley Custom Furniture
In this video, a homeowner from New Mexico talks about the made-to-order epoxy river dining table he and his wife co-designed online remotely with Chagrin Valley Custom Furniture. The Black Walnut tabletop has a teal blue river running through it and epoxy-filled indents, imperfections, knotholes, and cracks. Suspended in the epoxy are turquoise crystals,  river rocks, pebbles, fossils, and arrowheads to go along the Southwestern theme of their home.
Every dining table is unique and an expression of the people who order it. We use Zoom, Facetime, phone calls, emails and texts to keep you fully involved in the design and construction of your custom dining table. We make our dining tables from locally-sourced, sustainably-harvested natural wood, reclaimed wood and live edge wood. You choose your own wood slabs – any species – plus the materials and epoxy resin color. Tell us what style you want – industrial, modern, rustic – you name it, we'll build it.
You'll also see dozens of other custom-made one-of-a-kind dining tables we've co-designed online with homeowners, businesses, restaurants, hotels, interior designers, and architects, and built in our 6,000 sq. ft. workshop in Cleveland. Chagrin Valley offers many epoxy resin table options – different types, styles, designs, shapes, seating, legs and bases, epoxy colors and more.
We pride ourselves on having what we feel are the highest quality river tables built in America. With our CNC machine, we are able to engrave names, logos, topographic waterway features, and other artwork into our epoxy river dining tables and custom conference tables. We have built 100% customized tables for businesses and homeowners all across America.
Posted On December 8, 2020
MYDOMAINE, founded in 2013, is a great shoppable online publisher website to visit if you want some chic furniture design ideas and advice.
They make an aspirational life achievable for every budget. Check them out on Instagram, Facebook and Pinterest.
YouTube Video: Custom Wood & Epoxy Dining & Kitchen Tables for Sale Online [Costs, Sizes, Modern Tops, Live Edge]
Custom Epoxy River Tables For Sale Locally & Online
You can buy custom epoxy resin river tables, epoxy resin and wood dining tables and epoxy resin and live edge wood countertops for sale locally or online at ChagrinValleyCustomFurniture.com. Buy a natural live edge wood table. You can call CVCF at 440-591-5511. Get design ideas in the CVCF project gallery before you submit you table design idea and request a quote online. You can even start designing your own custom furniture, desk or table online with this free app.
YouTube Video Uploaded By Chagrin Valley Custom Furniture On July 26, 20221 Titled "CNC Carved Epoxy-Filled Topographic Tables | Mapped River, Lake, Waterway, Ocean Tables [CVCF 2021]"
In this video, you'll see really amazing custom tables with the center of the tabletop carved out to replicate the shapes of bodies of water in the U.S. and then filled with colored epoxy. You'll watch how these CNC carved topographical epoxy tables with ACTUAL mapped rivers, lakes, beaches, oceans, islands, bays, seashores are handmade, one by one, by Chagrin Valley Custom Furniture in our Cleveland, Ohio production facility.
Take a look at pictures of custom made epoxy resin river and solid wood kitchen tables, custom built epoxy resin and natural wood conference tables, made-to-order epoxy resin river and live edge dining tables, custom made epoxy resin and solid wood coffee tables and epoxy resin river tables that have been handcrafted by CVCF to our customer's exact specifications. If you are looking for custom desks, see some of the custom built epoxy resin river and solid wood desks, handmade executive desks, L-shaped desks, custom built home office desks and furniture and handcrafted live edge wood slab desks that CVCF has built, here.
YouTube Video Uploaded By Chagrin Valley Custom Furniture On May 19, 2021 Titled "Lake Sunapee Replicated in a CNC Engraved Epoxy Table (CVCF 2021)"
In this video, furniture designer Sky Ironhorse programs and operates a handheld CNC Router to carve the outline of Lake Sunapee, New Hampshire into the top of a table that is then filled with colored epoxy. Chagrin Valley Custom Furniture fulfilled the request of a couple by making this one-of-a-kind dining table for their luxury lake house. CVCF can use a CNC router to carve any real lake or river into the top of a wood table top.
Prices for custom made river tables start at $1,900+. You can order custom built epoxy and wood dining tables and ocean tables that will be built just the way you want and then shipped to you.
Video Uploaded To YouTube By Chagrin Valley Custom Furniture On May 5, 2021 Titled "The Best Custom Epoxy Resin River Tables [2020 Compilation]"
This video features our best custom furniture (mostly custom river table) projects we've produced and delivered throughout the year 2020. Projects ranged widely, from simple live edge walnut desks, to hickory river tables with LED lights and extendable leafs (with LED light up capabilities), and conference river tables with CNC engraved logos.
Get Ideas From 20+ Unique River Tables You Can Buy In 2021 | Customized Contemporary Wood And Epoxy Dining Tables And Kitchen Countertops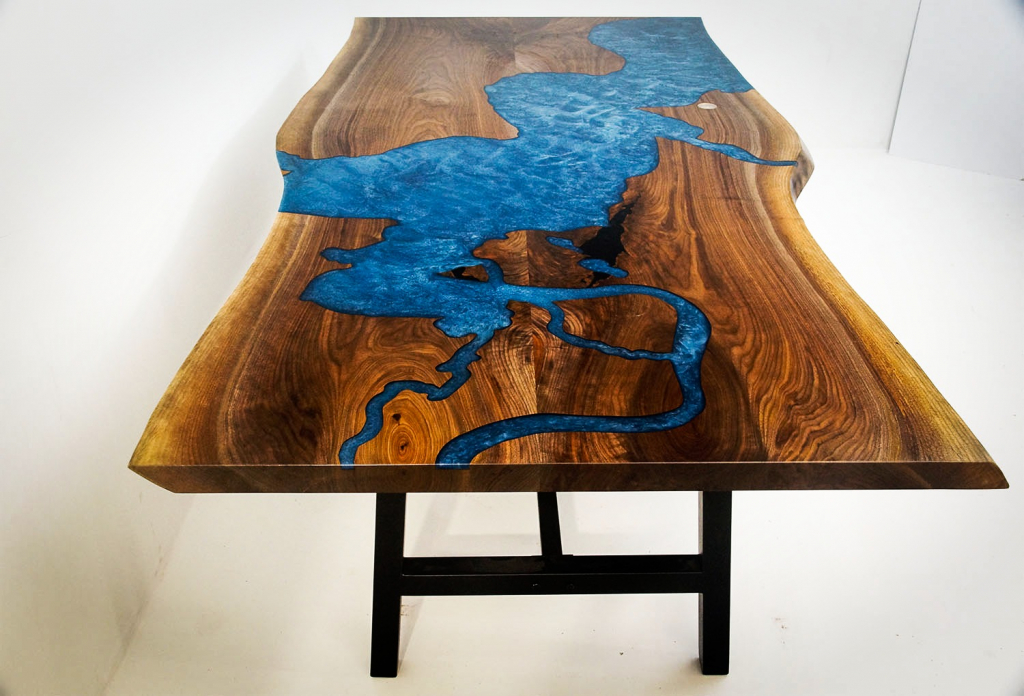 Custom Made CNC Carved And Blue Epoxy Filled Chesapeake Bay Black Walnut Live Edge Dining Table $7,000+
Resin Inlay Table Was Co-Designed Online By Pennsylvania Client And CVCF River Table Makers | Custom Handmade And Shipped In 2020 | Elegant Fluid And Curving Epoxy Resin Water Scene Tables For Your Living Room Or Dining Room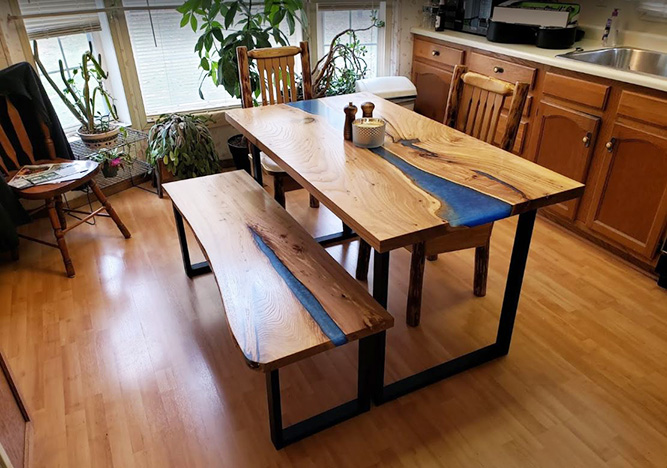 Custom Made Epoxy Resin River Kitchen Table With Matching Bench $6,500+
Buy A Modern Epoxy Table Or Rustic Live Edge Table Locally Near You (U.S. Only) Or Online | Custom Live Edge Wood Dining Tables & Epoxy Tables For Sale | Place An Order For A Handmade Farmhouse Table, Kitchen Table Or Conference Table | Commission A Custom Built Epoxy Resin & Live Edge Wood Table, Table Top, Desk, Countertop, Desk Top Or Bed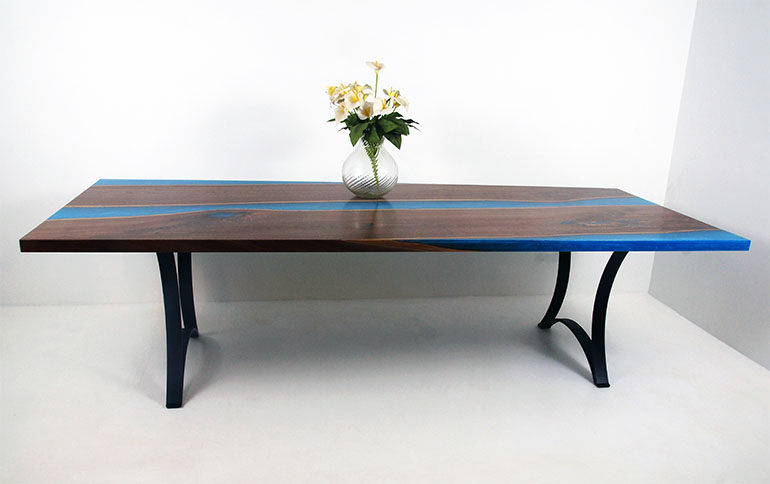 Blue Epoxy Resin River Dining Table Sold Online To California Customer $8,600+
Live Edge Wood Tables | Live Edge Coffee Tables | Live Edge Dining Tables | Epoxy Live Edge Tables | Live Edge Table Tops | Live Edge Tables With Extension Leaves | Live Edge Tables With Wood, Metal, Pipe & Hairpin Legs | With Blue Epoxy | Live Edge Tables With Resin | For 2, 4, 6, 8, 10, 12 Or 20 People | Live Edge Tables For Outdoors
Resin River Tables For Sale At CVCF River Table Online Store $800+ Epoxy Live Edge Dining Tables | Buy A Custom Built River Table | River Table Prices From $800+ | Submit Your Own River Table Design Idea | Request A Quote For A River Table | Large Handcrafted River Tables For Sale $1,800+ | Custom Built Epoxy Resin Live Edge Dining Tables And Kitchen Countertops | Handmade Rustic And Modern River Tables | Shipped To All 50 States
News About Furniture Makers, Furniture Builders, Furniture Designers, Resin Artists And Interior Designers In The U.S.
How I Built a Booming Custom Furniture Business Online
Posted On YouTube On December 31, 2020 By Chagrin Valley Custom Furniture [ChagrinValleyCustomFurniture.com]
This video shows you how Sheldon Myeroff turned his custom furniture making hobby into a profitable international custom furniture making company – all after retirement! Success came primarily from specialization with a focus on designing, building and selling custom-made river (epoxy) tables and rustic and modern custom made barn doors. A "river table" is two pieces of natural wood with a river of epoxy resin flowing down the middle. That's become 80% of his furniture making business.
Sheldon started Chagrin Valley Custom Furniture from his home in 2013, but only became serious about growing the company after moving into a large high-end furniture manufacturing facility in 2017. CVCF has become a manufacturer of high quality, handcrafted, custom designed furniture, specializing in custom live edge epoxy tables and desks for sale online to individuals and businesses throughout the continental United States and Canada. Sheldon's innovative ideas for furniture and his furniture business have become a hallmark of his success.
The audio for this video is comprised of extracts from Andy Levine's Second Act Stories podcast on December 7, 2020, and titled "Goodbye Executive Recruiting…Hello Furniture Marking". Andy interviewed Sheldon and CVCF VP of Operations Zach Schulte for this podcast – which Adam wrote and voiced. The full podcast is only 20 minutes long and we hope you'll give it a listen. You can find it at https://www.secondactstories.org.
The Chagrin Valley process is different from other custom furniture makers (builders) because we only make true custom furniture. That means you don't go online to order and pay at the start of the process. With CVCF, you are part of the custom furniture-making process every step of the way as together we create a completely new, one-of-a-kind piece of epoxy resin furniture, specific to your unique needs and desires. You give us your design idea, choose the epoxy color, wood slab, make tweaks in the design, all remotely through video technology. You can even have an emblem or your company logo machined into the wood and filled with epoxy, or embed items in the epoxy such as school and college logos, rocks, crystals, and other sentimental memorabilia.
We harvest our wood sustainably, often under the direction of the U.S. Forest Service. This ensures the long term health of the forest. We spend up to 2 years removing moisture from the logs before starting to work with them. This helps prevent warping and cracking of the wood. Our 6,000 sq. ft. workshop is fully equipped to handle all the challenges of making a beautiful epoxy resin river table, which includes a temperature controlled, clean spray room for a smoother, scratch-resistant coat. We also offer a large variety of metal and wood legs, plus you can design your own legs if you wish.
Our furnishings include custom epoxy resin river tables, epoxy resin river beds and headboards, epoxy resin desks, epoxy resin wall art, rustic to modern farmhouse tables, barn doors, benches, countertops, shelves and so much more. Prices for our conference tables are based on such factors as size, wood species, live edge/not live edge, conference table components, epoxy resin, engraved company names, engraved logos, embedded objects in epoxy resin rivers, etc. Prices for our solid wood and live edge conference tables start at about $4,500, average about $9,000, and top off at about $18,000. Prices for conference tables with epoxy resin rivers and epoxy-filled CNC logos or scenes will cost more.
For a quote on handcrafting your epoxy resin river furniture design and shipping it to your home or place of business anywhere in the USA, call Sheldon Myeroff at 440-591-551, scan or take a photo of your design and text it to us at 440-591-5511, or email to shel@chagrinvalleycustomfurniture.com.
Custom Tables | How To Build, Price & Sell Yours [Or Buy One]
Learn how to build and sell your own DIY handmade wood tables or custom made live edge epoxy resin river tables. See examples of amazing custom handcrafted tables, here. Get tips for selling your kitchen tables and coffee tables on Facebook Marketplace, here. Find out what to charge for the farmhouse tables you build, here.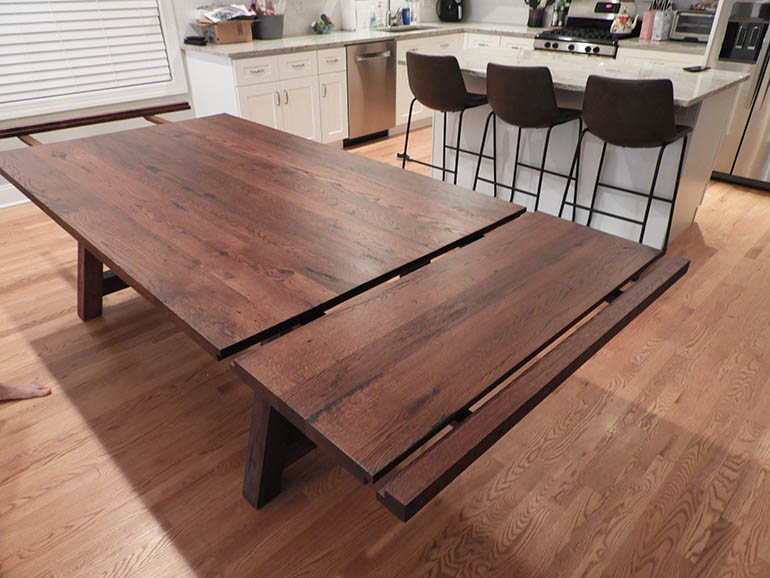 Custom Built Sturdy And Simple Made-To-Order Rustic Farmhouse Dining Table $1,800+ [Extendable]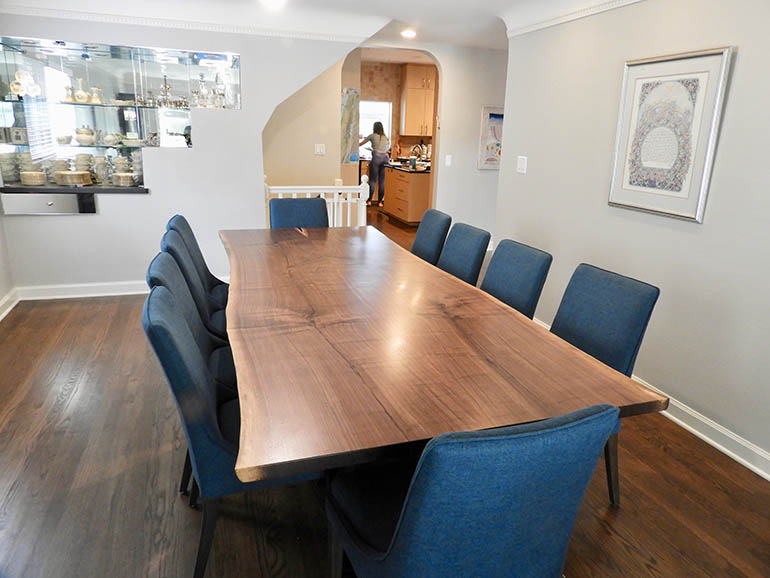 Custom Made Solid Live Edge Wood Slab Dining Table $2,600+ [Kitchen Table That Seats 10]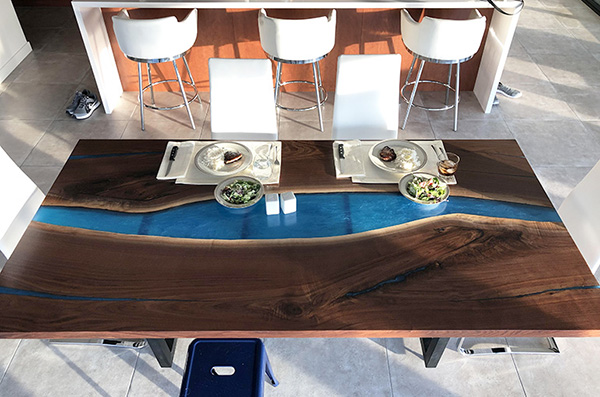 Stylish Modern Blue Epoxy Resin River Live Edge Black Walnut Dining Table $4,200+ [Custom Ordered]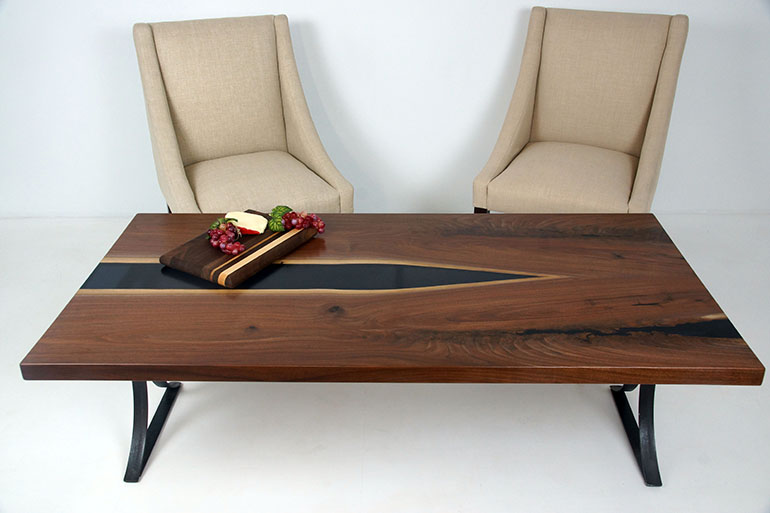 Unique Modern Solid Wood Custom Handmade Coffee Table $800+ [Black Epoxy Resin]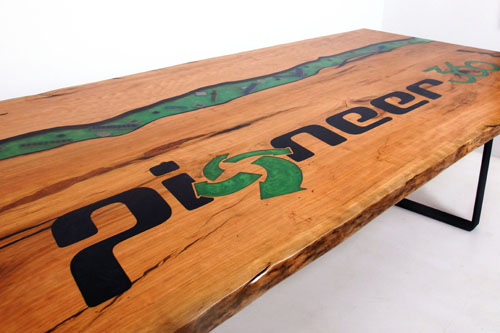 Custom Handcrafted Live Edge Epoxy Logo Conference Table $4,500+ [Any Size Or Shape]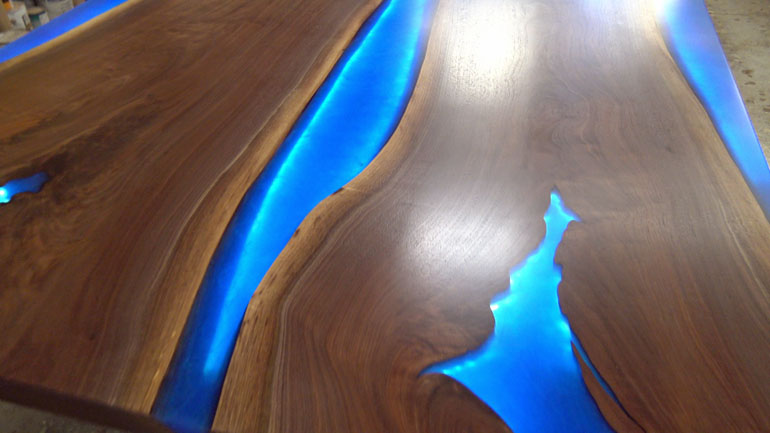 Large High Quality Custom Designed Epoxy Resin River Dining Table $3,000+ [With LED Lights]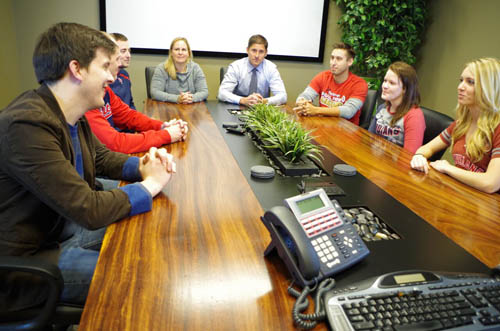 New Long And Wide Modern Handcrafted Custom Conference Room Table $4,500+ [Reclaimed Wood And Steel]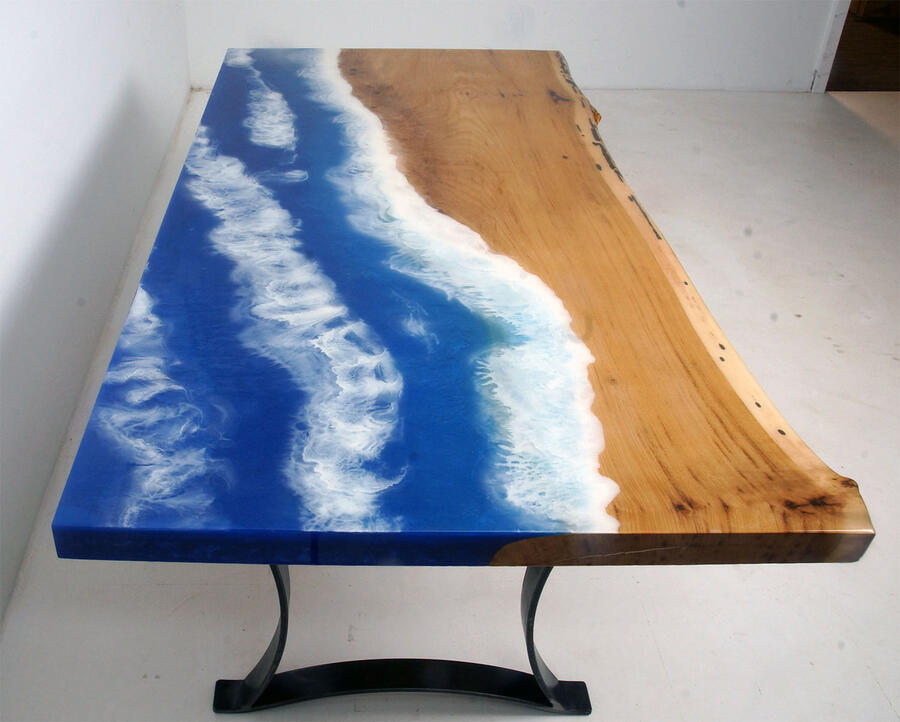 Epoxy Resin "Moving Ocean" Coffee Table $1,000+ [Incredible Ocean Table]
15 MOST Amazing Custom Tables – Epoxy Resin and Wood River
Posted On YouTube By Top Fives On July 3, 2020
Learn how to build a custom walnut dining table, here. If you are a furniture maker, find out how to price your work, here. Learn how to order a custom built epoxy table, a custom river table or an epoxy resin and live edge wood river dining table made to your specifications, here.
Live Edge River Table | Woodworking How-To
Posted On YouTube On Febuary 2018 By John Malecki [JohnMalecki.com]
Top 5 Woodworking Projects That Sell
Posted On YouTube On August 7, 2020 By 731 Woodworks
How To Price Your Woodworking Projects
Posted On January 23, 2020 By Rockler
Everybody agrees that masterful woodcraft comes at a price, what that price should be is the subject of a lot of debate. Have you ever wondered what to charge for something you made? Virtually every handmade product has a "right price." Charge more and it won't sell; charge less and you're losing money.
Finding the right price requires five separate calculations to determine costs for materials, labor, overhead, profit and selling expenses. You can calculate these by hand, or use your computer and a spreadsheet. Here's how we would price the pictured accent table. Read more here.
Watch John Malecki Built A Deep Blue Epoxy Resin Live Edge Walnut Wood River Table!
Posted On YouTube On November 27, 2019 By John Malecki
Custom Tables For Sale Online [Dining And Farmhouse $1,500+] | Buy A Custom Conference Table Locally Near You (U.S. Only) Or Online | Epoxy Resin & Live Edge Wood Conference Tables | Large & Modern | Prices | Read Customer Reviews And Watch Client Testimonial Videos
Posted On December 25, 2020
Learn how to buy a custom conference table here. Find out how to design and buy your own "made-to-measure" table for sale locally near you (U.S. only) or online. This video shows you how to get a price for a durable custom size handmade conference room table.
Find out how to order a beautiful solid wood conference table for your own home, office or business in the U.S. You choose the width and height of your table and the thickness of the table top, here.
Visit https://archive.chagrinvalleycustomfurniture.com
Call CVCF At 440-591-5511 To Speak To A Custom Furniture Designer
Email: customerservice@chagrinvalleycustomfurniture.com
Chagrin Valley Custom Furniture builds and sells large and modern conference room tables, custom wood dining tables, rustic live edge tables, drop leaf tables, kitchen tables with walnut table tops, and simple sturdy farmhouse tables.
Stylish and practical custom tables are proudly made-to-order with epoxy resin water-themed decorations (rivers, oceans, waterfalls, canyons), live edge table tops, sustainably sourced premium specialty woods, recycled or reclaimed barn wood and one-of-a-kind steel legs and metal bases.
CVCF's furniture builders co-design the very best custom built tables with customers, in any style, shape or size requested. The CVCF warehouse ships unique tables, that seat any number of people, to homes and firms all across America, from Los Angeles to New York City.
Local CVCF's expert furniture makers in Cleveland, Ohio craft high quality epoxy resin river tables, farm tables, small and large boardroom tables and coffee tables.
Tables are made from walnut, oak, maple, mahogany, elm and cherry wood. Company logos and corporate branded elements are inlaid into table top surfaces or CNC carved and filled with colorful epoxy resin pours. Clients choose their favorite items to be embedded into epoxy resin.
LED lights, cable management systems, power outlets, cabinets, drawers, wheels, lamps, benches and data ports can be integrated into custom tables, desks or office furniture made by CVCF.
Furniture Featured On MYDOMAINE [12/08/20 Prices]
Is Buying Real Authentic Custom Built Furniture Online Too Challenging? – Then Shop For Customizable Furniture
Get inspiration for customized and personalized furniture tailored for your lifestyle at BoConcept. If you are choosing a new sofa or creating a dining setting design your own furniture here. First, select a style, then take size measurements and choose materials and fabrics. Get free input from a BoConcept Design Consultant and use their free design service, here.
Custom Farmhouse Dining Table Sold Locally [Industrial Base]
Posted On December 23, 2020
In this video, furniture maker Shel Myeroff, owner of Chagrin Valley Custom Furniture, talks with local customers Matt and Molly from Chagrin Falls, Ohio about the high quality made-to-order extendable farmhouse dining room table that CVCF custom built for them.
After an initial furniture design consultation, CVCF furniture builders set off to handcraft the rustic, yet modern and simple, farmhouse dining table from 100-year-old reclaimed oak wood beams, sustainably sourced from a barn in Southern Ohio.
The expert CVCF craftsmen at the Cleveland, Ohio workshop, completely customized the farmhouse dining table by adding a sturdy and durable industrial style metal (steel) base. This video shows all the attention to detail, including the welds and the two pullout inserts. The comfortable farmhouse dining table is 128 inches long when fully extended. Now Matt and Molly are living happily ever after with their new beautiful, and very unique, solid wood farmhouse dining table.
Listen to the couple talk about the exceptional customer service they received from CVCF. Find out how they got helpful design ideas from Shel for their custom table. Get their thoughts on the remarkable workmanship provided by CVCF craftspeople.
Because pine is inexpensive, it is frequently used by America artisans to make farmhouse tables (also know as a farm table or harvest table) tops. For the farmhouse table shown in this video, CVCF used more expensive oak barn beams because they will last for generations (they already lasted over 100 years in a barn) and because the cut beams display a more authentic style and absorb wood stains more effectively.
The country living inspired design style of the charming contemporary farmhouse dining table shown in this video, combines clean sleek lines with a cozy and warm farmhouse feel. This homey style of farmhouse furniture and décor certainly has not gone out of style.
Popular farmhouse style furniture made by CVCF typically incorporates versatile traditional aesthetics and industrial components (legs and bases) to convey a fresher character and a more relaxing appeal than rustic furniture and décor.
Truly custom farmhouse furniture and farmhouse dining tables are handcrafted by CVCF in any design style that the client wants. Exact sizes, dimensions, shapes and wood species are specified by the customers. CVCF ships custom built farmhouse tables to homes, restaurants and businesses in all 50 states.
CVCF creates authentic one-of-a-kind farmhouse tables and a customer experience unlike any other in the furniture industry. Commissioning a farmhouse table from CVCF is fun and rewarding, start to finish. From the table design to the creation, CVCF invite their clients to "get involved". CVCF always strives to exceed customer expectations.
Posted On December 10, 2020
Sheldon Myeroff, Zach Schulte, Eric Goodfellow and Sky Ironhorse are four of the top American furniture designers, resin artists and CAD design experts working in the U.S. today. They embody the American-made spirit of sustainably sourced wood slabs and local craftsmanship. As CVCF's digital sales continue to grow, their industrial inspired and eco-friendly furniture designs are showing up in dining rooms, conference rooms, living rooms and bedrooms all across the United States. Read more here.
Posted December 8, 2020
Do you want to know how interior designers find unique furniture and luxurious sofas for their clients? Well, here's the answer.
Find out where interior designers shop and source statement pieces. Learn how interior decorators buy handmade custom built solid wood furniture online, as well as epoxy furniture and custom steel and metal furniture in the U.S. for their high-end custom furniture clients, here.
Listen to Dennis Scully on his podcasts at Business Of Home. He interviews thought leaders, entrepreneurs, and creatives about the changes and challenges facing the interior design community.
If you want to efficiently source and cost-effectively select furniture popular custom furniture, download this PDF.
Interior designers use outstanding online trade tools, all-in-one digital platforms and furniture and home decor marketplaces. If you can't afford to pay an interior designer, at least you can design your own furniture online here.
Is It Simple For Interior Designers To Order Custom Furniture Online?
If you don't think it is easy for interior designers to order custom furniture online, both Chagrin Valley Custom Furniture and BuildLane, might be able to change your mind.
Learn how the online portal, BuildLane connects interior designers with high quality custom furniture makers that will build their furniture – at a good price. Sign up and request unlimited quotes at BuildLane.com. Get your questions answered from BuildLane, here. Check out BuildLane on Instagram.
Listen to the leadership team at the online custom furniture platform BuildLane talk about furniture makers and the interior design industry on this podcast. Learn how interior designers source designer quality furniture in the United States.
Online platforms like Chagrin Valley Custom Furniture and BuildLane make it easy for interior designers to communicate with the builder they choose. Check out the CVCF custom furniture design gallery here, or the BuildLane gallery, here. Although Chagrin Valley Custom Furniture also has an excellent online platform for interior designers to request custom furniture price quotes, BuildLane also offers excellent digital production management tools:
Live Status Of Custom Furniture Orders
Review Completed Furniture At The Factory
Generate Quote Request
Approve & Develop Samples
COM Receipts
Confirm Order Details
Shop Drawings
Production Tracking
Finished Photography
Shipping & Logistics
Posted By Andy Levine On December 7, 2020
Sheldon Myeroff turned his expert furniture design skills into a booming business called Chagrin Valley Custom Furniture where people shop for custom furniture locally and online. CVCF specializes in selling, designing, building and shipping custom wood furniture, custom-made epoxy tables and river tables to customers all across the United States. Day-to-day operations are managed by another top American furniture designer named Zach Schulte.
A "river table" is two pieces of natural wood with a river of epoxy resin flowing down the middle. Watch videos of CNC carved epoxy resin conference tables and colorful river tables being designed and custom made from beginning to end. Take a look at pictures of rustic live edge wood furniture, handcrafted custom hardwood furniture, custom made epoxy tables, handmade river tables (with embedded rocks, fish, stones, LED lights and sea shells) and custom wood furniture for sale near you and online here.
Learn how colorful epoxy resin tables and river tables are handmade, here. Watch a video to learn how the highest quality live edge river tables are handmade in the USA, here. Watch a video to learn about options, for ordering a custom made epoxy table or resin river table online, here.
Written By Sophia Mitrokostas For The Insider | December 4, 2020
Insider spoke to professional interior designers to find out which decorating trends will be everywhere in 2021, and which styles will fade away in the new year. Read more here.
Published By The Signal On November 13, 2020
COVID-19 has brought changes to everything, and home design is no exception. Experts are expecting to see lasting impacts on everything from the materials we use to the rooms we prioritize. Check out these and other noteworthy trends. Read more here.
December 6, 2020
CVCF designers keep their eyes on new types of multi-functional furniture and unique metal furniture to build. People working in the U.S. furniture design industry are not surprised that CVCF focuses on building modern eco-friendly epoxy resin furniture made with natural materials and sustainably sourced live edge wood slabs. Read more here.
CVCF Furniture Designers Would Like To Thank The Following Furniture And Interior Designers Who Have Moved Furniture Design From A Practical Form To Art
In this video, Chagrin Valley Custom Furniture shows you multi-colored epoxy resin being poured and shaped into an epoxy resin and wood ocean table ordered by a family in New York. We sell custom made ocean tables and moving ocean coffee tables made with stunning epoxy resins, custom steel legs, glass and natural woods such as black walnut and live edge wood slabs to customers all across the United States.
11/11/20
Chagrin Valley Custom Furniture is a manufacturer of custom barn doors located in Cleveland, Ohio. The company builds custom barn doors for residential and commercial clients throughout the United States. To order a custom barn door in the U.S., call 440-591-5511 or email customerservice@chagrinvalleycustomfurniture.com.
Buy A Custom Interior Barn Door
Custom Barn Doors With Family Names (CNC Engraved)
Handmade Custom Sliding Barn Doors For Sale
Custom Barndoors Handmade With Windows
Custom Size Barn Doors With Glass
Custom Barn Doors With Mirrors
Custom Barn Doors For Bathrooms
Custom Barn Doors For Closets, Basements & Homes
These 'Ocean Tables' are one of the most trendy pieces of furniture on the market in 2020. Even though "Ocean Tables" have been popular with specialized American resin artists and furniture makers for a few years, the general public is now starting to admire and enjoy these epoxy resin and wood furnishings. After resin furniture started trending in 2019, CVCF started a research and development project to perfect the art of making epoxy resin ocean wave tables. It took months of trial and error to learn the best ways to suspend pigmented coatings over solid wood slabs to showcase the perceptual qualities of color, depth and light. Read more about the popularity of ocean tables in the United States in 2020, here.
CVCF makes custom size epoxy coffee tables and dining tables with ocean waves that move. It is amazing how well CVCF resin artists make the epoxy resins look like ocean water and waves breaking when handcrafting beach resin tables. To get a quote for a custom handmade live edge epoxy resin ocean table, call 440-591-5511 or request an estimate here.
This video tells the story of how an amazing conference table was designed from the dream of Capt. Michael Bopp, President of the Crescent River Port Pilots' Association, and built by Chagrin Valley Custom Furniture. The 19' black walnut table features a CNC-engraved, epoxy resin-filled representation of the course of the Lower Mississippi River.
To learn more or to talk with Sheldon Myeroff about our custom CNC-engraved river conference tables, call 440-591-5511 or email shel@chagrinvalleycustomfurniture.com.
Instead of routing or engraving by hand, a tedious and error-prone process, the Mississippi was carved out with a CNC router guided by a computer-generated CAD drawing of the river for precision accuracy. CVCF filled it with blue epoxy resin to represent the water. CVCF's metalworker took real sea-worthy anchor chains and made eight legs out of them. These supported the two tables that were seamlessly connected to make up the conference table.
CVCF specializes in true custom epoxy resin and wood river tables at our furniture-making facility in Cleveland, Ohio. Every piece is one-of-a-kind, designed by the client and built by CVCF. Our custom wood conference tables can be made round, rectangular, racetrack, oval or any shape you want. We make them from natural wood and reclaimed wood and live edge wood. Choose your own wood slabs – any species – plus the materials and epoxy resin color. Tell us what style you want – industrial, modern, rustic – you name it, we'll build it.
We pride ourselves on having what we feel are highest quality river tables built in America. With our CNC machine, we are able to engrave company logos and other artwork into our river conference tables. We have built 100% customized river tables for businesses and homeowners all across America.
Chagrin Valley Custom Furniture uses CNC engraving and epoxy resin to design and build custom conference tables that include company logos and branding elements like company colors and embedded branding objects. This video shows you an amazing conference table for an IT company with their multi-colored logo CNC-engraved in the tabletop and microchips embedded in a green epoxy resin river. The table was created for Pioneer-360 in New Philadelphia, Ohio.
Pioneer-360 came to Chagrin Valley with a rough design concept. We refined it and built the table in our 6,000 sq. ft. woodworking facility outside Cleveland, Ohio. The tabletop is made from hickory wood. The metal legs were made in our metalworks facility specifically for this table, with a rectangular metal support system underneath to help prevent warping of the wood. We delivered the conference table to the Pioneer-360 headquarters in New Philadelphia, Ohio in July of 2020.
To learn more, get a quote, or order your own custom conference table or boardroom table, contact Chagrin Valley Custom Furniture at 440-592-5511, or email customerservice@chagrinvalleycustomfurniture.com.
Logos and branding elements can be incorporated into any conference table by CVCF. There are several ways to achieve this: carving and then inlaying your logo into the wood surface, overlaying a vinyl image or laminate sheet of your logo, or CNC-engraving the wood surface and filling the depression with colored epoxy resin.
Try these on-trend furniture looks for a fresh update to your space for 2020. Popular interior design trends catching our eye this year: Mid-Century and artisan influences, bold upholstery options, and sustainable materials. Read on to discover more new furniture design styles and home décor trends to try this year. Read more here.
Popular Furniture News Resources
Posted On December 30, 2019
Posted April 15, 2020
Building live edge river tables take a knowledge of woodworking and craftsmanship that only seasoned professionals can offer. CVCF looks far and wide for experienced makers, and source the wood for their projects sustainably under the direction of the Forest Service. It takes months to years, depending on the species, to properly remove enough moisture from wood to make it suitable for working as a piece of furniture. To guarantee a piece will last, each is finished with a durable scratch-resistant coat. Learn more in the video below, or start building your own live edge river table today.
Posted February 5, 2020
See everything epoxy resin furnishings and related pages offered by Chagrin Valley Custom Furniture, including a build your own table page, river table prices, epoxy resin furniture with rocks and crystals in the resin, the river table design gallery, submit your own river design idea, and much more.
Posted On February 5, 2o20
In this video, Sheldon Myeroff, President of Chagrin Valley Custom Furniture, goes into the woods to survey the harvesting of wood that is used in his authentic custom furniture. The Forest Service has marked trees that need to be cut down for the health of the whole ecosystem. Thinning the forest allows sunlight to reach the smaller trees so they can grow. Once felled, the tree is marked in sections for cutting into slabs at the sawmill.
Wood harvested in this manner goes into the furniture designed by our customers and handcrafted by the artisans in our Cleveland, Ohio workshop. These beautiful one-of-a-kind pieces are then shipped to homeowners, restaurants, offices, businesses, and hotels throughout the continental United States.
This process applies to furnishings including custom epoxy resin river tables, epoxy resin river beds and headboards, epoxy resin desks, epoxy resin wall art, rustic to modern farmhouse tables, barn doors, benches, countertops, shelves and so much more.
Posted On December 30, 2019
Learn how the highest quality river tables and the best custom wood and metal furnishings are handcrafted in America in 2020, here.
Posted on November 8, 2019
Chagrin Valley Custom Furniture handcrafts custom made live edge epoxy river headboards and live edge beds and for customers all across the United States. If you are interested in talking with CVCF about building a live edge bed or a epoxy river headboard, call 440-591-5511, email shel@chagrinvalleycustomerfurniture.com, request a quote here or submit your design idea here.
Posted October 22, 2019
A custom furniture has finally launched a page where customers can do what they've always wanted to do, but couldn't, because the average custom furniture company has no method for contracting new work besides lengthy phone calls, email exchanges, or in-person visits, limited what companies you can work with. Every color available is listed out, along with the wood species, metal legs and bases, and options to have some kind of object or decorative items embedded in the epoxy resin. Then, you wait for the quote to arrive.
Posted on October 11, 2019
Chagrin Valley Custom Furniture, a custom furniture company well known for their high-quality live edge epoxy resin river dining tables, was recently covered and circulated by PRWeb for their exploding popularity with homeowners, businesses, restaurants, and more across the United States. Complete customization of river tables available to anyone, nationwide, was not possible before CVCF arrived on the scene, using modern technology like FaceTime to coordinate with customers throughout the design process. Other river tables available can only customize certain elements of the design, but CVCF has any epoxy resin color or wood species available, or you can even choose to have rocks, shells, crystals, leaves, or anything else embedded to bring the river to life. Among other epoxy resin custom furnishings you can contract with CVCF includes epoxy resin and wood wall art, epoxy resin dining room tables, epoxy resin conference tables, epoxy resin beds & headboards, epoxy resin cutting and serving boards, and other epoxy resin wood furniture. See the full gallery of epoxy resin furnishings on CVCF's website.
CVCF was covered in the past for their unique company history, as they're owned by a retired CEO in the recruiting industry who had a humble love for woodworking. To watch a video to see how Chagrin Valley Custom Furniture builds epoxy resin and wood river tables for restaurants, homes and offices in the United States, click here.
Posted On October 11, 2019
Chagrin Valley Custom Furniture designs and builds high end custom wood cabinets for residential and commercial customers in Cleveland, Akron and Northeast Ohio. We build and install unique custom stand alone cabinets and custom made built in cabinets. Our experienced cabinet makers handcraft one-of-a-kind base cabinets and feature wall cabinets for families and businesses. Our craftsmen design, build and install custom cabinets for dining rooms, offices, kitchens, bathrooms, living rooms, conference rooms, bedrooms, pantries, fireplaces, restaurants and hotels.
The services of the CVCF millwork shop are available directly to homeowners, architects, interior designers, restaurants, retail establishments, hotels, general contractors and other businesses.
CVCF's high-end millwork shop specializes in custom architectural millwork projects including fabrication, design, custom cabinetry, windows and woodworking. The woodworking contractor veterans at CVCF design, build and install interior and exterior doors, entrance units, wainscoting, trim, custom library walls, historical millwork, renovations, custom vanities and custom countertops.
Chris Lentine manages architectural millwork projects in which CVCF woodworkers handcraft unique bookcases, custom shelving, custom fixtures, fireplace walls, custom entry gates, bedroom cabinetry, molding, custom casework, fine furniture, architectural elements, finishes, columns, custom ceilings and screens. CVCF is now ranked as one of the top architectural millwork companies in the Midwest.
CVCF provides custom architectural millwork and fabrication services for residential and commercial clients throughout Ohio, Pennsylvania and Michigan. CVCF use various fine woods and high-grade hardwoods such as oak, maple, cedar, pinewood, mahogany, birch, red & white oak, walnut, cherry and other species for architectural millwork projects. We are experts at using millwork materials such as plastic laminate, glass, veneer, lacquered finishes and others. To request a 3D rendering, contact Shel Myeroff at CVCF.
Posted On October 11, 2019
James Case, longtime member of Wells Sailing Club, was tasked with refitting the bar in a Sharpie among the Sailing Club's fleet. Using his woodworking expertise, his knowledge of nautical architecture, and Entropy Resins CCR Resin CCS Slow Hardener solution, Case built a stunning bar from teak, one of the most expensive and durable hardwoods, and holly plywood, and solid American oak laminated around the edge. LED lights were installed around the edge to give the piece an illuminated, ethereal glow. Custom furniture companies use strategically placed LED lights in furniture, such as resin tables, usually to highlight the gorgeous color gradients created their craftsmen using epoxy resin.
Read more about the project, and Case's tips for a successful project involving epoxy resin, here.
From time to time, the river table builders at CVCV get asked, "Who invented the river table?" Although, the talented Washington-based artist and furniture-maker, Greg Klassen trademarked the word "River" in regards to furniture design, he certainly did not invent the river table or the use of epoxy resin in artistic furniture or the concept of resin casting.  Epoxy, and thermosetting resins, first became a household word in the 1960s, when a new breed of super-strong adhesives started to appear in local hardware stores. Its extensive use dates back as far as the 1940s. Read more here.
Posted On September 11, 2019
Posted On September 11, 2019
Written By Angela Woolsey, Published By Fairfax County Times
Posted on August 20, 2019
Starting in a garage, local Fairfax County business "Elegant and Refined" took Mary Jane Gallagher's love of interior design and turned it into a burgeoning local business with a national reach. This is no small feat for someone who entered the industry in the midst of retirement- which sounds strikingly similar to the story of custom furniture building and woodworking company Chagrin Valley Custom Furniture. Both Elegant and Refined and Chagrin Valley Custom Furniture service clients in Fairfax County, VA and all of northern Virginia. See what other woodworking companies service the Fairfax County area.
Written By Kristen Nord, Published By Westchester Magazine
Posted on August 18, 2019
Learn about woodworkers like David Osborne that design, build and install custom furniture in Westchester County, and the Hudson Valley in New York.
Brad Sellers Came To Visit!
Posted August 9, 2019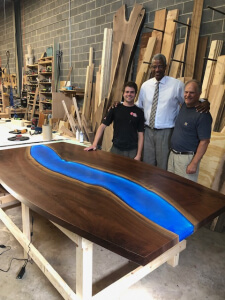 You may know him from his time with the Timberwolves, Supersonics, Pistons, or Bulls – or, you may know him as the basketball analyst on the Cleveland Cavaliers Radio Network. You may also know him as the tallest politician in the US – at least, unofficially.
The title of tallest politician caught his eye when The New York Times reported awarding it to someone else – a Brooklyn City Council member, Robert E. Cornegy Jr., standing at 6′ 10″. Brad Sellers, local and mayor of Warrensville Heights, stands at an even 7′ tall, and he wants to set the record straight in seeing the Guiness World Record transferred to its rightful owner.
Seen posing in front of one of our recent live edge river table projects, Brad Sellers came to see our work that has become increasingly popular nationwide. He was thoroughly impressed with the wide variety of colors and wood species we've mixed and matched for past clients and other ongoing projects in our workshop. After watching some of our processes and getting the grand tour, he was off, but promised he'd come back to visit in the near future.
Brad Sellers grew up in Warrensville Heights and played on the Warrensville Heights high school basketball team, and then went on to play college basketball with Ohio State University. He was a first draft pick made by the Chicago Bulls, and went on to play in the NBA and in international leagues in Greece and elsewhere. Learn more about Brad Sellers' history as mayor on the city website. Brad Sellers is also the first Warrensville native to serve as the city's mayor.
It was a real pleasure having someone so involved in Cleveland's culture come to spend time with us. We're proud to have transformed so many homes in Cleveland, and now nationwide.
Posted July 18, 2019
Six hours to hand deliver a piece of custom furniture is nothing to shy away from for Chagrin Valley Custom Furniture. In early July, Shel Myeroff of Chagrin Valley Custom Furniture packed this ten foot live edge walnut river table with jet black epoxy resin into the back of the delivery van and made the drive from Cleveland to the nation's capitol. Upon arrival, the handcrafted dining room table was installed in the client's home. She was blown away by the unmatched level of custom service and the unbeatable quality of the table and hand forged steel legs.
Chagrin Valley Custom Furniture hand delivers and installs custom furniture, including live edge river tables and black walnut epoxy resin tables anywhere within and around the Washington D.C. area.
Posted June 15, 2019
Rescue Village is a no-kill animal shelter in Russell Township, Ohio that holds regular fundraisers to accumulate the funding necessary to offer every animal in their care a dignified stay in their facility. This year, for the Great Catsby and Barkeasy Gala, Ed Johnson of Chagrin Valley Custom Furniture built and donated an epoxy resin river table to be auctioned off at the event's silent auction.
In previous years, Ed Johnson built Adirondack chairs for donors to bid on in similar events held by Rescue Village, but this year Ed took a new turn and offered to make something particularly unique and eye catching- especially in the Cleveland area: a live edge epoxy resin coffee table.
Epoxy resin river tables are a modern twist on a classic rustic furniture design. A live edge slab of wood – or two opposing slabs of wood – are framed in a mold and filled in with colored epoxy resin. Once cured, the appearance of each piece is stunning and bright. Live edge epoxy resin furniture has exploded in popularity in recent years, and only now is this furniture style seeing growing prominence in the Greater Cleveland area, mostly thanks to Chagrin Valley Custom Furniture's talented woodworkers and furniture designers.
Rescue Village was delighted to have such an eye-catching, interest-garnering item at their fundraiser this year, and looks forward to seeing what Ed Johnson will donate in 2020.
Posted June 18, 2019
Chagrin Valley Custom Furniture recently closed a custom furniture deal with DWG Motif, a commercial interior designer for Las Vegas and Los Angeles restaurants, businesses, and wealthy individuals, to supply several gorgeous live edge epoxy resin tables to select exclusive clients. DWG Motif, owned by Debra Coltune, operates on the cutting edge of world-class furniture design, so she was quick to hail on CVCF for their epoxy resin furniture designs which have quickly captured a nationwide audience from their small Cleveland residential audience two years prior. Among other deals secured by Chagrin Valley in the Las Vegas area is with Dragon Noodle Company & Sushi Bar, an upscale Asian restaurant also looking for a live edge epoxy resin table that integrated their company's color scheme.
Chagrin Valley Custom Furniture guarantees solid hardwoods in every piece, and gorgeous, unique epoxy resin poured with care and cured seamlessly into the natural imperfections of every piece. One-of-a-kind products are the promise they strive to fulfill, whether it be with custom countertops, bartops, tabletops, interior sliding doors, barn doors, or any other custom woodworking design a client has thought of, drafted, or seen elsewhere on the internet. Visit the gallery to see more epoxy resin furniture like those mentioned here.
Posted June 13, 2019
Chagrin Valley Custom Furniture presents our very own Zach Schulte, VP of Operations, who tells you and shows you how we made our very own cherry epoxy resin river "waterfall" table for a customer in Northeast Ohio. See footage from the process, such as the built mold for the live edge pieces, the coloring and pouring of resin, sanding, installing the leg, and the finished product. Although it's easy to find an epoxy resin river table online from dozens of garage studios and craftsmen, finding a river table that's made completely custom to your design standards in every detail is more difficult. Chagrin Valley Custom Furniture accepts custom designs or spiritual representations of desired results in .PDF, .JPG, or digital sketch design files for blueprinting. We then collaborate with you to ensure we are building exactly what you want through regular Facetime conference calls, phone calls, and photos.
Epoxy resin comes in a vide variety of colors and opacities. You can customize colors in any way you like – just like the custom did in the video above. She chose a light-shade cherry wood and vibrant blue epoxy resin, as you will see in the conclusion of the video.
You can buy this exact table from Live Edge Furniture Company for $1,499.00.

How To Make An Epoxy Resin Waterfall Table
Posted on May 22, 2019
Software, Apps And Books To Help You Learn How To Sketch, Draw And Design Your Own Custom Wood And Metal Furniture | Visualize, Plan, Render, 3D Model, Measure And Share Custom Designed Furniture | For Woodworking Projects, Carpentry, Interior Design And Cabinet Design
Even though the most common way to design furniture at home or in your shop is still a pencil and graph paper, furniture software and woodworking software are powerful tools. When you design custom furniture, if you want to save money and time, it is important to draw it out and mock it up.
However, before you start making custom furniture plans, please be sure you measure your room, the entry door to the room, your hallways and front door. If you are buying custom built furniture, you need to be sure that the furniture can be delivered, installed and assembled without any issues. If you are making your own furniture, you will need to move it from your basement or workshop without taking it apart. For pointers on how to measure a space or home for custom furniture, click here.  Crate & Barrel, which is a chain of retail stores in US and Canada, provides a good tutorial with pictures on how to take measurements before you have furniture delivered.
There are numerous mathematical considerations involved in designing your own solid wood furniture. Do you want to know how to draft a good furniture design that meets your objectives? Read this great article titled "What Makes Good Design".  Another great article on design, drawing and furniture styles was published by Wood Magazine.
Why Are You Designing Your Own Furniture?
Are you thinking of designing your own high end custom furniture because you want to build it, sell it, order it or because you have professional aspirations?  If you need a little inspiration before starting your furniture design project, see some awesome examples of furniture design by clicking here.  Are you thinking of designing custom furniture because you have a space problem in one of your rooms?  Maybe you have looked online for a piece of versatile furniture you envision and nobody sells it. The goal of designing furniture is usually predicated by what you want to accomplish and the purpose the furniture will serve.  You can combine your creativity with your knowledge of technology to build the furniture of your dreams. If you want a step-by-step guide to design and make heirloom quality custom furniture like a pro, read this article.  If you want to know how you design furniture, submit your design to a custom furniture maker in the U.S. and then get your furniture custom built, watch this video.  Or you can even enter your concept in a furniture design competition to win an award.
Then again, you might just want to buy a customized couch from a retailer in the USA and you want to understand the customization process.  To learn the differences between real authentic custom furniture and customized (semi-custom) furniture and made-to-order furniture sold in America, click here.
If you enjoy working with your hands and building stuff, you may want to design your own custom furniture. If you were at your friend's house recently and saw a dining room table with a blue epoxy resin river running through the black walnut wood slab, you might want order one custom built for your dining room. Or perhaps you have a knack for aesthetics that you want to put to practical use by working as a furniture designer or interior designer.  If you are currently a student of furniture design you may want to become an expert so that you can work at a furniture manufacturing company in the United States or build one-of-a-kind pieces for upscale customers in your hometown.  Who knows, you could end up being a world-renowned furniture designer like Hans Jørgensen Wegner or Frank Lloyd Wright. Because the Federal Trade Commission stopped regulating furniture labeling in 2000, it can be difficult to understand the meaning of custom furniture or solid wood furniture so read this article before you start designing your furniture.
If you are serious about designing furniture, you might want to buy some drafting furniture and drafting supplies. These furniture design products are used by architects, engineers and contractors in the USA. Common items used by custom furniture designers are drafting paper, drafting tables, drafting lamps, roll files, t-squares, drafting straight edges, drawing boards, graph paper, drafting triangles and protractors.
If you want to try your hand at building a custom made wood desk, bed, table or bunk bed for your kids you will need to have some to understand some basic furniture design techniques, a few design/build techniques and woodworking skills and know how to use power tools and hand tools. You will also be interested in learning how to prepare the wood for your furniture construction project or how to use contrasting or exotic woods.  If you are serious about designing your own furniture, try to avoid wood movement that can cause your lumber to warp or crack. Be sure to permit your boards to expand and contract across the grain.  If you think you can design and build a couch or sofa, you will also need to know about upholstering. If your intention is to design and make a unique type of wood and metal furniture, you will have to have the tools and wherewithal to weld, cut and fabricate steel legs or metal components. If you are thinking of designing an entertainment center or display case for your father's vintage rifle for your living room, and are considering building it yourself, you will want to get up to speed with veneering and finishing.
If you are currently a student of furniture design you may want to become an expert so that you can work at a furniture manufacturing company or build one-of-a-kind pieces for upscale customers in your hometown. If you want to design furniture professionally you can go to college at the Rochester Institute of Technology in New York and earn a Bachelor Of Fine Arts Degree in Furniture Design. If you live on the West Coast of the USA, you can learn how to combine studio art, craft, and digital fabrication to design sculptural and functional furniture at California College of the Arts. If you are a Midwesterner, you can attend classes at the Kendall College of Art and Design at Ferris State in Michigan to learn how to design furniture products that can be produced by manufacturing technology.
If you simply want to design custom furniture for your house that is beautiful, unique and functional, follow these practical steps.  To build great furniture that combines good looks with practical functionality, you need a good design. The furniture design concept that form follows function is a great one. Famous American architects like Louis Sullivan and Frank Lloyd Wright not only understood this principle, they promoted it.  A great book to read to learn how to design furniture is, appropriately titled "How To Design Furniture".
How You Design Furniture, Submit The Design And Get It Custom Built
Posted On May 21, 2019
Whether you have a back-of-the-napkin sketch, a CAD drawing, or an idea that resides in your imagination, Chagrin Valley Custom Furniture can take your furniture design at any stage and work with you to bring it to life in their workshop. Watch the video in the link above to learn how the process works, and see the high-quality, solid wood furniture personally delivered by the craftsmen who build for Chagrin Valley. Draw, design, and send your custom furniture design today to start the conversation. You can download CAD design software from CAD Pro's website, which, with only some experience, will allow you to turn any off-the-cuff design into a working file that can be processed by craftsmen in CVCF's studio. Other photographs or images can be sent on the contact page, or directly to Shel Myeroff, the lead designer, at shel@chagrinvalleycustomfurniture.com.
For those who want to get into furniture design on their own, to hone their DIY skillset or perfect their design drawings for submission to our designers, you can take the Center For Furniture Craftsmenship's nine month comprehensive course on woodworking, design, turning, construction, upholstery, and furniture design.
Written by Nikki McGee, Published By Fox Illinois On April 24, 2019
Posted On May 16, 2019
Steve Harvey is known for enjoying some of life's finer things, including his passion for cigars. Tuesday, Harvey was presented with a chair created just for him, made right here in central Illinois. "My mom is a big fan of Steve Harvey and she's also one of my biggest supporters," custom furniture maker Jermaine Ward said. "So I came up with the idea that while she's still living, I wanted to do something great. So I designed this chair that I was going to give to Steve Harvey and it came out pretty good." Ward has been designing custom furniture for the last seven years, but perhaps this is his most famous piece, making its debut on Harvey's show at Universal Studios. "I carved his face in the chair and we custom-painted it," Ward said. "It has a drawer that's fitted with a cigar humidor, as well as some of his favorite cigars." Ward said he'll never forget his biggest supporters – his parents. His mom watched the appearance from home. "To have experienced that opportunity, it's a once in a lifetime opportunity and I encourage anybody that is out there trying to be successful or looking for success, to never give up," Ward said. You can check out more of Ward's furniture here.
Ward, who owns Monte's Custom Furniture, said he was inspired to start working on the chair earlier this year because of his mom, who he describes as a "huge Steve Harvey fan."   Building custom chairs is nothing new for Ward, who has also built a variety of other pieces, ranging from baby furniture to dog beds. He previously presented Mayor Jim Langfelder with a similar chair that is now on display in the lobby of Municipal West at 800 E. Monroe Ave., although Ward noted that the one he made for Harvey is "fancier and bigger."
Published by BusinessWire On May 14, 2019
Posted On May 16, 2019
Jerome's Furniture, Southern California's renowned retailer for more than 60 years, announced today the launch of a 3D Augmented Reality app to enable virtual room planning for all customers. The company deployed the Marxent® 3D Room Designer with Photo to Floorplan tool on its website and will also launch an iOS app version for Apple devices soon.
Posted On May 16, 2019
The Roomle platform enhances the shopping experience for furniture buyers in the USA.  The Roomle app assists furniture designers in finding, fitting and buying the right furniture their office or home. This software can help you draw, design, measure, make and order your own custom built furniture.
3D/AR/VR iOS and Android Apps From Roomle On Google Play | Augmented Reality | Virtual Reality | Photo-Realistic 3D Furniture Configurator | For Custom Furniture Designers | For Custom Furniture Makers | Cloud-Based Digital Furniture Platform | Free Online 3D Floorplanner Software | For Custom Built Furniture Mockups | 2D/3D Floor Planning Functionality | High Resolution Custom Furniture Renderings
Written by Susie Tommaney, Published by The Houston Press on May 13, 2019
Posted on May 13, 2019
Written By Alexandra Martin, Published By Design And Living Magazine on April 25, 2019
Posted on May 13, 2019
Written By Purdue University, Published on May 13, 2019
Posted on May 13, 2019
If you don't like wandering through big-box stores trying to find the furniture you need, and then struggle to assemble it, researchers have proposed a solution: Smart software that helps you design your own furniture, 3D print the joints, and assemble the whole structure at home. Current tools for structure design, such as computer-aided design and finite-element analysis, require a lot of knowledge and training to use.
Posted on May 13, 2019
Even though the most common way to design furniture at home or in your shop is still a pencil and graph paper, furniture software and woodworking software are powerful tools.  Once you learn how to use the furniture design software, it becomes quick and easy for woodworking professionals and do-it-yourselfers to visualize dimensions, document space requirements, plan for materials and define cut lists. Computer programs help furniture designers to conceptualize elevations, imagine room layouts, sketch shop drawings and draw a dining table. Wood furniture builders and steel furniture makers in the USA use woodworking design applications (Apps) to diagram hardware and fastener configurations, choose wood joinery techniques, render specific furniture design images and generate 3D models of custom designed furniture, home furnishings and cabinets.  Read More >
Posted on May 10, 2019
Walnut river tables are awesome.  Black walnut river tables are very popular in the USA in 2019 because the kiln dried dark-colored, straight grained true heartwood contrasts so vividly with a blue epoxy resin river.  The craftsmen at Chagrin Valley Custom Furniture love to make custom designed tables from walnut wood slabs because it so darn beautiful and workable.  CVCF loves to use black walnut wood for woodworking projects. Although it is not as readily available in the USA, CVCF has a few secret sources for this cherished wood.  American Black Walnut is darling of the CVCF craftsmen.  CVCF designs, handcrafts ships, delivers and assembles black walnut river tables, epoxy resin furniture and live edge waterfall benches for customers across the USA. Prices for small walnut river coffee tables start at $825.  Simply provide CVCF with your walnut river table design requirements to receive a quote for your woodworking project.
Posted On May 10, 2019
Posted On May 10, 2019
Prices Ranges Vary Depending Upon The Size Of The Furniture, Fabrication Complexity, Types of Metal Legs Or Bases and Species Of Wood Slabs | Discounted Pricing Is Available for Epoxy Resin Furniture Contract Manufacturing Of Multiple Tables Or Pieces Of Furniture For Restaurants, Bars, Hotels, Hospitality and Commercial Firms | Shipping, Delivery and Assembly Prices Are Not Included Below
Small Resin River Tables: $800 to $1,200
Epoxy Resin River Coffee Tables: $1,200 to $2,200
Epoxy Resin River Side Tables: $1,200 to $2,200
Epoxy Resin River Entryway Tables: $1,200 to $2,200
Epoxy Resin River Sofa Tables: $1,200 to $2,200
Epoxy Resin River End Tables: $1,200 to $2,200
Epoxy Resin River Kitchen Tables: $2,800 to 3400
Epoxy Resin River Dining Tables: $3,800 to $5,800
Epoxy Resin River Conference Tables: $3,800 to $5,800
Live Edge Epoxy Resin River Tables: $1,200 to $1,800
Epoxy River Tables With Waterfalls: $1,400 to $2,000
Epoxy Resin River Benches: $1,200 to $1,600
Epoxy Resin River Headboards: $1,200 to $1,800
May 7, 2019
In Cleveland, Columbus, Pittsburgh, and Detroit, our branded delivery van and expert woodcraftsmen will personally hand deliver your project into your home, ready to take on any tactics necessary for installation. For other parts of the United States, our closely-held third party freight vendor will deliver your project with the same white glove delivery standards guaranteed by our in-house team.
Written by Jonathan Foyle, Published by Financial Times on March 16, 2017
Posted on May 4, 2019
Commissioning custom-made furniture from Chagrin Valley Custom Furniture is more of an art than a science. The degree to which our clients collaborate with the CVCF furniture makers during a custom furniture design and build project will define the creative boundaries — and furniture quality outcome.
Published by the Center for Furniture Craftsmanship
Posted on May 3, 2019
The Center for Furniture Craftsmanship, located in the coastal village of Rockport, Maine, offers a Nine-month Comprehensive course designed for aspiring professional furniture makers and dedicated amateurs who seek in-depth training at the highest standard of excellence. The hands-on, project-oriented format includes the full range of furniture making skills. Sequential projects take students from the fundamentals through the fine points of design and craftsmanship.  Fedarko Furniture & Design owner Aaron Fedarko is a faculty member at the Center for Furniture Craftsmanship
The projects and topics include:
Basic Woodworking – introduces the furniture making sequence from drafting to assembly, and provides a solid foundation in hand tool skills for accurate layout and cutting of dovetail and mortise-and-tenon joinery, along with safe use of machinery for stock preparation. (3 weeks)
Machine Joinery – explores the use of power tools in the construction process. Each student builds a tool cabinet that involves a myriad of machine-cut joints and shaping techniques using the table saw, router, router table, slot mortiser, shaper, and other equipment. (3 weeks)
Finishing – covers coloring, working with hand-applied finishes such as varnish, shellac, and oil, and professional techniques for applying spray lacquers. (1 week)
Drawing for Design – students improve their abilities to sketch, develop designs, and create rendered perspective drawings with both pencil on paper and CAD. (1 week)
Casepiece Construction – each student designs and builds a casepiece with a door and a drawer, employing both hand and machine skills. Work is done primarily in solid wood, while shop-sawn veneer and man-made substrates are also introduced. (7 weeks)
Turning – students learn spindle work for making furniture components and faceplate turning for making ornaments, bowls, and platters. (1 week)
CNC – introduces digital milling technology to the furniture making process and engages students in CNC programming and operation. (1 week)
Veneering & Marquetry – introduces the use of veneer for casework and decorative applications. (1 week)
Curvature – students explore steam and laminate bending, as well as other curve-forming techniques. Each student designs and builds a table with curved components. (5 weeks)
Carving – students learn traditional relief carving and other techniques applicable to furniture and architectural ornament. (1 week)
Product Development – the assignment is to design and produce a multiple object within a set price range. This emphasizes real-world concerns such as speed, efficiency, and marketing. (5 weeks)
Upholstery, which introduces traditional and contemporary upholstery techniques. (1 week)
Chair Making, in which each student pursues an extensive design process to create a prototype chair. (6 weeks)
Written By Brian Deagon, Published By Investors Business Daily On April 25, 2019
Posted on May 2, 2019
Arts and crafts retailer Etsy (ETSY) was the IBD Stock Of The Day, an e-commerce company that is standing out in a large and under-penetrated market. Etsy stock, up 41% this year. The Etsy website sells custom made furniture, handcrafted goods, vintage items and other arts and crafts, including apparel. The company currently is in six geographic markets: The U.S., U.K., Germany, France, Canada and Australia. It has 39 million active buyers and 2 million active sellers.
Posted on May 2, 2019
Learn how authentic custom furniture is commissioned, designed, handmade, quality approved, shipped, delivered and assembled in the United States.
Posted on May 2, 2019
You can start the custom furniture ordering process here or you can request a brochure, request an estimate or price quote or visit our design studio and showroom. You can also request a free design consultation which can be conducted in person, by phone or through the use of Skype or FaceTime.
Written By By Aviva Luttrell, Published by MassLive.com on April 9, 2019
Posted on May 1, 2019
Two Massachusetts business owners have combined their love of vintage, glamorous and hand-crafted goods to open an eclectic boutique in downtown Hudson. Libbe Siskind and Sarah Nichols met two years ago at an antique co-op in Worcester. Siskind commissioned work from Nichols, who runs a custom-painted furniture shop called The Princess and the Peacock Design & Decor, and loved her work so much that she asked Nichols whether she'd be interested in colocating their businesses in a space together.
Published by Developing Lafayette on April 26, 2019
Posted on May 1, 2019
Rustic House Furniture, a custom hardwood retailer specializing in rustic furniture, is opening their fifth store in Lafayette. The other locations are Madisonville—the original, Baton Rouge, Covington, and Hammond. The new rustic furniture store, located at 412 Maurice Street behind Mel's Diner, is celebrating their grand opening this weekend with custom pieces & accessories at 30% off. Rustic House Furniture's specialty is rustic, custom designed teak, Brazilian Pine, and mango hardwood furniture. These things are solid, guys. And the prices are really reasonable, considering the quality. The type of custom designed furniture you can find here are bedroom sets, dining and living room pieces. Many of the pieces are one-off, so don't expect a piece you like to be there the next week. However, you are able to have a piece custom designed to match anything you'd like, just expect it to take a few months—it's custom.
Posted on May 1, 2019
The Ralph Jones Woodworking Workshop is a full service custom wood furniture maker, dedicated to providing the highest standard of quality in all the pieces they build. They are located in London Ohio, a small historical town in Madison County between Columbus Ohio and Dayton Ohio.
Written By Karen Connelly Rice For FreshWaterCleveland
Published on Posted April 30, 2019 | Posted Here on April 30, 2019
FreshWaterCleveland took time last week to interview Sheldon Myeroff, founder and owner of Chagrin Valley Custom Furniture, a completely custom furniture design company built in Sheldon's retirement. Karen Connelly discusses the company history, as well as how live edge furniture is different from regular designs, the kinds of furniture CVCF can build, and the price ranges of these furniture styles.
Chagrin Valley Custom Furniture is determined to be the single best choice for custom furniture design in the United States. Their determination is so profound, they invite you to come forward with any design drawing, sketch, CAD file, or .pdf you may have for our expert craftsmen and makers to build, sand, finish, and ship straight to your doorstep.
Written By Robert G. Breese For the Times Herald-Record
Published on March 24, 2019 | Posted Here on April 30, 2019
Wood and metal craftsman, Craig Wettstein of Warwick New York, creates custom wood and metal furniture. His company, Craig West Designs, builds live edge dining room tables . He also builds epoxy resin river tables. He forges steel, welds legs and cuts live edge black walnut slabs with a feeling of pride in the completed work.
Posted On April 30, 2019
If you are a dreamer of great custom furniture ideas, CVCF would like to see an example of the product you envision.  If you are an up-and-coming furniture designer that wants to break into the furniture design business, CVCF can build your first furniture prototype, so go ahead and submit your custom furniture design here.  If you want to design your own furniture and make money doing it, learn how to become a professional furniture designer.  A furniture designer typically get paid about $50K and a normal hourly rate is about $24.  If you have designs and want to know how to get your furniture built, manufactured or sold, submit your designs here to get started. CVCF can custom build your prototype and down the road, once you have some orders from customers, we can build your furniture in bulk.
When you design your own 100% custom furniture, it should be a pleasure to pick out all the raw materials including the types of woods, metals, hardware, glass and fabrics. You can make furniture plans and use a "design your own furniture app" or free "design your own furniture software".  If you would like to learn how to design your own furniture, from start-to-finish, read "Design Your Own Furniture".
When you complete the custom furniture design, you can send Chagrin Valley Custom Furniture the JPG or PDF for a consultation and quote. You can download CAD Pro® drafting software which will let you  design, visualize, and document your furniture design ideas.  You can rough out an initial furniture design concept, design your own furniture online or create an accurate list of materials. On the other hand, you can simply draw the furniture using a pencil, ruler and graph paper, then scan your furniture design and email it to CVCF.
Software For Furniture Design
Designing your own furniture is so satisfying.  If you want to design your own furniture and send CVCF your custom furniture design concept and dimensional drawings so that CVCF can build and assemble it for you, you can use Sketchup (formerly Google Sketchup). This 3D modeling computer program can be used to design and draw many types of furniture including rustic and modern tables.  Visit SketchupForWoodworkers.com to learn how to design, layout and print your dimensions, bookshelves, joints, furniture and cabinets. Sketchup is great for woodworkers.  Learn how to create a custom furniture design in Sketchup. Spend a few dollars and download the Sketchup Guide For Woodworkers Ebook. The book will show you how to precisely draw your furniture design, how to develop furniture plans and how to create shop drawings to submit to CVCF.  You can create your own furniture online and CVCF will build it and assemble it for you.
Think through your custom furniture ideas and pre-build furniture with easy and enjoyable 3D modeling software. Turn your furniture ideas into reality. Start modeling a bed, table, desk or chair right away. Sketchup For Web is simple to use. Open your favorite browser, launch Sketchup and get creative with a furniture plan.  When it comes to designing furniture, measurements are important. Use Sketchup to pre-build your furniture in 3D views.  Sketchup For Web is a subscription service you can use to share furniture designs with the furniture makers at Chagrin Valley Custom Furniture.  You can use it to send your custom furniture design reference drawings to CVCF at 440-591-5511, shel@chagrinvalleycustomfurniture.com or submit your design online here.
Sketchup Shop is made for furniture designers and furniture makers. It is a subscription-based version of SketchUp for Web that includes professional-level features. Although you can open the program on an iOS, tablet, mobile device or Android device, the software works better on a desktop or laptop computer with a three-button mouse.  You can use it to create amazing 3D woodworking designs and furniture designs that you can send to CVCF.
Design Your Own Rustic Furniture For CVCF To Custom Build And Assemble
The carpenters and woodworkers at CVCF uses raw wood, reclaimed wood, recycled lumber, solid oak wood, cherry wood, logs, hickory wood, twigs, driftwood and branches to handcraft distinctive rustic furniture. We custom make simplistic rustic farmhouse furniture, rustic bedroom furniture and rustic cabin furniture for our clients.  Stains and finishes we use highlight the brown, beige and cream colors often associated with custom rustic furniture. Features of high quality custom furniture often showcase thick live edge wood table tops and natural edge countertops. If you are good at designing rustic furniture and want to know how to start a handcrafted rustic furniture business, read about the Rustic Trades Furniture company that used the e-commerce platform, Shopify to sell their rustic furniture online.
CVCF artisans embrace organic aesthetics when making custom built modern rustic furniture for bedrooms, dining rooms, baths and living rooms using distressed wood and materials that have been scavenged from old barns and buildings. Our craftsmen assemble minimalistic and earthy handmade pieces, woodsy decor, rustic tables, platform beds and rustic outdoor chairs for customers in the USA that feature barn beams, repurposed wood, old floor joists, mahogany tree trunks, rocks and stone, old fashioned wrought metal legs and bases, soft leather, canvas and logs.
You can design your own warm, primitive and charming rustic wood furniture and CVCF can build and assemble it for you. Get cozy and unrefined furniture design ideas on Instagram. Submit your rustic furniture design ideas to CVCF to see if we can help you reconnect with nature's elements. The rustic furniture design drawings you submit to CVCF can be technical drawings, simple crude sketches or they can be engineering drawings with reference dimensions.
Books To Help You Design Your Own Rustic Furniture
Design Your Own Mid-Century Modern Furniture For CVCF To Custom Build And Assemble
If you are obsessed with the Mid-Century Modern look so popular in the mid decades of 20th century, you can draw your furniture plans and submit your Mid-Century Modern furniture design to CVCF for a free consultation and price quote.  You can design your Mid-Century Modern furniture and CVCF can build and assemble your retro furniture for you if you live in the continental United States.
Midcentury furniture design has a firm grasp on the American consciousness.  If your taste in furniture veers away from elaborate and formal traditional furniture or rustic furniture, Mid-Century Modern furniture is a style you may enjoy. If you like to design furniture that evokes another era, such as the 1950s, you should read Cara Greenberg's book titled "Mid-century Modern: Furniture of the 1950's". CVCF specializes in building simple and functional office furniture, living room furniture, bedroom furniture and dining room furniture that integrates nature's beauty. If you want to design a piece of "furniture candy" or a throwback style chair that incorporates clean sculptural lines, CVCF can custom build it for your family or company.  CVCF can handcraft a casual yet elegant bench to the exact design requirements you specify.  Our furniture makers often handcraft Mid-Century Modern furniture by combining only two materials, such as splayed metal furniture legs and wood table tops for homes and commercial spaces.  Our woodworkers are experts at using natural wood finishes and stains because our company also specializes in refinishing wood furniture. Typical materials that we use to custom build Mid-Century Modern furniture include teak, stainless steel and glass. You can design a charismatic Mid-Century Modern table that features an epoxy resin river.
If you place an emphasis on form and function in your furniture design plans, you can visit Etsy to get ideas for a Mid-Century Modern style sofa, sideboard, keyboard stand, table, dresser, lounge chair, cabinet or bed.  If you want a design idea for a Mid-Century Modern chair, check out the Le Corbusier LC4 Chaise or the Barcelona Chair designed by Ludwig Mies Van Der Rohe, which are both now displayed at the Museum of Modern Art in New York City.  If you think that your vintage furniture design should complement your architectural space, not compete with it, then Mid-Century Modern furniture may be the way to go. The furniture makers at CVCF truly enjoy building well designed furniture that has a timeless look that stands the test of time.
Books To Help You Design Your Own Mid-Century Modern Furniture
04/25/19
When you design your own 100% custom furniture you get to pick out all the materials including the types of woods, metals, hardware, glass and fabrics. You can make furniture plans and use a "design your own furniture app" or free "design your own furniture software".  You can download CAD Pro® drafting software which will let you  design, visualize, and document your furniture design ideas.
April 23, 2019
Buying 100% completely custom furniture is, and should be fun. You should be able to pick out the wood slab, the glass table top, the fabric for the chairs, the upholstery for the sofa, the hinges for the barn door and the color of stain for your kid's bunk beds.  What fun is buying custom furniture if you can't get it made just the way you want.  When you buy real authentic 100% completely custom furniture you not only get to specify the types of wood, glass, padding and metal that will handcrafted, you also get to collaborate on, and approve one or more design drawings.  Ask your grandfather, building furniture is fun – and buying it should be too.  People that order, or commission, different types of custom furniture and different styles of custom furniture should try to understand the importance of the materials used to manufacture high quality custom furniture.  The more furniture materials options that are considered at the beginning of the project, the better the end result.
April 16, 2019
Because the custom furniture market is generally limited to the geographical area in which local companies will deliver their products, finding solid wood custom furniture that meets your exact tastes, dimensions, and quality was impossible for most of the continental United States. Not anymore!
Chagrin Valley Custom Furniture, the first completely custom, authentic furniture design and build company in the United States, offers solid wood furniture designs using live edge slabs, rustic reclaimed barnwood, or exotic imported hardwoods to any business or family in the United States. The linked article explains step-by-step what a customer can expect from the furniture design process, and how the first national custom furniture company keeps you in the loop through collaborative email and phone call exchanges, authentic hand-drawn sketch submissions, and FaceTime checkups throughout the entire process. You will also learn what separates real, handcrafted solid wood furniture from store-bought veneers, particleboard, and synthetic furniture. Chagrin Valley Custom Furniture is dedicated to producing one-of-a-kind, high end custom furniture using authentic hardwoods, designed and crafted by experienced makers in the woodworking industry.
April 9, 2019
Companies building custom furniture are relatively rare- what's even more rare is custom furniture building companies who will deliver their products and install them right into your home from many miles away. Chagrin Valley Custom Furniture is a premier custom furniture company with a full-service woodshop, equipped with a sealed spray room, a spacious workshop with a garage door and delivery van, and a walk-in showroom. With delivery capabilities available via freight services throughout the United States, CVCF can also deliver with a crew member into your home or business if you live in the Columbus metropolitan area. You won't find museum-quality refinishing, stunning live edge and epoxy resin design, or sliding interior barn doors of this caliber anywhere else.
Delivery areas include: Columbus, Bexley, Upper Arlington, Worthington, New Albany, Westerville, Galena, Sunbury, Powell, Ostrander, and Radnor, or cities in Franklin County, Delaware County, and Licking County.
April 7, 2019
Living in San Francisco but blown away by our live edge furniture designs? Well, you're in luck. Chagrin Valley Custom Furniture makes and delivers high-end and luxury conference tables, barn doors, coffee tables, countertops and bar tops, tabletops, sofa tables, rustic harvest tables, dining room tables, end tables, accent tables, live edge river tables, ottomans, shelves, mantels, and more for businesses and homes across the US.
Chagrin Valley Custom Furniture is the top exclusive luxury custom furniture maker for wealthy homeowners, prestigious businesses and expensive restaurants, bars and hotels in the United States. Each exclusive, handcrafted furniture is specially built to fit your space, match your décor, fulfill your vision, and elevate the character of any room in your home or place of business. CVCF specializes in custom made-in-the-USA wood furniture with prices starting at $5000.
March 28, 2019
Chagrin Valley Custom Furniture is a custom furniture design and delivery company that builds custom wood kitchen tables for families nationwide. Using exotic woods like African purple heart, teak, or rustic classics like live edge walnut or even reclaimed oak or maple barnwood, round or rectangular kitchen tables are made to order by CVCF's experienced team of designers, who also work in partnership with metalworking company Classic Metal Studio. Tables are designed to meet a variety of styles, including modern, rustic, art deco, minimalistic, industrial, farmhouse, and more, and can be made extendable to seat a growing family.
In 2018, Chagrin Valley Custom Furniture was contracted to build a kitchen table for the owner's son, who lives in Chicago, Illinois. He needed a wood kitchen table for his apartment to seat friends and family with metal legs like those offered by Live Edge Furniture Company. Once the design sketch was approved, the woodworkers and makers in the shop built the kitchen table to spec and sent photos for approval. Then the piece was carefully packed and shipped right to his Chicago, Illinois home.
Chagrin Valley Custom Furniture is a design and delivery company with the capacity to serve the United States. This Chicago client story has been repeated in New York City, Los Angeles, San Francisco, Pheonix, Silicon Valley, Austin, Dallas, Houston, Philadelphia, San Antonio, San Diego, Jacksonville, Columbus, Fort Worth, Indianapolis, and more. Reach out for your free quote and design consultation.
March 12, 2019
Ergonomic furniture is one of the latest trends in furniture design, popular with health conscious folks who want to work while maximizing their longevity. Ergonomic furniture is designed around the optimal states of the human body, such as CVCF's most recent ergonomic desk. Made for a real estate mogul's home office, he needed a desk that could raise or lower to sitting or standing position so he could regularly offset the poor effects of "marathon sitting." Ergonomic furniture is also known to contribute to increased productivity. Chagrin Valley Custom Furniture can take any live edge tabletop and fashion it to be the perfect desk for your working environment.
January 16, 2019
Owner and Founder Sheldon Myeroff of Chagrin Valley Custom Furniture (CVCF) named Zach Schulte Partner and promoted furniture maker Ed Johnson to Administrator in response to a record year that saw over a 110% increase in sales. CVCF is a Cleveland, OH company that designs and builds one-of-a-kind, made-to-order solid wood furniture. To read more about Chagrin Valley Custom Furniture and their booming success, read the full article.
January 10, 2019
A bar, restaurant, coffee shop, café, or hotel stuck in the past, featuring décor from the 80's or before is far too common a sight throughout Northeast Ohio- a phenomenon that offers distinction to those establishments who get with the times. Such businesses leave much stronger first impressions and gain lasting customers by offering an appealing modern or rustic atmosphere. A beautiful setting for people to sit and socialize tells patrons that management is cognoscente of their comfort, which is a lasting and powerful message in a noisy, competitive marketplace. CVCF offers a vast array of interior design genres, with a specialization in rustic and live edge custom furniture design. Simply reach out to begin transforming your bar or restaurant today.
January 9, 2019
Owner of CVCF Shel Myeroff gives tips to those DIY folks at home looking for high quality, custom furniture made from reclaimed wood with their own hands. Old lumber can achieve some of the most authentic rustic, antique-looking appeals when constructed and stained with care. This rustic style, as Shel says "gives a sense of tranquility, peace and calmness that other woods and materials can't match." The most popular category of furniture made from reclaimed wood in Northeast Ohio is interior sliding barn doors.
December 17, 2018
Rustic and modern furniture design isn't the only way CVCF can transform your home. You can also call us up for a free in-home consultation where experts in rustic décor styling can come to you for a conversation of how you can elevate the character of your home. Some interior decorators are simply middlemen for you and a great furniture designer- we cut out the middleman by forming the relationship with you directly, allowing us to see the space we will transform and make you, the customer, as much a part of the process as you'd like. CVCF is the only company offering interior design services that provides free design advice in your home.
December 13, 2018
PRNewswire is one of the largest digital press release organizations online today. CVCF now has a press release related to the Bumpus House furniture repair, refinishing and restoration project available on their website. They've also included links to other pertinent information for readers, such as information on CVCF's furniture refinishing services and furniture restoration project photos.
Several news outlets have since picked up the story, including:
December 13, 2018
Chagrin Valley Custom Furniture's recent accomplishment refinishing, repairing and restoring the furniture in the "A Christmas Story" Bumpus House is getting noticed! Recently, the Tremont West Development Corporation published the story and linked to the original Bumpus House refinishing page on CVCF's website. The Tremont West Development Corporation is a non-profit organization that works to foster a dynamic community by offering event planning, home maintenance, and neighborhood infrastructure improvements. Programs available also offer resources to small businesses in the area to encourage the growth and connections that make the entrepreneurship dream a reality.
December 7, 2018
CVCF has always offered contract furniture to businesses and institutions in Northeast Ohio, but now a page specialized in offering these services is available to those interested in understanding Chagrin Valley Custom Furniture's capabilities in this regard. The right kind of furniture in a lobby, workplace, office, or restaurant can transform the experience of those who matter most. A workplace with a proper relaxed vibe can also boost employee morale, making work more enjoyable for everyone. CVCF has already provided numerous custom barn doors, shutters, and front desk to Luca's West Restaurant, a complete furnishing to Grazers Restaurant, a new front desk for the Ohio Lottery HQ, and much more.
Explore the page and see how you can get started transforming your business.
December 4, 2018
Where does a billionaire turn for ornate woodworking and wood carving designs for custom projects? Merritt Woodworking, of course. Merritt Woodworking in Mentor, Ohio- as well as in Germany and five other locations- exclusively services high-budget clients, transforming spaces within mansions, yachts, and new builds, and recently celebrated their half-century in the business. Coupled with their 50 year anniversary is a rebranding campaign, taking them from the low-key artisanal custom woodworkers they've presented themselves as to a much bolder, acquisition-minded institution, with kickoff parties nationwide to celebrate breaking $50 million in revenue. While the Merritt brothers are satisfied with the changes the company has undergone, they reminisce in the days they were a small woodworking shop, focused on custom furniture projects and building entertainment centers. It "keeps them humble."
While Merritt Woodworking generally services billionaires worldwide, Chagrin Valley Custom Furniture in Warrensville Heights, OH stays local- with on site delivery available to customers looking for custom furniture projects in Northeast Ohio and surrounding areas. CVCF also specializes in a service unique to the area: high-quality refinishing and restoration. You can request a consultation from Chagrin Valley Custom Furniture on their website.
December 3, 2o18
Jerry Hatfield is the owner of The R.M. Wood Company located in Spencer township, just along the Western edge of Medina County. He notes that his business has changed very little since the foundation of the company 70 years ago- the image of a team pushing a large log through a large slicer is just as relevant today as it was in the 1950s. The lumber that comes through R.M. Wood Company is carefully quality-controlled before processing. His client base generally consists of local woodshops, barns, and drying kilns who can properly cure wood to prevent warping. Hatfield makes it clear; he is proud that he contributes to taking beautiful local lumber that ends up as beautiful custom furniture and live edge furniture and countertops in the Northeast Ohio region.
See Jerry Hatfield speak on his company and its history on YouTube.
November 27, 2018
Chagrin Valley Custom Furniture is proud to announce their completion of their Bumpus House furniture refinishing project. The owners of the main character's home from "A Christmas Story," which has long been open to visitors and overnight stays, decided to buy the neighboring home of the infamous Bumpus family, next door to the Parkers. They needed the furniture inside completely restored and refinished, and CVCF was given the honor to complete the project. On our page about the project, you will see a video with our very own Shel Myeroff detailing the items carefully restored by CVCF, along with behind-the-scenes footage of what it takes for a woodshop to restore such a significant piece of Cleveland and cinema history.
Watching Darren McGavin's Old Man never gets old in 'A Christmas Story', as the heartwarming yet wacky portrayal of the role remains distinctly unmatched by his predecessor in sequels including A Christmas Story 2, It Runs In The Family, and Ollie Hopnoodle's Haven Of Bliss. None but the diehard fans would know that Jack Nicholson was the first-choice actor for the Old Man role, but director Bob Clark quickly realized that Darren McGavin was truly talented to fit the role, and was truly grateful for his gift- much like Ralphie's wholehearted joy upon receiving the Red Ryder for Christmas.
During the season of giving gifts to those that we cherish, Chagrin Valley Custom Furniture feels blessed and honored to give the gift of beautiful refinished furniture to one of Cleveland's favorite community staples. We wish a very Merry Christmas to our friends, fans, customers, and everyone in Cleveland who's helped make our dream of a custom furniture and refinishing business possible!
November 6, 2018
Chagrin Valley Custom Furniture is happy to announce their expansion into new territory- the world of river tables. River tables have rapidly gained popularity in the past decade, but were generally scarce, and only found on the West coast of the United States. CVCF has brought this heavily-sought capability to Cleveland. The epoxy resin used in river tables can be used in dozens of creative ways, and can be customized in terms of both color and opacity. You can also request that the epoxy resin is set with crystals, gold flakes, glitter, copper shavings, and more to enhance the decorative appeal of your custom furniture design. See the page or contact CVCF for more details.
October 19, 2018
Chagrin Valley Custom Furniture has recently started their website overhaul focused on improving the mobile experience of their visitors. The company is also venturing into new territory within their product line, featuring a new emphasis on custom woodworking projects that don't necessarily fall under the classical definition of "furniture." This includes things like mantels, wall siding, shelving, cutting boards, rolling pins, and even ant farm frames. Set up a consultation with Sheldon Myeroff for more details.
September 20, 2018
If you live in Cleveland, Akron or Northeast Ohio and are wondering how much it costs to have furniture restored, repaired or refinished, now you have an answer. Get ballpark price ranges for refinishing, restoring, and specialty painting your heirloom, old, worn or damaged furniture. Listed on this page are general price ranges and costs for furniture refinishing, restoration and specialty painting performed by Chagrin Valley Custom Furniture in Cleveland, Ohio.  If you are interested in learning the price for a piece you want us to make look and function like new, call Sheldon Myeroff or Zach Schulte at 440-591-5511 for specific estimates and costs for refinishing tables, chairs, cabinets, shelves, bookcases, countertops, bar tops, tabletops, and any other wood furniture.
August 29, 2018
Rooswork, LLC, headed by Tim Roos, is a rustic custom woodworking and furniture crafting studio in Cleveland's St. Clair neighborhood on Hamilton Avenue. The business runs in his family, and Tim Roos began his experience as an estimator and in-home evaluator for rustic custom furniture projects. He began building furniture just as his father did: purely out of passion, and out of a quest to make money. Tim Roos recommends all people exhaust their curiosity and always ask questions- something similar to what was said by Chagrin Valley Custom Furniture owner Shel Myeroff in his interview with the Cleveland Jewish News.
August 29, 2018
The Columbus College of Art and Design will dedicate a class of custom woodworkers to spend three weeks designing a chair, table and end-table that can be easily replicated by volunteers to give to families in need in throughout central Ohio. The program is driven by the increasing desire of millennials to be involved in work that directly impacts the community around them. Wood for the project was donated by Sauder Woodworking Co. In Northeast Ohio, Chagrin Valley Custom Furniture also completes similar custom woodworking projects.
August 29, 2018
Catalogue and internet based home accessories store from Maple Heights, OH, Improvements, is set to close and absorb into HSN, a home shopping network. Only the 55 employees based in Northeast Ohio will be affected by the acquisition, though it is unclear exactly how their positions will change, or whether they will remain after the change. Improvements will continue to market home accessory products online under it's trade name through the fourth quarter of 2018.
July 23, 2018
Featuring past projects including the barn doors for Luca West Restaurant, the barn doors given as a Christmas present in 2017, and the walnut and zebra wood coffee table, this feature offers a nice understanding of CVCF founder Shel Myeroff's past beginning with his love for furniture starting at a young age.
July 23, 2018
Our sister company, Live Edge Furniture Company, now offers products on Etsy.com as well as its website. Products will rapidly expand over time, but the launch begins with beautiful and affordable floating shelves including live edge cherry shelves, live edge walnut shelves and live edge cross-section coffee tables. Product lines will be accessible through either company- simply contact us and say what product sparked your interest, and we will deliver!
July 23, 2018
With our ever-expanding capabilities and growing product demand for live edge products, we are proud to announce the launch of the CVCF Etsy.com store, featuring some of our recent popular products including our live edge cherry coffee table, the live edge cherry conference table, and the live edge walnut and spaultic maple credenza. If live edge isn't your flavor, we also include products like the reclaimed barn wood entertainment center we built for a client in 2016. The product list will expand quickly as we continue audit our past projects for the most marketable and shippable concepts.
July 18, 2018
CVCF of Cleveland builds and sells reclaimed wood beam mantels, rustic mantels and live edge mantels used to decorate fireplaces and also used as shelves above fireplaces.  If you are looking to buy a live edge mantel from a local company, call CVCF. If you are looking for live edge mantels for sale, look no further. On of our most popular live edge mantels is made from black walnut. We can install the mantels or show you how to install it. If you were wondering how to make a live edge mantel, call CVCF.
July 18, 2018
CVCF of Cleveland designs, builds, sells, delivers, ships and installs live edge and rustic shelves. Some of these shelves are flat lengths of natural or reclaimed wood constructed in a simple unadorned country fashion.
July 17, 2018
To inquiry about purchasing a replica of the Frasier Crane coffee table pictured here, please click the 'Request An Estimate' button, email shel@chagrinvalleycustomfurniture.com or call 440-591-5511.  A replica of the 'Frasier Coffee Table' can be built and shipped anywhere in the United States. The furniture builders at CVCF really enjoy making replicas of furniture and props from the Frasier TV show.  Frasier is an American sitcom that was broadcast on NBC for 11 seasons, premiering on September 16, 1993, and concluding on May 13, 2004.  Some of the best decorating ideas come from the tube. The elegant coffee table was designed by art director Roy Christopher and until CVCF started making replicas of Frasier Crane's coffee table, it was not available anywhere. To see the coffee table in a video, visit YouTube to watch 'Frasier – Hijinks & Shenanigans'. The table is showcased at the 1:59 minute mark.
June 12, 2018
The Cleveland Jewish News published a fantastic article featuring the dedicated, hardworking spirit of CVCF founder, Shel Myeroff, and his post-retirement experience. Featured also is a glimpse into the process of designing interior barn wood doors and other custom furniture with the CVCF woodworking team.
June 7, 2018
The purchase of Master WoodCraft makes acpi (ACProducts, Inc.) the fourth largest manufacturer of kitchen cabinets in the US. While most of the details of the acquisition are not available to the public, executives expect the process to be "seamless."
June 6, 2018
Lumber prices have increased an average of 66% in the past year- a change that most suspect the increased tariffs to be responsible for. This translates into an average increase of $6,300 more to buy a new home. Economists are calling for an end spiking tariffs the Trump administration seems to support.
June 5, 2018
Woodworking blogger A.J. Hamler notes that every piece of equipment has an expiration date, and woodworkers should always opt to buy the higher quality equipment and reap the benefits of having a longer-lasting tool. Cheap products are far more likely to break before you get the proper use out of the parts that comprise it.
May 22, 2018
Chagrin Valley Custom Furniture introduces a new page featuring accent furniture including ottomans, chandeliers, mirrors, benches, display cases, mantels and more. CVCF can take any project and remake it just for you, or let your imagination run wild. As long as it obeys the laws of physics, we can make it.
May 22, 2018
Susan Handler, creator of the blog Saw Nail and Paint, introduces some money-saving methods to restore your furniture to better-than-ever. Any old piece of furniture can become a masterpiece with a little creativity and effort.
May 20, 2018
CVCF developed a walkthrough video to show customer how to order interior sliding barn doors for its customers in the Cleveland area. It also serves as a great feature to see past projects and inspiration.
May 20, 2018
CVCF is continuing their referral rewards program, giving any past customer a $100 gift card to Hyde Park Steakhouse for any $2,000 project sold to a referred customer, or a $200 gift card for any $5,000 project sold.
May 20, 2018
When a client came forward and asked us for a pair of barn doors, the conversation shifted to renovating the entire laundry room instead, adding a matching sink cabinet and shelves. The client was extremely happy with the result.
May 20, 2018
As part of a bucket list purchase for a customer, Chagrin Valley Custom Furniture created an exact replica of the table from the hit T.V. sitcom "Frasier." The result was pure perfection. CVCF will make copies of any past projects; this Frasier table sells for $4,000.
May 20, 2018
Gadget flow is a crowdfunding platform where new products are added by artists who make everything from home. Crowdfunding is a popular way to gather funds from end consumers and surpass the economies of scale before production even starts.
May 1, 2018
The Urban Wood Network is hosting a 90 minute seminar on August 24th at the Georgia World Congress Center, covering topics including how to source lumber, how to join a local urban wood network, and the environmental advantages of utilizing urban wood.
March 12, 2018
This incredible project features a table made solely to play Monopoly on, with cash drawers and card-holding slots for four different players. Now that's a furniture repurposing project!
March 2, 2018
In an attempt to take the accessible, mass-produced IKEA furniture business model even further, MIT researchers developed an AI (artificial intelligence) algorithm that can create custom furniture to meet any kind of specifications, including those that require some assembly. Developments such as these are accelerating the pace that automation and AI might replace skilled labor in the near future.
By Dave Taylor
For the DIY enthusiast, taking on this list of man-cave projects will give you enough weekend work for the rest of the year. From endearing toilet paper holders to a NES controller table that actually works, this list should get you excited to get back into the workshop.
November, 2017
Professional decorators know what makes a beautiful home, and correctly applying these 11 tips is like having a free in-home consultation. How often do you think about layering your lighting?
May 5, 2016
The concept of modernity is taking on a sense of authenticity and the all-natural. This piece tells how to use the trend of live edge and modern, rustic furniture to make your home come alive with its own unique personality.
By Eric Meier
Drying wood can be as easy as leaving it out in weather with the proper humidity, but that is surely the slowest method. Using alternative methods including kilns is a viable option. Either way, there are tips and tricks worth considering to ensure your wood dries without any unintended consequences.
September 19, 2014
Featured on Cleveland.com is a one-on-one interview with Shel Myeroff, founder and sole owner of Chagrin Valley Custom Furniture. Among the topics discussed are his plans for the growth of the company, how CVCF was affected by the economy's resurgence from the recession and the biggest obstacles business owners face.
August 12, 2010
You've probably never broken down choice of where to place your work desk, but you've definitely thought about what might and might not work for your place. This list is a comprehensive guideline of what, where, and why to place your desk throughout your office.
This is your home for developing carpentry, woodworking, DIY, interior design, custom furniture making and live edge furniture news and resources for the enrichment of professional carpenters and designers alike. Curated content from sources including YouTube, news conglomerates, professional and casual blogs, editorial commentaries, company press releases and Chagrin Valley Custom Furniture news is gathered here as the perfect resource for quick, informative updates on the furniture industry.
Order Custom Furniture | Custom Made Epoxy Resin And Wood Wall Art For Sale In The U.S. | Epoxy Resin And Wood River Tables With Rocks, LED Lights, Fish, Sea Shells and Stones | Epoxy Resin River Cutting Boards For Sale In USA From $275 | Use Furniture Design Software To Sketch, Draw, Render And 3D Model Custom Designed Furniture | Epoxy Resin Furniture For Sale In The USA | How Custom Furniture Is Designed, Handmade, Quality Approved And Assembled In The USA | Rising Demand For Custom Furniture | Woodworking Industry News | Custom Furniture For Sale | Furniture Manufacturing Trends | Buy Custom Furniture | Custom Woodworking Services For Families And Businesses | Carpentry Information | Global Contract Furniture Market 2019 – 2025 | Cabinetry Information | Occupational Outlook For Carpenters | Challenges Facing Custom Furniture Makers | E-Commerce Trends In 2019 | Woodworking Machinery Industry Association Events | USA Retail Furniture Market Facts And Statistics | Furniture Today Magazine | High-End Custom Furniture Makers In The USA | Furniture Industry Events | Trendy Live Edge Furniture Products | Custom Furniture Trends In The Hospitality Sector | Woodworking Industry Associations | NAICS Code 337212 | Woodworking Industry Jobs | Wood Magazine Furniture Plans | Furniture World Magazine | Popular Woodworking Magazine | Fine Woodworking Magazine | Architectural Woodwork Institute | Architect Magazine | Order Custom Built Live Edge Furniture In The USA | Where Interior Designers Order Custom Built Furniture | Order 100% Custom Furniture From CVCF And You Choose All The Materials | Have Rustic And Modern Furniture Custom Built For You In Cleveland Ohio | Design Your Own Custom Furniture | Custom Furniture Delivery And Assembly Services | Submit Your Custom Furniture Design, Picture Or Drawing Online Or By Text And Get A Price For Fabrication And Assembly | Buy Epoxy Resin Furniture For Sale | From $800+ | Assembly In USA | Buy Live Edge River Tables For Sale | From $800+ | Assembly In USA | Custom Live Edge Epoxy Resin Conference Tables for Sale in USA | $4500+ | Live Edge Epoxy Resin & Wood Beds for Sale in USA | $1800+ | Live Edge Epoxy Resin Wall Art For Sale in USA | $800+ | Live Edge River Furniture Styles & Colors for Sale in USA